Here we explain everything you need to know about using public transport in Singapore. Be it MRT, bus or taxi, we've got you covered.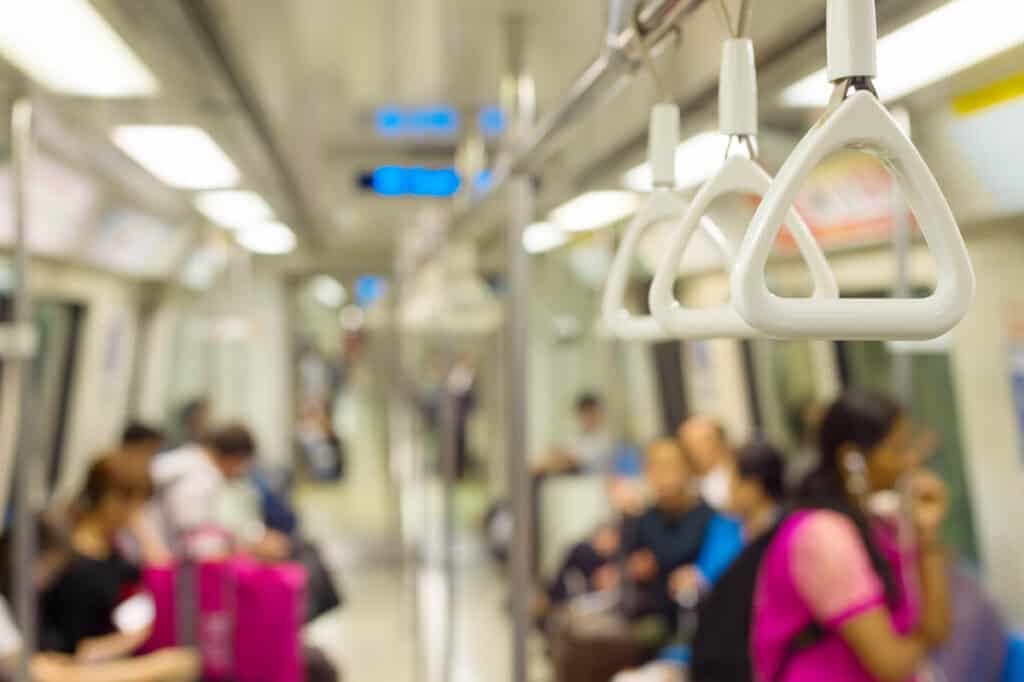 Singapore's public transport system is cheap, clean and efficient and you have the choice of MRT, Public bus, Taxi and Grab/Gojek ride-hailing services.
Most visitors to Singapore choose the MRT (underground/subway) thanks to its ease of use, and it will connect you to most places you will want to go as a visitor. The public bus is equally as efficient and is a good option for areas not serviced by the MRT.
Taxis are plentiful and relatively cheap in Singapore and you also have the option of booking a Grab – the equivalent of Uber in Singapore.
Download the MyTransport.SG app to access information on your closes MRT station or bus stop and to see up-to-date timings for arriving buses etc.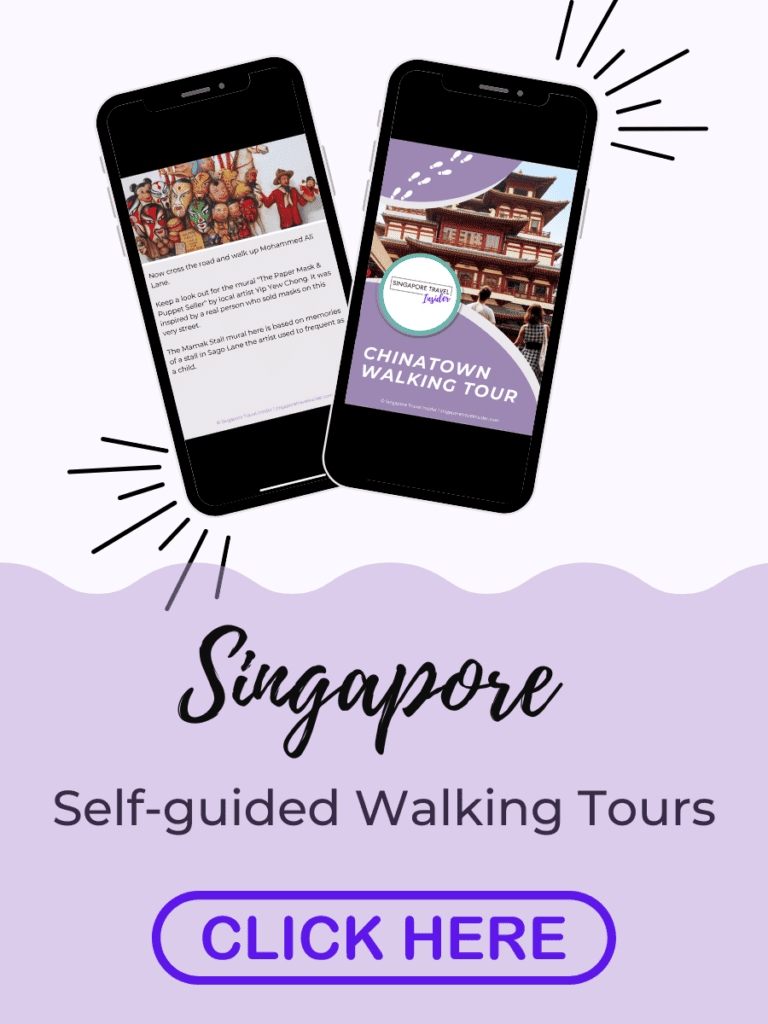 Paying for Public Transport in Singapore
You can use contactless Visa/Mastercard/NETS bank cards on all public transport. Note though that international charges may apply and so if you are planning to do a lot of exploring by public transport, it may work out cheaper to purchase an EZ Link card to use instead.
These prepaid contactless smart cards can be used on all forms of public transport and you can also use them to pay in many fast-food restaurants and several shops including supermarkets and convenience stores.
You can top up the balance on your EZ-Link card at various locations around the city, including subway stations, convenience stores, and online. You can return your EZ-link card to obtain a refund of any remaining travel value in the card.
Another option for visitors is the Singapore Tourist Pass, a special EZ-link card that offers tourists unlimited travel on buses and the MRT. These are available as 1-3 day passes. Think about how much you are planning to use public transport before purchasing these though, as they often work out more expensive.
Children up to 0.9m in height and accompanied by a fare-paying commuter may travel free on trains and buses.
Singapore MRT (underground/subway)
The Singapore metro (underground/subway) is known as the MRT (mass rapid transit).
It is safe, efficient, clean, cheap and air-conditioned and is the public transport method of choice for many visitors to Singapore, being an easy, quick and comfortable way to explore the island.
Tickets for the MRT cost between around $1 and $2.50, depending on how far you are travelling. You can check the fare with the MRT fare calculator.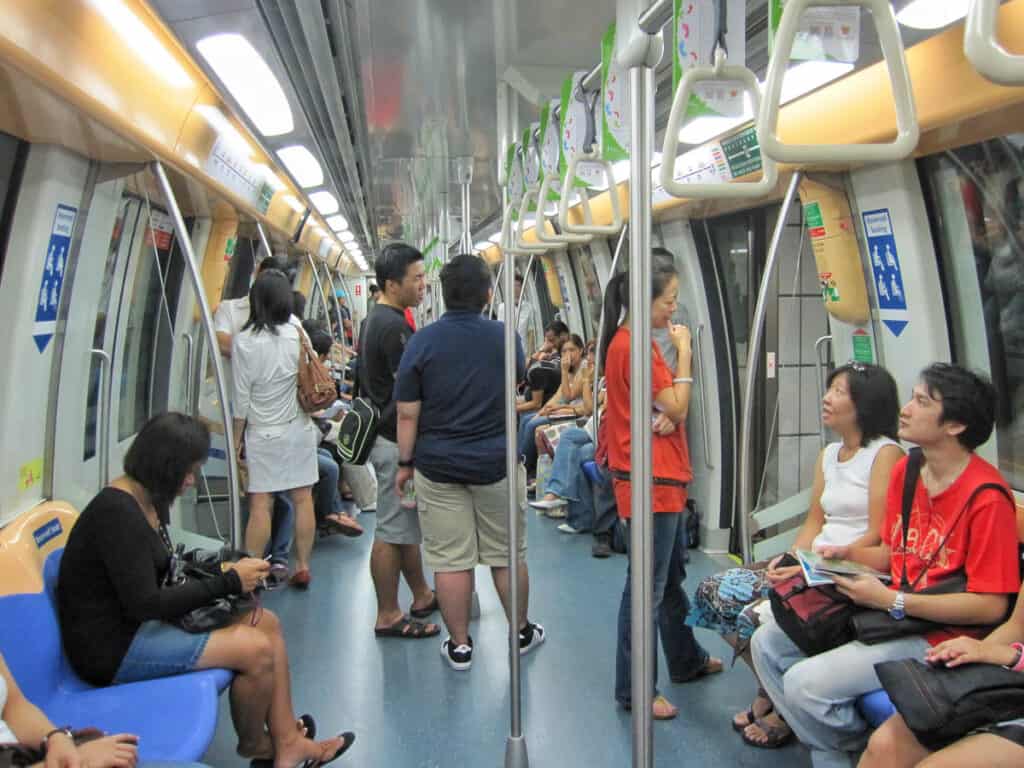 There are six MRT lines with 140 stations across the network.
Trains run from 05.30am to around midnight, with last train times varying with each station. Trains run every 2 to 3 minutes during the peak hours of 7am to 9am and every 5 to 7 minutes during off-peak times. So you should never have to wait too long for a train.
Single-trip tickets are no longer available on the MRT. Pay for your ride using a contactless bank or credit card or an EZ-link card.
For information about accessibility on public transport in Singapore click here.
Singapore Buses
The bus system is equally as efficient as the MRT and you rarely have to wait more than a few minutes for a bus. Route and timing information is available at each bus stop.
Every bus-stop is numbered – this starts with the letter B followed by a number (eg. B01). You will find even numbered bus-stops on one side of the road and odd numbers on the other. Numbering starts from the beginning with each street name.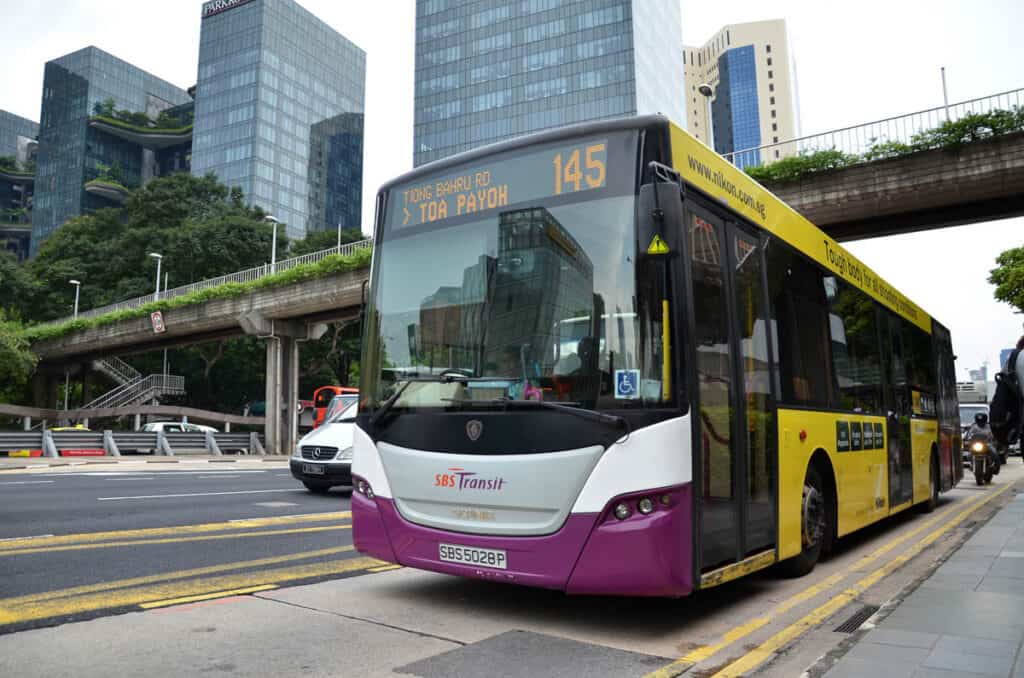 Many bus stops have real-time bus schedule information on electronic screens, or you can download the MyTransport.SG app for real-time information on your phone.
You can also pay using cash on the bus, but exact money is required as no change is given. Higher fares also apply to cash tickets.
If you are using an EZ Link card or bank card on the bus, be sure to tap it on the machine when you get on and off the bus, or the maximum fare for that bus route will be deducted from your card.
Singapore Taxis
Singapore taxis are plentiful and cheap compared to many other cities around the world.
You can flag down a taxi in the street or go to a designated taxi rank, which you will find outside most major shopping malls, hotels and tourist attractions.
Note if you are in the CBD, there are certain streets (such as Finlayson Green, High Street, Orchard Link and Esplanade Drive) where taxis are not allowed to pick you up, and they are also not allowed to stop on roads where there are bus lanes.
For this reason, if you are in the CBD, it is better to find a taxi stand.
You can also book taxis via the Grab or Gojek apps (there are other taxi apps but we find these the easiest to use with a foreign phone number). A booking fee applies, and this can be between $2.30 and $4.50, depending on the booking time and taxi operator.
Insider Tip: At peak times, or if it is raining, getting a taxi can be difficult and you will find long queues at taxi ranks. At these times, it is always a good idea to book a taxi via the Grab app.
There are also certain times of the day when the majority of taxi drivers seem to all change shift at the same time. At these times you will notice "change shift" displayed on their roof light and they will only pick you up if your destination is on their way.
From our experience, this seems to happen at around 4pm, and can make getting a taxi at a taxi stand more difficult between 3.30pm and 5pm.
In general, taxi fares are pretty cheap in Singapore. However, they can vary based on the time of day due to the following surcharges:
Midnight surcharge: 50% of the final metered fare, 12.00am – 6.00am
Peak-hour surcharge: 25% of the final metered fare, Mon-Fri 6am-9.30am and Mon-Sun 6pm-11.59pm.
Taxis are metered and you can pay with cash or contactless credit cards or NETS bank cards (subject to availability – it is always best to check before you get in if their card machine is working). Extra credit card charges may apply.
If you are used to paying using your credit card on your phone (or smart watch), be aware that this often does not work with taxi machines, so make sure you have your actual credit card or cash.
Grab and Gojek in Singapore
Grab and Gojek are the equivalent of Uber in Singapore and you will need to download and activate the apps to use them.
The advantage of using these is the additional availability of cars they offer, and you can also book different types of cars – XL, Premium or normal taxi. Grab also offer Family cars with car seats, which is a definite bonus over using a taxi.
From our experience, Gojek is cheaper, but Grab has better availability. You can open both apps on your phone and see which has the best availability and price at the time that you need a ride.
The cost for the ride-hailing rides varies depending on the time of day and availability. You will often find it cheaper to take a taxi. You can either pay in app or with cash for Grab and Gojek. Drivers often prefer cash.
Getting to and from the airport in Singapore
Changi Airport is around a 20-30 minute drive from downtown Singapore depending on the time of day and traffic.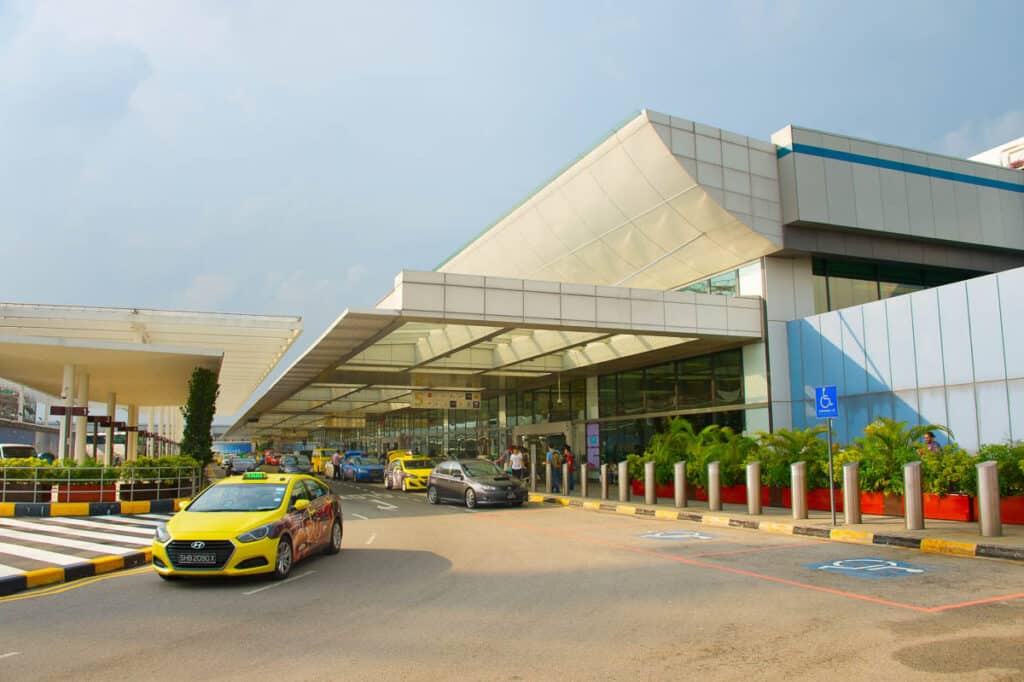 There are various options for getting to and from Changi airport, depending on how much time you have, what time of day you are travelling and your budget:
Taxi
Grab
Private airport transfer
MRT
Hotel Shuttle Bus
Public Bus
Read our comprehensive guide to travelling from Singapore airport to the city here.