We highlight all the best places for brunch in Singapore, whether you are looking for classic brunch dishes or an extravagant Singapore Sunday brunch with free-flow bubbles.
In the bustling city of Singapore, there's nothing quite like waking up to a delicious brunch meal shared with friends or loved ones. With an array of unique and scrumptious options, the city has become a thriving hub for food enthusiasts seeking the perfect brunch experience. 
Just like cities around the world, Singapore is enamoured with this versatile meal, and you'll find various brunch spots serving everything from all-day breakfast to decadent Sunday brunches.
This article has you covered, featuring some of the best spots for a leisurely weekend meal in the Lion City. From classic dishes like avocado toast and eggs Benedict to Asian-inspired delicacies, you'll find endless culinary delights to tickle the taste buds in the city's top brunch spots.
You may also like these articles:
Understanding Brunch Culture in Singapore
As you explore Singapore, you'll notice that brunch culture is thriving in the city, with an abundance of cafes offering the perfect marriage of breakfast and lunch dishes.
Known for its melting pot of cultures, you'll find classic dishes such as French toast and Eggs Benedict are served alongside local favourites such as laksa and nasi lemak. You'll also notice that many cafes go beyond the typical to put their unique twist on these brunch staples.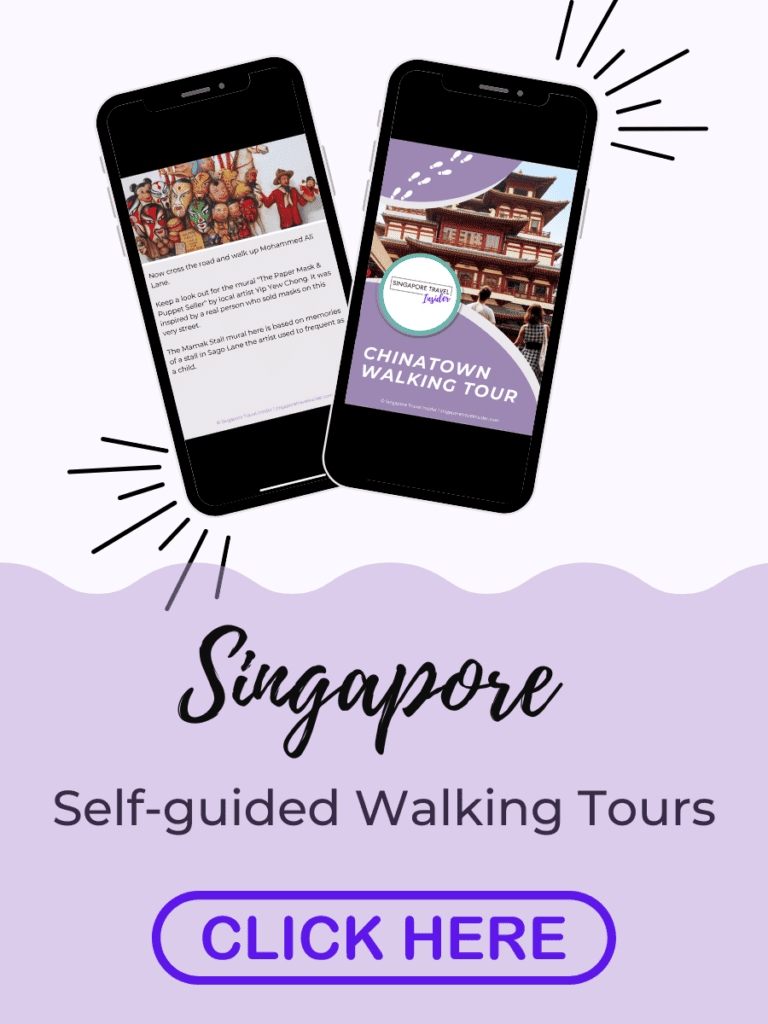 You'll discover two very distinctive styles of brunch in Singapore. There's your classic brunch that you encounter around the world, where you head to a cosy cafe to enjoy breakfast items such as fluffy pancakes with maple syrup or smashed avo, dished up with a cup of good coffee. 
And then there is the famous Singapore Sunday brunch, which sees extravagant buffet spreads with free-flowing champagne and a celebratory atmosphere. 
No matter which style of brunch you are looking for, we highlight the best brunch places Singapore has to offer.
Spotlight on Brunch Cafes
Let's take a look at the best cafes and casual restaurants that offer classic brunch food. Perfect for coffee lovers and those looking for laid-back brunch with delicious food.
Wild Honey
Wild Honey has long been a favourite brunch restaurant of ours and is a must for brunch enthusiasts. Inspired by a love for travel and a passion for all things breakfast, the Wild Honey menu features breakfasts from around the world.
Choose from its extensive menu of global brunch favourites such as the Parisienne, a stuffed savoury French toast with fried eggs and hollandaise sauce, the Tunisian, a spicy tomato-based Shakshouka served with eggs and brioche, or the Belgian, coconut waffles served with fresh mango and blueberries.
With two Orchard Road locations (one at the Mandarin Gallery, another at Scotts Square), it's the perfect place to refuel when you are out and about shopping.
Click here to visit the website.
PS Cafe
PS Cafe is well-known for its picturesque locations and mouth-watering brunch options. The weekend brunch menu features an array of dishes, from their signature Butterscotch Pancakes and Eggs Florentine to the indulgent Lamb Sausage Shakshouka. 
There are twelve locations around the city, and no matter which you choose, you will enjoy your meal amidst the lush foliage and elegant Parisienne-inspired décor.
Just be sure to keep some room for one of their famous cakes or desserts, such as the double chocolate blackout cake, also available with ice cream. 
Click here to visit the website.
Merci Marcel
Bringing a touch of France to the tropics, Merci Marcel provides a stylish ambience for brunch with friends, with its eclectic mix of vintage & modern furniture pieces and France-meets-Bali vibes.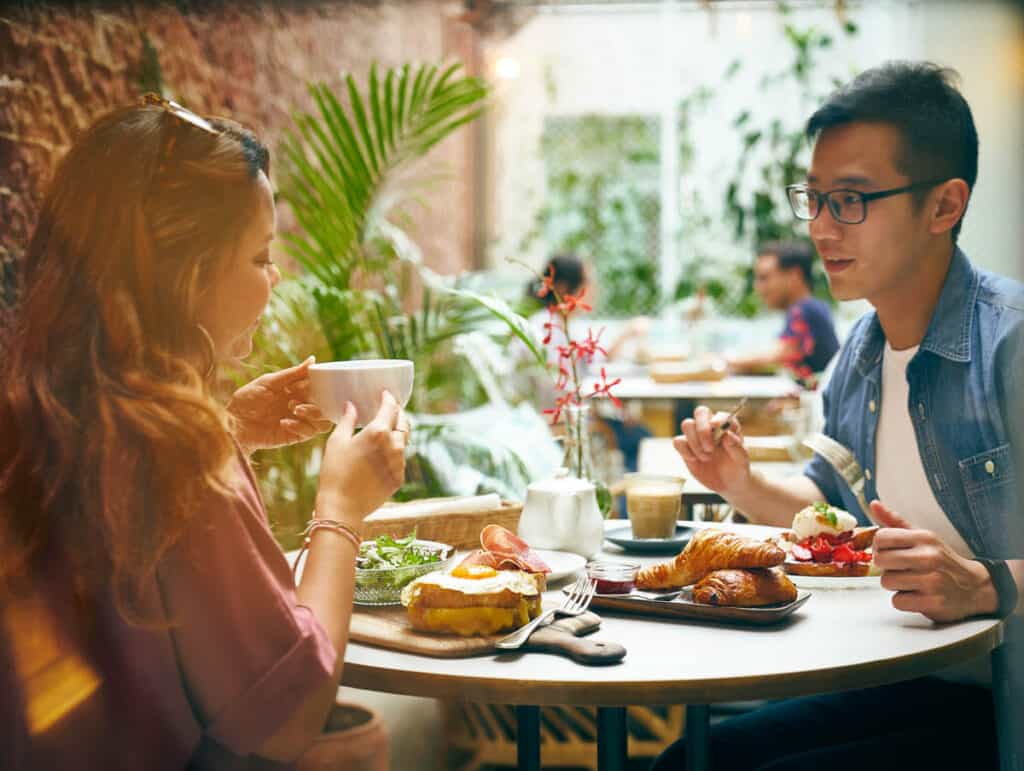 Its all-day brunch menu offers classics such as organic eggs done multiple ways and a Croque Monsieur.  For something unique, opt for their Ravioles de Royans, a French pasta dish filled with cheese and served in a delightful cream sauce.
There are also burgers on offer if you're after more hearty fare, while the French bakery offers up freshly baked croissants and pains au chocolat. 
Click here to visit the website.
Glasshouse
Set within the beautiful historic setting of Chijmes, Glasshouse provides a tranquil getaway for a spot of brunch. Priding themselves on serving great coffee, they also offer a comprehensive all day breakfasts menu.
You can build your own breakfast from a selection of classic breakfast items, or opt for one of the main courses, such as the Stracciatella Tartine or the Sweet Potato Medley and Chilli Chicken Bowl.
Click here to visit the website.
Bearded Bella
Inspired by Melbourne's café scene, Bearded Bella brings a fun twist to brunch with their creative menu. This stylish cafe is a popular spot with locals, and particularly draws in the crowds at weekends. 
You'll love their Pistachio Crusted Salmon, served with potato rosti and the Corned Beef Maple Toast. Or perhaps you'll keep it classic with the No BS Brekkie – Australian rib eye served with scrambled eggs and potatoes served on an English muffin.
if you've got a sweet tooth, you'l find a good selection of homemade cakes too.
Click here to visit the website.
Common Man Coffee Roasters
With several locations around Singapore, Common Man Coffee Roasters pride themselves on serving specialty coffee and what they claim to be the "best brunch in town". 
Their signature Common Man Full Breakfast is a crowd favourite, featuring perfectly cooked eggs, juicy sausages, and crispy bacon. For a lighter option, try their Fluffy Pancakes served with caramelised bananas or the house made Crunchy Granola.
Click here to visit the website.
The Providore
Handily located within shopping malls around the city, The Providore provide the perfect havens to refuel when out shopping. 
Known for its all-day weekend brunch menu and premium ingredients, you can choose from lite bites such as organic muesli, fresh fruit salad or sourdough toast, all the way up to full English Breakfast or Spanish baked eggs.
While you're here you can browse the deli, bakery and grocery store for gourmet picnic supplies or gifts.
Click here to visit the website. 
Db Bistro and Oyster Bar
Tucked away within The Shoppes at Marina Bay Sands, DB Bistro is known for its classic French bistro classics and seafood dishes. Come the weekend, however, and it's all about brunch at DB Bistro.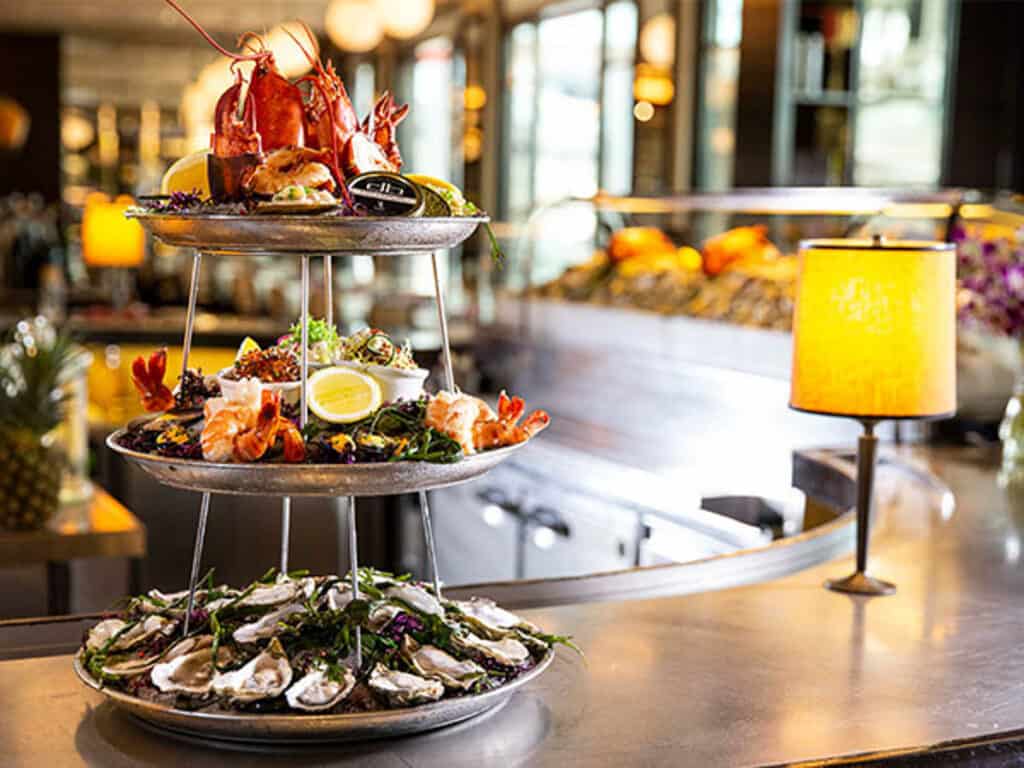 The menu remains seafood heavy with oysters, lobster, caviar and seafood cocktails all featuring on the menu. But there's also a 3-course Brunch set menu on offer featuring Smoked Salmon and Avocado Toast, Scrambled Farm Eggs and Crispy Pork Parmesan.
French bistro classics such as French Onion Soup and Moules Frites are also on offer or head to the Burger and Steak menu for something more substantial. Whatever your mood, you'll find something to suit here.
Click here to visit the website.
Bread Street Kitchen
Known for its traditional British cuisine such as Beef Wellington, Fish & Chips and Sticky Date Pudding, Gordon Ramsay's Bread Street Kitchen is also a great spot for brunch at the weekend. 
There are classic brunch dishes to enjoy, such as the Smoked Salmon Bagel or Buttermilk Pancakes and the Full English Breakfast is a timeless classic or for more lunch-inspired dishes, you can opt for a Burger, roasted Cod or Lobster Taglioini.
In the mood to celebrate? For an extra $65 per person, you can enjoy a bottomless brunch experience with a free flow of Prosecco, white and red wine with your meal.
Click here to visit the website.
The Singapore Brunch Buffet Experience
In Singapore, there's brunch and then there's BRUNCH. Here we're talking BRUNCH.
We're talking lavish brunch buffets with piles of fresh seafood, expansive cheese platters, indulgent dessert spreads and live cooking stations, all topped off with free-flowing champagne. These Sunday brunch buffets are NEXT LEVEL.
Did we have you at free-flow booze? If you're in the mood to indulge big time, check out these best brunch spots that epitomise Singapore's decadent Sunday brunch scene.
LAVO restaurant
LAVO restaurant, perched atop the Marina Bay Sands, is one of our favourite rooftop restaurants with a view in Singapore. A meal here is always a highlight, but it really comes into its own when it comes to Sunday brunch.
Every Sunday from 12-3 pm, you'll find well-heeled diners indulging in an all-you-can-eat brunch feast accompanied by free-flow Veuve Cliquot speciality cocktails and other beverages. Menu highlights include favourites such as the Truffled Crab Salad, Wagyu Meatball pizza and Prime Hanger Steak.
A fun atmosphere is guaranteed at this stylish restaurant on the 57th floor.
Click here to visit the website.
Colony at the Ritz-Carlton, Millenia
Colony at the Ritz-Carlton, Millenia has long been a favourite Sunday brunch spot with wealthy Singapore residents. Their sumptuous spread truly elevates the brunch buffet experience and is hard to beat. 
You'll be treated to piles of extravagant seafood options at the Ice Bar, plus unlimited servings from the other conservatory kitchens: The Grill & Rotisserie, The Steam Basket, The Wok, The Tandoor, The Fruit Stall and The Patisserie.
And to wash it all down? Freeflow champagne with a choice of three vintage options: Cristal 2014, Dom Pérignon 2013 or Barons de Rothschild Ritz Réserve Millésime 2015. Ooh la la.
15 Stamford by Alvin Leung at the Capitol Kempinski
The Tropical Sunday Champagne Brunch at 15 Stamford by Alvin Leung is another popular option with the well-heeled of Singapore. Know for its creative twists on Asian classics, this brunch offers a wide variety of live stations serving modern Asian classics and mouth-watering grilled meats and seafood.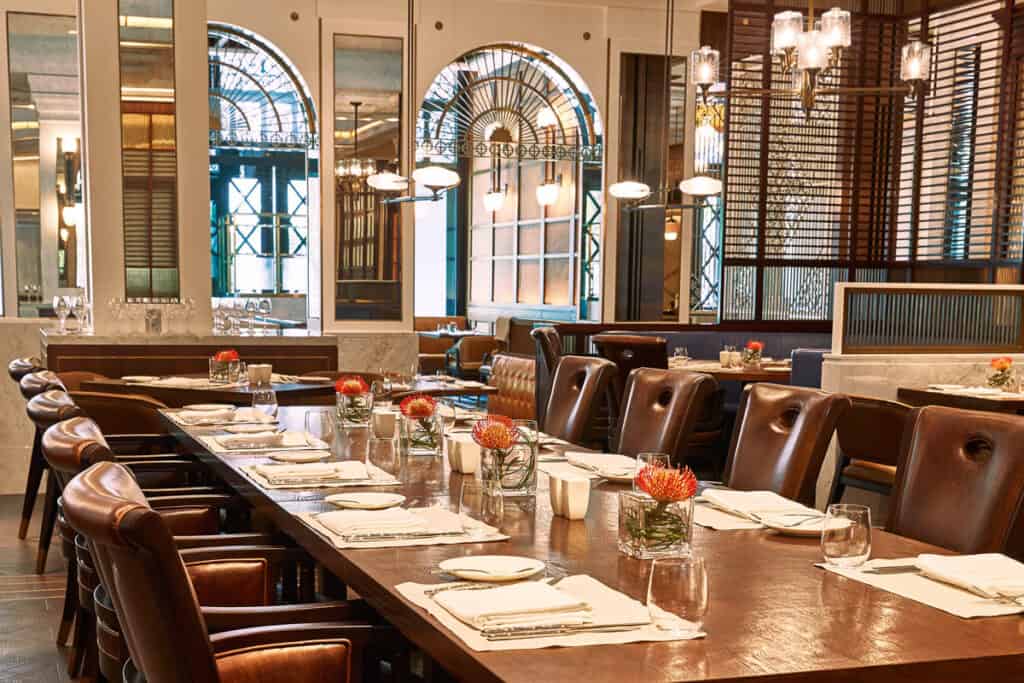 Highlights include fresh lobsters, seasonal oysters, a luxurious foie gras station, and Carvery and Spit Roast stations including Wagyu Beef Hanging Tender, Angus Beef Ribeye, and Pasture Fed Lamb Leg.
Ready to party? You have a choice of champagnes or kick up the fun with some tropically-inspired Tiki cocktails.
Click here to visit the website.
The kitchen table, W Singapore
For a brunch extravaganza with a resort vibe, head to the kitchen table at the W Singapore. You can indulge in the extravagant seafood wall including an oyster station, live cooking stations and classic roasts.
The impressive dessert buffet is a hit with kids and adults alike with its chocolate fountains and innovative sweet treats. Wash it all down with bottomless mimosas, bubbles and Bloody Marys as you enjoy the upbeat music and soak up the lively atmosphere and picturesque marina setting of Sentosa Cove.
Insider Tip: Book a table for brunch and gain complimentary access to the pool from 3pm – 7pm.
Click here to visit the website.
Town at the Fullerton
Town at the Fullerton is another long-time favourite with local Singaporeans and expats looking to celebrate Sunday. Choose to enjoy air-conditioned comfort or book a terrace table for views over Singapore River.
Here you'll find an elegant setting and a lavish array of seafood, a carving station featuring prime cuts of meat, an impressive cheese selection and a huge choice of Asian and Western cuisine options. The Indian curries are always a hit.
Here to celebrate? The brunch comes with free-flowing champagne, house wine, Tiger beer, cocktails, Bloody Mary and Gin & Tonics.
Click here to visit the website.
Luce by Davide Giacomelli, InterContinental Singapore
Luce by Davide Giacomelli, InterContinental Singapore provides a sophisticated setting for an Italian brunch with an Asian twist.
You'll be treated to all the beloved Italian dishes that the restaurant is famous for, alongside Asian-inspired brunch favourites such as the Signature Laksa, Mutton Vindaloo and Beef Rendang to Cured Salmon Blinis, "Asian Style". Of course, you'll also find the usual unlimited seafood on ice.
Be sure to leave room for dessert, with a selection of Italian and Asian desserts and chocolate fountains all on offer. You can also indulge in free flow Champagne or Prosecco plus Aperol Spritzes and selected cocktails and wine.
Insider Tip: Luce by Davide Giacommelli is one of the only restaurants in Singapore to offer a champagne brunch on a Saturday – available the first Saturday of the month.
Click here to visit the website.
Kwee Zeen, Sofitel Sentosa
Delight in the island vibes at Kwee Zeen, Sofitel Sentosa. Their sumptuous brunch can be enjoyed in an alfresco tropical setting, overlooking the swimming pool and lush greenery.
You can indulge in the fresh chilled seafood and 10 live cooking stations, including a meat carvery. Free-flowing champagne, D.I.Y. Bloody Mary and Gin & Tonic stations and a live DJ spinning tunes make this a fun and lively brunch.
This is also a popular brunch with families, thanks to its kids treat table and movie-screening, complete with free-flow popcorn.
Insider Tip: Book a table for brunch and gain complimentary access to the Sofitel pool from 3pm – 7pm.
Click here to visit the website.
Edge at the Pan Pacific
Finally check out the Edge at the Pan Pacific, the recipient of numerous awards for being the best place for a Sunday brunch in Singapore. There's a huge selection of food from around the world on offer here, including a pizza kitchen, Japanese specialties, pasta, Tex Mex, Indian, Thai local Heritage dishes and more.
There are seven live cooking kitchens to choose from and a huge seafood spread. Plus, of course free-flowing champagne
Everything you need for a good time. 
Click here to visit the website.
Best Dim Sum Brunches in Singapore 
Can't see past dim sum when it comes to brunch? The following restaurants combine a yum cha brunch feast with the extravagance of free-flow champagne or cocktails. The best of both worlds!
Yan Ting at the St Regis 
Yan Ting at the St Regis Singapore is renowned for its extravagant weekend brunch in a refined setting.
Showcasing the best of Cantonese fine dining alongside dim sum favourites,  you can look forward to delectable treats such as Deep Fried Boston Lobster with Egg Floss and Steamed Crystal Shrimp Dumplings with Caviar. 
In keeping with the elegant atmosphere, you can opt to upgrade the experience with free-flow champagne.
Click here to visit the website.
Man Fu Yuan at the Intercontinental
At the highly regarded weekend dim sum a la carte buffet at Man Fu Yuan, you can indulge in an unlimited selection of over 40 dishes, from signature dishes and dim sum delicacies to appetisers and desserts.
Highlights include crispy prawn bean curd roll with wasabi mayonnaise, wok-fried radish cake with X.O. chilli sauce, and honey-glazed pork belly. Opt to upgrade to free-flow Prosecco for the ultimate pairing.
There are two 90-minute sittings available on weekends and public holidays.
Click here to visit the website.
Madame Fan
Located within the NCO Club on Beach Road, there's always a fun atmosphere at the Madame Fan "Dim Sum, Drink Sum" weekend brunch. 
The menu features over 40 unlimited servings of sophisticated Dim Sum and Cantonese classics dishes. Dim Sum highlights include the Crab Roe Har Gau and Black Truffle Dumplings, or try some of the main course dishes such as the Australian Striploin with Sarawak black pepper or the Ume Wasabi Prawns.
In fitting with the festive atmosphere, you can upgrade to a 2-hour free flow package, which includes champagne and cocktails such as Aperol Spritzes and Moscow Mules.