Discover the best Singapore apps for your trip with our comprehensive guide. From transportation to weather and restaurant recommendations, we've got you covered.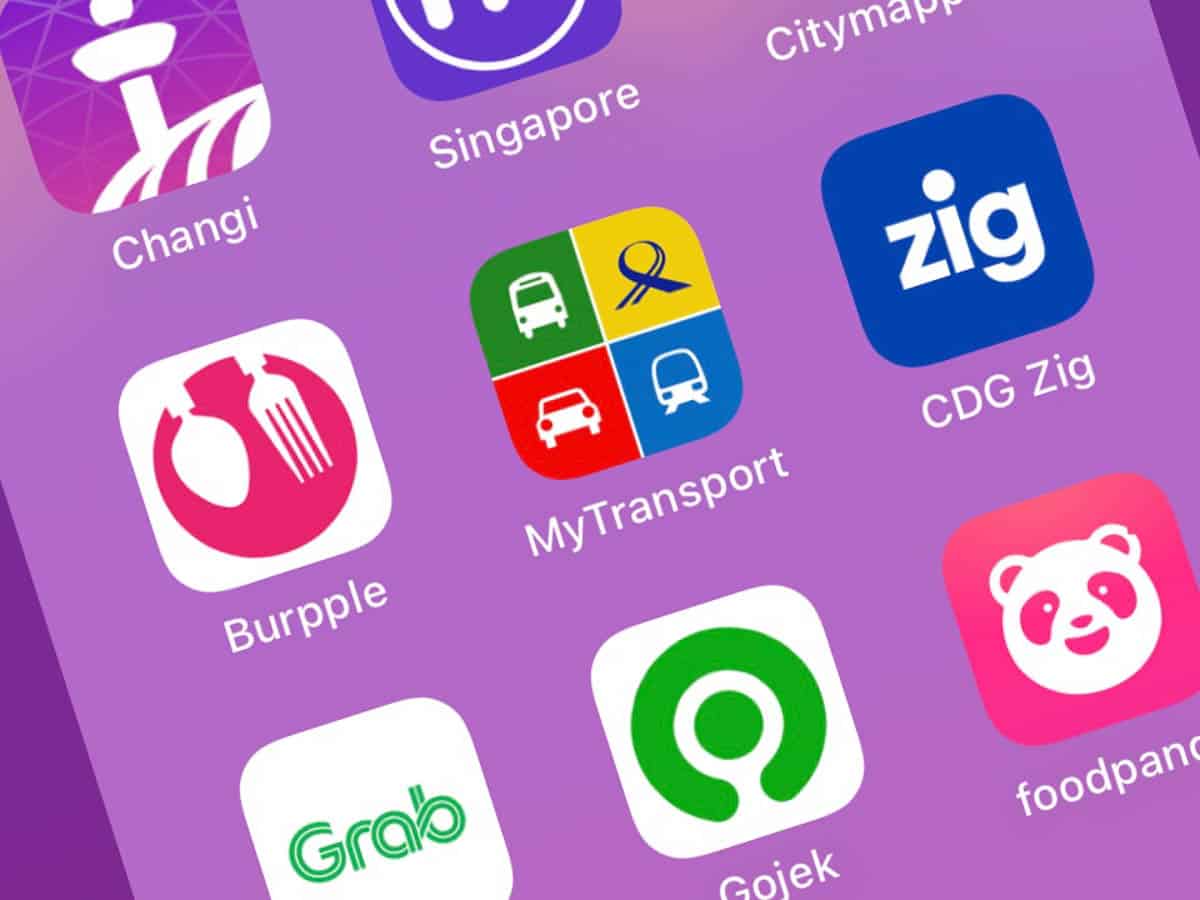 Planning a trip to Singapore can be exciting, but navigating a new city can sometimes be overwhelming.
Fear not! With a smartphone in hand and the right Singapore apps, you can explore the city with ease.
From finding your way around the city to discovering hidden gems and enjoying the local Singapore cuisine, these apps will be your trusty digital companions during your Singapore adventure.
Insider Tip: To save money on data roaming charges, we recommend getting a local SIM card when in Singapore. Read our article about choosing the best SIM card for Singapore here. 
You may also like these articles:
Got questions? Come join our Singapore Travel Tips Facebook group. It's the perfect place to ask questions and get inspiration for your trip!
All these apps for Singapore are available in both the Apple App Store and Google Play.
Essential Singapore Apps
No time to read the whole article and just wanna grab some apps quickly? These are our three top must-have apps for Singapore that we recommend. You can read more about them in detail below.
Google Maps – helps to navigate the city, locate restaurants and attractions, get directions, check public transport routes and bus arrival times. 
MyTransport – helps you navigate the city via public transport. Helps you plan your journey via bus and/or MRT and gives updated info on bus arrival times. 
Grab – can be used to book taxis and rideshare vehicles, similar to Uber in other countries. The difference is, that you can also book standard taxis using the Grab app. 
General Apps
The following apps are a good starting point for your Singapore trip.
Google Maps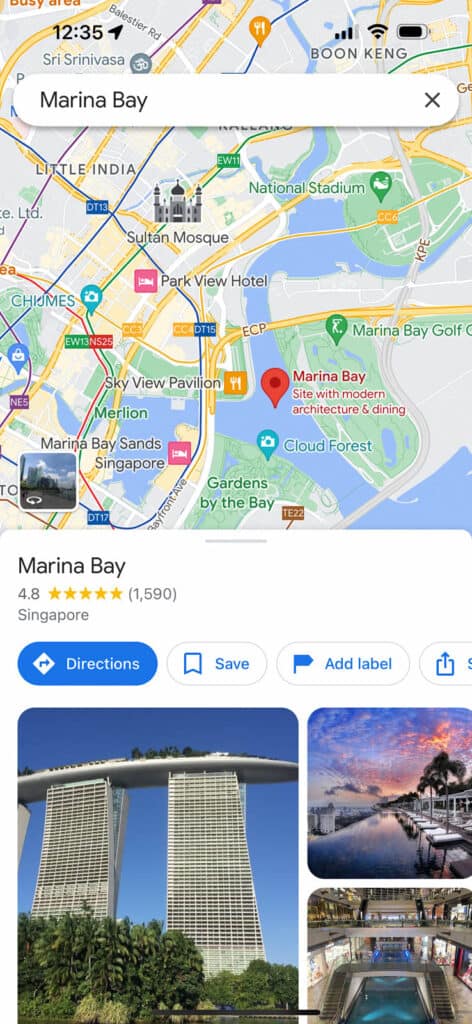 I don't know how anyone explores a new city without Google Maps these days.
We use the interactive street maps to help locate restaurants, hotels, bars and attractions. It is also fantastic for giving directions from A to B, with estimated timings.
You can also use it to check on public transport routes and bus arrival times. Or click a button and it will show you where all the nearest cafes are, with built-in reviews.
Find something you like the look of while you're out exploring? Tap "Save" and create a list of places you want to come back to, and find them easily on the map again later.
For us, it's a must-have app for Singapore, or any other place in the world you visit.
Insider Tip: To save on mobile data charges, you can download area maps from Google Maps to be used offline later. We recommend doing this either before you leave for Singapore, or using your hotel WiFi before you venture out. 
Visit Singapore Travel Guide 
The Visit Singapore Travel Guide app is designed to act as your ultimate companion for discovering Singapore. It's basically the VisitSingapore website condensed into an app.
We find it good for getting inspiration and ideas for your Singapore adventure before you go. It is particularly good for up-to-date events, exhibitions etc.
You can also use it to find Wireless@SG hotspots around the island, and create wish lists in the My Trip section.
Xe Currency
Terrible at mental arithmetic? The xe.com app allows you to quickly and easily work out the exchange rate and figure out how much everything is costing you.
Just type in the Singapore dollar amount and it will tell you the equivalent cost in any currency you choose. The app is constantly updated so you can see accurate to-the-minute exchange rates.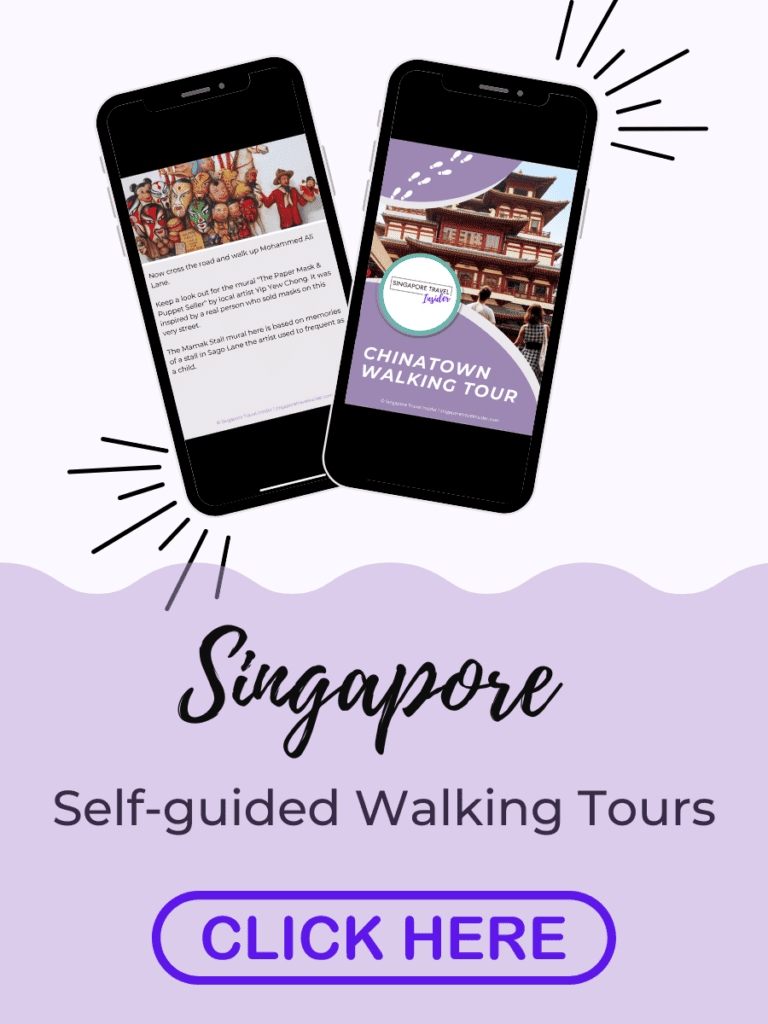 Singapore Transport Apps
Whether you are traveling by public transport, taxi or bike, there's an app to help you with that in Singapore. Let's take a closer look at the best travel apps on offer.
Public Transport Apps
Public transport in Singapore is efficient, clean and air-conditioned, making it an ideal way for you to explore the city. Most tourists favour the MRT (underground/subway) but buses can also be useful.
Click here to read more about using public transport in Singapore. 
These Singapore public transport apps will help make the whole process easier. Use them to plan your journey and keep an eye on updated bus arrival times.
MyTransport.SG
We think this is the best public transport app in Singapore. You can easily input your current location and your desired destination, choose whether you want to travel by bus, MRT or both and it will give you the best route and travel times.
You can also use location services to discover nearby bus stops and check for up-to-date arrival times for the next bus.
It also has an MRT / LRT map within the app and an interactive fare calculator that gives you estimated travel times and fares.
Citymapper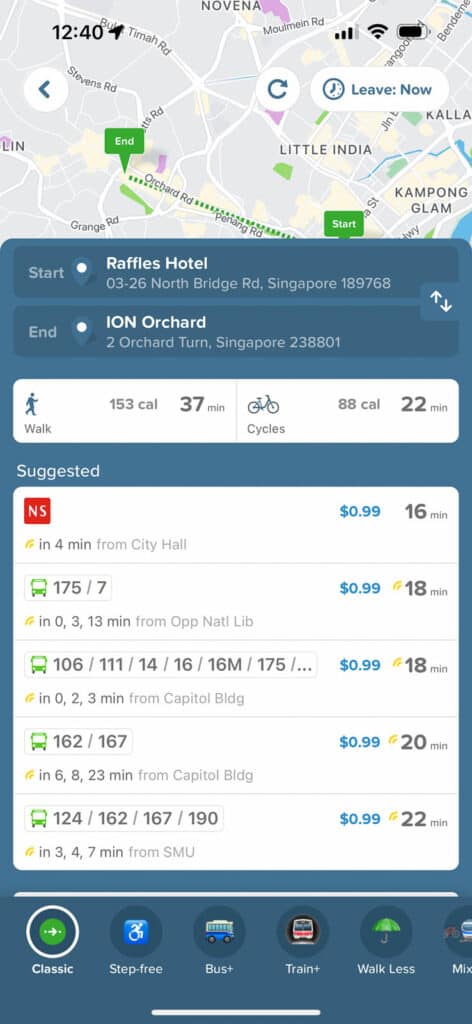 Citymapper is an excellent alternative to MyTransport, particularly if you are used to using it in other cities and are familiar with its interface. It has all the functions of the MyTransport.SG.
One feature we like in Citymapper is its walking map, which shows you the areas that are within a 5-minute or 15-minute walk. You can then choose a point on the map and it will show you quickly the route and walking time. If you are wondering about whether to walk in the humidity or hail a taxi, this can be handy.
Gothere.SG
Another option is Gothere.SG. We actually really like the user-friendly interface of this app and it used to be a favourite.
However, it hasn't been updated for some time and so we find it can be buggy. It also doesn't have as accurate bus arrival time info as MyTransport.SG. We also don't find its taxi fare calculator to be accurate.
We do, however, like its Shopping Mall function, where you can check out 172 shopping malls in Singapore and search their store directories.
Taxis Apps
Singapore taxis are plentiful and cheap compared to many other cities around the world. You can hail taxis on the street or pick one up at one of the numerous taxi stands.
However, there are certain streets within the CBD where you cannot hail a taxi, and certain times of day (or when it is raining) when taxi queues are long and getting a ride can seem impossible.
For this reason, we definitely recommend adding a taxi app to your arsenal of must-have Singapore apps. Singapore has a range of taxi services and private hire cars to choose from.
* Note that all these apps charge a $0.70c booking fee for cars booked via their apps.
Our favourite apps for booking taxis in Singapore are Zig, Grab and Gojek. Uber is not available in Singapore, so we use Grab, Gojek or Tada as alternatives. We explain more below.
Insider Tip: At peak times, it is worth trying to get a taxi/car with two or more apps at the same time to compare wait times and costs. We often find that during peak hours, Grab is more expensive than a standard taxi.
CDG Zig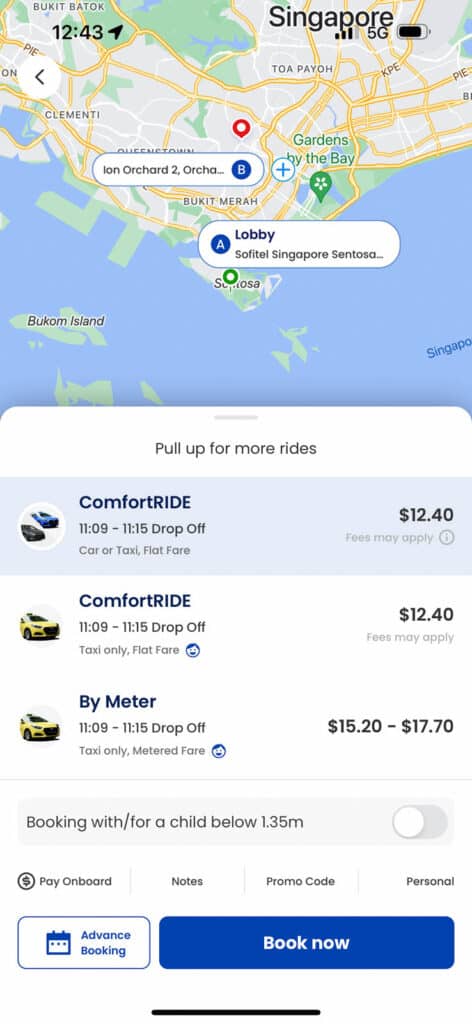 Comfort Delgro is Singapore's largest taxi firm (all the yellow and blue taxis you see on the road belong to this company). It's easy to book a cab through this go-to app, and track its arrival.
You can also use the app to pay for a taxi you have hailed on the street. Simply enter the taxi code or use the taxi's QR code and you can pay for the ride in the app. This is particularly helpful if you have no cash and the taxi's card machine isn't working.
Note: This app was formerly known as ComfortDelGro Taxi Booking App. We used to find this app difficult to use as a tourist as you needed a Singapore phone number. We are pleased to see that the newer version allows you to use a foreign phone number.
Grab 
Grab is the most used ride-hailing app in Singapore and is similar to Uber in other countries.
Unlike Uber, Grab also allows you to book standard taxis as well as ride-shares. We find this a handy way to check the price differences between the two during different times of the day.
Recently, however, we have found that Grab can work out to be more expensive than other ride-hailing apps and for this reason, we suggest checking out the other alternatives below also.
Insider Tip: Note that although Grab offers cashless payments, we found that many Grab drivers prefer cash, and some will check with you first to ensure you have cash before picking you up. So always make sure you have cash with you. 
Gojek & Tada
Gojek and Tada are two alternative ride-hailing apps to Grab. We have found that they are often cheaper than Grab. However, Tada can sometimes have less options available.
It can be handy to have all these taxi apps as backups for peak periods, or for when it rains, when finding a taxi can be notoriously difficult.
Cycling Apps
Cycling is becoming increasingly popular in Singapore, and there are several cycling apps to help you get around on two wheels.
Google Maps is handy for cyclists, as you can select the cycling option in the app, however, it often will give you the quickest route, which can often take you to busy streets and intersections. For this reason, if you are planning to explore on two wheels, check out these apps below:
RidEnjoy
RidEnjoy app helps cyclists plan journeys using just cycling paths and park connectors, making it ideal for leisurely rides and for families exploring on two wheels with kids.
The app shows other useful information, such as bike parking, bike repair kiosks and water coolers.
There's also a function to inform other cyclists of observations on the way, such as accidents or wildlife along a route. And there's an SOS function to trigger an alert in case of an emergency.
Anywheel 
Anywheel has a fleet of 30,000 bikes available for bicycle sharing around Singapore.
The company is really aimed at providing the first and last sections of someone's commute – ie. the section that may not be covered by public transport. This means you can often find bikes close to MRT stations and bus stops.
Use the app to locate the nearest bikes available. Once you have found a bike, use the app to scan the QR code, and off you go!
The best bit is that it is super cheap – just $1.00 per 30 minutes ($4 for a family bike with baby seat).
Parking Apps
Not many tourists choose to hire a car when in Singapore, as public transport is so easy and cheap. However, if you do find yourself needing to find a parking spot, we recommend the following parking apps.
Parking.sg 
This parking app allows you to pay for parking at public car parks, in place of the former parking coupons.
To do this you just need to enter your vehicle number, select which car park, and the duration you need. Charges are calculated automatically and paid via card payment.
The app tracks your parking session and sends you notifications before your session expires. If you need to, you can extend your session via the app without needing to return to your vehicle.
You can also get a refund using the app if you choose to end your parking session early.
Breeze Drive & Park
The Breeze app shows you real-time parking lot availability, calculates parking costs and compares with nearby parking options.
You can also use it to plan your route around Singapore based on ERP (road toll) timings so you know the best time to start your journey to be the most cost or time effective. Choose between the cheapest, fastest or shortest route options.
Food and Dining 
We all know Singapore is famous for its amazing local food scene. These apps will help you discover the best restaurants, read reviews, make reservations, or have some food delivered to your doorstep.
Singapore Restaurant Booking Apps
Chope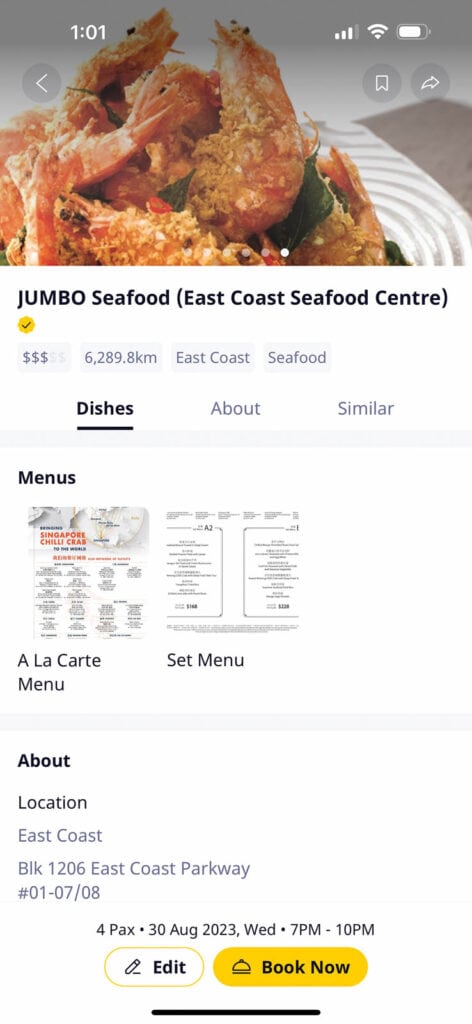 You'll want to have this handy app on your phone while visiting Singapore. With a wide range of popular restaurants, you can make reservations quickly and easily.
You can search for restaurants, view menus, read reviews and make your reservation in just a few clicks.
There are often 1-for-1 deals, off-peak discounts, and set menu savings, plus the ability to earn points and rewards as you dine.
You can also use it to order food online to either pick-up or get delivered, although we find other apps (see below) better for this
Heading on somewhere else after Singapore? You can also use Chope in Jakarta, Bali, Bangkok, Hong Kong and Phuket.
Burpple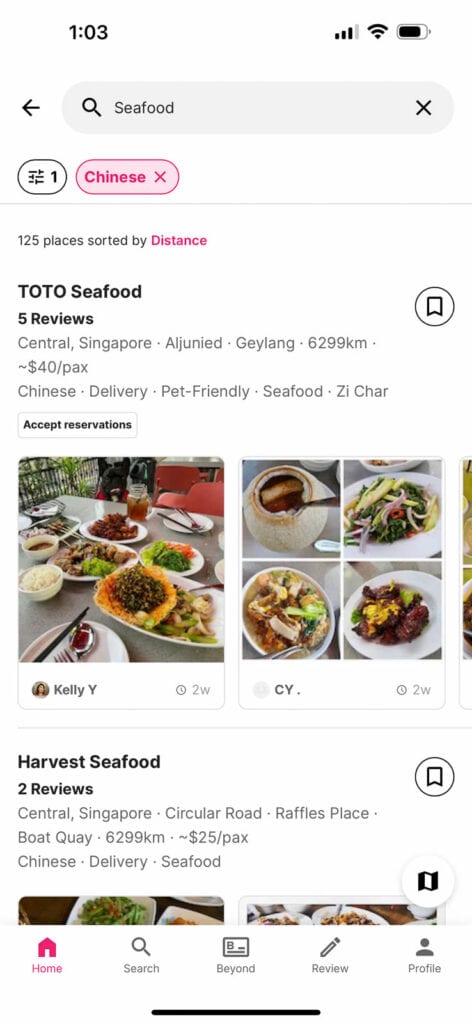 Similar to Chope, Burpple allows you to search for restaurants, read reviews and make reservations in the app.
Burpple also have a paid-membership, Burpple Beyond, which gives you 1-for-1 and % discounts at several restaurants. However, with membership starting at $49 per year, it doesn't really make sense for short-term visitors to Singapore.
EatiGo
Another restaurant booking app, EatiGo prides itself on offering restaurant bookings with discounts. These are time-based discounts, so eating at an off-peak time of the day can save you up to 50% off your meal.
If you're travelling further afield after Singapore, you can also use this app in Hong Kong, Singapore, Thailand, Malaysia, India, the Philippines and Indonesia.
Singapore Food Delivery Apps
Craving a late-night snack or just prefer a cosy meal in your accommodation? Worry not, these apps have got your back!
With these food delivery services, you can browse a variety of food options and have your meals delivered right to your doorstep.
Offering both local and international cuisine, they are perfect for satisfying all the different food cravings you might have during your stay in Singapore. You can search based on location, cuisine type, special offers and more.
There are three main food delivery companies. Often they will all deliver from the same restaurants, so we like to search via all three apps, and see who can deliver the quickest and cheapest. The options are:
GrabFood
Yes, just like Uber Eats, Grab has a food branch to its app. The handy thing about GrabFood is that you can pay via the app, using the credit card you already use for paying for taxis.
FoodPanda
FoodPanda not only allows you to order takeaway from restaurants, but also groceries and chilled alcohol from stores too. They allow you to pay via credit or debit card or PayPal and also allow cash payment on delivery.
Deliveroo
Deliveroo was the original food delivery company in Singapore and is still a popular app thanks to its wide range of restaurants and user-friendly platform.
Other useful Singapore apps
Before you go, here are a few more useful apps you should consider for your Singapore trip. 
SG Weather
If you're obsessed with checking the weather forecast, this app is for you. SG Weather provides 7-day forecasts, radar maps, rain stop-start alerts, PSI levels (for air quality) and more.
iChangi
It's been named the best airport in the world several times, and so of course Changi Airport needs its own app!
The iChangi app offers important information about your flight status, airport services, and facilities found at Changi Airport. You can sign up for alerts about your flight, book transport to the city, and even shop for duty-free items and last-minute souvenirs!
Whitecoat
It's always worrying if someone falls sick when you are travelling. Whitecoat helps manage this situation by offering online video and phone consultations with a Singapore-registered doctor. You can then arrange for any medication to be delivered, with everything being paid for online.