We take a look at the best hawker centres in Singapore, highlighting the top spots for delicious and affordable street food.
When visiting Singapore, one of the must-try experiences is indulging in the diverse and delicious street food scene at the city's hawker centres.
As a food lover, you'll find yourself spoilt for choice, with a wide array of flavours and cuisines that showcase the multicultural nature of Singapore. Hawker centres are teeming with stalls that serve a variety of dishes such as Char Kway Teow, Laksa, and Hainanese Chicken Rice, all at affordable prices.
As you explore the Lion City, these culinary gems will provide a fantastic experience that is both budget-friendly and authentically local. You'll not only satisfy your appetite, but also gain a deeper understanding of Singapore's diverse heritage and culinary traditions.
But with more than 100 hawker centres to choose from at these open-air food courts, how do you know which one to go to? Here, we help you narrow it down to help you find the best Singapore hawker centres that are also easy to get to for visitors to Singapore.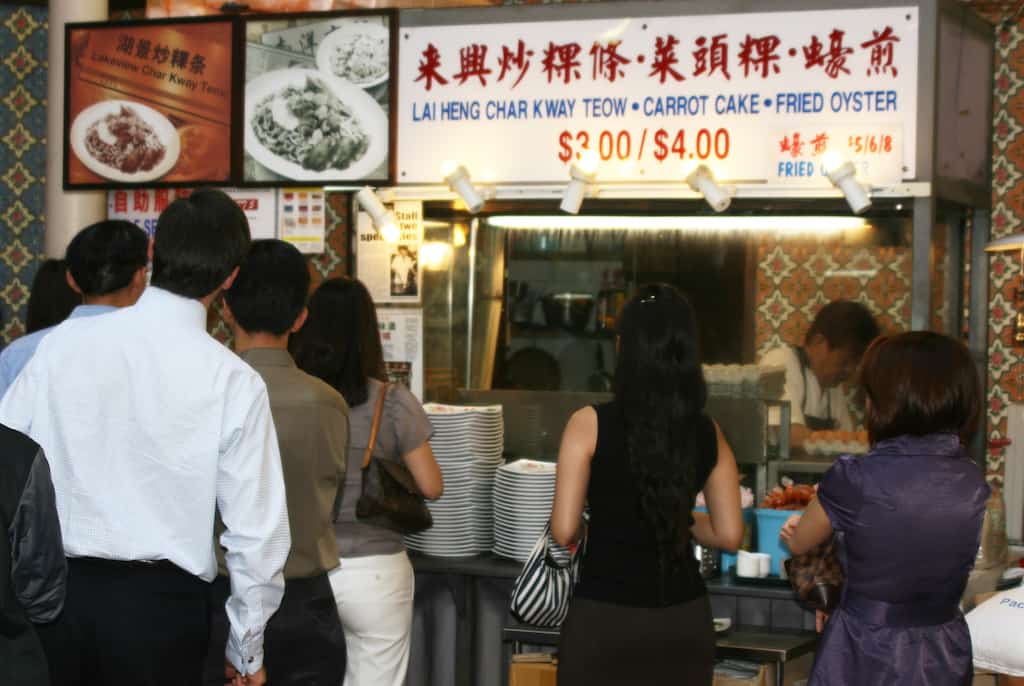 So bring your appetite and an adventurous spirit and enjoy your culinary journey.
Happy feasting!
Before you get started – check out our pick of the best local food dishes in Singapore.
What is a hawker centre?
A hawker centre is an (often open-air) food complex featuring a multitude of food stalls, serving up affordable food in a variety of local dishes.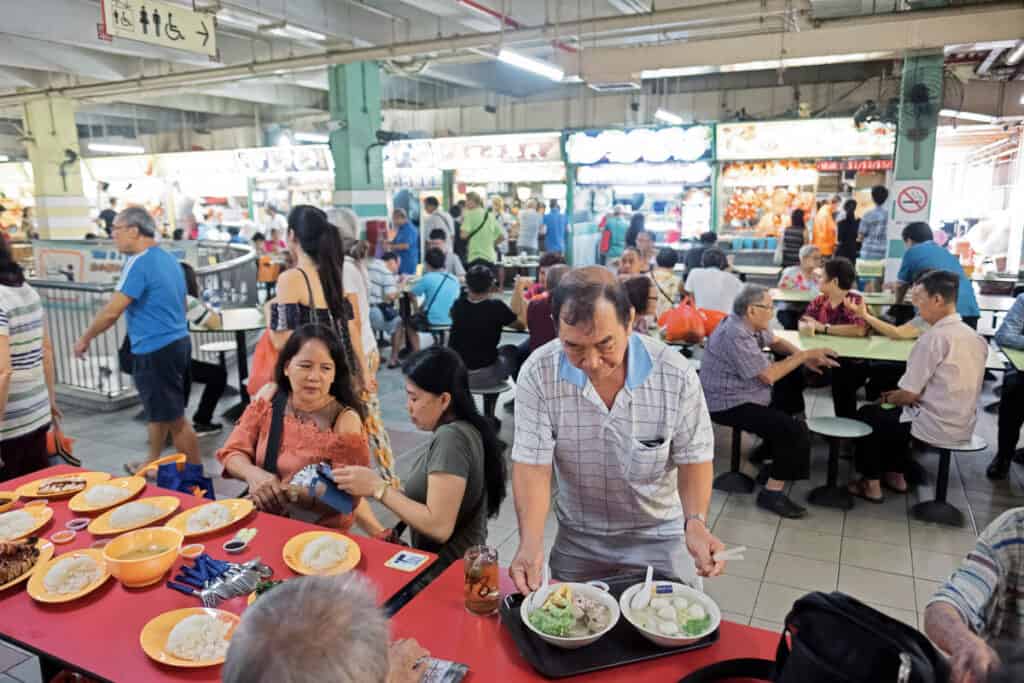 Originally hawkers would walk the streets pushing their carts and setting up shop in temporary surroundings. As time evolved, these 'villages' of food stalls became permanent.
They are now carefully regulated by the Singapore government to ensure strict health and safety compliance.
Got questions? Come join our Singapore Travel Tips Facebook group. It's the perfect place to ask questions and get inspiration for your trip!
Why visit a hawker centre?
Visiting a hawker centre is one of the best authentic cultural experiences you can have in Singapore. You'll get to eat as the locals do, try delicious local dishes and, best of all, it won't cost you very much at all!
Here's why else we recommend visiting a hawker centre.
You'll find a range of different cuisines: Savour dishes from various Chinese, Indian, and Malay culinary traditions, reflecting Singapore's multicultural heritage.
There's something for everyone: With over 50 stalls in some centres, you're bound to find something to suit your taste buds.
It's affordable: Enjoy delicious dishes for around $4-10, making it easy to sample a variety of dishes without breaking the bank.
It's a great atmosphere: You'll get to experience the bustling buzzing atmosphere as locals and tourists alike gather to bond over their love for good food.
A Melting Pot of Cultures
Singapore's hawker centres are more than just convenient dining options – they represent the very essence of what makes the nation unique, vibrant, and unforgettable.
The food stalls here epitomise the diverse cultural influences that have shaped Singaporean cuisine.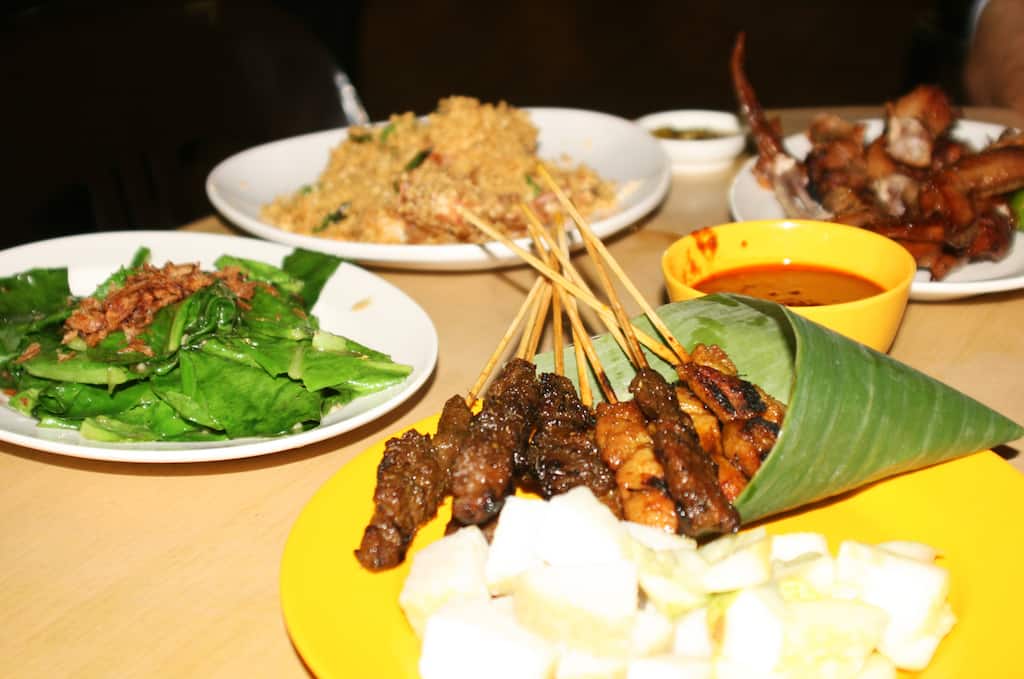 You'll find an incredible array of dishes from the nation's main ethnic groups: Chinese, Malay, Indian and Indonesian, as well as some Western, Japanese and Korean options. You'll even find stalls selling the local Tiger Beer to wash it all down with.
Don't be shy to ask the friendly stallholders for recommendations or tips on how to best enjoy their dishes. They'll be more than happy to share their passion for food with you.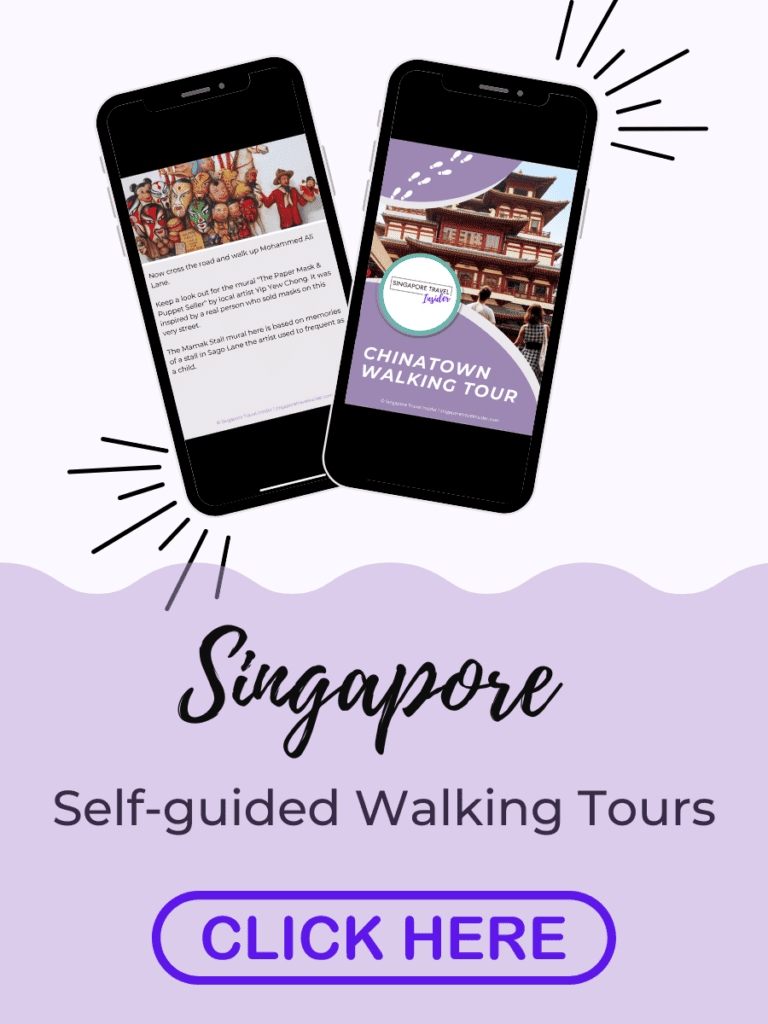 Iconic Hawker Centres and Their Star Dishes
Singapore is home to more than 100 hawker centres. We've narrowed it down to some of our favourites that a) have fantastic food options and b) are easy for tourists to get to, especially if you are short on time while visiting the city.
1. Lau Pa Sat
Lau Pa Sat is probably the most famous hawker centre in Singapore. It is handily located in the heart of the CBD, making it a popular choice for office workers, who flock here at lunchtime.
The cast-iron Victorian structure was built in 1894 and shipped from Glasgow and the hawker centre here boasts over 80 stalls.
Boon Tat Street to the side of Lau Pa Sat is locally known as 'Satay Street', and really comes to life after dark when hundreds of satay lovers flock to the area and the stalls start churning out clouds of smoke and vying for business. It's a great atmosphere.
The Best food at Lau Pa Sat:
Satay on Satay Street (after dark only)
Sambal Stingray from Ming Yen Seafood
Chicken Rice at Ipoh Hainanese Chicken Rice
Hokkien Mee at Golden Shoe Hokkien Mee
How to Get to Lau Pa Sat: MRT to Raffles Place EW14/NS26
2. Makansutra Gluttons' Bay
Makansutra Gluttons' Bay offers a bit more of an upmarket and tranquil experience, compared to most other hawker centres.
Located next to the Esplanade Theatre on Marina Bay, Glutton's Bay is one of the smaller hawker centres, with a select few stalls serving up good quality versions of all the favourites.
The open-air umbrella-ed seating means breezy alfresco dining with a view of the skyline across the bay, making this one of the more pleasant hawker centres to spend an evening at. (Not open for lunch)
The Best Dishes at Makansutra Gluttons' Bay:
BBQ Chicken Wings from Huat Huat Chicken Wings
Mee Goreng from Old Satay Club
Satay from Alhambra Padang Satay
Sambal Stingray at Redhill Rong Guang B.B.Q Seafood
How to get to Makansutra Gluttons Bay: MRT to City Hall EW13/NS25
3. Maxwell Food Centre
Located in the heart of Chinatown, the Maxwell Hawker Centre has over 100 food stalls. Its proximity to Chinatown and the Buddha Tooth Relic Temple make this a great option for lunch if you are in the area sightseeing.
The most famous stall here is Tian Tian Chicken Rice, widely regarded as one of the best chicken rice stalls in Singapore. They have been serving up their famous version of one of Singapore's best loved dishes since 1987.
If you come here for the Chicken Rice, be prepared to queue! It's one of the most popular hawker stalls in Singapore.
The Best food at Maxwell Food Centre:
Hainanese Chicken Rice from Tian Tian Hainanese Chicken Rice
Congee from Zhen Zhen Porridge
Fuzhou oyster cake from Maxwell Fuzhou Oyster Cake
Briyani at Famous Queens Briyani
How to get to Maxwell Food Centre: MRT to Maxwell TE18
4. Newton Food Centre
You may recognise Newton Food Centre as it famously appeared in the movie Crazy Rich Asians.
Even before the movie was released, this was always a popular food centre with tourists and with the expats who live in the Orchard Road area, leading many locals to complain that it is an expensive tourist trap.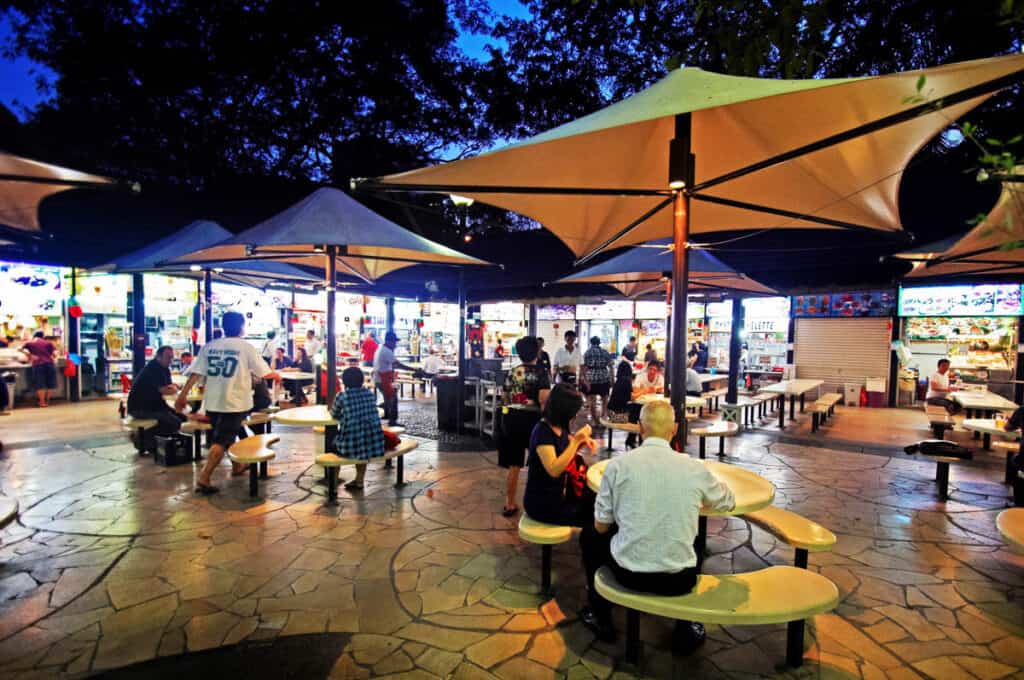 It's true it does feature on some bus tours, but it is easy to get to, airy and offers a staggering variety of stalls, so we still think it is worth a visit.
Best food stalls at Newton Food Centre:
Carrot Cake from Heng Carrot Cake
BBQ Stingray from Guan Lee Seafood
Oyster Omelette from Hup Kee Fried Oyster Omelette
Chilli Crab at Alliance Seafood
How to get to Newton Food Centre: MRT to Newton DT11/NS21
5. Chinatown Complex Food Centre
Singapore's largest hawker centre, the Chinatown Complex Food Centre is handily located in the heart of Chinatown very close to the Buddha Tooth Relic Temple and the Chinatown markets.
With over 250 stalls, there is something for everyone at this popular hawker centre. This food centre features several Michelin Bib Gourmand awardees and famous stalls.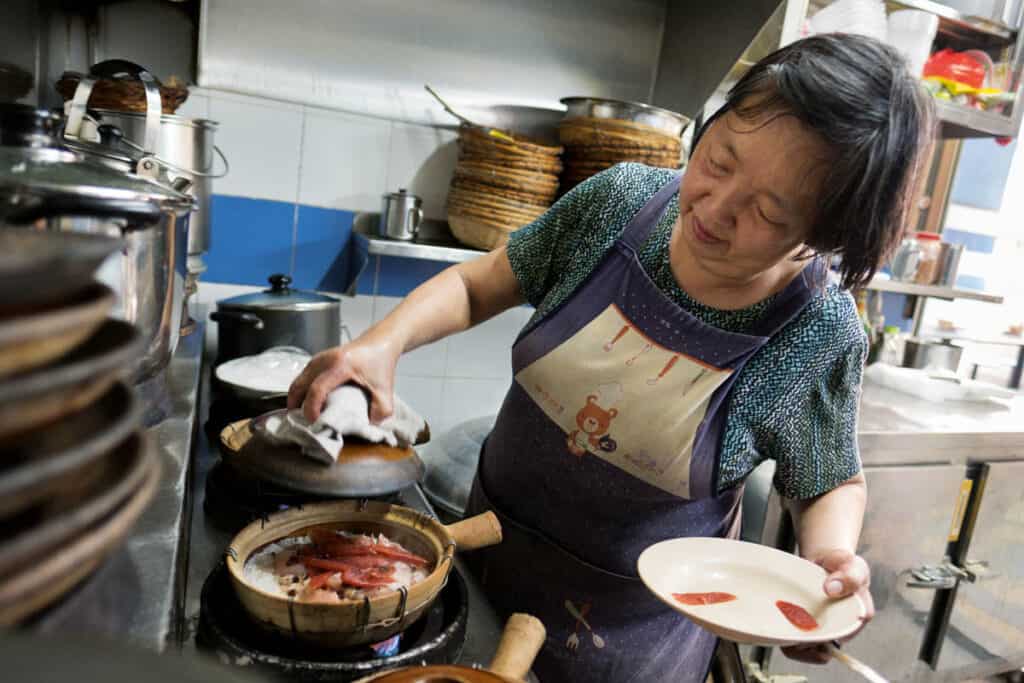 However the most famous of all is Hawker Chan Soya Sauce Chicken Rice and Noodle. This was the first hawker stall to be awarded a Michelin Star in 2016.
Chef Chan now has 12 outlets in six countries, but you can still visit the humble hawker stall where it all began right here.
The best food at the Chinatown Complex Food Centre:
Soya Sauce Chicken Rice at Hawker Chan
Char Kway Teow at Hill Street Fried Kway Teow
Popiah at Ann Chin Popiah
Claypot at Lian He Ben Ji Claypot
How to get to Chinatown Complex Food Centre: MRT to Chinatown DT19/NE4
6. East Coast Lagoon Food Village
The East Coast Lagoon Food Village offers a breezy alfresco atmosphere in which to indulge in some delicious hawker food. It's Singapore's only beachside hawker centre, making for a relaxed holiday vibe.
It's a popular dining spot for local East Coast families and a frequent stop-off point for cyclists to refuel at lunchtime.
Best food at the East Coast Lagoon Food Village:
Satay at Haron Satay
Char Kway Teow at Choon Hiang
Sambal Stingray at Stingray Forever BBQ Seafood
Bak Kut Teh at Han Jia Bak Kut Teh
How to get to East Coast Lagoon Food Village: Bus 401 from Bedok MRT station EW5
7. Tiong Bahru Market & Food Centre
Located above the wet market, the Tiong Bahru food centre is very popular with local Singaporeans who will travel across town to come here.
Tiong Bahru market is known for its exceptional Chwee Kueh and Lor Mee, so don't miss out on a chance to try these local dishes.
You'll also find five hawker stalls recommended in the Michelin guide, so you can be confident that the standard is high here.
Best food at Tiong Bahru Market:
Chwee Kueh at Jian Bo Shui Kueh
Lor Mee at Lor Mee 178
Chicken Rice at Tiong Bahru Hainanese Boneless Chicken Rice
Prawn Mee at Hong Heng Fried Sotong Prawn Mee
How to get to Tiong Bahru Market & Food Centre: MRT to Tiong Bahru EW17
8. Amoy Street Food Centre
Handily located close to the Central Business District, Amoy Street Food Centre is another popular hawker centre with office workers at lunchtime.
There are a lot of good stalls here, spread out over the two levels, so take your time to wander around and take them all in before deciding what to order.
We highly recommend the Curry Puffs at J2 Famous Crispy Curry Puff, they are some of the best in Singapore. Fish Soup is another popular dish here.
Best Food at Amoy Street Food Centre:
Curry Puffs at J2 Famous Crispy Curry Puff
Bak Zhang (Rice dumplings) at Hoo Kee Rice Dumpling
Fish Soup at Han Lee
Singapore-style Ramen at A Noodle Story
How to get to Amoy Street Food Centre: MRT to Telok Ayer DT18 or Tanjong Pagar EW15 or Shenton Way TE19
9. Tekka Centre
Located in the heart of Little India, the Tekka Centre is a haven for those who enjoy Indian and South Asian cuisine. But there are plenty of other hawker dishes on offer here too.
The Tekka Centre also houses one of the best wet markets in Singapore, so take your time to look around while you are here.
Best Food at the Tekka Centre:
Mee Siam at Grandma Mee Siam
Rojak at Temasek Indian Rojak
Briyani at Allauddin's Briyani
Prawn Noodles at 545 Whampoa Prawn Noodles
How to get to the Tekka Centre: MRT to Little India DT12/NE7
Lens on Local Singapore Hawker Dishes
As you explore the rich culinary offerings of Singapore's hawker centres, you'll discover mouthwatering dishes that cater to a variety of taste buds.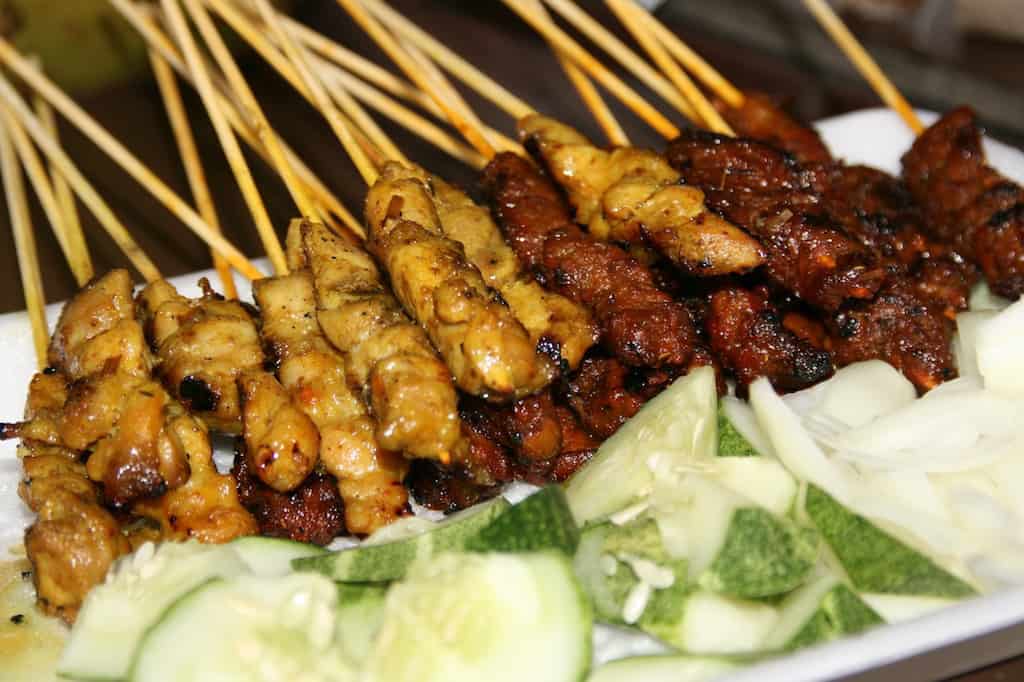 Here focus on three major culinary categories – Chinese Delights, Indian Flavours, and Malay Specialities.
You can read more about all these dishes and more in our article about the best local food in Singapore.
Chinese Delights
Chinese Singaporeans make up 75% of the population, so it is no surprise that you will find plenty of dishes of Chinese origin. Many of these dishes were brought to Singapore by the waves of Chinese immigrants during the 19th century and have been adapted over time to become distinctly Singaporean.
Some of these culinary delights include:
Hainanese Chicken Rice: One of Singapore's most famous dishes, this delectable dish prepared by steaming or poaching chicken and serving it with fragrant jasmine rice cooked in chicken stock.
Char Kway Teow: A satisfying stir-fried noodle dish made with flat rice noodles, prawns, eggs, Chinese sausage, and bean sprouts. It's often cooked with dark soy sauce and chilli paste for an extra kick.
Hokkien Prawn Mee: A savoury noodle soup dish featuring a flavour-packed broth made from prawn shells, served with yellow noodles and topped with fresh juicy prawns.
Bak Kut Teh – a clear garlicky, peppery pork rib soup with the meat falling off the bones.
Fried Carrot Cake – A steamed radish 'cake' stir-fried with garlic, soy sauce, eggs and spring onion.
Indian Flavours
With around 10% of the Singapore population being of Indian descent, you can also find a good variety of delicious Indian dishes within the hawker scene. Here are some of our favourites:
Roti Prata: Singapore's most ubiquitous Indian dish. Thin, flaky Indian flatbread served with an accompanying curry sauce.
Biryani: A layered dish that includes rice and either vegetables or meat with Indian spices.
Rojak: A mixture of fruits and vegetables, fried dough sticks and sometimes grilled cuttlefish and fried tofu, all mixed up in a sweet and spicy sauce.
Masala Dosa: Thin lentil pancake stuffed with served with potato curry, chutney and sambar.
Malay / Indonesian Specialities
The Malay community make up around 12-13% of the Singapore population, and many of Singapore's most famous dishes come from Malay cuisine. These include Laksa, Nasi Lemak – and everyone's favourite: Satay.
Satay: Skewers of marinated meat, often chicken, beef, or mutton, grilled to perfection and served with a delectable peanut sauce. This dish can be found at most hawker centres.
Sambal Stingray: Barbecued stingray smothered with a spicy sambal sauce made from a mixture of chilli paste, shallots, and shrimp paste.
Nasi Lemak: A popular Malay dish consisting of rice cooked in coconut milk and pandan leaf, served with sides like fried fish, chicken, or ikan bilis (anchovies), egg, and sambal chilli.
Mee Goreng: A flavourful Indonesian fried noodle dish, topped with vegetables, tofu, and your choice of meat.
Navigating Hawker Centre Etiquette
New to eating in a hawker centre? Here are a few tips around Singapore's hawker culture to make sure you blend in with the locals!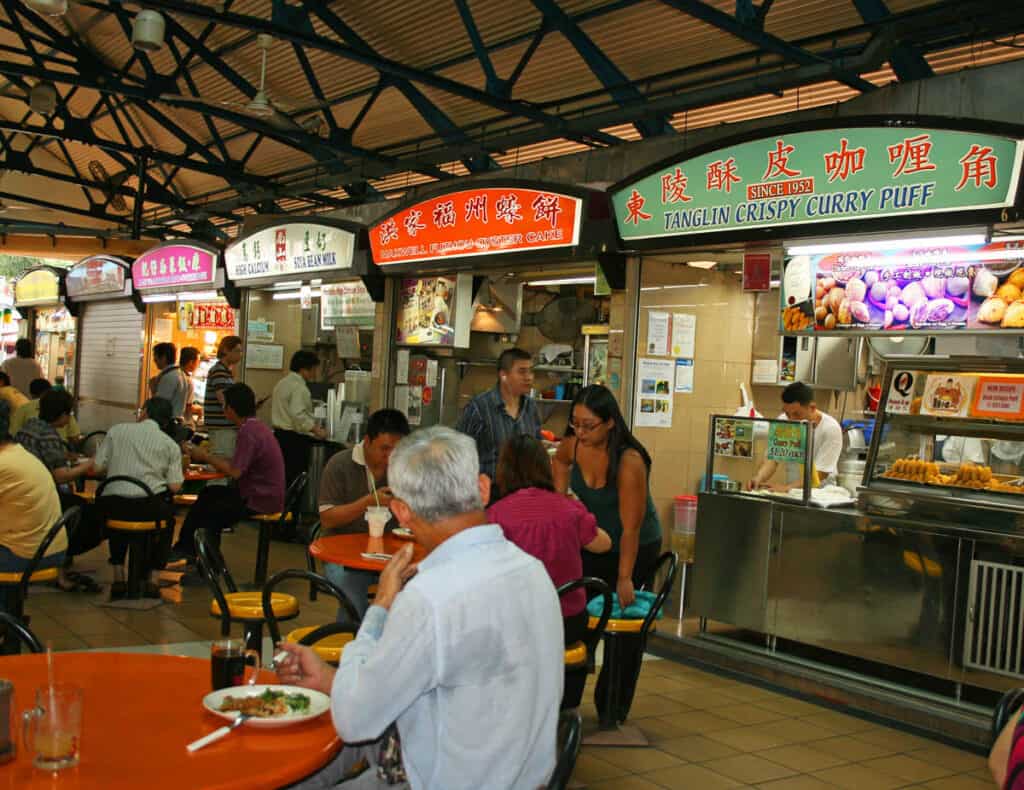 Picking the Perfect Meal
With a plethora of food stalls to choose from, selecting the perfect meal may seem daunting. However, a few simple strategies can help you navigate the options:
Take your time to walk around the centre and explore your options before deciding.
Look for long queues, as this often indicates how good and well-known the stall is.
Don't be afraid to ask locals for recommendations.
Keep an eye out for any awards or accolades displayed at the food stalls, which suggest a higher level of quality.
Hawker centre seating is first-come, first-served. During busy times, it's best to secure a seat before ordering your food.
If you see a packet of tissues on a table, this means the seat is reserved. Feel free to do the same to reserve your own seat.
Don't be shy and ask to share tables with other diners.
Although some stalls will accept cashless payment, usually Cash is King at hawker stalls.
Lunchtime Peak Hours
Visiting a hawker centre during lunchtime peak hours can be a bustling experience. Be prepared for the rush, as both office workers and tourists flock to these culinary havens during this time.
The key to success is patience and good manners, as you will likely find longer queues at popular food stalls.
Here are a few tips to keep in mind:
Plan ahead by arriving slightly earlier or later than the peak rush, since finding a seat and ordering food can be challenging during these times.
Be prepared for queues at popular food stalls.
Finally, remember to be patient and polite with the stall owners and other customers, as everyone is here to enjoy their shared love of delicious food!
FAQs
Is it safe to eat Hawker food in Singapore?
Yes it is safe to eat hawker food in Singapore. Hawker stalls are carefully regulated by the Singapore government to ensure strict health and safety compliance. Licenses are subject to regular inspections.
Why do Singaporeans like to eat at hawker centres?
Singaporeans like to eat at hawker centres because they offer a wide variety of food choices at affordable prices. They are also quick and convenient and offer a community atmosphere for dining.