This Crowne Plaza Changi Airport review gives you everything you need to know about the 'world's best airport hotel' based on first-hand experience over several hotel stays.
The Crowne Plaza Changi Airport is directly linked to Terminal 3 at Singapore's Changi Airport, making it a popular option for transiting passengers.
I have stayed several times now at this Changi Airport hotel. It is such a convenient location for early morning flights or overnight transiting. But more than that, unlike most airport hotels around the world, it's actually a really good hotel. It feels luxurious from the moment you step through the doors.
In fact, it consistently ranks as the world's best airport hotel. (It was voted the World's Best Airport Hotel and Best Airport Hotel in Asia in the Skytrax World Airport Awards for 8 consecutive years (2015 – 2023).
But what makes it so good?
In this review, I'll take you through my first-hand experience of this Changi hotel, covering everything you need to know about the hotel's Location, Rooms, Facilities, and Food and Drink options.
Disclaimer: This article contains affiliate links. If you make a booking using these links, we may receive a small commission, at no extra cost to you.
You may also like these articles:
Reasons to love Crowne Plaza Changi Airport
Its location, directly linked to Terminal 3, is perfect for transiting passengers.
It is just a 20-minute taxi ride to downtown Singapore.
You can walk to Jewel Changi in 5 minutes.
The hotel rooms are spacious and comfortable with all mod-cons.
It has a beautiful resort-style swimming pool.
Hotel Location
The Crowne Plaza Changi Airport is a haven for travellers in transit, or those arriving late at night or flying out early in the morning.
Situated landside, you'll need to clear immigration and customs to access it, but the hotel is directly connected to Changi Terminal 3. You can just push your luggage trolley right into the hotel to check in.
As Singapore is fairly small, it's still not all that far to get into town, taking just around 20 minutes in a taxi to get to downtown Singapore.
It's also just a five-minute walk to Jewel Changi Airport, where you will find a huge shopping mall and multiple eating options.
Insider Tip: I have used this hotel when I have had a short layover (flying in at night, departing in the morning) or if I have an early morning flight and just want to roll out of bed and straight into the airport. It is perfect for this.
I don't necessarily recommend staying here for a late-night arrival if you are planning to stay in Singapore for a few days. It takes just around 20 minutes in a taxi to get from Changi airport to the city. In my opinion, you'd be better just getting to your hotel that night and waking up and enjoying your holiday, rather than having to check out of one hotel, move and check into another hotel.
Rooms at the Changi Crowne Plaza
During my four stays at the Crowne Plaza Changi Airport, I have tried several different rooms:
Standard King Room
King Bed Premier
Twin Bed Club Room
King Bed Standard Jewel Wing
Note: You can also opt for runway view rooms to watch the planes taking off and landing. Alternatively, you can opt for pool access rooms that have direct access to the swimming pool and a private patio area. 
All rooms were fairly similar. They were spacious, comfortable and clean. The Jewel Wing is newer and rooms here have more luxurious bathrooms. Besides this, I didn't find my room on this wing to be much difference in standard.
For my first three stays at the Crowne Plaza, I travelled with my family. The fourth stay I was travelling alone.
Standard, Premier & Club Rooms
The Premier and Club rooms were fairly similar. While Standard Rooms are 28 sqm, Premier Rooms are more spacious at 36 sqm.
Both featured a plush King bed that provided an excellent night's sleep. The bathrooms had glass walls with funky floral patterns offering a modicum of privacy, with blinds providing complete privacy from the bedroom if needed.
The bathroom was spacious, featuring a separate shower and a bathtub. You will also find a hairdryer and all the individual amenities you would expect, such as a toothbrush, comb, and sewing kit.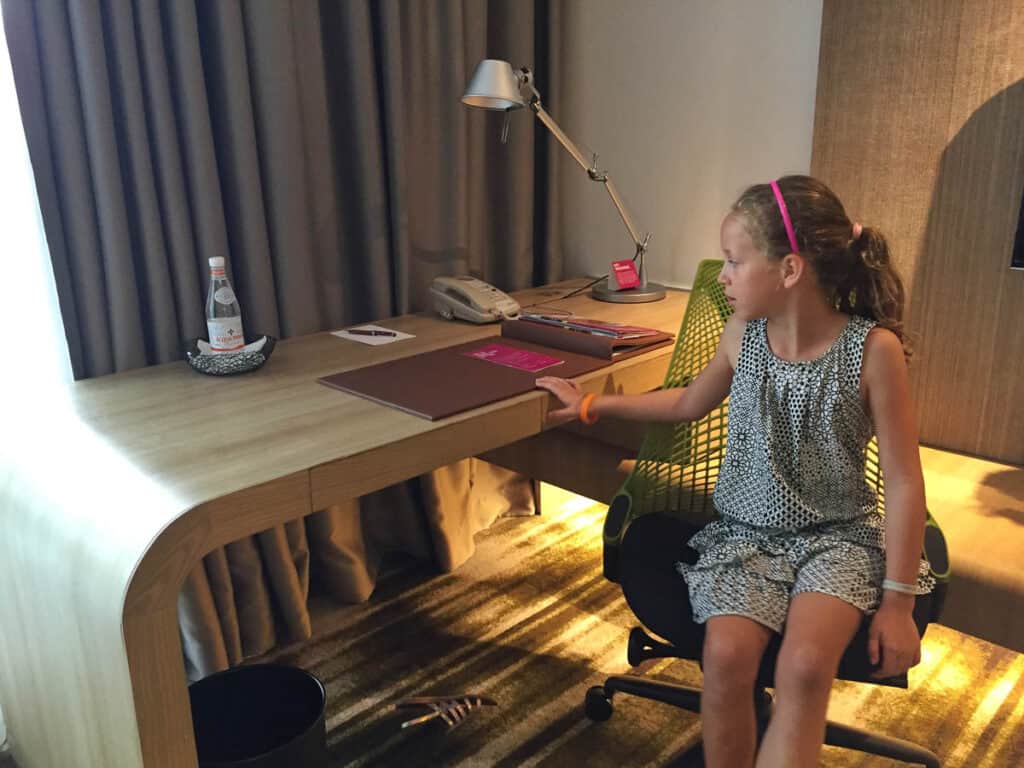 The rooms also included a two-seater sofa, a work desk with an ergonomic chair, and a television. Handily, the rooms have international standard power plugs, making adaptors unnecessary.
The high-definition Samsung TVs were easy to operate, with a selection of local and cable TV channels. The free Wi-Fi provided was decent, and there is an electronic safe available.
When we opted for a King Bed room, my two kids were small enough to share a bed, so we asked the hotel to provide a rollaway bed for them to share. This was easy to organise and came promptly.
The Twin Bed Club room was also 36 sqm and a similar room, but offered access to the Club Lounge. This meant a separate breakfast from the normal one at Azur and complementary drinks with snacks in the evenings.
Jewel Wing
My room in the newer Jewel Wing, although a standard room, offered a more stylish bathroom. It featured a stand-alone bathtub set against the window.
Unfortunately, my bathtub view was of the taxi queue down below, but I believe the Deluxe rooms in the Jewel wing offer a Jewel view, which would be nice, especially at night.
It is however slightly strange that the only window for the room is in the bathroom. If someone is in the bathroom with the door closed, you are left in a windowless room.
In addition to being newer, the other difference with the Jewel Wing is that the rooms are accessed via an air-conditioned corridor. Other rooms within the hotel have open-air corridors, meaning you are at the mercy of the Singapore humidity as soon as you leave your hotel room.
Hotel Facilities
One of the standout features of the Crowne Plaza Changi Airport is its swimming pool.
For an airport hotel, you don't really expect to find a resort-style swimming pool, but that's exactly what you get here. Palm trees, sun loungers and a relaxing vibe are all yours to enjoy.
It has a decent length for lap swimming and plenty of nooks and crannies for kids to explore around the palm trees. The view of the airport control tower is pretty cool too.
There's also a large, fully-equipped gym and a 24-hour business centre.
Food and Drink
Dining options at the Crowne Plaza Changi Airport have changed a lot over the past few years. And the hotel is currently undergoing a refurbishment to update its culinary offerings, so they are about to change again.
Unfortunately, the two-Michelin-starred Imperial Treasure, which we enjoyed a meal at when we first stayed at the hotel, is no longer an option. This was replaced by Crystal Jade Pavilion… which is also no more. Watch this space for what will replace it.
The main restaurant offering has always been its international restaurant, Azur, located on level two. This has offered expansive buffet breakfasts and dinners, plus a la carte options at lunch and dinner. The a la carte menu offers a selection of salads, sandwiches and burgers in addition to other Western and Asian main courses.
We tried breakfast both at Azur and the Club Lounge. Both were good. Azur was more extensive, with a very good buffet full of western and Asian options. The Club Lounge was smaller but still had plenty of options, and a calmer more exclusive atmosphere.
Azur too has recently closed, and is currently replaced by Alstonia, which is offering the same menu as Azur. Sports bar Bar 75 has also recently closed and the Lobby Lounge will also be closing. See below for more details about this refurbishment.
Insider Tip: A great option for dining, is to take the short 5-minute walk across the covered walkway to Jewel Changi. Here you will find a huge shopping mall with extensive dining options.
You'll find Food Republic, a food court with plenty of local food options; fast food restaurants such as Shake Shack, KFC and McDonalds and popular restaurants such as Din Tai Fung, Prive, Violet Oon Singapore and Tim Ho Wan. There's something for everyone here.
Is it family-friendly?
Definitely! There are interconnecting rooms available, rollaway beds are quickly provided and there are also cots available.
The restaurants easily cater for children, and kids will love the runway-view rooms! The pool is another highlight for kids.
Crowne Plaza Changi Refurbishment
As I have mentioned above, there are several changes being made the Crowne Plaza Changi Airport.
The poolside Club Lounge on the 3rd floor has been closed for some time to make way for new poolside bedroom suites. The Club Lounge is relocating to the second floor where Bar 75 was.
All the restaurants and bars are being updated and replaced. Azur restaurant on the 2nd floor is being replaced by updated wedding and function space, while a new Italian restaurant Alstonia has recently opened further along from Azur on the second floor. This is currently offering the old Azur menu.
I understand a new Italian restaurant will open on the ground floor where the lobby lounge is, which will include a pizzeria and outdoor bar and terrace.
It's a time of change, but I am confident we will see more high-quality offerings coming our way very soon. Watch this space and I will update you as the new culinary offerings open up.
Have you stayed at the Crowne Plaza Changi Airport? Come and share your experience in our Facebook group Singapore Travel Tips.