Our pick of the best budget hotels in Singapore will ensure you have a memorable stay, while saving some cash for your holiday spending.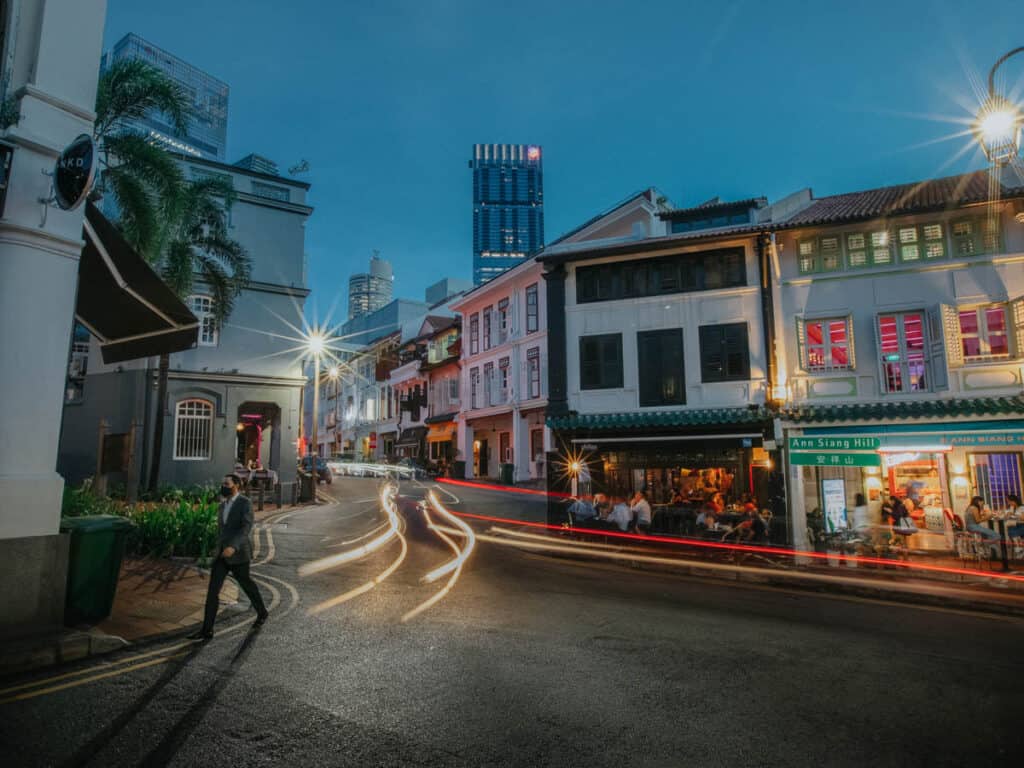 Even though Singapore has a reputation for being one of the most expensive cities in the world, that doesn't mean that this bustling city doesn't have its share of affordable places to stay.
Whether you're visiting for the first time or have been to Singapore before, we are here to help you discover plenty of places to stay in Singapore on a budget.

Here, we've put together some of the best hotels in Singapore that although they have affordable prices, they still have a luxurious touch.
Disclaimer: This article may contain affiliate links. If you make a booking using these links, we may receive a small commission, at no extra cost to you.
See also: Where to stay in Singapore – a guide to Singapore's most popular neighbourhoods.
Before we dive deeper, here are our top picks for the best cheap hotels in Singapore: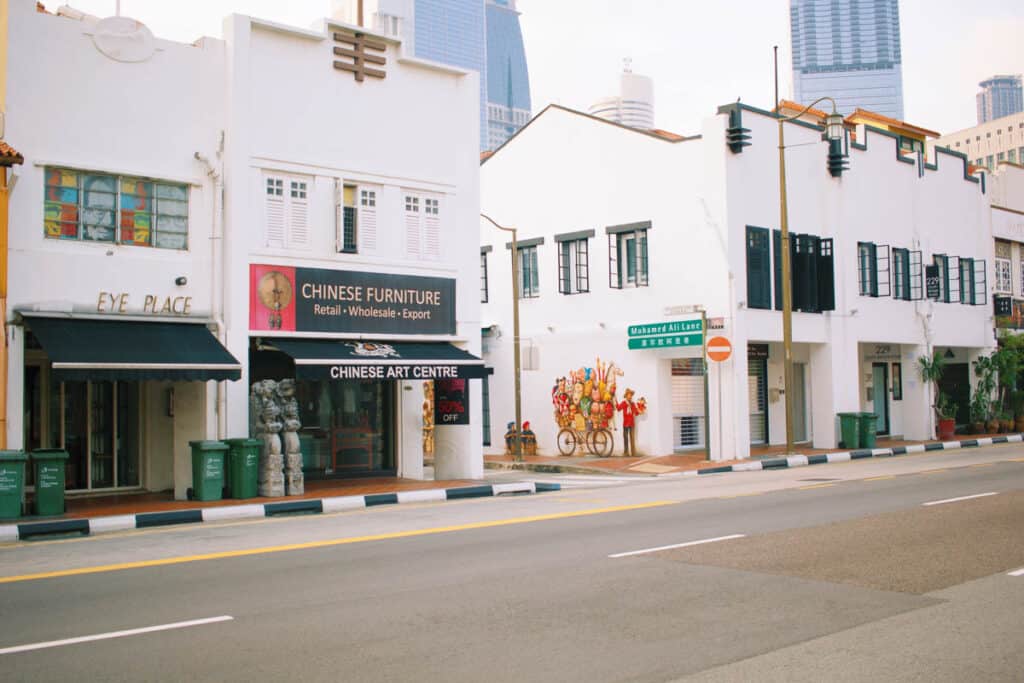 Heritage Collection on Chinatown
Great location in the heart of Chinatown
Beautiful murals in each room
Kitchenettes and self-service laundry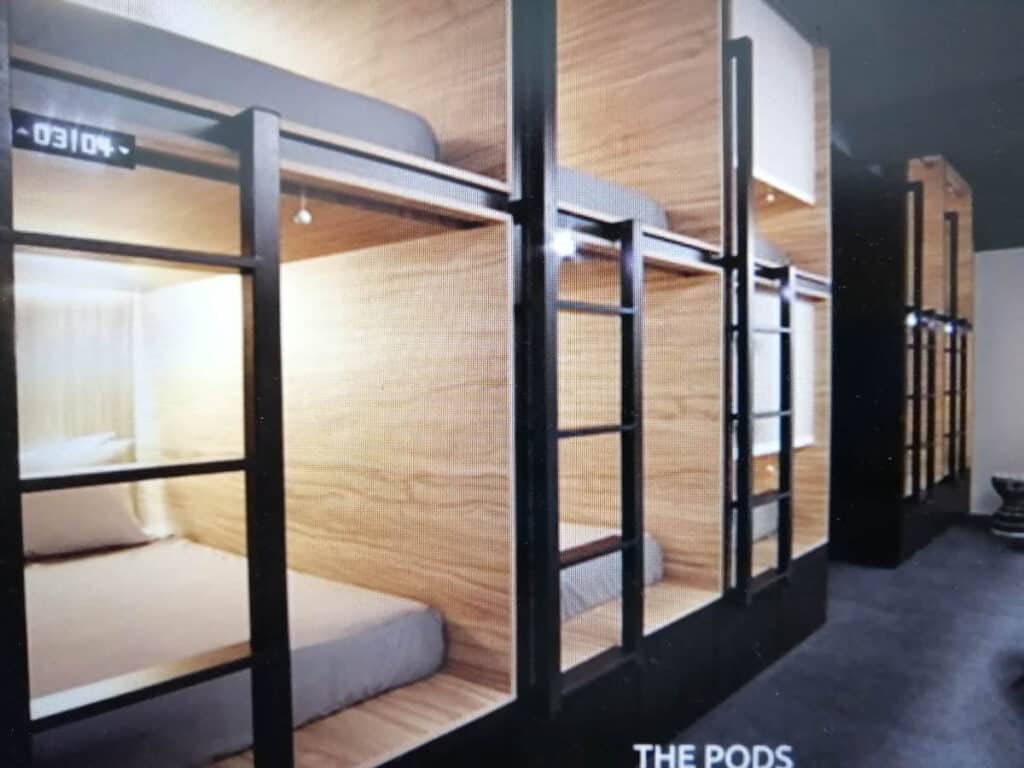 The Pod Boutique Capsule Hotel
Close to the Kampong Glam district
Choice of male-only, female-only, or shared rooms
On site laundromat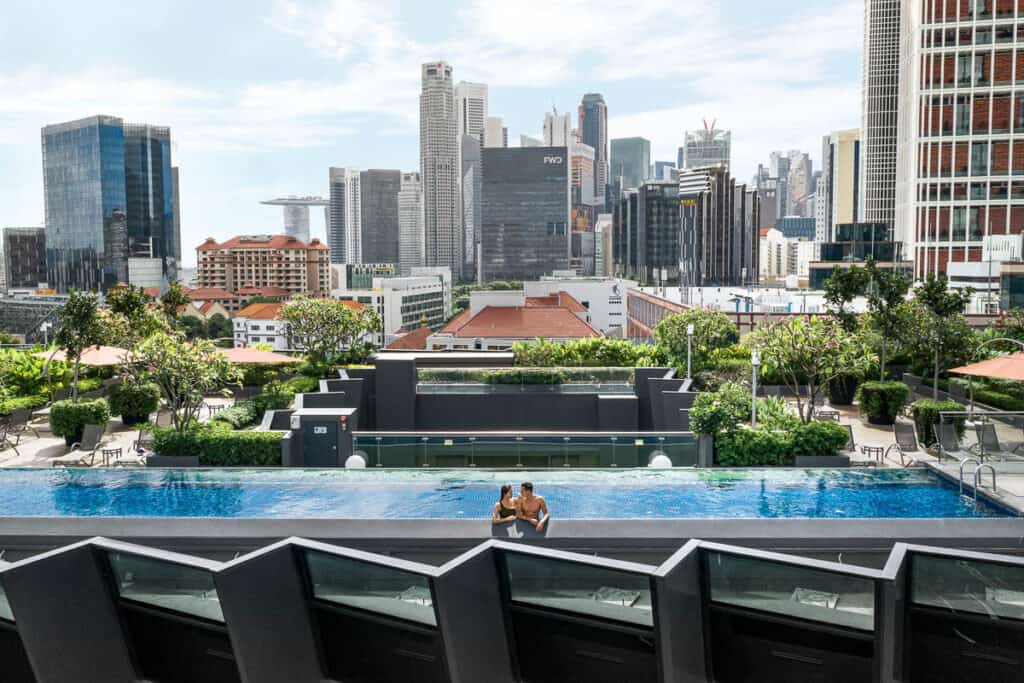 Holiday Inn Express Clarke Quay
Great location close to the Singapore River
Modern, comfortable rooms
Rooftop infinity pool
Best Singapore Budget Hotels
So let's dive in and look at all the best affordable hotels in Singapore and why you'll want to choose them for your Singapore stay.
Although these are among the cheaper hotels in town, some of these Singapore hotels even come with facilities such as swimming pools and gyms. And did we mention that they're also conveniently located within the city centre?
You'll also find that many are either housed in a unique location, such as a renovated shophouse or come with unique furnishings and Instagram-worthy decor.
Let's take a closer look!
Heritage Collection on Chinatown
If you've always wanted to stay in a fully furnished shophouse, you can do so at Heritage Collection on Chinatown.
"Perfect stay, great location – home away from home!"

– Danielle, United Kingdom. Read more reviews here.
Rooms are clean and comfortable, and you'll have weekly housekeeping and access to a fully equipped kitchenette and complimentary laundry facilities.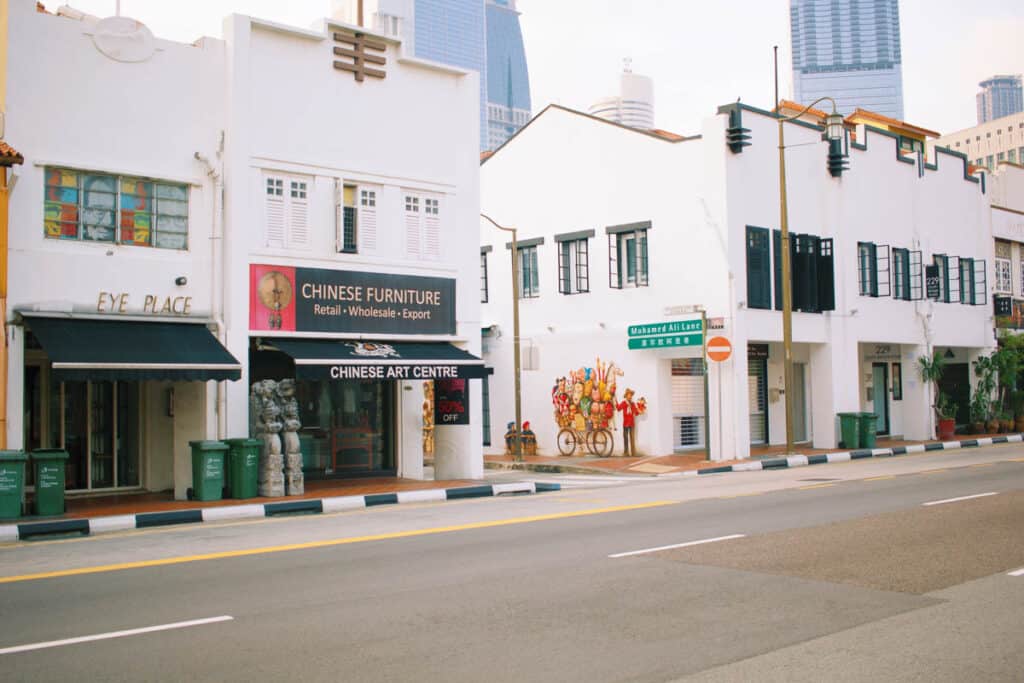 Each room has stunning Chinatown-inspired murals, high ceilings, large windows, and essential amenities. You're also situated in the heart of Chinatown – perfect for cultural enthusiasts looking to explore the surrounding area and discover the best local food haunts.
Lloyds Inn
A 34-room boutique hotel, Lloyds Inn is only a five-minute walk from the famous Orchard Road but feels like a little oasis of calm thanks to its leafy setting.
The Roof Terrace is great for mingling with other travellers, while the Garden Deck and Dipping Pool is the perfect relaxing spot. There's also an outdoor pantry with chairs, tables, and a lovely view of the neighbourhood.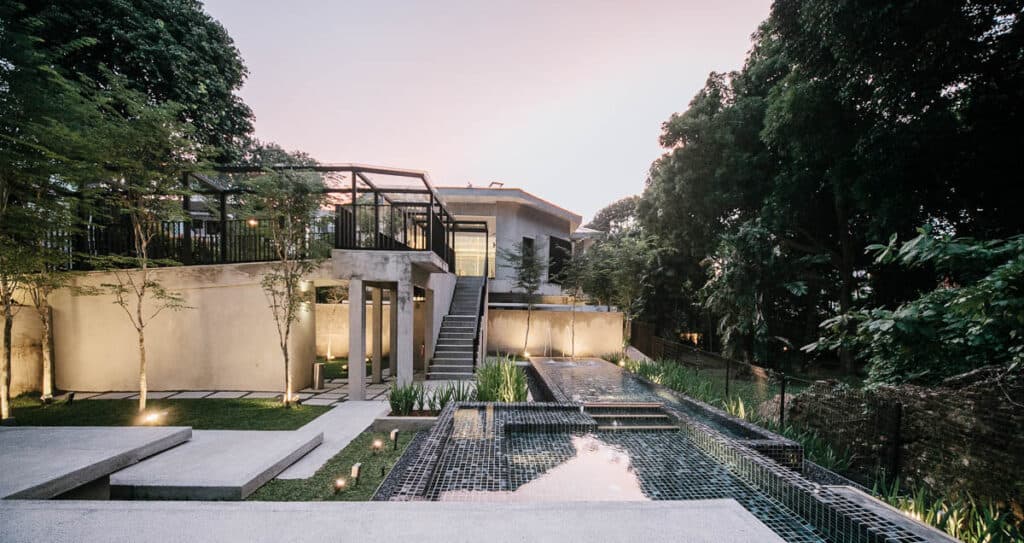 Rooms have a minimalist touch but are comfortable and have an indoor/outdoor en-suite bathrooms.
The Standard Room provides basic comfort and amenities, or upgrade to a more spacious Sky Room or Patio Room for more luxurious touches, such as an outdoor dining area, bathtub or living area.
"An oasis in the middle of a city."

– Victoria, Singapore. Read more reviews here.
Insider Tip: There's no restaurant on site but you'll get complimentary breakfast vouchers to get you a coffee and a pastry at the nearby cafe, Artisan Boulangerie Co.
Holiday Inn Express Clarke Quay
You're in the heart of it all at the Holiday Inn Express Clarke Quay. The hotel is in a great area close to Clarke Quay, Robertson Quay and Boat Quay and plenty of restaurants.
"Great breakfast selection. Lovely seating area. Fantastic roof top pool."

– Brian, United Kingdom. Read more reviews here.
Rooms are modern and comfortable and come with floor-to-ceiling windows. They've also got rain showers in the ensuite bathrooms and all the amenities you need.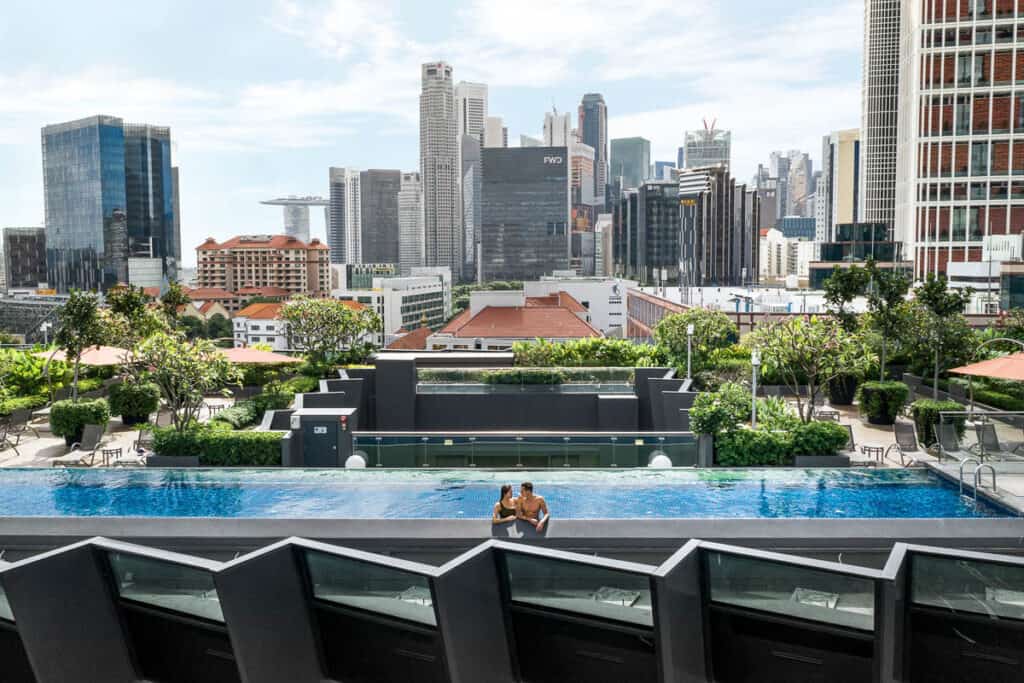 There are 442 rooms in this hotel, and even a breakfast buffet is included with your stay. Fancy a dip? No worries, the rooftop pool is the perfect place to cool off. It's open until 10 pm every night and there's also a 24-hour fitness centre here.
Food-wise, there's no restaurant onsite, but with Robertson Quay and Clarke Quay on the doorstep, there are plenty of options nearby.
Hotel NuVe
Centrally located in Bugis, Hotel NuVe is close to Singapore's famous shopping district and cultural haven. The hotel is located close to Arab Street amongst the colourful multicultural neighbourhood of Kampong Glam.
Wonderful staff, great value for the accommodations, would stay again.

Fred, Canada. Read more reviews here.
There are 43 rooms in Hotel NuVe, all comfortable and housed within pre-war conservation shophouses. The NuVe Single is perfect if you're looking for a no-frills room with a single-sized bed and shower. Otherwise, there's also the NuVe Basic room with a queen-sized bed.
Amenities-wise, there's a complimentary mini-bar for guests, along with games and free Wi-Fi.
Hotel G
For the ultimate lifestyle hotel, Hotel G is precisely what you need. It's located near Bugis and in a bustling neighbourhood with vibrant nightlife and phenomenal food.
"Overall it was a comfortable stay in a good, very walkable location."

-Kourtney, United States. Read more reviews here.
Rooms are small but thoughtfully designed with interesting vintage decor. Opt for the Good Room if you want to relax and recharge or the Greater Room if you'd like more space.
The hotel also has a burger and liquor bar along with a restaurant and wine bar led by highly acclaimed Executive Chef Sylvain Royer.
Need to sneak in a workout? No worries, Hotel G has a fully equipped gym on the third floor with Techno-gym treadmills, wellness balls and anything else you need.
Hotel Mono
With its modern design, you'd almost feel like you're stepping into a museum when you enter Hotel Mono.
"The location was excellent with helpful and friendly staff."

– Margaret, New Zealand. Read more reviews here.
Set in six historical shophouses, these buildings have been beautifully restored and retain their original charm while interweaving the modernity of current Singapore.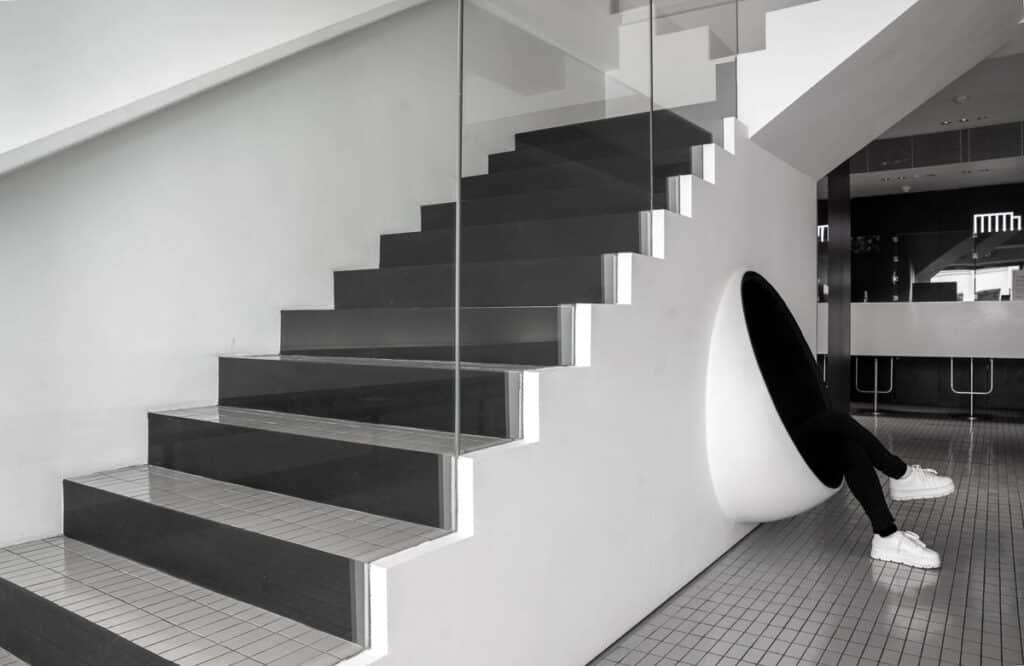 Rooms are simple yet comfortable, and you can choose to stay in any category, from the Single Room to the Standard Double.
There's plenty to explore and discover around the area, as Hotel Mono is in a convenient location at the heart of it all. Head to Club Street for bars and restaurants, or immerse yourself in the cultural heart of Chinatown, just mere steps away.
M Social Singapore
A plethora of restaurants, cafes, and gyms surrounds this lifestyle boutique hotel in Robertson Quay, M Social Singapore.
"Friendly and very helpful reception staff . Perfect location. Great breakfast."

– Lillian, Ireland. Read more reviews here.
As you enter the hotel, you'll automatically be drawn to the chic interiors and open communal spaces.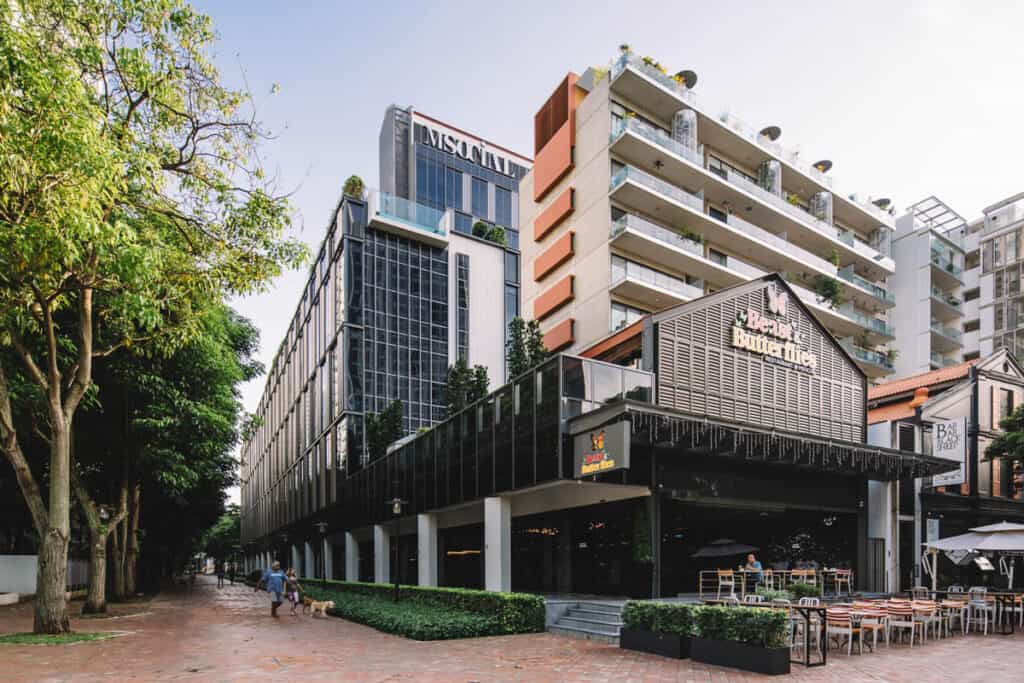 There are over 293 rooms in the hotel with room categories like the Alcove Cosy Room and Loft Gallery Room. Rooms also come with full-length windows to admire the Robertson Quay views.
There's an outdoor swimming pool to take a relaxing dip at and if you'd like to work out, the hotel also has a fitness centre – always a nice bonus.
If you're hungry, there's an in-house modern Asian restaurant within the hotel and a good choice of restaurants right on the doorstep along the river at Robertson Quay.
Mercure Singapore Bugis
Centrally located, the Mercure Singapore Bugis is close to many street markets, shopping malls, and historical monuments. With much to explore within the area, you'll never be bored!
"The staff is friendly and helpful and always provide outstanding customer service!"

– Scott, United States. Read more reviews here.
The Signature Room with Queen Bed has everything you need for a comfortable night's stay, and there are also two restaurants and a bar within the hotel for your convenience.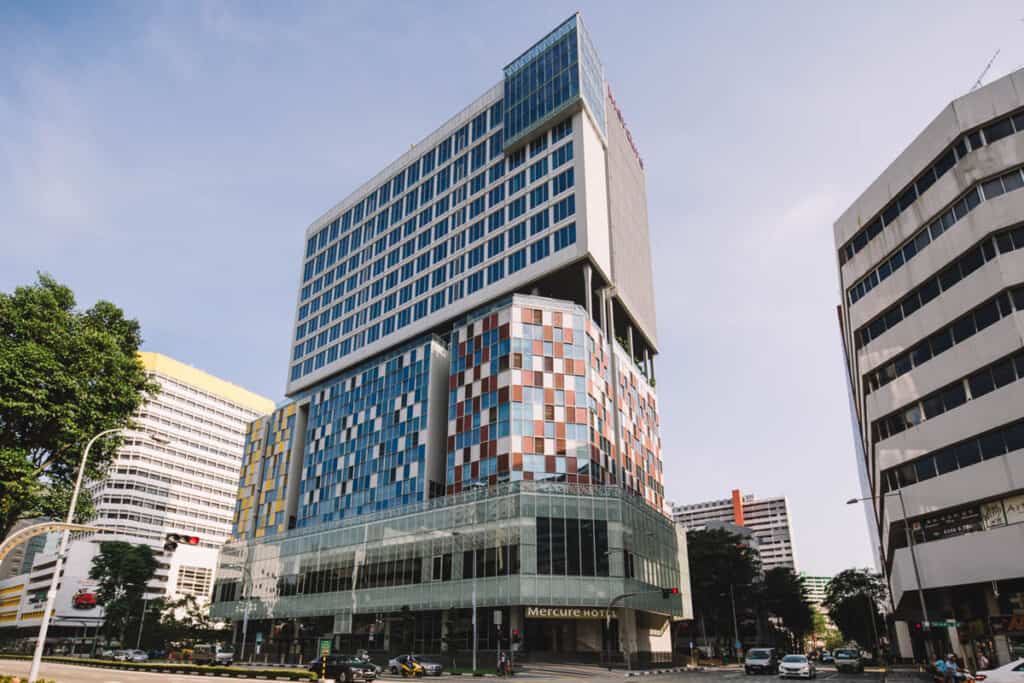 Other amenities within the hotel include a 24-hour gym and an outdoor infinity pool with incredible views of the city. As a bonus, the hotel also has 15 stories – one of the tallest buildings within the area, so you can be assured that you'll be treated to an incredible view.
The Pod Boutique Capsule Hotel
With 100 cozy pods and capsules, you can't go wrong with The Pod Boutique Capsule Hotel. This hotel is modern and minimalistic and an excellent option for people looking for fuss-free and convenient living.
"Very comfy pods with nice mattresses and clean bedding."

– Oliver, United Kingdom. Read more reviews here.
Situated on Beach Road near the Kampong Glam district, there's plenty to explore, from great value restaurants to historical sites and more.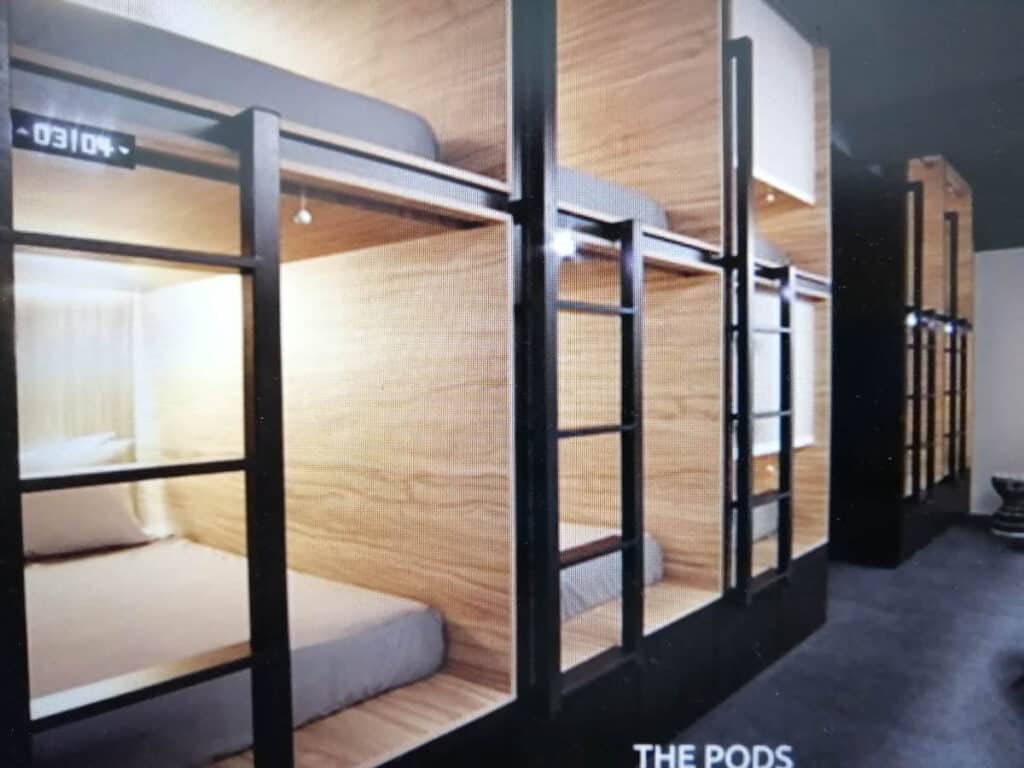 Rooms are available in single or double capacity and come with everything from your power socket to a personal reading light. You can also opt for a male-only, female-only, or shared room.
Insider tip: This is an adults-only hotel so don't book if you are travelling with kids! But don't worry we have plenty of recommendations for family-friendly hotels in Singapore.
Other services within the hotel include complimentary tea and coffee, business pods, a self-service laundromat, and self-contained bathrooms. You'll even find hair dryers and hair straighteners on the female floor.
Wink Hostel
Another option for comfortable capsule accommodation, the Wink Hostel is a modern funky hostel known for its friendly welcome. Housed in three fantastic locations within Chinatown (Mosque Street, Upper Cross Street and McCallum Street), all their outlets are within a 5-minute walk of Chinatown MRT station.
As a 'capsule' hostel, each guest is provided with an individual pod within a dorm room. Each pod comes with its own backlight, reading light and power socket.
"Probably the best hostel room I've stayed in!"

– Elysia, Australia. Read more reviews here.
Dorm rooms range from 4 to 8 pods in each room at this affordable hostel, so if you are travelling with friends or family, you could rent an entire dorm for extra privacy.
Bathrooms are shared, but they are modern, spacious and clean. There is also a fully equipped kitchenette, a self-service laundry, free WiFi and a free breakfast every morning.
Quincy Hotel
If convenience is important to you, the Quincy Hotel is exactly what you need. It's situated just a stroll away from the bustling shopping district of Orchard Road.
"The choice of breakfast was excellent and the evening drinks and canapes a lovely touch."

– Derek, United Kingdom. Read more reviews here.
You'll get everything from daily breakfast to 24-hour lounge access with complimentary all-day refreshments, evening cocktails, and more. Rooms are clean and comfortable, and you can opt for the Premier or Deluxe Room category.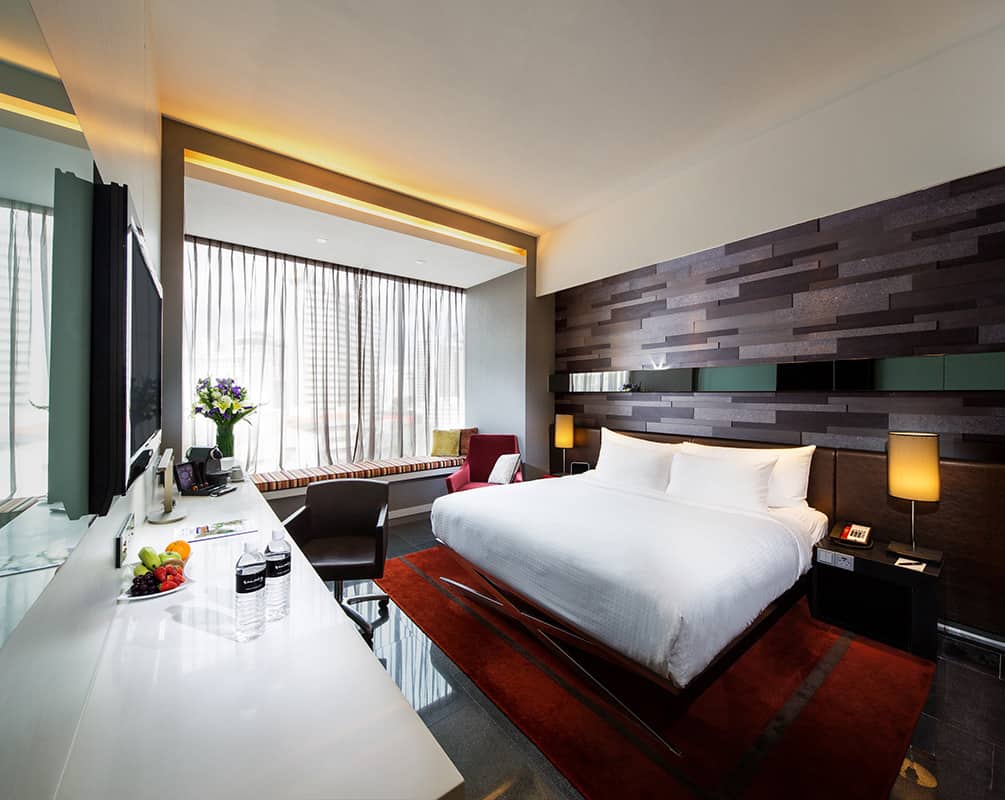 Insider Tip: Quincy Hotel caters to children over the age of 12 only. Travelling with small kids? Don't worry – we have plenty of recommendations for family hotels in Singapore.
Amenities-wise, the Quincy Hotel has an Alfresco Area, an outdoor lawn with fairy lights, a 24-hour gym, an infinity pool, and even sauna and steam rooms. If you're hungry, there are plenty of dining options around the area.
YOTEL Singapore
Once again located near the convenient shopping district of Orchard Road, YOTEL Singapore has a few different room types for you to choose from. You can opt for a Premium Queen, or if you're travelling as a family, there's also the Premium Triple.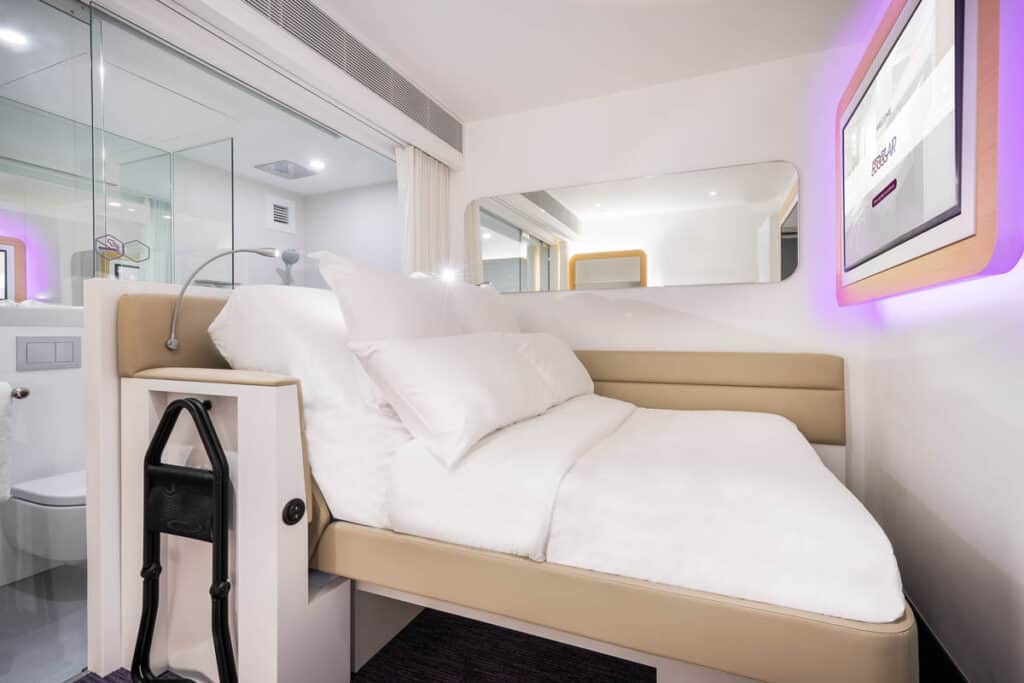 The moment you arrive, all you've got to do is check in at the self-service kiosk, and you're good to go. There's also a luxurious outdoor swimming pool for you to take a dip in, a 24-7 gym, and a restaurant (Komyuniti) serving breakfast to late-night drinks until 11 pm.
Lyf Funan Singapore
For a hotel slightly different from the rest, there's the new Lyf Funan. It's a unique Singapore apartment hotel located in the newly renovated Funan Mall. You can choose from various apartments at the Lyf, from studio apartments to themed studios and more.
You can grab some coffee and local bites at Lyf, and they've also got a comfortable communal lounge, 24/7 on-call wellness and security, a launderette, a gym area and a social kitchen. The hotel even hosts in-house events so you can connect and engage with other residents within the hotel.
"Modern, clean, great staff and great location."

– Stephen, Australia. Read more reviews here.
Being located in a shopping mall, you have plenty of shops on your doorstep, plus a food court for cheap and easy meals. You are just a short walk from the MRT station, which is accessible via an underground walkway and easy walking distance from the Central Business District.
One Farrer Hotel
A leading lifestyle retreat resort, One Farrer Hotel, is situated in Singapore's Little India district. This interesting hotel has 249 rooms and even 15 water and tropical gardens within the hotel!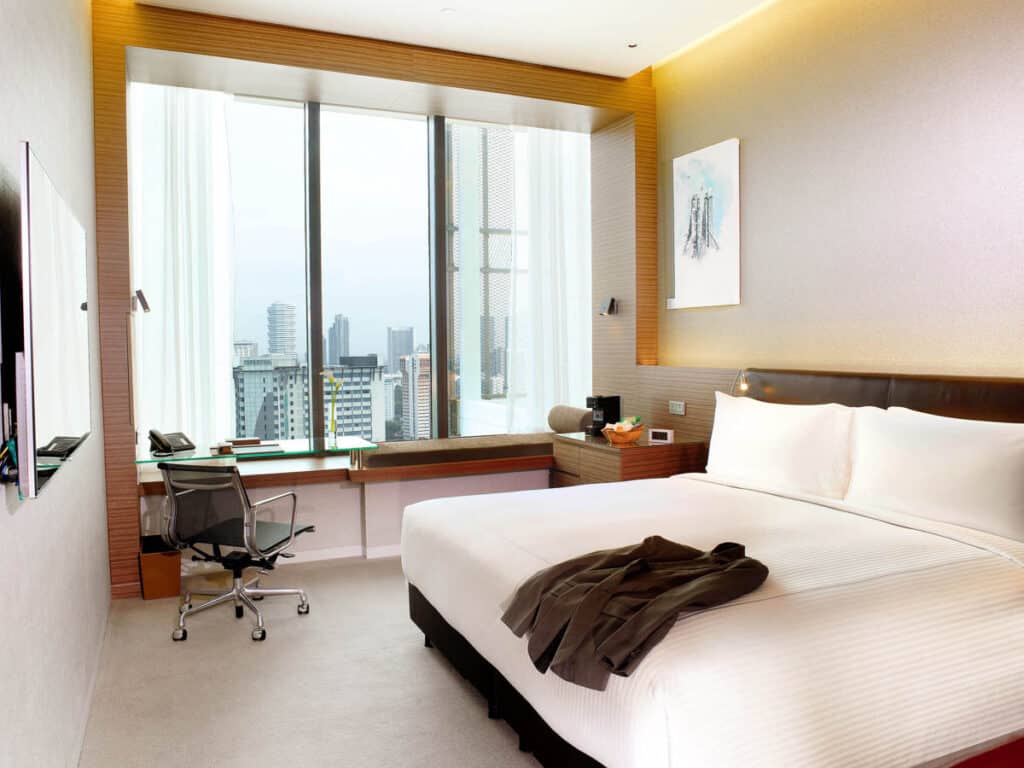 Facilities within the hotel include a Skyline Lounge, a 24/7 gym, and an Olympic-sized swimming pool complete with poolside cabanas. There's a poolside restaurant within the hotel and a confectionery shop selling cakes and desserts from the acclaimed culinary team.
"Fab pool, super clean rooms with great city views, quiet location."

– Claire, United Kingdom. Read more reviews here.
For something simple yet comfortable, stay in the hotel's Mint Room – a calming hotel escape from the bustle of the city.
Hotel Soloha
The chic and bespoke boutique Hotel Soloha is the perfect blend of both past and modern Singapore. Situated around the corner from trendy Keong Saik Road in Chinatown, it offers easy access to bars, restaurants and hawker centres.
"It's location is excellent and the hotel has a quirky, artsy vibe."

– Simon, United Kingdom. Read more reviews here.
Rooms come with bespoke artisan furnishings, and there is plenty of interesting art dotted around the hotel and it famously has an Instagram-worthy wall and five-foot walkway at the entrance.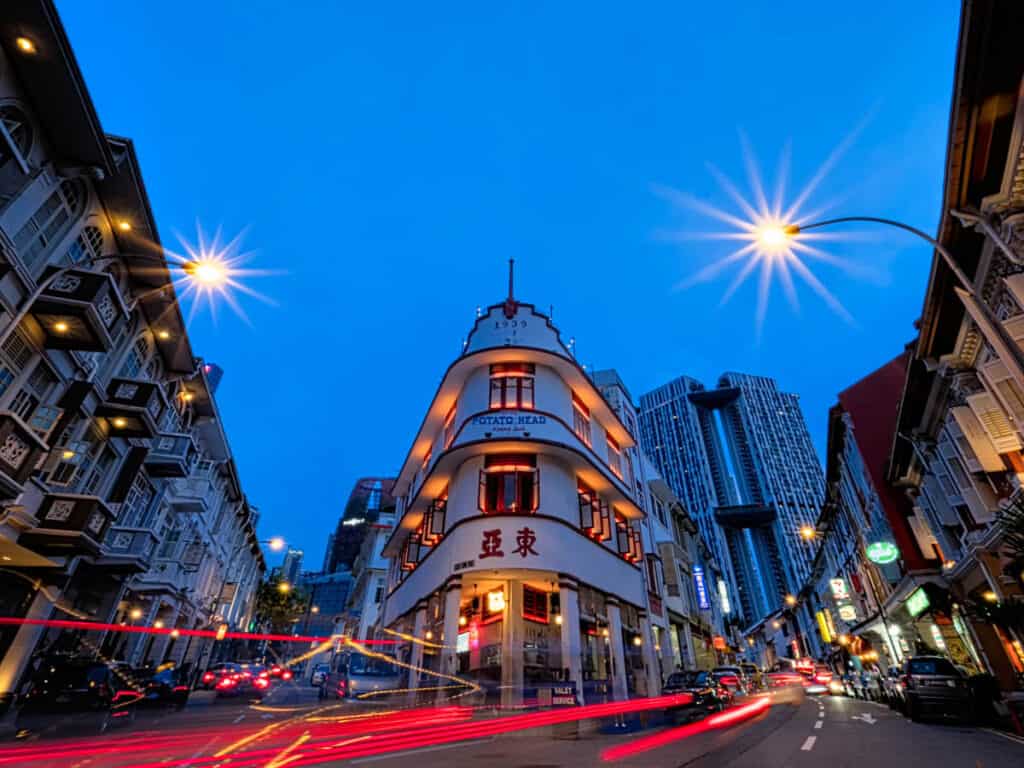 The room also has cute printed cushions, complimentary toiletries, and a Smart TV and we especially love the light cove, configurable with three different moods.
Insider Tip: the hotel is just a short walk away from both Maxwell Food Centre and the Chinatown Complex, both great places to sample some of the best local food in Singapore.
Being social is a huge part of residing at Hotel Soloha, and the reception front desk even doubles as a bar, where guests are encouraged to mingle.
Hotel Clover The Arts
Nestled between Boat Quay and Clarke Quay, Hotel Clover The Arts is an attractive art-themed boutique hotel that's sure to impress.
"Location location location."

– Angeline, Australia. Read more reviews here.
The hotel has many different room types for you to choose from, but the popular ones are the Superior Single, Superior Queen and Studio Single. Rooms come with unique furnishings – one even comes with Panda-themed wallpaper!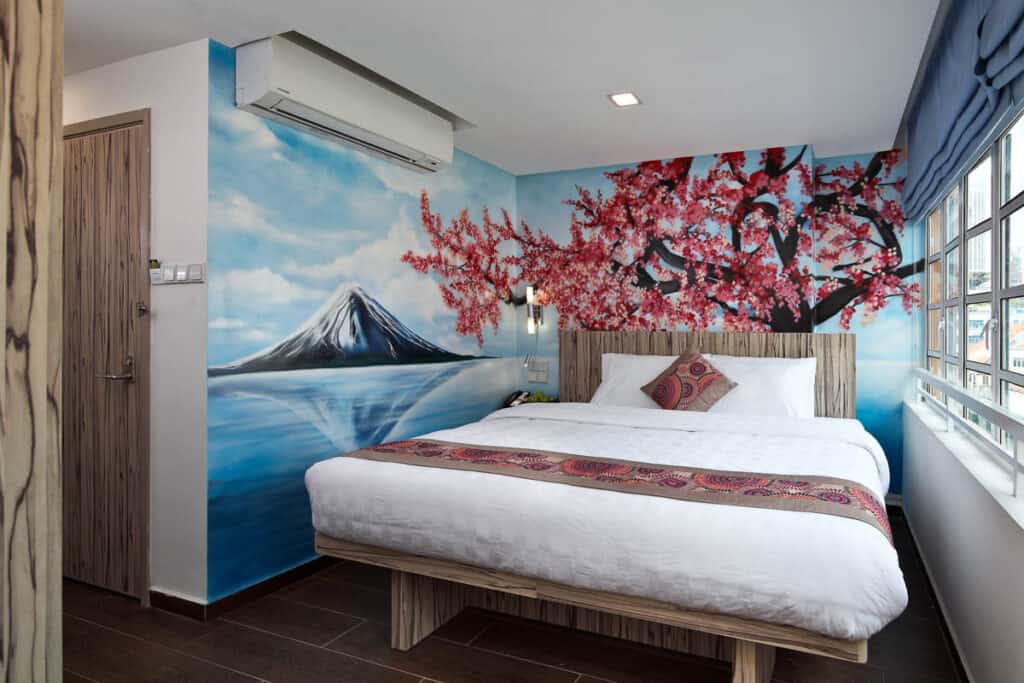 In terms of facilities and services, the hotel has a breakfast area and a gorgeous rooftop garden terrace that's the perfect spot to enjoy some quiet time and get away from the busyness of the city.
With such a central location in the heart of the Singapore River, you won't have any issues finding a nearby MRT station or things to do.
The Great Madras
The unique Hotel Madras may only have 34 rooms, but it's excellent in attitude, personality, and service. Situated in the cultural district of Little India and less than a 10-minute walk from Little India MRT station, the hotel has plenty of room categories to choose from.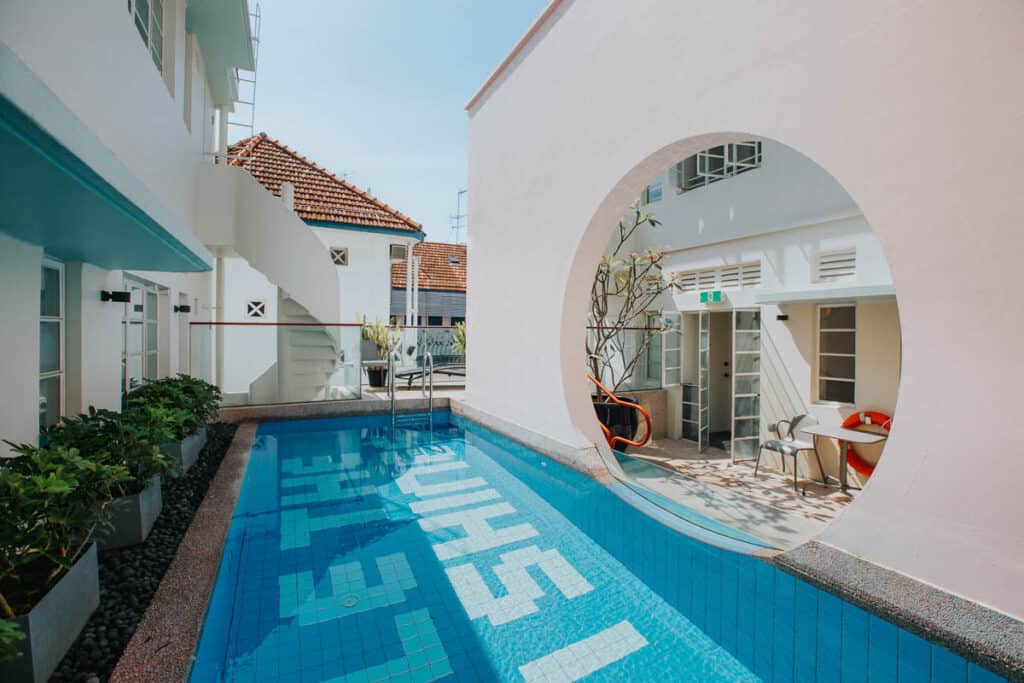 Take your pick from The Deluxe Hostel, which comes with co-living spaces with king-sized beds or The Good Room, with intricate prints of ferns and leaves.

Looking for some food? The hotel has a Bistro that serves up some tasty food. Otherwise, there are also plenty of other food options around Little India. The hotel even has a small outdoor pool you can relax and lounge at and even an onsite barber!
You may also like these articles: