We check out all the best boutique hotels in Singapore, for those looking to indulge in a unique and memorable hotel stay.

Singapore has earned itself quite the reputation as an incredible travel destination that's not to be missed and the choice of accommodation can be overwhelming.
There are plenty of big-name brand hotels in Singapore, but if you're looking for a more unique option for a memorable stay, you can't go wrong with a boutique hotel.

There is an extensive selection of boutique hotels in Singapore to choose from – whether you are looking for spacious rooms, a cosy loft, or to be situated amidst the heritage neighbourhoods of Singapore.
Perhaps what's unique about them is the fact that almost all of these boutique hotels pay homage to the unique multicultural thread of Singapore. They've also all got their own amenities that distinctly set them apart from each other, along with unconventional designs.
Boasting a one-of-a-kind experience, we've put together a list of some of the best boutique hotels in Singapore that are perfect for everyone, from modern minimalists to lovers of the quirky and cool.
See also: Where to stay in Singapore – a guide to Singapore's most popular neighbourhoods.
Our Top 3 Picks: Singapore Boutique Hotels
The Warehouse Hotel
Cool historic building
Rooftop infinity pool
Great location at Robertson Quay
Clan Hotel
Luxurious contemporary rooms
Friendly welcome
Handy location for business and leisure
Barracks Hotel Sentosa
Beautiful heritage building
Some rooms with direct pool access
Tropical island location
The Warehouse Hotel
Focusing on heritage and culture, The Warehouse Hotel consists of 37 rooms and is a boutique hotel that has been meticulously restored from an 1895 trade warehouse building.
Situated in the vibrant neighbourhood of Robertson Quay, the hotel officially opened in 2017 and comes with historically detailed rooms.
The historic building is absolutely stunning on the outside, and you wouldn't even think that it's a hotel to begin with!
Our pick is the River View Mezzanine, an airy room that consists of two floors with a black and white palette. From here, you've not only got a view over the Singapore River, but it's also one of the largest rooms in the hotel.
Once you're done settling in, take a dip in the infinity pool on the rooftop, before grabbing a drink at the Lobby Bar and dining at Po – the hotel's in-house restaurant showcasing an array of local classics and Singaporean staples.
The neighbourhood is laidback and leafy but with a good choice of bars, restaurants and coffee shops all within an easy 5-minute walk.
Duxton Reserve Singapore, Autograph Collection
Located in the up-and-coming neighbourhood of Tanjong Pagar and surrounded by cool bars and restaurants, this award-winning boutique hotel, exudes 19th-century elegance.
The original design of this building features a diverse mix of Chinese, Malay and European elements, and there are many surprising touches in the building that are sure to delight.
From the golden fans to the Oriental screen and calligraphy, you'll be in awe of the uniqueness of the hotel. All 49 guest rooms and suites are also different to each other with no two being exactly the same.

A multi-sensorial experience awaits in The Opium Room with its hues of black, yellow and gold. Otherwise, there's also The Duplex Suite which retains a spiral staircase from the 19th century.
Depending on the room you choose, you can also have access to their exclusive club lounge. Restaurants are also aplenty at the hotel and within the surrounding area of Tanjong Pagar.
Studio M Hotel
Consisting of 360 contemporary rooms, Studio M Hotel is popular with the younger crowd thanks to its loft-style rooms, bright colour palette and convenient location.
This funky hotel is located right near both Clarke Quay and Robertson Quay, where you have easy access to a plethora of restaurants, clubs and bars.
If you're looking for the ultimate privacy and comfort, splurge on the Executive Loft. It's got a living, study and sleeping area and plenty of space. If not, all the other rooms are just as great, and they've also got panoramic views of the city from large bay windows.
Once you've checked in, head to the fitness centre or cool down at the hotel's outdoor pool while lounging in a cabana. When evening rolls around, you can grab a bite from MEMO Cafe & Breeze or any one of the other restaurants that you can easily walk to in the surrounding area.
Amoy Hotel
For those seeing a heritage experience, look no further than Amoy Hotel. As you arrive, employees in Cheongsams greet you – just a preview to the hotel's proud homage to its Chinese heritage.
With just 37 guest rooms, Amoy doesn't just provide personalised service, but also Asian-inspired furnishings, such as embroidered cushions.
With two room categories, the Deluxe Room is ideal for those that are looking for a bit more space. It comes with a complimentary mini-bar, along with a bathroom with rain shower.

The first hotel in Singapore to incorporate a museum, the Fuk Tak Chi temple museum is where you'll be able to trace the footsteps of Chinese immigrants.
With its convenient location in the heart of the cultural and heritage neighbourhood of Chinatown and personalised service, this is a boutique hotel you can't go wrong with.
The Clan Hotel
Singapore One of the newest boutique hotels in Singapore, The Clan Hotel is located in the heart of the city and promises personalised service and a unique warm welcome to Singapore.
From the private entrance to the check-in lobby to a welcome tea ceremony to induct you into the family, every part of the service at The Clan Hotel has been carefully thought out.

For those who seek something remarkable, the Grand Premier Room comes with a handmade soap selection, customised in-room refreshments and even a personal assistant known as The Clan Keeper.
Unwind at the outdoor swimming pool situated on level 30 of The Clan Hotel and freshen up at the hotel's lounge and shower suites if you're checking in early or late.
Need to relax and enjoy a view of the city? The hotel's courtyard is the perfect spot to head to.
For the perfect dining option, there's the Qin restaurant which presents an array of re-imagined classics.
Otherwise, there's plenty of other dining options around the area as it is handily located within easy walking distance of both Chinatown and the Central Business District.
Barracks Hotel Sentosa
Sentosa Island is better known for its large resort-style hotels, but Barracks Hotel bucks the trend.
Once a British artillery outpost, this beautiful colonial style heritage building is now home to a luxurious boutique hotel.
The stylish rooms exude old-world charm and some have direct pool access from their private patios. If you're travelling with friends or family, check out the two-bedroom Duplex Suite with direct pool access.
The adjoining Mess Hall is home to a choice of restaurants and a wine bar, and the attractions of Resorts World Sentosa are just a short walk away. You can also easily hop on a free Sentosa shuttle bus to spend the afternoon at one of Sentosa's famous beach clubs.
History buffs shouldn't miss the Colonial Architecture Tour offered by the hotel.
Naumi Hotel
While it may have a central location, Naumi Hotel isn't your typical business hotel. Consisting of 73 spacious rooms, the hotel has five room categories, each uniquely themed and with plush fittings.
Art and design fans will also absolutely adore the Naumi Hotel as it showcases an array of artists and designers within the hotel, from Olivier Henry to Neon Art and more.
When it comes to the rooms, fashion mavens will enjoy the Gabrielle and Camellia room with its monochromatic palette and gorgeous floral artwork. Otherwise, there's also the Eden and Nirwana room with its pop of colour, bold and beautiful design space, and large round tub that's perfect for two.

After exploring the surrounding area, come back and soak in the Cloud Nine rooftop infinity pool with cocktails in hand. There's also a well-equipped fitness studio and an exceptional Italian restaurant, the Florian.
Kēsa House, The Unlimited Collection by Oakwood
Singapore's known for its shophouses that dot the side of streets, but have you ever considered staying in one? Imagine living in a shophouse on Keong Saik Road, in the heart of Singapore, with local bars, restaurants and shops on your doorstep.

Comprising 10 contiguous shophouses with 60 rooms, Kēsa House is a flexible living property that melds both tradition and modernity.
The Premier Single is a great option with its personal green terrace and bold Mediterranean palette.

Suited to long-stay travellers, Kēsa House is ideal if you're planning on staying in Singapore for a good period of time. Not only does it come with a fully equipped kitchen, but it also has a launderette, lounge, and a beautifully landscaped outdoor terrace.
Scarlet Hotel
The seductive Scarlet Hotel was the original luxury boutique hotel in Singapore, having made its debut in 2004.
Housed within a row of thirteen 1868 restored shop houses and a vintage 1924 Art Deco building, this Chinatown hotel is known for its rich velvet upholstery and quirky decor.
The 79 rooms and suites are all individually decorated, with a focus on being bold and sexy, with ornate patterns and plush textures. Don't be surprised to see luxury fabrics from the likes of Sonia Rykiel, Christian Lacroix and Pierre Frey.
Couples looking for a romantic getaway should check into the aptly named Passion suite, that comes complete with private jacuzzi.
Note that not all rooms have windows, so be sure to ask for this if you get claustrophobic!
When it comes to hitting the town, you are ideally located close to all the bars and restaurants of Ann Siang Hill and Club Street and an easy stroll down to Tanjong Pagar Road.
Heritage Collection on Chinatown
Heritage Collection gives you another opportunity to experience restored heritage shophouse living within the cultural neighbourhood of Chinatown.
What's unique about the Heritage Collection is that it's a mobile self-check-in property that also comes with plenty of special little touches within the room that'll remind you of the neighbourhood.

There are plenty of room categories for you to choose from depending on your needs, and each of the rooms comes with shophouse murals that have been sketched onto the walls.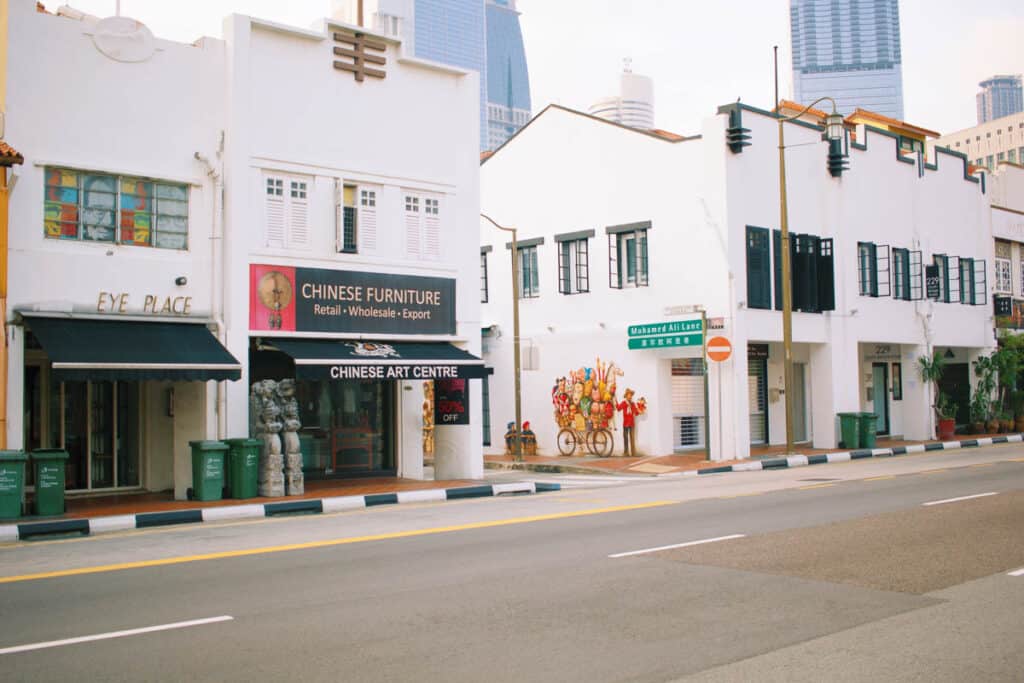 Suited for couples and singles, this boutique hotel is also great for those that want to stay for a little longer.

Room-wise, the Studio Single with skylight is a great option as it comes with everything from weekly housekeeping to complimentary laundry facilities.
Located in the heart of Chinatown just a short walk to both Telok Ayer and Chinatown MRT station, there's plenty to explore around the area.
Hotel Soloha
The perfect blend of space and luxury, Hotel Soloha is handily located in popular Chinatown. Rooms in the hotel have plenty of personality and the hotel comes complete with trendy social spaces to mingle and relax in.

Rooms-wise, the Outdoor Suite is everything you'd expect from a suite and more. It has a private outdoor space and a bathtub to soak your worries away.
If the Outdoor Suites are already snapped up, you could consider the Loft with its high ceiling and added lateral space.
Did we mention that the hotel also comes with coloured lights that you can play around with and adjust according to your mood? We also love the jungle-inspired artwork and an Instagram-worthy wall in the entrance.
Hotel Yan
One of Singapore's award-winning hotels, this industrial chic hotel is decked out in both rustic wood and iron with high ceilings, washed concrete walls and exposed steel pipes.
Situated in the Kallang district, it's easily accessible to the Little India neighbourhood.
The Luxury Suite is great for couples looking for a romantic getaway. It comes with everything from a bathtub to a plush bed, and even a complimentary mini-bar that's replenished daily.
For something a little less luxurious, there's also the Deluxe Double with Balcony View.

With its fuss-free design and subtle accents, you'll feel right at home at Hotel Yan. It's also away from the hustle and bustle of the city, so you'll be able to relax and unwind after a busy day discovering Singapore.
The Vagabond Club
Be transported to a completely different world when you stay at The Vagabond Club – a Parisian-inspired hotel that's housed within a 1950 Art Deco building.
Each of the 42 rooms within the heritage building is opulently styled and there's everything you could need in a boutique hotel, from impeccable design to jazz, whisky and more.
The Junior Club Suite situated on the top floor comes with gorgeous red accents, exquisite furnishings and an ottoman to stretch out in.
While there are plenty of dining options nearby, you can't miss an evening at The Whiskey Library & Jazz Club with over 1,000 rare and unique whisky varieties to choose from.

In terms of the location, staying at The Vagabond Club puts you just a short distance away from the vibrant and colourful streets of Little India and Kampong Glam.
Lloyd's Inn
Situated just five minutes away from the bustling shopping district of Orchard Road, Lloyd's Inn is a sleek, airy and minimalist 34-room boutique hotel with eight room types.
It presents a tranquil immersive experience in an oasis of nature and provides a space for guests to reconnect and escape.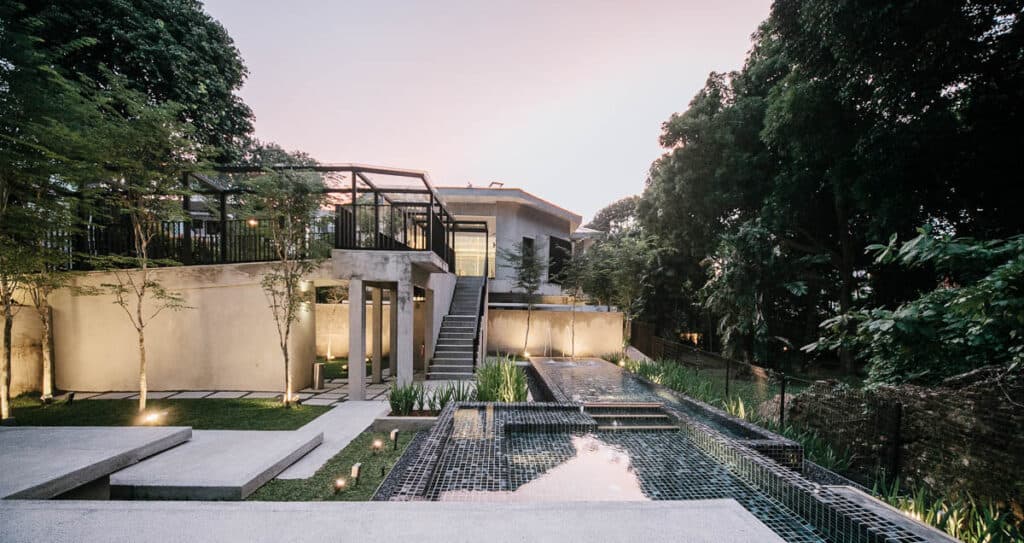 The rooms at Lloyd's Inn come in a white colour palette with large windows that allow for plenty of natural light. If you're looking for a room that's different from the rest, you can't go wrong with The Big Garden Room. It has a private outdoor area that's good for entertaining or relaxing with a book.

The Big Sky Room is another great contender with its outdoor bathtub and loft-like vibes that are perfect for the stylish traveller.
Amenities-wise, you've got everything from luggage storage and shower facilities to an outdoor communal pantry space, a gorgeous roof terrace, and a dipping pool lined with lush tropical foliage.
You may also like these articles: