Singapore is not called the Garden City for nothing and here we explore all the best parks in Singapore. Whether you are looking to go hiking or just want to chill out and have a picnic, be sure to check out these beautiful spaces.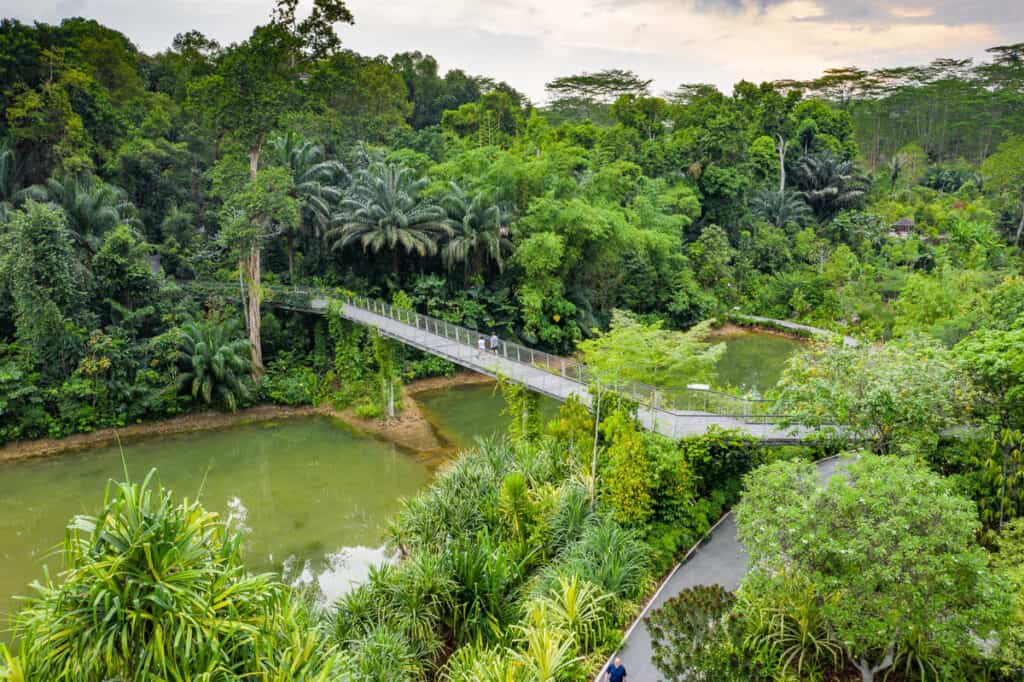 There is a huge number of Singapore nature reserves and national parks in Singapore – quite amazing when you consider that this small island of just 41.8km by 22.5km is home to more than 5.5 million people.
Especially surprising and particularly unique, is the areas of preserved rainforest, reservoirs and wetlands within the concrete metropolis.
These have all been well established for taking nature walks in Singapore, with sign posted trails and visitor facilities to encourage the population to get out and enjoy some outdoor activities in Singapore.
These Singapore parks and gardens all make excellent days out to escape the hustle and bustle of the city. If you are looking for things to do in Singapore for free or things to do in Singapore on a budget, then these parks are a great option.
Please do your part to help preserve the natural beauty of these scenic places in Singapore. It should go without saying that you should follow the adage "take only photos, leave only footprints" so that everyone can continue to enjoy the unspoilt scenery.
Being in amongst the wildlife is one of the highlights of visiting these beautiful spots in Singapore. Please remember that this is their habitat and you are the visitor and they should be left to enjoy their home in peace. So remember… Don't feed the monkeys!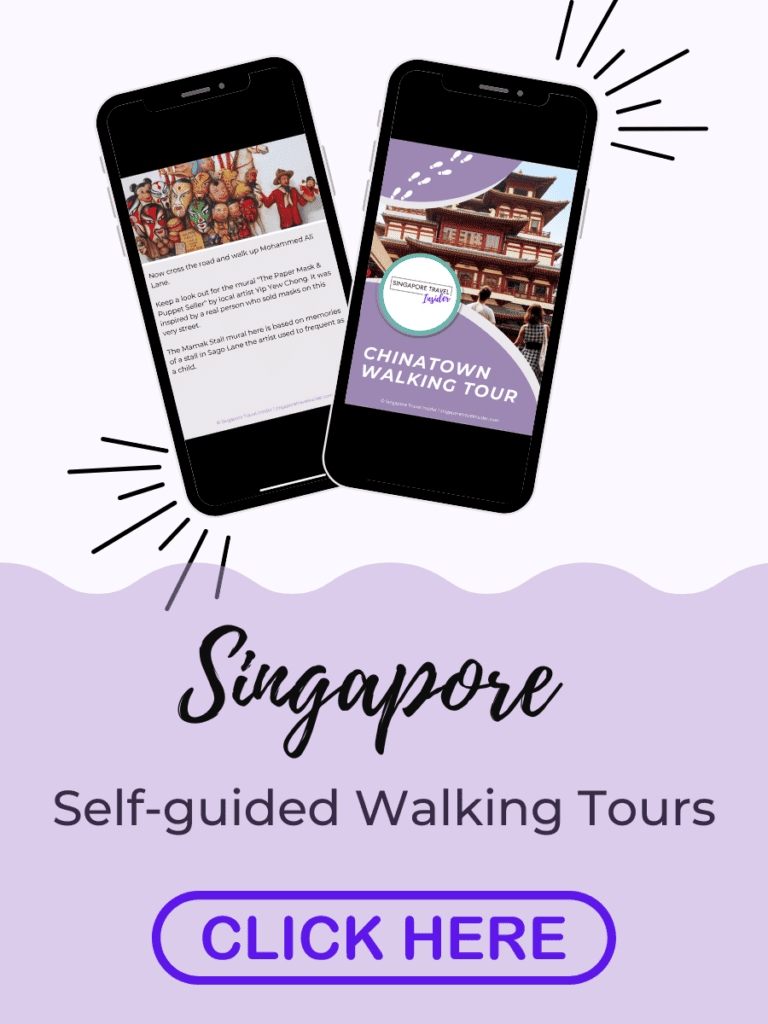 Gardens by the Bay
Gardens by the Bay almost needs no introduction. Photos of the famous supertrees are plastered all over social media and it has become one of the most popular places to go in Singapore for visitors.
This 100-hectare garden is home to over a quarter of a million rare plants, with many paths, suspended walkways, gardens and water features to explore.
As we've said, the most famous attraction in Gardens by the Bay, is the super trees – which have achieved iconic status since they were introduced in 2012.
An elevated walkway, the OCBC Skyway, connects two of the larger super trees (not for those with a fear of heights!), giving panoramic aerial views over the gardens.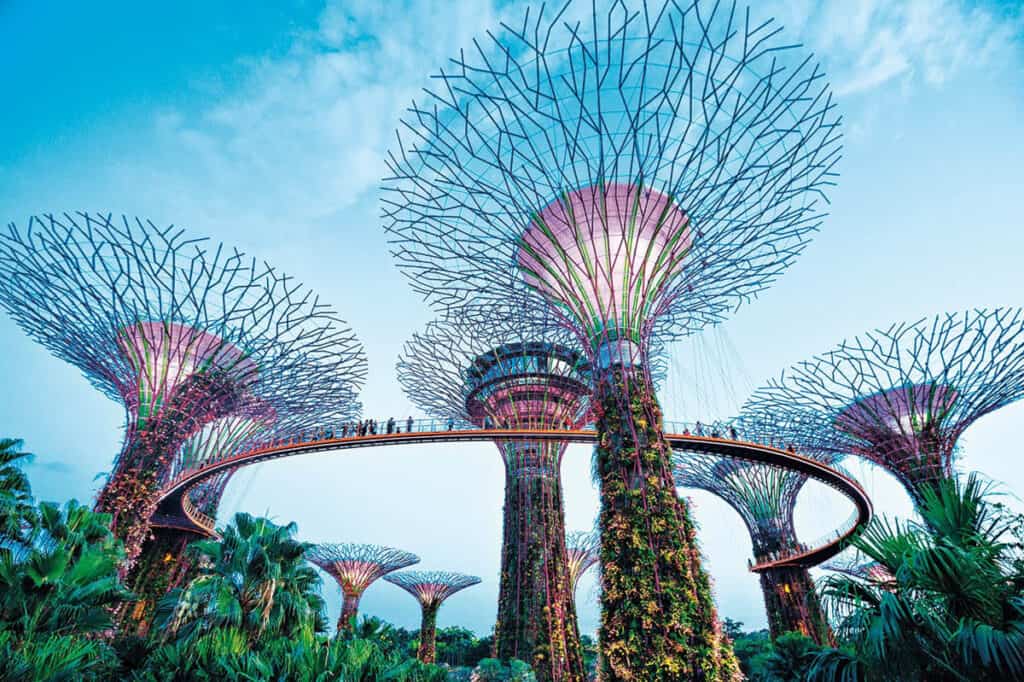 Impressive light shows take place here every evening at 7.45pm and 8.45pm and should not be missed.
Also within Gardens by the Bay are two climate-controlled conservatories: The Flower Dome and the Cloud Forest. Both are fun places to explore and make for a welcome break from the heat and humidity.
Click here to buy discounted tickets to the Flower Dome and Cloud Forest.
If you are visiting the Gardens with kids, be sure to bring your swimmers as there is a fabulous water play area. This is free to enter and ideal for cooling off on a hot day. Note that the water play area is only open Thursday to Sunday (Tuesday-Sunday during school holidays).
Botanic Gardens Singapore
Often overshadowed by the newer and glitzier Gardens by the Bay, the impressive Botanic Gardens is still one of the most beautiful places in Singapore.
Just a 15-minute walk from the top of Orchard Road, the Gardens offer a huge variety of areas including lakes, fountains, sculpture gardens and plenty of well-manicured lawns to kick back on and enjoy the view. This is also one of the best picnic places in Singapore.
The highlight of the Botanic Gardens for many is the National Orchid Garden ($15 entrance fee applicable for ages 12 and up). Here you can marvel at over 1,000 species and 2,000 hybrids – the largest display of tropical orchids in the world.
The team here have been experimenting in orchid breeding and hybridization since 1928. In 1957 the Singapore Government began to honour state visitors and other VIPs by naming selected orchid hybrids after them.
There are now over 100 VIP orchids and this prized collection is a visitor favourite, so keep a look out for the Margaret Thatcher, Princess Diana, Nelson Mandela, Jackie Chan and even Ricky Martin orchids!
Kids will also love the Jacob Ballas Children's Garden, which has several learning areas, in addition to a fun tree house with a slide and a water play area.
Jurong Lake Gardens
These gardens are a bit off the beaten track for visitors but are another of our favourite picnic spots in Singapore.
This Singapore park is made up of three gardens: Lakeside Gardens, Chinese Garden and Japanese Garden. At the time of writing the Chinese and Japanese Gardens are under redevelopment but there is still plenty to explore here.
Highlights here include a meandering boardwalk, a lake for kayaking and canoeing, a large adventure playground for kids and a 3-hectare water playground.
Chinese Garden
Temporarily closed for redevelopment.
The Chinese Garden is located within the Jurong Lake Gardens but deserves a special mention as it is particularly striking.
The garden is modelled on the northern Chinese imperial style of architecture and landscaping, integrating architectural features, such as rainbow bridges, arch buildings and pagodas, with the natural environment.
The main entrance to the garden is over the 13-arch White Rainbow Bridge, which follows the style of the 17-arch bridge at the Summer Palace in Beijing. You'll also come across the the garden's most striking landmark, the 7-Storey Pagoda or Ru Yun Ta, which is based on Nanjing's Ling Ku Temple Pagoda.
The jewel in the crown of this Singapore park is undoubtedly the Bonsai Garden, a collection of over a thousand bonsai trees, mostly imported from China.
These are beautifully presented in the pristine gardens, along winding pathways and in among water features, traditional bridges and Chinese architecture.
MacRitchie Reservoir
There aren't many places to go hiking in Singapore, but the MacRitchie Reservoir is a good option thanks to its rich rainforest environment and well signposted trails.
Before Singapore became a British Colony in the early 19th century, the island was almost completely covered by lowland tropical rainforest. This area was cleared for logging and cultivation purposes throughout the 19th century. By 1882 less than 10% of the original rainforest had survived.
The MacRitchie Reservoir, Singapore's first reservoir, was built in 1867-68. Its development brought the forest devastation around the area to a halt, as it was protected as a water catchment reserve.
Today the MacRitchie Reservoir is one of the most popular nature parks in Singapore. As well as being home to more than 840 flowering plant and 500 animal species, it also has some of the best walking trails in Singapore.
There are several boardwalk treks and more rugged forest trails around the reservoir, varying in length from 3km to 11km. The main trails are as follows:
Route 1 (Green) 1.5 hours, trail grade: Easy
Route 2 (Purple) 2 hours, trail grade: Easy
Route 3 (Blue) 4-5 hours, tail grade: Moderate to difficult
Route 4 (Yellow) 4 hours, trail grade: Moderate
Route 5 (Pink) 4-5 hours, trail grade: Difficult
You can see the map of these trails here.
The highlight of these nature trails in Singapore is the TreeTop Walk. This free-standing 250m long suspension bridge gives you a bird's eye view of the plants and animals in the rainforest canopy from its 25m high position.
The Blue trail to the TreeTop Walk is a 10.5km round trip from the MacRitchie Reservoir Park. For a slightly shorter walk, an alternative 7km (Orange) trail can be taken from the Venus Drive car park.
Keep your eyes peeled for Long Tailed Macaques, Monitor Lizards, White-bellied Fish-eagles and an abundance of butterflies and birds, which are often spotted along the this forest walk in Singapore.
Bukit Timah National Park
Another of the best places to hike in Singapore, Bukit Timah National Park is the only substantial area of primary rainforest left on the island.
Due to its location on the equatorial belt, this Singapore nature reserve has one of the most diverse ecological systems in the world. Besides 840 flowering plant and 500 animal species, it also contains more tree species in one hectare than in the whole of North America!
Much of the animal life is rather shy, but you are likely to spot long-tailed macaques and squirrels during your walk. You should also keep your eyes peeled for lizards and snakes in addition to a myriad of insects, including butterflies, ants, beetles and spiders.
In addition to being an ecological hotspot, Bukit Timah is also home to Singapore's highest hill, which peaks at 163.63 metres. Two of the four colour-coded walking trails – the Yellow and the Red – lead to the summit.
Apart from MacRitchie Reservoir, Bukit Timah National Park is the other main place you will find hiking trails in Singapore.
The main trails are as follows:
Route 1 (Red) 45 mins, trail grade: Easy
Route 2 (Blue) 35 mins, trail grade: Easy
Route 3 (Green) 1-2 hours, trail grade: Moderate to difficult
Route 4 (Yellow) 2 hrs, trail grade: Difficult
For a more leisurely nature walk in Singapore, you can take the gentle winding boardwalk from next to the Visitor Centre up to Hindhede Park and Quarry. Quarrying ceased here in 1990, and in 2001 it was transformed into a nature park, complete with a lookout into the former quarry pool.
The view of the water-filled, disused quarry makes it a worthy tag-on to the other trails, and is a pleasant spot to have a picnic or rest your weary limbs.
Sungei Buloh Wetland Reserve
The Sungei Buloh Wetland Reserve is another of the most popular nature places in Singapore. The reserve is set in 130 hectares of mangroves, mudflats, ponds and secondary forests.
This peaceful oasis has become well known as one of the best spots in Singapore to see abundant birdlife. This is particularly the case during the migratory season of September to March, when huge flocks of shorebirds, such as Egrets, Sandpipers and Plovers visit the Reserve.
The best time for viewing the birdlife is early morning, and observation hides are set up along the way to make spotting our feathered friends easier.
Although obviously a popular destination for bird enthusiasts, the Reserve is also home to an amazing diversity of other interesting plants and animals, including Otters, Monitor Lizards.
If you are very lucky, you may spot an Estuarine Crocodile, although most 'crocodile' spottings turn out to be a case of mistaken identity for the Monitor Lizard (and there are a LOT of those here).
The Visitor Centre displays explain the features of the Mangroves, and there is a 10-minute audio-visual introduction to the reserve. There is also a cafeteria serving drinks and snacks here.
The Mangrove Boardwalk leads from the Visitor Centre and allows you to get into the heart of the mangroves without getting your feet wet and muddy.
You are almost certain to see Giant Mudskippers and Tree-climbing crabs along this 500m walk. You might also spot Mangrove Stingrays and other fish, and birds such as Kingfishers and Woodpeckers or even a White-breasted Fish Eagle.
Once inside the Reserve, there are three walking routes to follow, ranging from 3km to 7km in length.
The further you go from the Visitor Centre, the more tranquil the surroundings become, and the more likely you are to spot a variety of birds and mangrove creatures. An 18-metre tall tower hide also offers views over the treetops of the surrounding area.
Free guided tours are available on Saturdays at 9.30am (except on public holidays and eve of public holidays). Each tour is limited to a maximum of 12 people and is on a first come first served basis.
East Coast Park
East Coast Park is Singapore's most popular park, attracting more than 7 million local residents and tourists every year. There is something for everyone at this 15km long park that lines the eastern coast of Singapore.
At weekends, residents flock here to roller blade, run, cycle, and skateboard along its well maintained paths. You will also find people doing water sports, playing volleyball or just chilling out under the trees or having a barbecue. You can hire bikes and roller blades at several outlets here.
East Coast Park is also home to two large kids adventure playgrounds, at Marine Cove and also at Coastal Playgrove where you'll find a 4-storey vertical net play area named the Vertical Challenge, and 2 thrilling outdoor slides, plus an outdoor water play area.
There's also the Xtreme Skate Park, and Singapore Wake Park for cable wake boarding on a lagoon.
There is a range of food options throughout the park, with several restaurants at Parkland Green and a few options near the kids playground at Marine Cove.
For some local Singapore hawker food, the East Coast Lagoon Food Village has a pleasant beachfront atmosphere and you can find most local favourites here, including satay, chicken rice, char kway teow and popiah.
The East Coast Seafood Centre is an iconic Singapore venue to indulge in some chilli crab, black pepper crab and other delicious seafood treats. Restaurants here open from around 5pm.
Bedok Reservoir Park
Bedok Reservoir Park is a bit off the beaten track for most tourists, but is a popular weekend retreat for Singaporeans and East Coast residents.
The park is popular with joggers and watersports enthusiasts – in particular dragon boaters who practise here.
Another fun reason to visit here is Forest Adventure. Singapore's largest treetop adventure park has three treetop courses to choose from: the Kids Course, Junior Course and Grand Course.
The Kids Course is aimed at kids aged 5-9 years old, and includes 22 crossings and two zip lines. The Junior Course is for kids over 1.35m tall and takes in a loop from the Kids Course plus a loop from the Grand Course. It also includes two zip lines, with one over water.
The Grand Course is for adults and older kids over 1.5m tall. It features 44 wobbly crossings and three overwater zip lines. Not for the feint hearted!
Singapore weather and safety
Singapore's weather is notoriously fickle, so prepare for all eventualities – don't head out without sunglasses, sun cream and an umbrella. What starts as a glorious sunny day can quickly descend into a full-blown thunderstorm in a matter of hours.
This is particularly true of the rainforest areas, where the weather can turn with little warning, so ensure you are well prepared.
Muddy footpaths can quickly become treacherous with a short burst of rainfall, so good footwear is essential, as is due caution.
There is little shelter in the rainforest, so if it does start to rain, you are going to get wet – so make sure you have a waterproof bag with you to protect cameras and mobile phones.
Singapore has one of the highest rates of lightning activity in the world, and you are particularly vulnerable in the rainforest – at the first sound of thunder, you are advised to make your way to the nearest shelter.
Another hazard to be aware of are the mosquitoes you will doubtless encounter when travelling to more rural areas.
In addition to covering you in annoying bites, they are also known to carry the Dengue Fever and Zika viruses in Singapore, so make sure you apply insect repellent liberally, and re-apply frequently.
You may also like these articles: