Our Insider guide to the best Singapore local food is here to help you decide what to eat in Singapore and where to find it.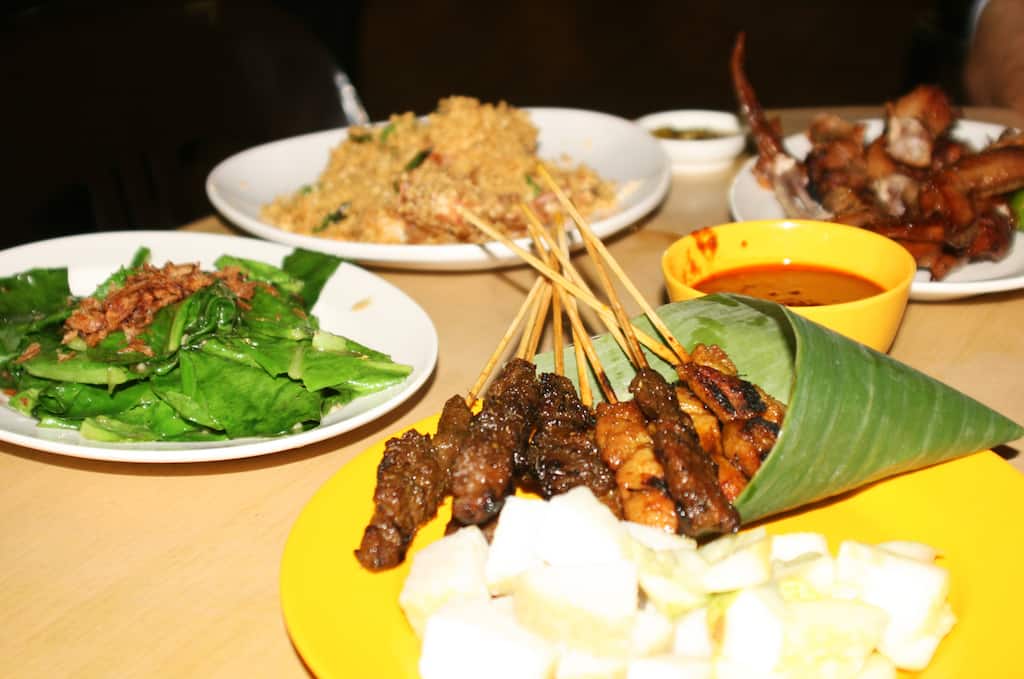 Singapore food is legendary and one of the highlights of visiting Singapore is definitely the delicious food you can find here.
The melting pot of cultures in Singapore has led to an incredible variety of food on offer and as such you are spoilt for choice when it comes to cuisines and restaurants.
With its rich history of migration and trade, the city-state has developed a diverse and dynamic food culture, where traditional dishes have evolved over time. So while they may have their roots in Malay, Chinese or Indian cuisine, they have been adapted and merged over time to suit local tastes and ingredients.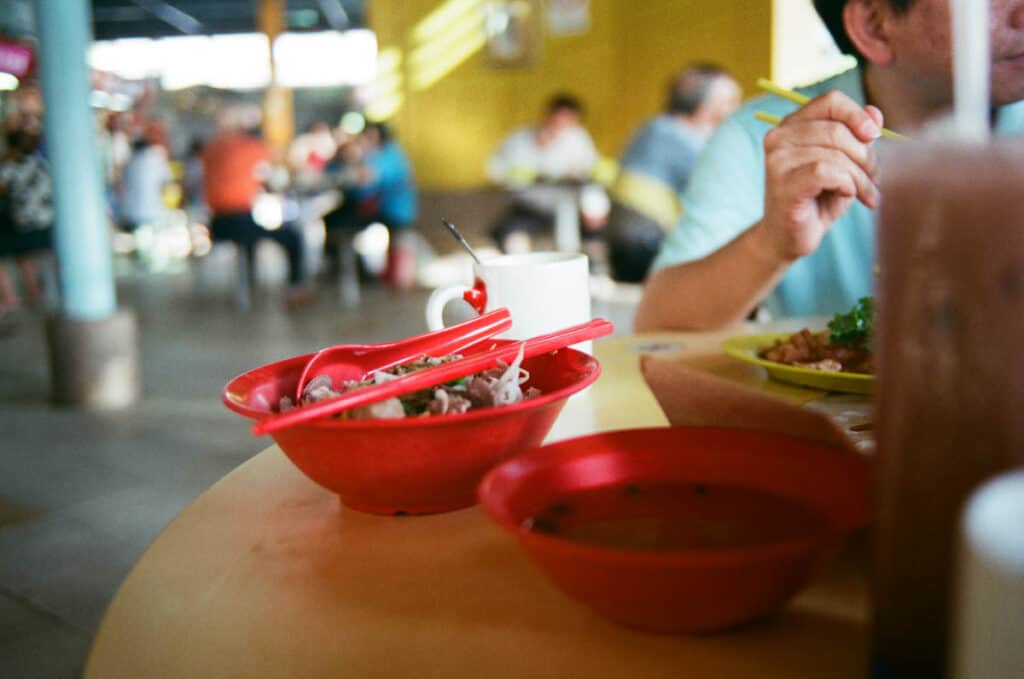 Thus dishes like chicken rice, laksa, nasi lemak, and satay, have all become synonymous with Singaporean cuisine.
And in a city where the question "have you eaten?" often replaces "how are you?", you can tell there is somewhat of an obsession with food. It's not uncommon for someone to travel across town in their lunch break to visit their favourite char kway teow or laksa stall.
As a visitor to the city, this means you are in for a treat. There is so much amazing food to discover here. One thing's for sure – you are not going to go hungry in Singapore. 
Don't miss our article about all the Best Singapore Hawker Centres.
Disclaimer: This article contains affiliate links. If you make a booking using these links, we may receive a small commission, at no extra cost to you.
Food Tours in Singapore
Would you prefer to try all these dishes with a local? Here are a few food tours to check out:
17 Must-Try Dishes in Singapore
So let's get down to business and explore all the best food there is to try here. We highlight our pick of must-try dishes to add to your Singapore hit list.
You will find most of these famous local dishes in almost all food courts and hawker centres across Singapore. But we have tried to highlight some of the best places that a) serve delicious versions and b) are easily accessible to visitors who are short on time. 
Another option is just to head to a hawker centre and buy several of these dishes at once from different hawker stalls… and have yourself a real feast!
Chilli Crab
Chilli Crab is the nation's unofficial national dish and is a must-try for anyone visiting Singapore.
The dish features fresh crabs stir-fried in a tangy tomato and chilli sauce made with a blend of chilli-ginger sauce, fresh lemon juice, sambal, western-style tomato ketchup and finished with egg white.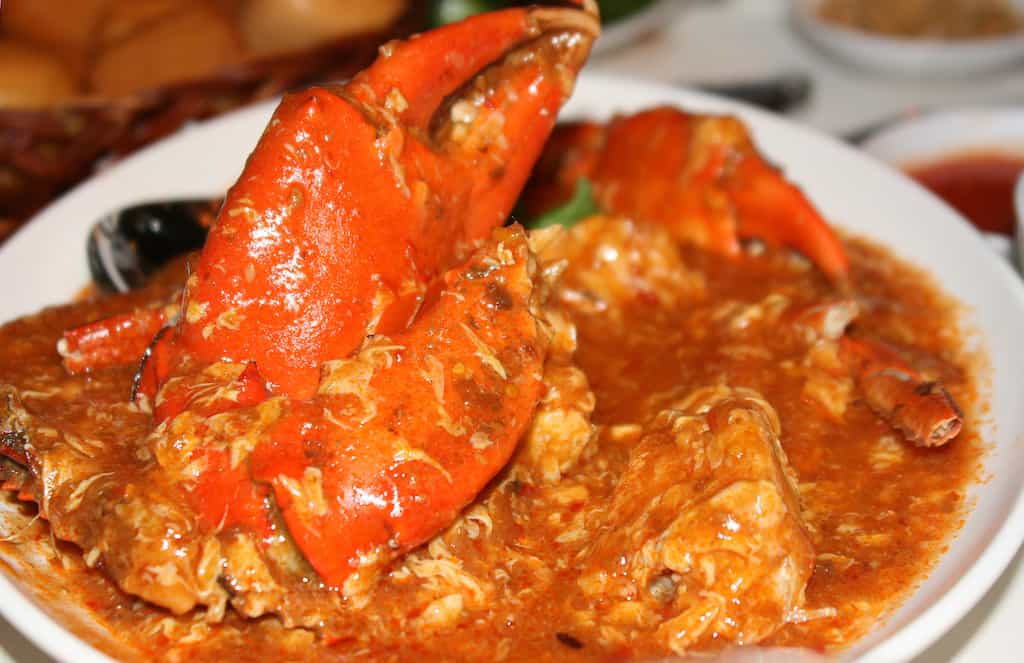 The result is a delicious spicy tangy dish that will definitely have you coming back for more. Don't forget to order a side of mantous (steamed buns), which are perfect for mopping up all that beautiful sauce.
The best way to tackle the crabs is to get stuck in with your fingers using a nutcracker to crack open the shells. Then suck out the flesh and lick all the sauce off your fingers. It's a messy business, but totally worth it!
Where to get the best Chilli Crab in Singapore
Head to either Long Beach Seafood or Jumbo Seafood at the East Coast Seafood Centre, where you can indulge in these spicy crustaceans in a convivial alfresco atmosphere by the sea.
Chicken Rice
Another contender for Singapore's national dish, Hainanese Chicken Rice is one of the most iconic dishes in Singaporean cuisine, and is a must-try for anyone visiting the city-state.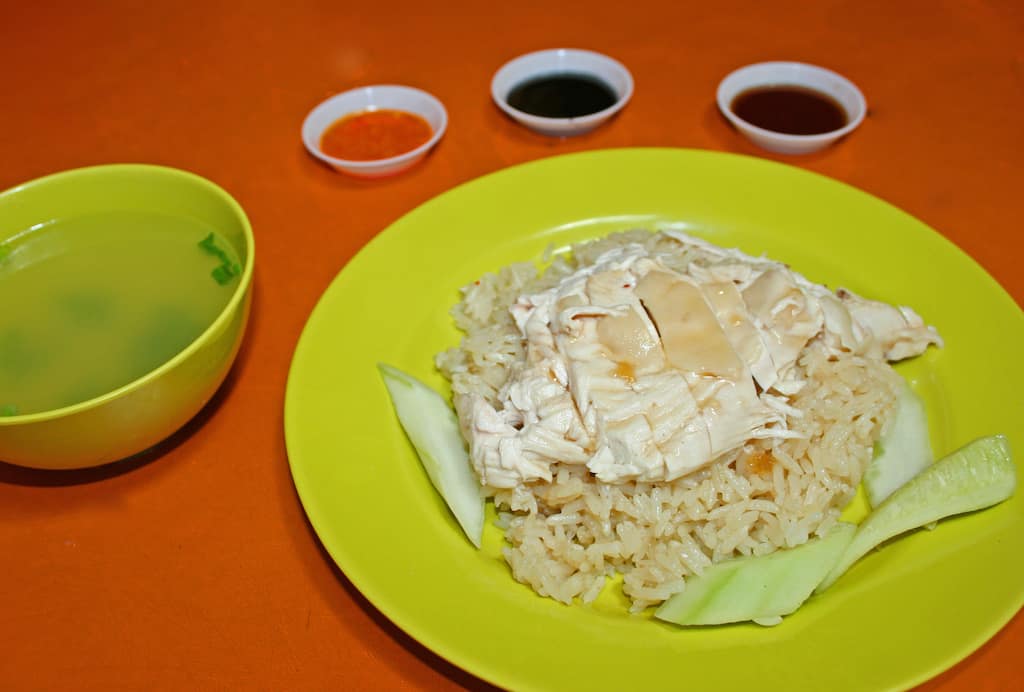 This is a simple dish of tender poached or roasted chicken served with fragrant rice that has been cooked in chicken stock. It is usually served with slices of cucumber or green vegetables and a clear soup, while a side of chilli sauce, ginger sauce and dark soy sauce give the dish some extra oomph.
While it may sound and look a little boring, the secret of a good Chicken Rice lies in the quality of the stock the rice is cooked in, the tenderness of the chicken and the quality of the accompanying sauces.
Where to get the best Chicken Rice in Singapore
One of our favourite places that is easily accessible to visitors is Tian Tian Chicken Rice in Maxwell Food Centre in Chinatown.
Another option is Hawker Chan Soya Sauce Chicken Rice and Noodle, famous for being the first hawker stall to be awarded a Michelin Star in 2016. Chef Chan now has 12 outlets in six countries on the back of his success, but you can still visit the humble hawker stall where it all began in the Chinatown Complex Food Centre.
You can expect a long queue at either of these places but stick with it – you will be rewarded!
Satay
Satay is a big favourite with visitors to Singapore, local families and also with clubbers on their way home in the early hours of the morning, thanks to its convenient on-the-go format.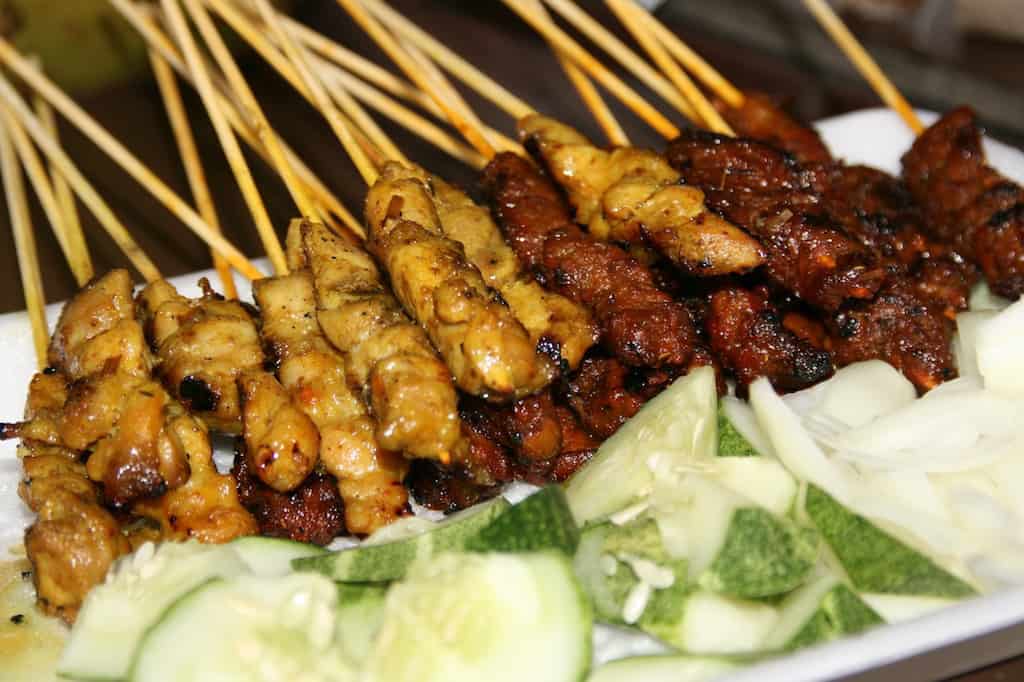 Diced meat (usually chicken, beef or prawn) that has been marinated in a blend of spices is loaded onto bamboo skewers and then grilled over hot charcoals to give that characteristic smokiness.
The meat is served with a side of rice cakes, raw onions, and/or cucumber and a delicious spicy peanut sauce for dipping in.
Where to get the best Satay in Singapore
Our favourite place for satay has to be Boon Tat Street next to Lau Pa Sat. It comes to life after dark when the satay stalls start churning out clouds of smoke and hungry diners flock to the area. There's always a great atmosphere here.
Char Kway Teow
Another signature dish of Singapore, Char Kway Teow is a firm favourite with locals. Flat rice noodles are stir-fried with cockles, prawns, bean sprouts, Chinese sausage, lard and sweet soy sauce to create an utterly irresistible dish.
A good Char Kway Teow is characterised by what's known as 'wok hei' or 'breath of wok' – that distinctive smoky flavour that comes off a hot wok, as the noodles need to be tossed over a high heat.
Where to get the best Char Kway Teow in Singapore
You can find this beloved dish in most hawker centres. One of our favourites to try is Hill Street Fried Kway Teow in the Chinatown Complex Food Centre.
Roti Prata
Roti Prata is probably the most ubiquitous Indian dish in Singapore, and is another crowd pleaser.
This thin Indian flatbread is skilfully made by kneading, oiling, folding, flattening and then frying freshly made dough on an iron skillet. The result is a crispy and flaky, yet satisfyingly chewy bread with a slightly greasy finish, just perfect for dipping into an accompanying curry sauce.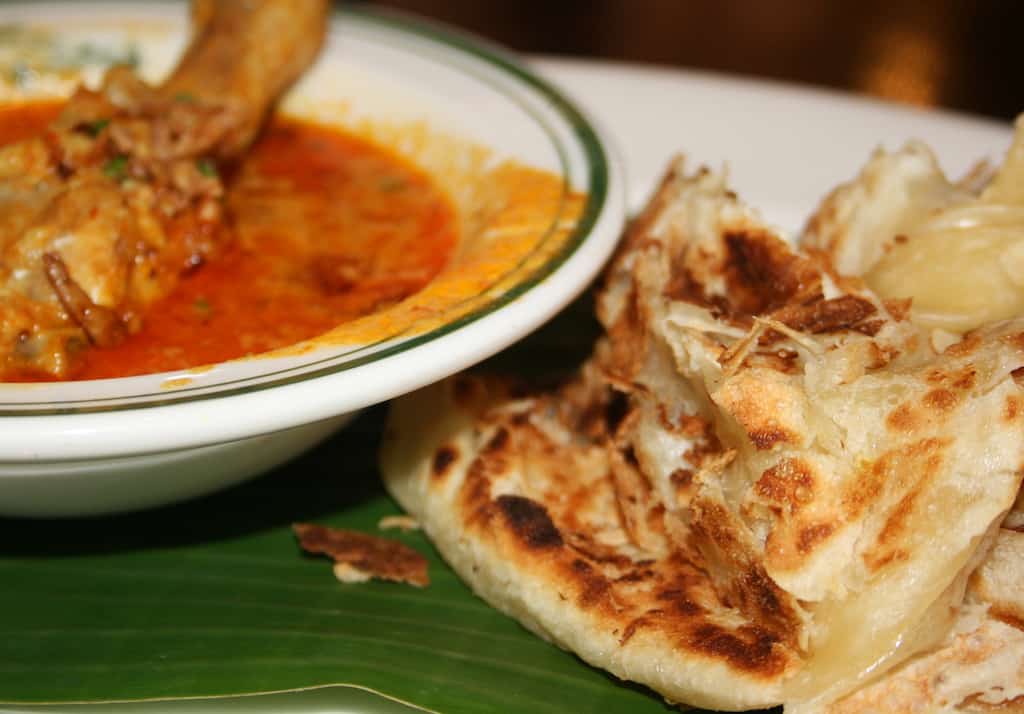 Different variations include egg, cheese, or sugar (yes, really) and the curry sauce can be vegetarian or meat or fish-based.
A good roti prata is crispy on the outside and soft on the inside, not too greasy and, of course, the accompanying curry sauce can make or break the dish.
Where to get the best Roti Prata in Singapore
Mr and Mrs Moghan's Crispy Roti Prata has a bit of a cult following in Singapore for dishing up delicious crispy flaky breads.
You'll find it at 300 Joo Chiat Road (just around the corner from the famous Peranakan houses we recommend you visit in our 7-Day Singapore itinerary) but note that it closes up shop at around 1 pm, so head here early.
Laksa
This delicious seafood noodle soup is known for its rich and spicy flavor.
It consists of thick rice noodles steeped in a spicy coconut milk-based broth. The broth is thickened with a homemade laksa paste – a chilli paste made from dried shrimp (hae bi) and flavoured with a blend of herbs and spices, including lemongrass, and galangal to give it its distinct flavour.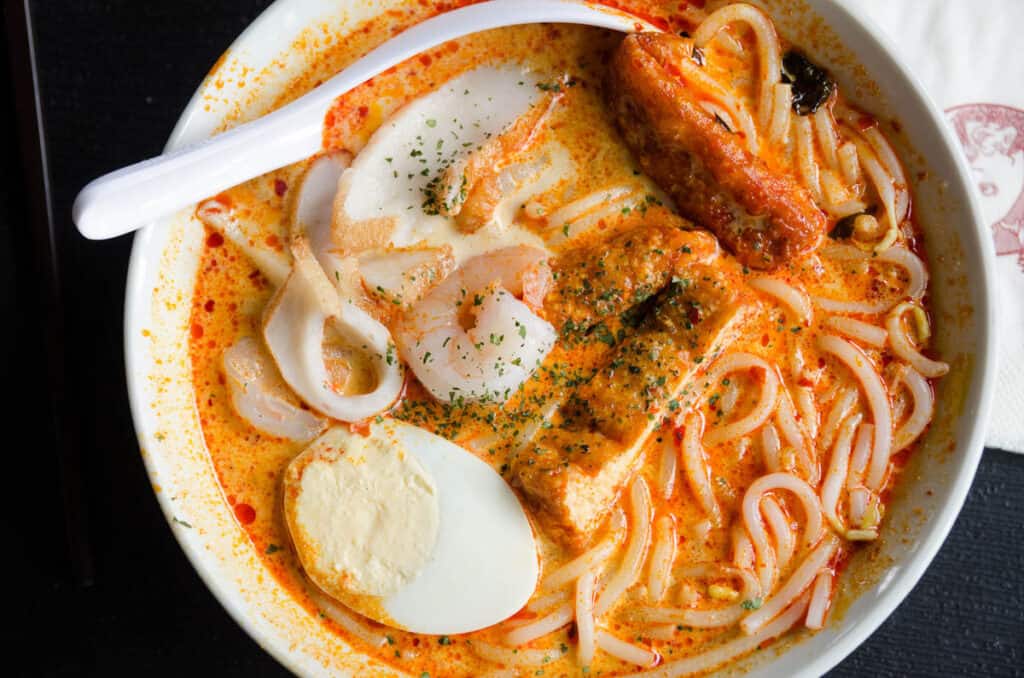 Common ingredients in a laksa include cockles, prawns, fish cake and bean sprouts.
Laksa comes in various regional styles, with each having its unique taste and ingredients. The laksa most commonly found in Singapore is based on the Nonya (Peranakan) version of the dish, a marriage of Chinese and Malay ingredients.
Where to find the best Laksa in Singapore
Katong is the area traditionally associated with Laksa in Singapore and you can still find one of the original laksa stalls 328 Katong Laksa here at the corner of East Coast Road and Ceylon Road.
Janggut Laksa stems from the family of one of the original laksa legends Janggut, and can be found either across the road from 328 Katong Laksa in Roxy Square or in the basement of Chinatown Point shopping mall for more modern surroundings.
Fried Hokkien Prawn Mee
Hokkien Mee is a mixture of yellow egg noodles and rice noodles that are stir-fried in a seafood stock, then finished with prawns, fish cake, bean sprouts, leafy vegetables and sometimes pork and cuttlefish too.
In true Singaporean style, this popular noodle dishes served with fresh lime and sambal chilli sauce.
Where to get the best Hokkien Prawn Mee in Singapore
The original owner and chef at the Original Serangoon Hokkien Mee was renowned for his flavourful noodles.
When he retired, he handed down the reigns to his son and son's friend. The friend now runs it single-handedly and still dishes up Hokkien Mee in the traditional way, with takeaways wrapped in an opeh leaf.
You'll find in in Little India, close to Farrer Park MRT station.
Popiah
This local favourite is a bit like an Asian burrito – a fresh crepe-like wrapper filled with steamed vegetables, bean sprouts, omelette strips, chopped peanuts and often pork and/or shrimp. It's chewy and crunchy and spicy and refreshing all at once…and very very moreish.
It is usually served with a good lashing of chilli sauce. Popiah is usually rolled to order, so you can opt out of any of the ingredients you don't like
Where to get the best Popiah in Singapore
Ann Chin Popiah is one of our favourite places to get popiah. This family run business has been going since the 1940s and they still make their popiah skins by hand. It comes recommended by the Michelin guide and is easy to get to, as it is located on Smith Street in the heart of Chinatown.
Fried Carrot Cake
First things first – Singapore carrot cake is not a cake and it's not made from carrots. But bear with us.
Local Carrot Cake (Chai Tow Kway) is actually made from steamed radish mixed with rice flour and then steamed. The steamed 'cake' is then stir-fried with garlic, soy sauce, eggs and spring onion, resulting in a dish that resembles a mashed-up omelette.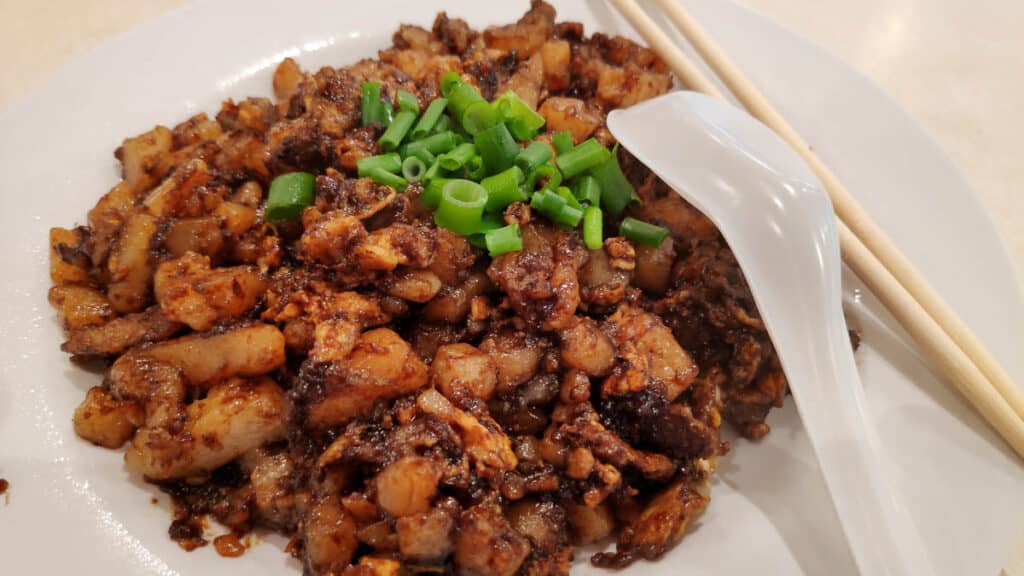 It comes in two variations: "white" carrot cake, which comes with crispy fried egg and "black" carrot cake, where the egg is mixed in with a sweet black sauce.
Where to get the best Carrot Cake in Singapore
Heng Carrot Cake in Newton Food Centre has been dishing up this local favourite since 1971. The hawker stall was recently recognised by Michelin for their homemade crowd-pleasing version.
Rojak
This one often confuses visitors to Singapore thanks to its bizarre mixture of ingredients.
It's made from a mixture of fruits and vegetables in a sweet and spicy sauce. The dish typically includes ingredients such as pineapple, cucumber, bean sprouts and fried dough sticks and can also include grilled cuttlefish and fried tofu.
This mixture is all then tossed in a dark sweet dressing made from tamarind, chilli, prawn paste, and palm sugar and then topped with crushed peanuts.
Sounds completely strange? Yup! But don't judge it til you've tried it!
Where to get the best Rojak in Singapore
Second generation family-run Singapore Famous Rojak is not only famous by name, but has also found fame by being named in the Michelin Guide. You will find people queuing up to try their version of Rojak.
It is centrally located inside the Albert Centre, close to Bugis MRT station.
Bak Kut Teh
Bak Kut Teh translates as 'pork bone tea' but is actually a clear garlicky, peppery pork rib soup. The broth typically also includes ingredients such as garlic, star anise, cloves, and cinnamon.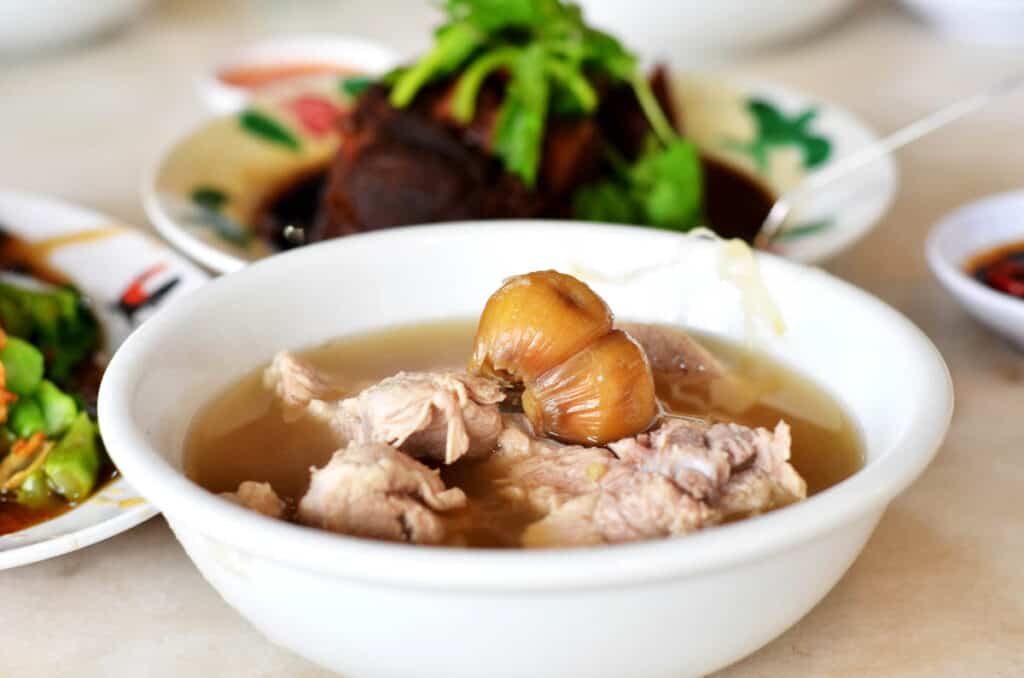 The pork is simmered for so long in the soup that the meat is falling off the bone. It comes served with rice and fried dough sticks, as well as various condiments such as chili sauce and chopped green onions.
Where to get the best Bak Kut Teh in Singapore
Legendary Bak Kut Teh has itself a bit of a celebrity following, especially after Mando pop star Jay Chou famously ordered takeaway from here the day after eating in the restaurant. Yep, he enjoyed it that much, he had it two days in a row!
You'll find it behind Boat Quay on South Bridge Road.
Fish Head Curry
Singapore's national Indian dish is not for the squeamish. You'll be served a fish head (usually a red snapper) steeped in a spicy curry sauce cooked together with okra, tomatoes and brinjal (eggplant).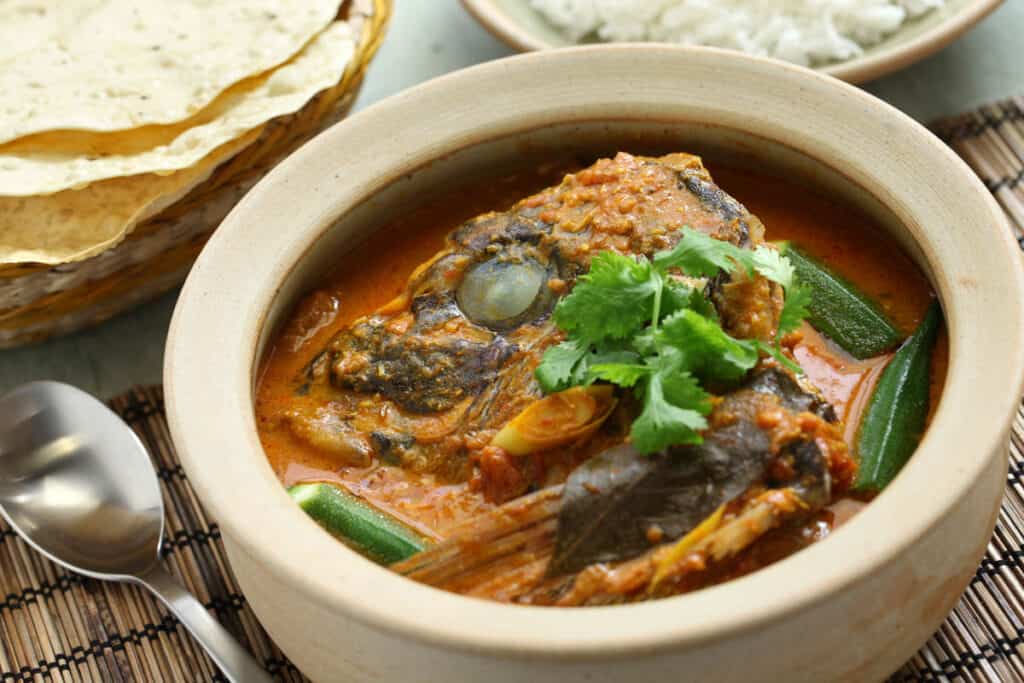 The fish head itself is surprisingly fleshy and connoisseurs go straight for the area around the eyes and the cheeks to find the most succulent morsels.
Where to get the best Fish Head Curry in Singapore
Muthus's Curry in the Little India district is the self-proclaimed pioneer of fish head curry and it is still a popular place to try this local delicacy. Its modern atmosphere and good quality tandoori dishes make this a good bet for an evening out.
Another popular choice is Banana Leaf Apolo, where your dish is a banana leaf from which you can indulge in a variety of North and South Indian specialties.
Sambal Stingray
This barbecued stingray smothered with a spicy sambal sauce is a real local favourite.
The sambal is made from a mixture of chilli paste, shallots, and shrimp paste. If you've never tried stingray before, now is your chance! It is surprisingly fleshy and delicious.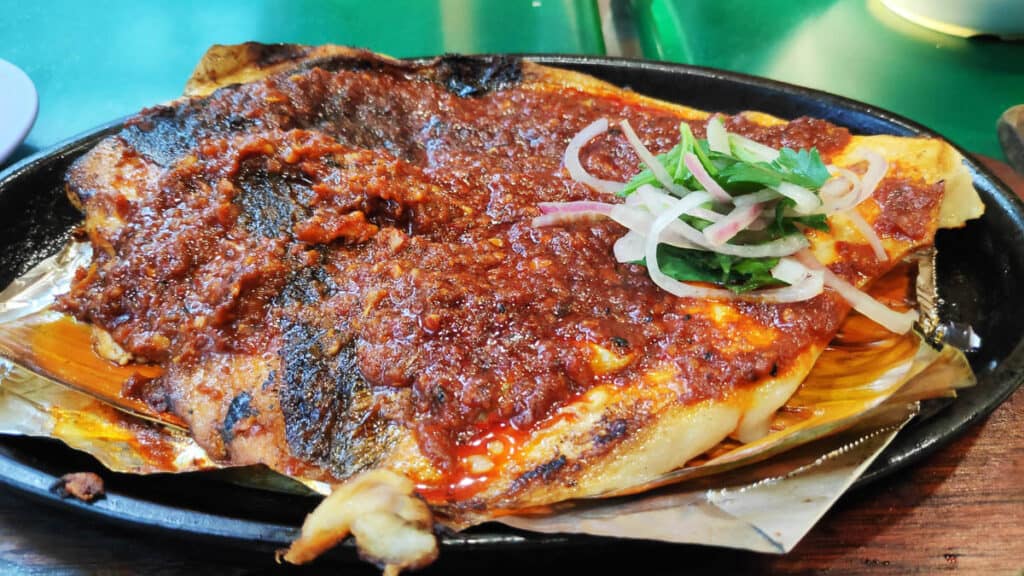 BBQ Stingray comes served with a sauce called chimchalok, which is made from fermented shrimp, onions and lime juice and is designed for dipping the stingray in.
Where to get the best Sambal Stingray in Singapore
We love to head to Lau Pa Sat for our sambal stingray and our favourite stall is Ming Yen Seafood. You'll get the great Lau Pa Sat atmosphere at the same time as sampling this local delight.
Kaya Toast and Soft Boiled Eggs
The much-loved kaya is a Singaporean jam made from eggs, sugar, coconut milk and flavoured with pandan.
Usually served on charcoal-toasted bread with lashings of butter, this sticky sweet delight is a staple breakfast item in local Singaporean coffee shops.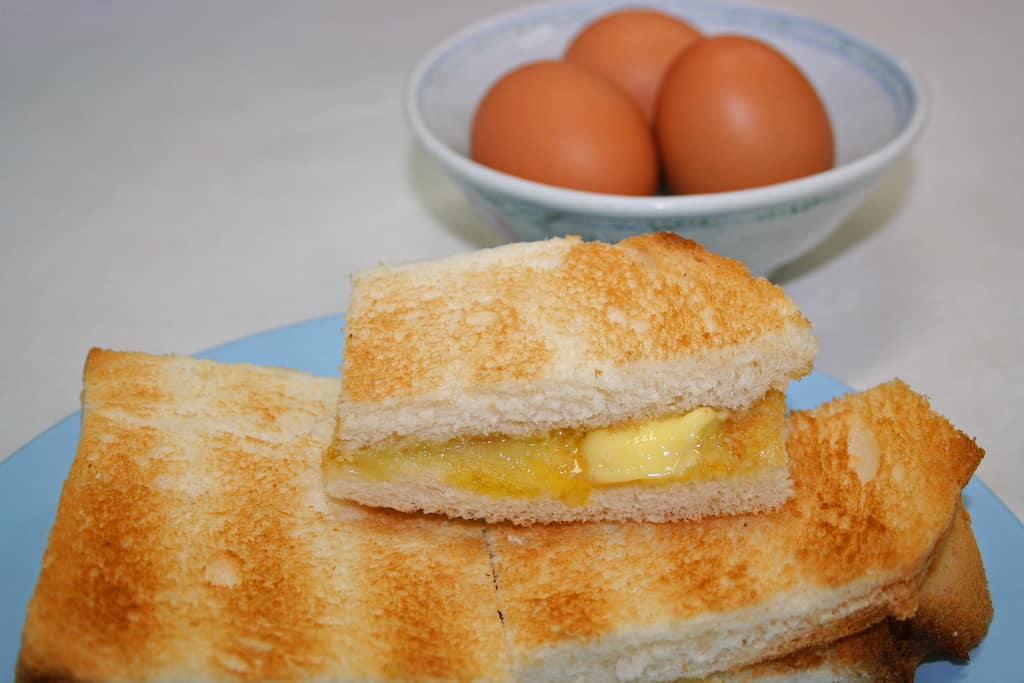 Ideally this delicacy should be enjoyed with soft-boiled eggs (and we mean really soft-boiled). To eat it, smother the eggs with pepper and dark soy sauce, dip in your toast, and wash it all down with a cup of thick black kopi-o, the local coffee.
Where to get the best Kaya Toast in Singapore
Ya Kun Kaya Toast has been serving Singaporeans breakfast since the 1940s and is always a safe bet. You'll find branches all over Singapore.
We also love Killiney Kopitiam for a more local feel. This local coffee shop was founded in 1919 and can still be found in its original location on Killiney Road, near Orchard Road.
Nasi Lemak
Literally translated from Malay as "rice in cream", this national dish of Malaysia is known for its fragrant and comforting flavour.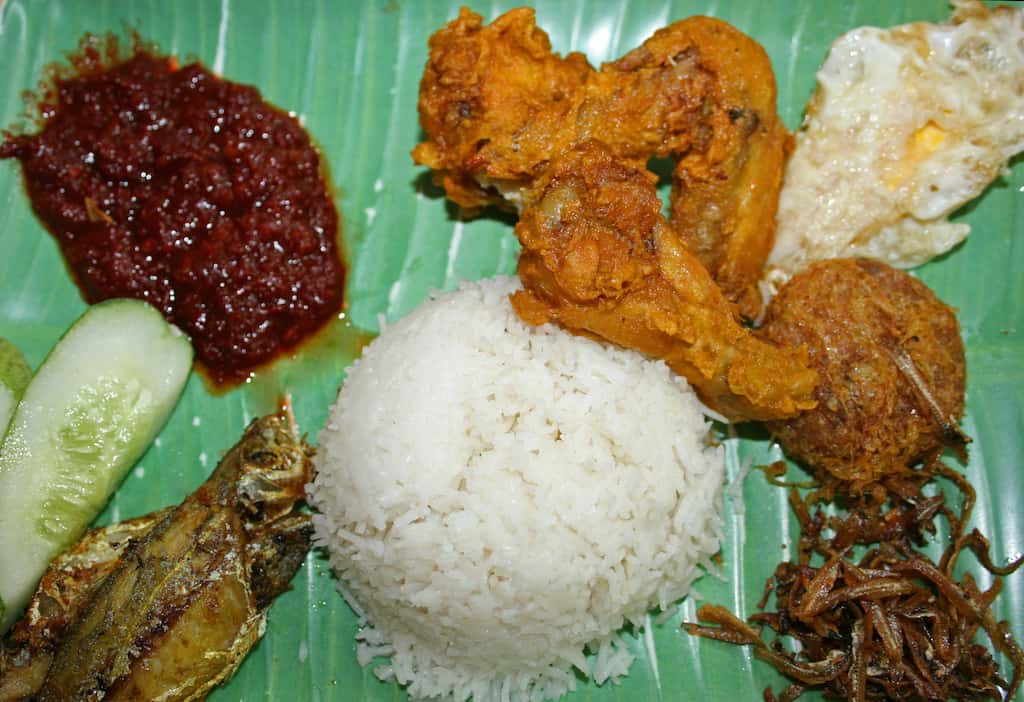 Rice is cooked in coconut milk and pandan leaves then dished up with a variety of sides including fried fish, ikan bilis (fried anchovies), peanuts, egg, cucumber and the all-important sambal. The Chinese influence in Singapore means that fried chicken wings and chicken sausage are also often included here.
Where to get the best Nasi Lemak in Singapore
We love the Nasi Lemak at The Coconut Club. They claim their secret is in the coconut milk they use, which (they say) has taken years of research and experimentation to perfect. You'll find it just a short walk away from the Sultan Mosque in Kampong Glam.
Mee Siam
This popular breakfast dish is made of rice vermicelli steeped in a tangy, mildly spicy gravy. Its distinct flavour comes from tamarind, tau cheo (preserved fermented soya beans) and dried shrimp, giving it a unique balance of sweet and sour.
It usually comes topped with calamansi and slices of fried beancurd, hard-boiled egg and chives.
Where to get the best Mee Siam in Singapore
Head to the Tekka Centre in the heart of Little India and look for Grandma Mee Siam. They've been dishing up their popular version of the dish for over 40 years. Don't forget to order some Ngoh Hiang (a kind of five-spice flavoured sausage) on the side.
Murtabak
Murtbak is a folded flatbread stuffed with a filling usually made from minced meat, onion, spices and egg, and then fried until crisp.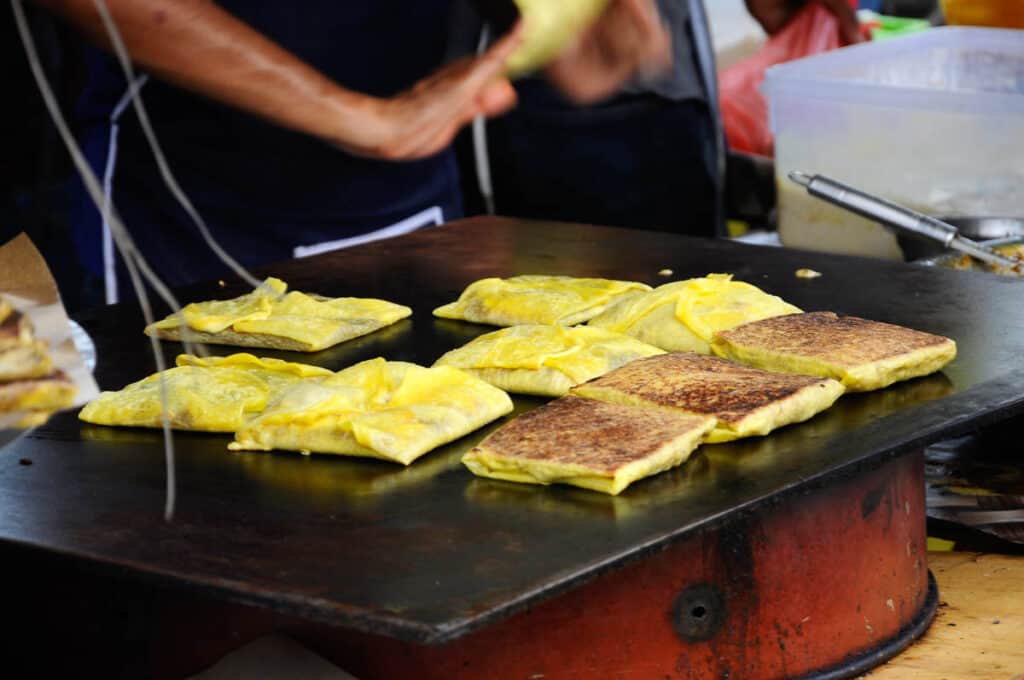 Originally found in the Arabian Peninsula, it is now popular all over Southeast Asia and is a real favourite in Singapore.
Where to get the best Murtabak in Singapore
Singapore Zam Zam restaurant is legendary in Singapore and widely regarded as THE place to get Murtabak. They have been dishing up their giant, generously filled murtabak since 1908.
They serve Murtabak in a variety of sizes, from small to super-special, and flavours include mutton, chicken, venison, beef and sardine.
Curry Puffs
Curry puffs are a mouthwatering flaky pastry parcel filled with a curried chicken and potato filling. They are our favourite grab-and-go snack when you're on the move in Singapore.
They are usually deep-fried, although sometimes baked, and variations include sardine and vegetable and the filling also sometimes includes egg.
They are 100% delicious and highly addictive.
Where to get the best Curry Puffs in Singapore
J2 Famous Crispy Curry Puff is centrally located in the Amoy Street Food Centre on Maxwell Road. Their delicious freshly-fried curry puffs have earned them a Bib Gourmand in the Michelin Guide. We love their black pepper chicken version.
Another option you can't go wrong with is Old Chang Kee, Singapore's more famous curry puff outlet. In fact, their curry puffs became so well known, they now even have an outlet in Convent Garden London, where a Sunday Time critic dubbed them 'the best pastry in London'!
You'll find outlets all over Singapore, including Chinatown, Orchard Road and the Civic District.