Our Singapore 7-Day Itinerary will help you make the most out of a week in Singapore. We've got culture, adventure, sightseeing and more.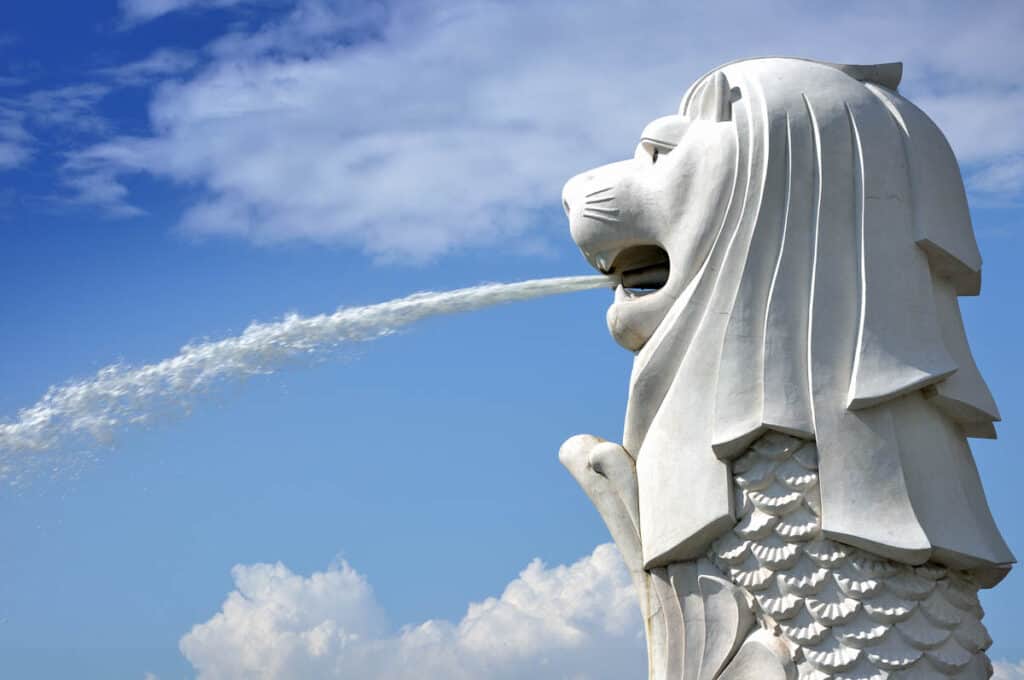 Singapore was once seen as a stopover city. But now, with its huge choice of tourist attractions and world-class hotels and restaurants, Singapore has become a holiday destination worthy of far more than just a couple of days.
It is now common for visitors to want to spend a week or more in Singapore – and trust us, there is plenty to do to keep you busy here.
With its heritage shophouses, high-tech green spaces, and multiracial, multicultural and multi-religious heritage, Singapore truly offers an incredible mix of old and new.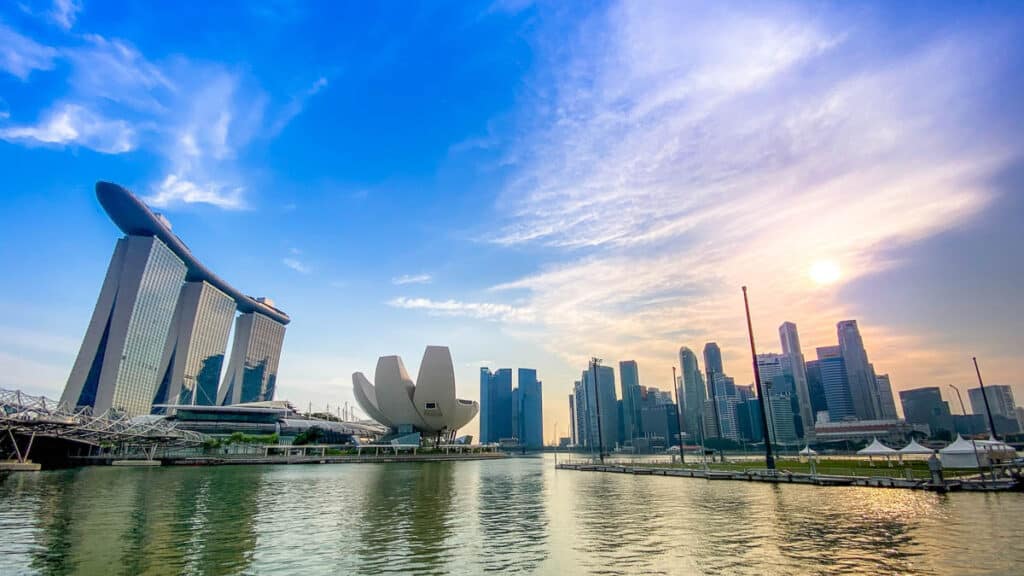 There are so many things to do in Singapore. You've got world-class theme parks, museums and galleries to visit, diverse neighbourhoods to stroll through and, of course, a whole lot of delicious food to sample. 
Don't have that long in Singapore? Check out our shorter itineraries:
Further Reading
Before we get into the details of our one-week Singapore itinerary, here are a few important planning details. You should also take a look at the following articles:
This post contains affiliate links. If you make a booking or purchase using one of these links, we may receive a small commission – at absolutely no extra cost to you.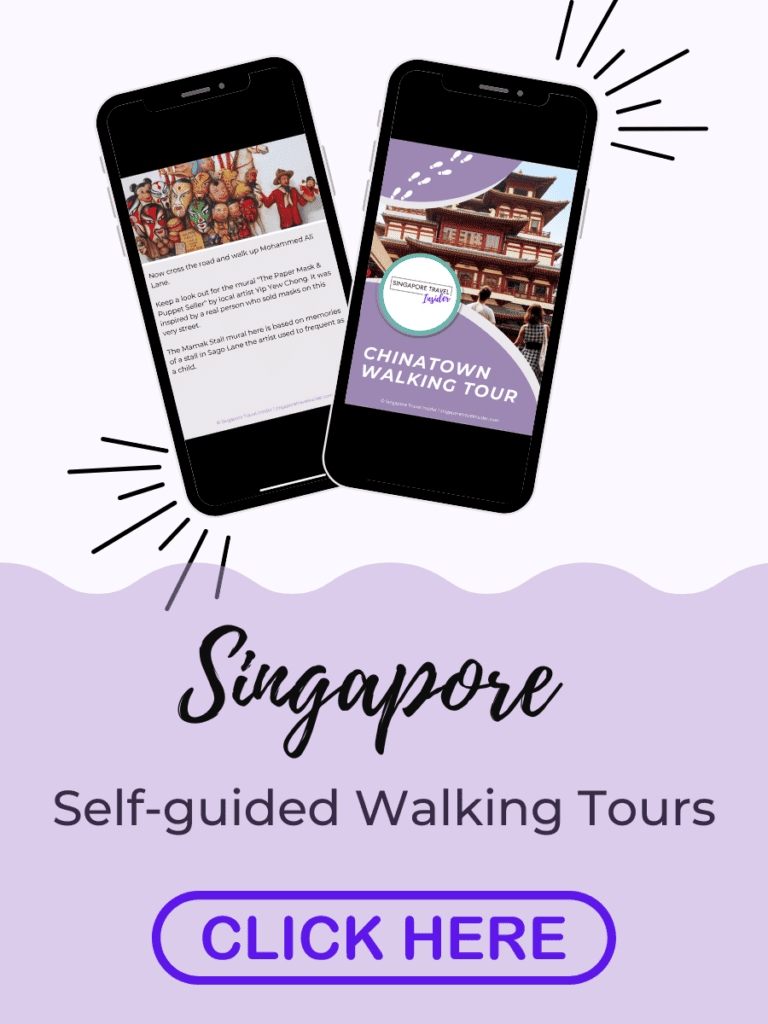 What is the Best Time to Visit Singapore?
Singapore is a year-round destination. Thanks to its typical tropical climate, you can expect high rainfall, high and uniform temperatures throughout the year and high humidity year round.
February is generally the driest month and December is the wettest. No matter what time of year you visit you can usually expect afternoon thunderstorms and showers but sunny days are plentiful too.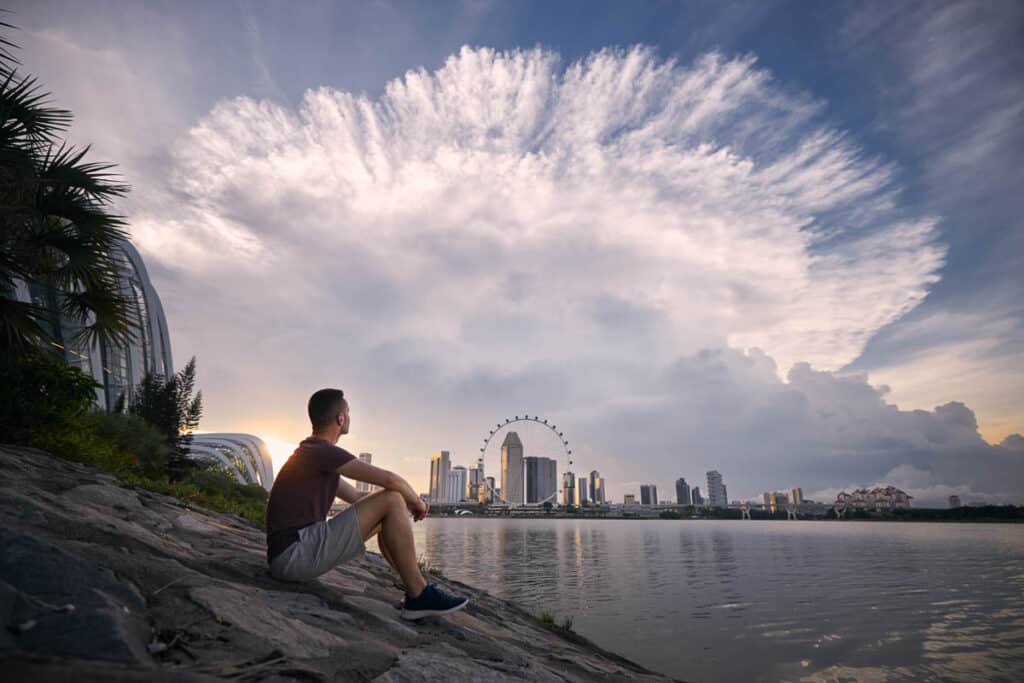 Thanks to its multi-cultural population you can always expect there to be some kind of festival taking place in Singapore. From Chinese New Year, to Deepavali to Hari Raya Puasa or the Singapore Grand Prix, there is always something culturally or socially exciting going on in Singapore.
Be aware that during occasions such as the Singapore Grand Prix, accommodation will be harder to secure and more expensive.
Click here to read more about The Best Time to Visit Singapore.
What is the best way to get around Singapore?
Singapore's public transport system is cheap, clean and efficient. You have the choice of MRT, Public bus, Taxi and Grab/Gojek ride-hailing services.
Most visitors to Singapore choose the MRT (underground/subway) thanks to its ease of use, but the public bus is equally as efficient and is a good option for areas not serviced by the MRT.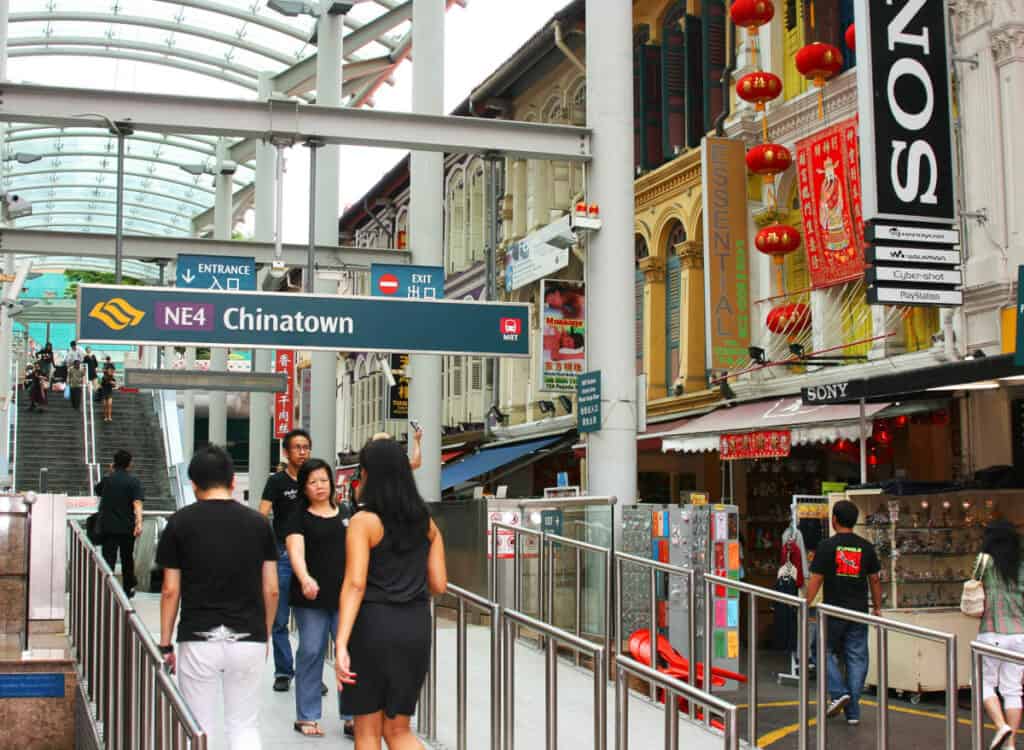 Taxis are plentiful and relatively cheap in Singapore and you also have the option of booking a Grab and Gojek– the equivalents of Uber in Singapore. You'll need to download the apps for this.
Click here to learn more about Using Public Transport in Singapore.
What is the Best area to stay in Singapore?
Singapore is a pretty small city and you can get to most places in around 20 minutes in a taxi, no matter where you are staying. If you are staying centrally, you can access most popular attractions, shopping and restaurant areas quickly either via public transport or taxi.
If you plan to do a lot of exploring via public transport, try to find a hotel close to an MRT station to make your life easier.
The six main areas that are popular with visitors to Singapore are:
Marina Bay – popular with business travellers and wealthy tourists.
Sentosa Island – popular with families and beach lovers.
Civic District – popular with culture buffs.
Clarke Quay / Robertson Quay – popular for mid-range hotels.
Orchard – popular with shoppers.
Chinatown – popular for boutique hotels.
Click here to read more about choosing where to stay in Singapore.
Our 7 Day Singapore Itinerary
From exploring the city-state's world-class museums to sampling the unique hawker food, here's how you can go about spending a week in vibrant Singapore.
We're going to talk you through a day-by-day itinerary to help you make the most out of your week, taking you to all the best places and seeing all the main attractions.
Of course you don't need to stick to this exact plan – it is more to showcase the diversity of Singapore and show you what you can squeeze into a week.
We also recommend taking a guided tour of Singapore during your stay. This is a great way to learn more about the city from locals and get your bearings before you venture off on your own.
Note: The days in this itinerary are busy – so you have our full permission to skip anything that doesn't sound like you… and spend a few hours chilling at your hotel pool or at one of Sentosa's beach clubs instead 🙂
Day One: Exploring Marina Bay
On your first day exploring the Lion City, you'll be checking out the Marina Bay area of Singapore, which has everything from colourful supertrees to cutting-edge exhibitions.
Morning – Gardens by the Bay
Start your morning by going for a stroll around the famous Gardens by the Bay. You will probably have seen the pictures of the iconic supertrees, but there is much more to see than that.
You'll be in awe of the cooled indoor Cloud Forest, a world of perpetual spring at the Flower Dome and the outdoor OCBC Skyway and Supertree Observatory.
Beyond these main attractions there are also plenty of gardens for you to enjoy including the new outdoor garden attraction – a horticultural garden inspired by the minimalist concept of Japanese zen gardens.
Lunch – Satay by the Bay or Jurassic Nest
Since you're already in the area, head on to Satay by the Bay to discover Singaporean cuisine. This al fresco hawker centre offers a wide selection of satay and other delights and is a good introduction to local Singapore food.
Some great choices at Satay by the Bay include the Marina Live Seafood & Steamboat stall, BBQ chicken wings, sambal stingray… and of course satay.
Another option for lunch at Gardens by the Bay is the new Jurassic Nest food hall. This Jurassic-themed eating area features Michelin-rated food stalls, including Hawker Chan (chicken rice), Tsuta (ramen) and Bismillah Biryani.
Here you'll find not only great food, but entertainment, larger-than-life dinosaurs and a Jurassic encounters trail. Perfect for families!
Afternoon
For incredible views of Singapore, head to the Singapore Flyer for a 30-minute ride before exploring the surrounding areas.
There's the Esplanade Theatres on the Bay – a futuristic waterfront arts venue that resembles the king of fruits, the durian. If you'd like, you can even see if there are any free performances going on during that time.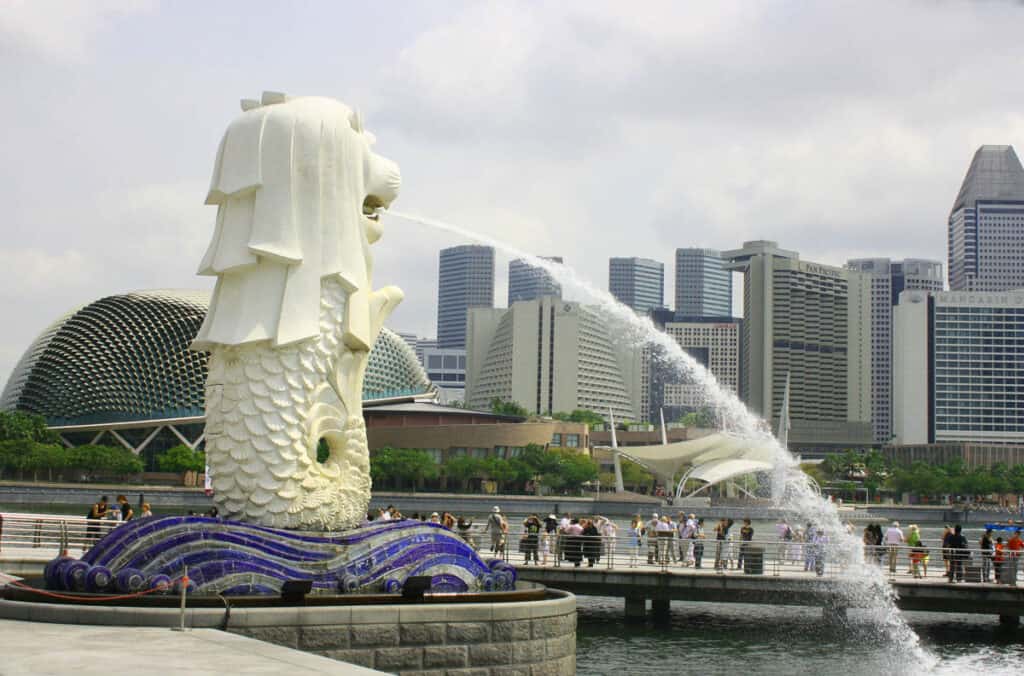 Next, head on over to the Merlion Park to get a picture of you and the Merlion, Singapore's iconic mascot. You'll find two statues there – the original 8.6 metre tall one along with a two-metre tall Merlion version.
If you're an art enthusiast, don't miss out on the ArtScience Museum. They've constantly got rotating exhibitions, digital interactive installations, and the ever-impressive FutureWorld, designed by the famous teamLab.
Evening – Marina Bay Sands
As evening rolls around, take a leisurely stroll along the waterfront area to Marina Bay Sands. This integrated resort has everything from a casino to luxury shopping and a plethora of restaurants.
There are plenty of opportunities for you to sample some world-class fare here. From steaks at CUT by Wolfgang Puck to Japanese delicacies at Waku Ghin, and Western fare at Bread Street Kitchen, you'll be completely spoilt for choice.
If you are looking for fancy cocktails, then head up to Ce La Vi, Spago or LAVO, three of Singapore's best rooftop bars, found right here at Marina Bay Sands.
Alternatively, if you prefer a view of the iconic Marina Bay Sands building while you dine, then head over to Customs House at Collyer Quay where you can dine al fresco with a view. Some of our favourites here include Super Loco, L'Entrecote and Cafe Fernet.
Day Two: Museum, Gallery and Shopping
Day two is all about visiting two of the city's most incredible cultural attractions: the National Museum and National Gallery… and also sprinkling in a bit of shopping time.
Morning – National Museum of Singapore
Your day starts in the Civic District, where Singapore's colonial history and bright future intersects. Here, you'll find heritage buildings and museums amongst a sea of skyscrapers and shopping malls.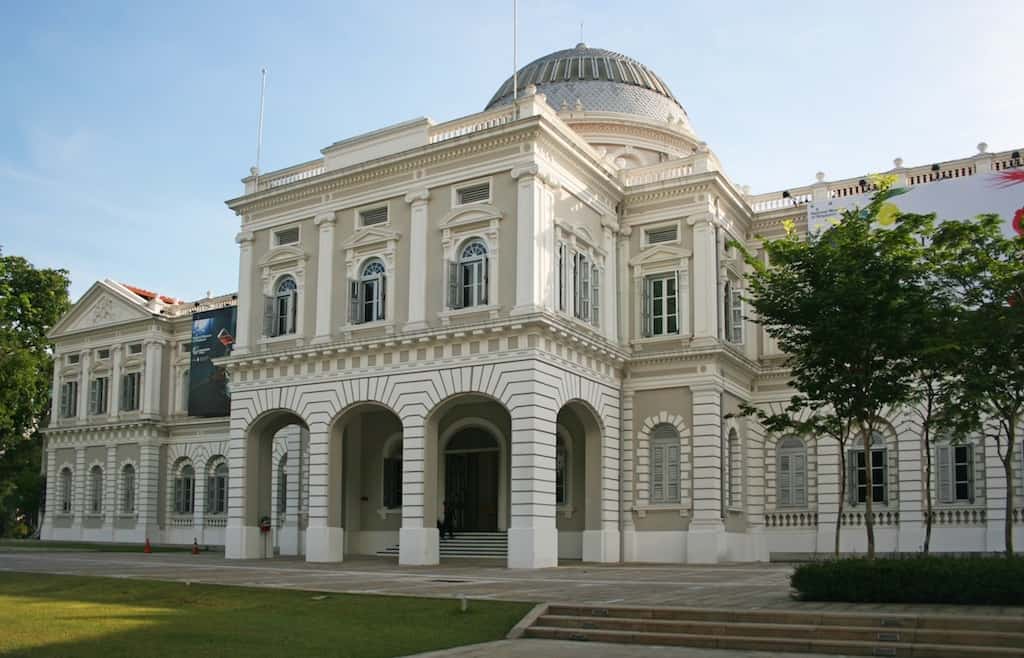 Head to the National Museum of Singapore – the nation's oldest museum that seeks to inspire with stories of Singapore and the world. The museum itself dates back to 1849, and its incredible architecture is sure to impress.
There are both permanent and rotating exhibitions within the museum, with the Story of the Forest being especially popular for its spectacular digital presentation. The Singapore History gallery is another favourite for learning about the nation's past.
Lunch – Lau Pa Sat
You can't visit Singapore without heading to a hawker centre to sample the local food. And Lau Pa Sat is one of our favourite hawker centres in Singapore.
Here, you can experience Singapore's unique food culture within a beautiful cast iron heritage structure. This Victorian structure was builtin in 1894 and shipped from Glasgow and became Singapore's first wet market.
There are over 70 stalls to choose from here, so lots of opportunity to try the local food from Hainanese chicken rice to fishball noodles and more.
Click here to read more about the best local food to try at a hawker centre.
Afternoon – National Gallery Singapore
In the afternoon, pay a visit to the National Gallery Singapore – a public institution and national museum dedicated to art and culture.
The gallery has more than 8,000 artworks from across the region. These artworks span from the 19th century to the present. You could easily spend the entire afternoon here wandering through the gallery.
Evening – Orchard Road
Singapore is known for being a shopping paradise, and you can do all the shopping you want at Orchard Road, the island's most famous shopping belt.
It has one of the highest concentrations of shopping malls in the world, so it's time to shop til you drop at malls such as ION Orchard, Takashimaya, Paragon and more. You'll find everything from the world's most expensive brands to high-street favourites and local boutiques.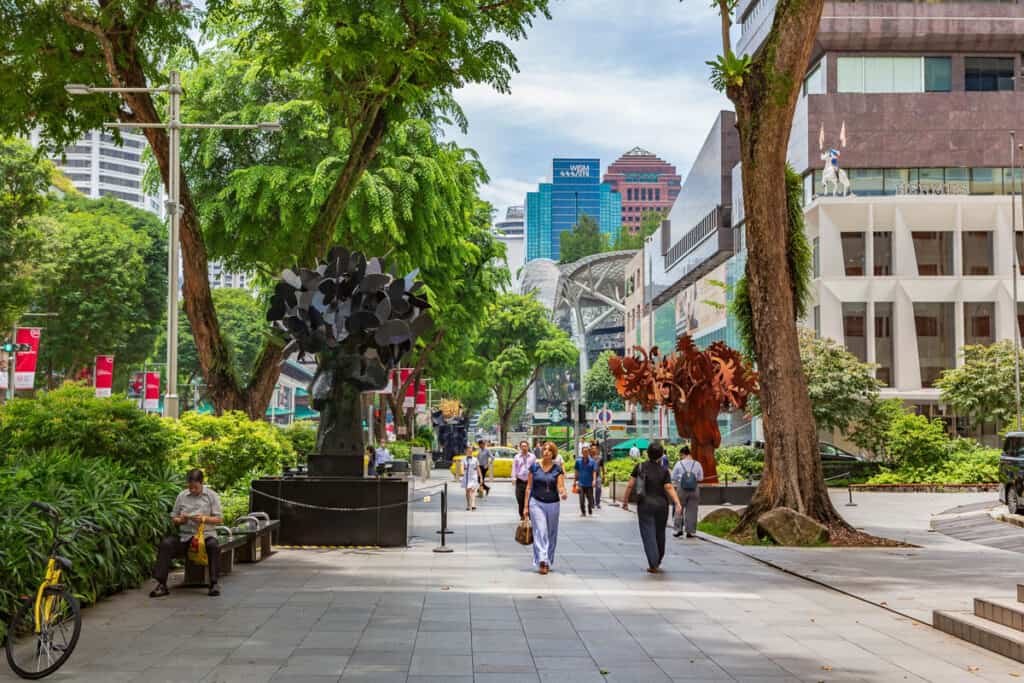 Orchard Road's also a great option for food since you'll find everything from food courts to three-Michelin star Les Amis. Most shopping malls have a food court and a selection of mid-range restaurants and the hotels are all home to good quality restaurants too.
Another option is to jump in a cab and head down to Clarke Quay or Robertson Quay, where you will find the Singapore River lined with bars and restaurants.
Day Three: Walking the neighbourhoods
Today is all about immersing yourself in Singapore's rich culture. You'll be heading to Chinatown, Little India and Kampong Glam to see just how diverse these three neighbourhoods, and the Singapore population, really are.
Our self-guided walking tours are a great way to see all the important sights at your own pace.
Morning – Chinatown
With its historic temples and traditional medicinal halls, Chinatown has a blend of both the old and new.
A tapestry of cultural diversity, Singapore's Chinatown is the only one in the world that has a Buddhist temple (the Buddha Tooth Relic Temple & Museum), a mosque (Masjid Jamae) and a Hindu temple (Sri Mariamman Temple) all along a single street (South Bridge Road).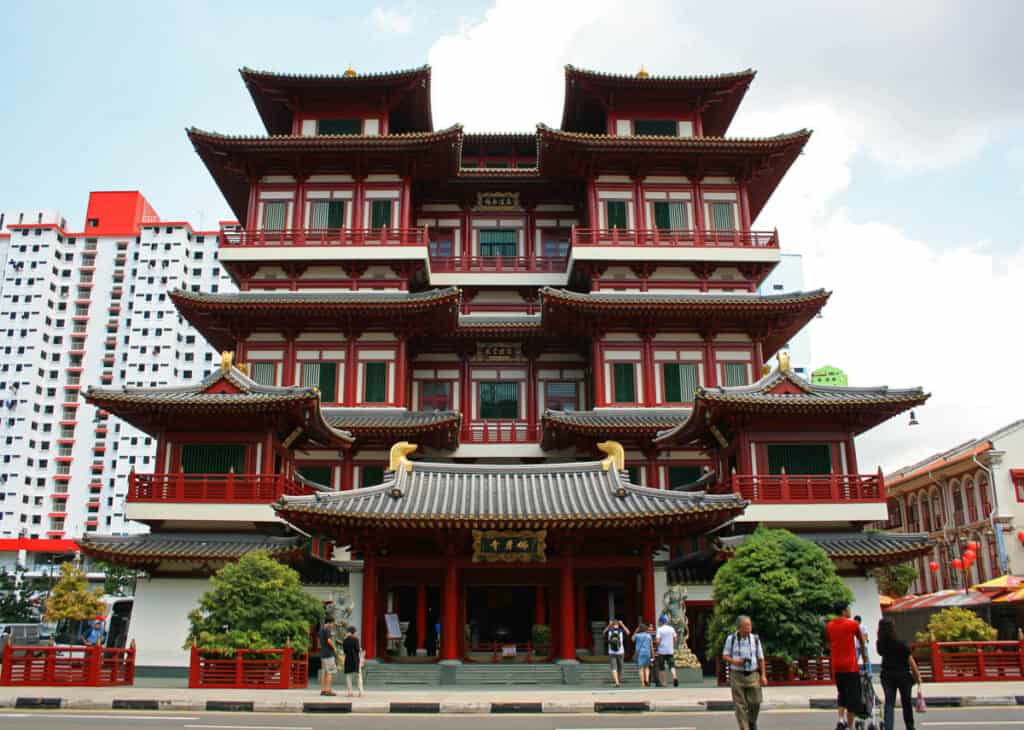 While you're there, browse the markets for some souvenirs and also check out the Chinatown Heritage Centre (currently closed following Covid, we'll keep you updated). It's situated within three beautifully restored shophouses on Pagoda Street and has exhibits that showcase the lives of Chinatown's earliest residents.
You can visit our comprehensive guide to Chinatown here to learn more about what to do in the area.
Lunch – Chinatown Complex Food Centre
You'll be spoiled for choice when it comes to lunch options at Chinatown, but you'll absolutely need to visit the Chinatown Complex Food Centre.
It's Singapore's largest hawker centre that has over 250 food vendors. It's also home to Liao Fan Hong Kong Soya Sauce Chicken Rice & Noodles, which was famously awarded a Michelin Star in 2016. (It no longer holds a Michelin star, but you know it's still going to be good quality).
If you're in the mood for dim sum, then Yum Cha is one of our favourite spots and you can find it up the stairs on the corner of Trengannu and Temple Streets.
Afternoon – Little India
Once you're done exploring Chinatown, take the train down to Little India to get a taste of Singapore's Indian culture and history. Visit the Sri Veermakaliamman Temple, one of the oldest Hindu temples in Singapore before popping into the 24-hour Mustafa Centre, a Singapore shopping institution.
The Indian Heritage Centre is also a great visit. It is housed within a reflective, modern building and tells the story of the history of the Indian community in Singapore.
Some other great areas to explore include The Little India Arcade and Tekka Market, one of the best wet markets in Singapore. If you're feeling peckish pop in for a Masala Dosa at Komala Vilas or if you're feeling brave, sample a Fish Head Curry at the Banana Leaf Apolo or Muthu's Curry.
You can visit our comprehensive guide to Little India here to learn more about the area.
Evening – Kampong Glam
Lastly, experience Malay culture at Kampong Glam. There's plenty to discover here from the biggest mosque in Singapore (Sultan Mosque) to the heart of Singapore's Islamic community, Arab Street.
The Malay Heritage Centre is also a good one to visit to learn more about the Malay's roles in being part of Singapore's multi-cultural society.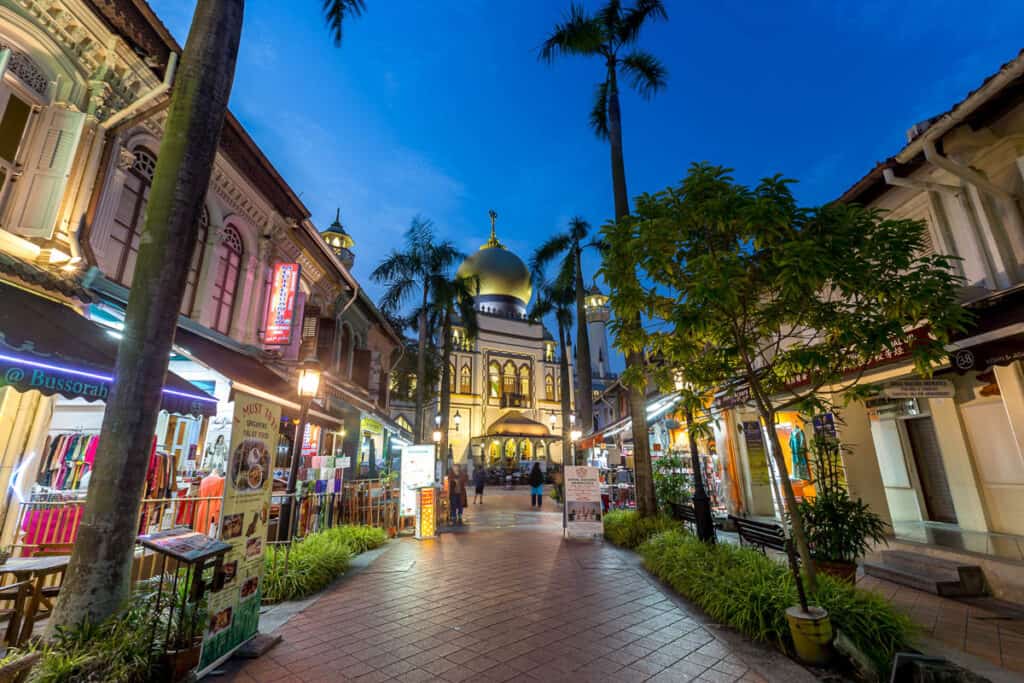 If you're looking for a spot to capture a good picture, you'll need to head down Muscat Street. The laneways here have been transformed into Singapore's first outdoor art gallery. Once reserved for deliveries and garbage disposal, you will now find murals and and framed art from over 30 artists, both local and international.
As for dinner options, Kampong Glam is a treasure trove of good food. For some heritage-rich restaurant and eatery options, check out Zam Zam Singapore, renowned for its biryani and murtabak, or Warong Nasi Pariaman, the oldest Nasi Padang restaurant in town. Alaturka is another favourite of ours.
You can visit our comprehensive guide to Kampong Glam here to learn more about the area.
Day Four: We're going to the zoo
On day four, take the opportunity to experience Singapore's three zoos – Singapore Zoo, River Safari and Night Safari, all unique in their own way.
Morning – Singapore Zoo
Located in a natural rainforest setting, Singapore Zoo has the reputation as one of the best in the world.
There are over 300 species of animals here and you'll find everything from L'Hoest's monkeys to the African penguin, Singapore's first lion club and even a giant tortoise. If you want to get up and close with the animals, you can also do a signature tour, feed the animals or catch one of the presentations.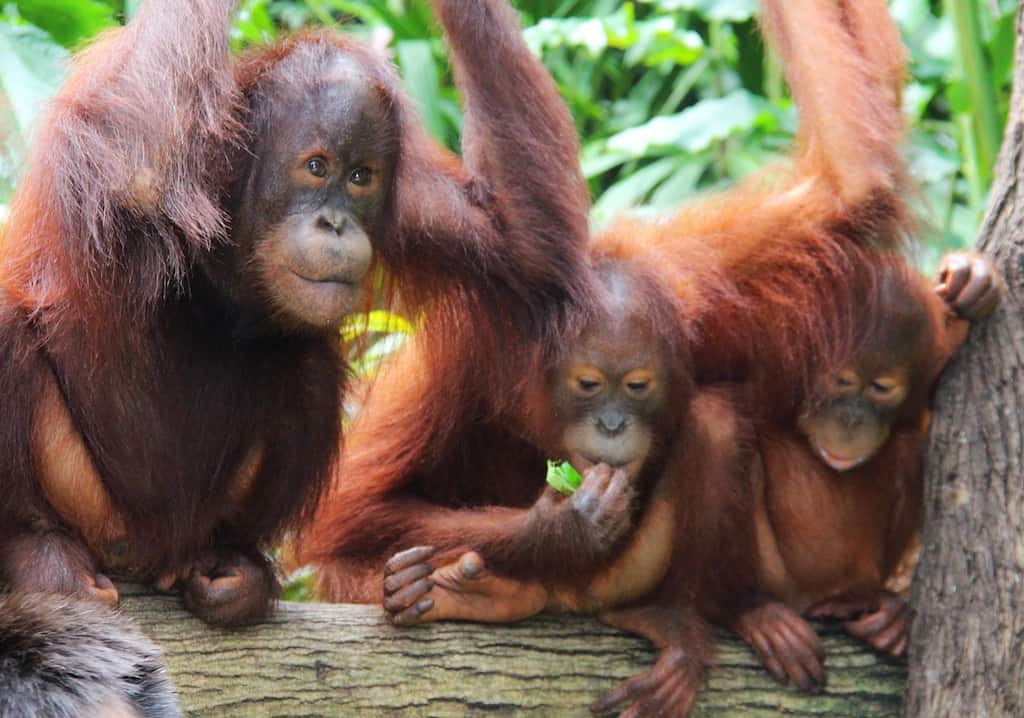 A popular way to start your visit to Singapore Zoo is to join in with the Breakfast in the Wild, where you can meet the orang utans and macaws. Visiting Singapore Zoo with kids? Don't forget to bring their swimmers for the fun water play area.
Lunch – Singapore Zoo
There are numerous dining options available at the Singapore Zoo, including Chomel Bistro and Chawang Bistro at the entrance and the Ah Meng Restaurant and Bistro within the zoo. There's also KFC both at the entrance and within the zoo.
Afternoon – River Wonders
One of the newer additions to Singapore's zoo scene, the River Wonders (formerly River Safari) is located right next door to the Singapore Zoo.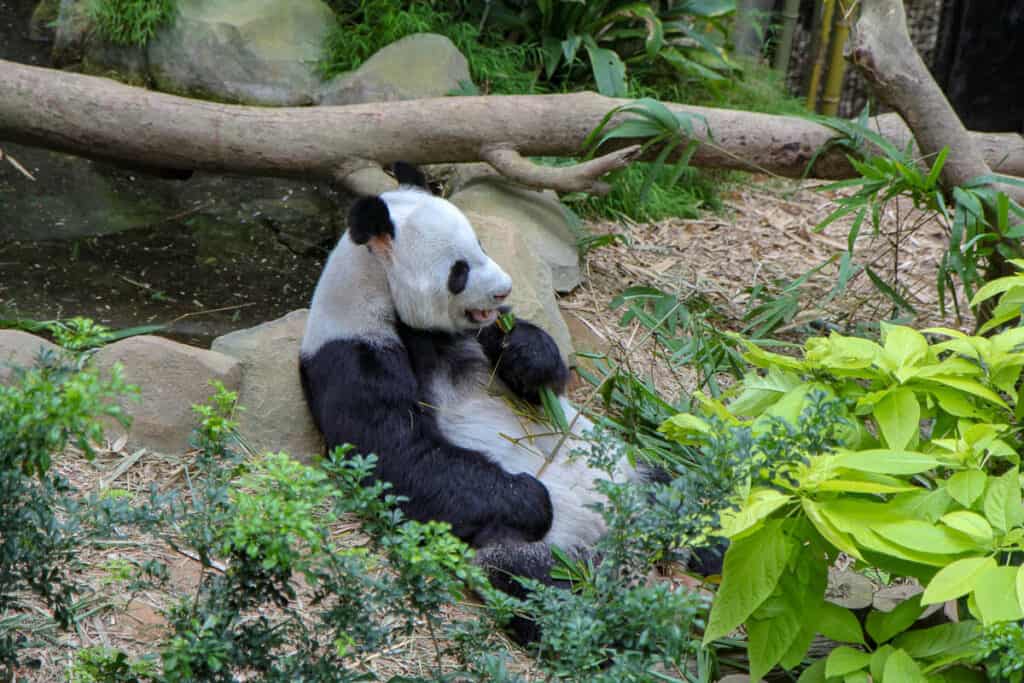 Here you can go behind-the-scenes and get closer to wildlife on a signature tour, hop on an Amazon River Quest boat ride, and learn more about a variety of fascinating creatures at Once Upon a River.
While you're there, don't forget to say hi to Kai Kai and Jia Jia – the resident giant pandas along with their panda cub, born August 2021. Cute! Other species of animals at the River Safari include the manatee, Mekong giant catfish, giant river otter and more.
Tip: If you are visiting both the Singapore Zoo and River Wonders, buy a 2-in-1 ticket to save money.
Evening – Night Safari
Journey into the wild and experience the Night Safari. There are signature tours (whether it be a walking adventure or a buggy), an exhilarating presentation called Creatures of the Night and even an Indian rhinoceros feeding.
Some other night animals that you'll be able to see include the Malayan tiger, Sunda pangolin, Tasmanian devil and more. If you're feeling hungry, head to the Ulu Ulu Safari restaurant for dinner. There, you can choose to dine al fresco or amongst the company of animals.
Day Five – Sentosa Island
Day five will take you to Sentosa, Singapore's island of fun, with plenty to do from Adventure Cove waterpark to Universal Studios, beaches and more, it's going to be a fun-filled day.
Morning – Universal Studios Singapore
Start your morning at Universal Studios and beat the crowds to the rides. The theme park is home to incredible rides (we recommend The Mummy and Battlestar Galactica if you like rollercoasters), shows, street entertainment and shops.
You can easily spend an entire day at Universal Studios, or you can decide to head somewhere else – it's completely up to you.
Lunch – Sentosa
There are so many dining options in Sentosa that it's hard to just pick one. Within Resorts World Sentosa, you will find the Hard Rock Cafe, plus everyone's favourite dumpling restaurant Din Tai Fung.
For something fancier, head to Cassia. Located in luxury hotel The Capella, you'll be treated to an exceptional dim sum experience.
Otherwise, there's also FOC Sentosa where you can lounge by the beachside and enjoy a wide variety of Mediterranean treats with sharing platters, or beach clubs Tanjong Beach Club and Rumours Beach Club.
Afternoon – Sentosa
With so much to do at Sentosa, it's up to you to pick and choose what you'd like to go ahead with. There's Adventure Cove Waterpark for those that would like to zoom down waterslides, the Mega Zip Adventure Park for adrenaline junkies and the S.E.A Aquarium, home to 10,000 sea creatures.
Or you could just hit the beach and hang out at a beach club. That sounds pretty good too.
Don't forget to head to the Most Southerly Point of Continental Asia when you're at Sentosa. It's situated right on Palawan Beach and accessible via a suspension bridge.
Evening – Quayside Isle
As the day draws to a close, drop by Quayside Isle. This tranquil spot by the waterfront is the perfect place to get some food. It has everything from Greek cuisine to Chinese food.
If you're looking for a spot to get a drink, head to Bob's Bar at The Capella. There's no better place to enjoy the sea breeze, while sipping on an alfresco Panda Spritz.
Click here to read our comprehensive guide to Sentosa Island for more ideas for the area.
Day Six – Green spaces and parks
While Singapore might be a bustling cosmopolitan city, but it's also known as the Garden City. Today, you'll find out why, by exploring some of the best parks in Singapore that dot the entire island.
Morning – Botanic Gardens
Start your morning at the Singapore Botanic Gardens – located near Orchard Road. The Botanics are often overshadowed by the newer and more famous Gardens by the Bay, but we still love a stroll around this gorgeous area.
It's a UNESCO heritage site that showcases some spectacular tropical flora. There are lots of different zones to explore and plenty of secluded spaces for a picnic.
Don't miss a visit to the National Orchid Garden, where you will find over 1,000 species and 2,000 hybrids of orchid.
The VIP garden is fun, where you can find hybrids created in honour of visiting dignitaries and celebrities, including Margaret Thatcher, Nelson Mandela and even Ricky Martin and Jackie Chan!
Lunch – The Halia
The gardens are the perfect spot for a picnic but if you prefer something more upmarket, then head to The Halia, a beautiful restaurant that's tucked within the foliage of the Ginger Garden. Established in 2001, the restaurant also has an al fresco dining area called the Viewing Deck.
With its full glass walls and clear views of the Ginger Garden, it's a gorgeous place for a meal and you'll feel like you've been transported into a restaurant that's filled with nature.
They specialise in Western fare but our favourite pick is the Singapore-Style Chilli Crab Spaghettini.
Afternoon – The Southern Ridges
In the afternoon, take a stroll along The Southern Ridges Walk.
Comprising of 10 kilometres of trails that connect five national parks, this is a great place to explore and really exemplifies the juxtaposition of the real jungle and the urban jungle that is so unique to Singapore.
The Southern Ridges connects Mount Faber Park, Labrador Nature Reserve, Kent Ridge Park, HortPark and Telok Blangah Hill Park.
As you walk through sections of secondary rainforest you will be reminded that you are never far from urban development, with the sounds of cicadas mingling with traffic noise, and HDB blocks towering above the rainforest canopy.
Evening – Henderson Waves
The Henderson Waves is a very cool pedestrian bridge along the Southern Ridges walk, connecting Mount Faber Park and Telok Blangah Hill Park.
The bridge itself is an architectural masterpiece with its undulating wave-like structure and curved steel 'ribs'. It's popular with local runners and joggers, but those in the know head here for sunset to enjoy the views over the urban sprawl and out to Sentosa.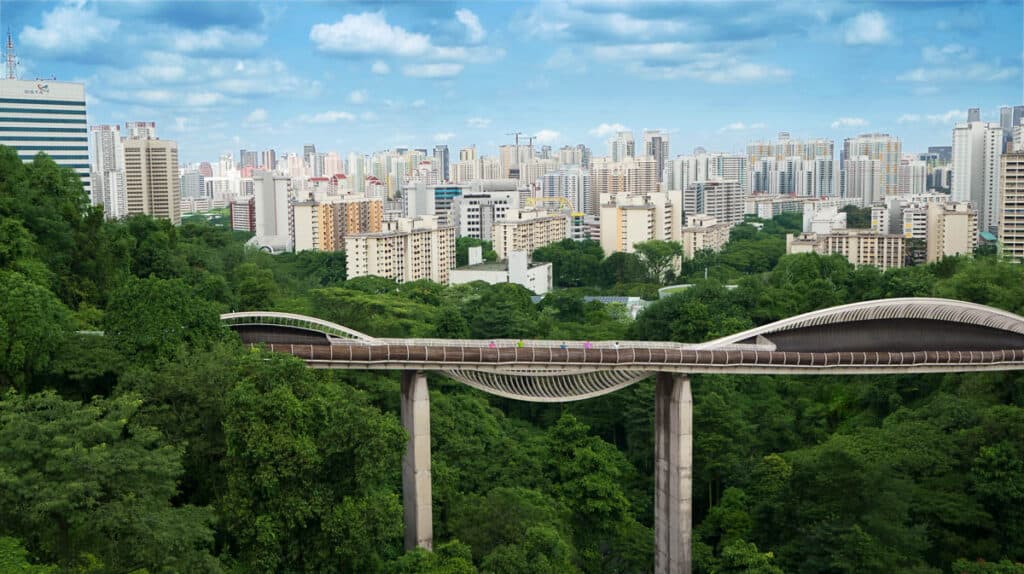 Tip: If you don't have the energy for the full Southern Ridges Walk, you can take the cable car from Harbourfront to Mount Faber, and Henderson Waves is a 10-minute walk from here.
You'll also find Dusk Restaurant & Bar at the top of Mount Faber, for dining with a view.
Day Seven – Gems of the East Coast
As you approach the end of your time in Singapore, today's a good day to wind down and explore Singapore's Jewel Changi Airport, before heading to the charming neighbourhood of Joo Chiat and Katong.
Morning – Jewel Changi Airport
An awe-inspiring spectacle, you can easily spend a few hours in Jewel Changi Airport. It has everything from shopping to dining options, and even a few fun attractions.
The centrepiece of Jewel, however, is of course the HSBC Rain Vortex. You are bound to have seen social media posts of this, the world's largest indoor waterfall. It's a sight to behold and a must-snap for your Instagram page.
Other attractions within Jewel include a hedge maze, a petal garden, and even a walking net that has you suspended 25 metres above the ground. The Canopy Park on the top floor of Jewel is also must-visit for families.
Shopping options are aplenty here, and you'll find everything from jewellery to candy, technology, clothes, shoes and more – you can even find a Pokemon Centre in Jewel Singapore!
Lunch – Jewel Changi
There are loads of restaurant choices within the Jewel, and you'll find everything from Shake Shack and Jollibean to Prive and Violet Oon Singapore. Some popular choices include Burger & Lobster, Din Tai Fung, Tim Ho Wan and Beauty In The Pot (known for its beauty collagen soup).
For local dishes, there's also the Food Republic food court where you can enjoy Singaporean local food favourites such as chicken rice and Hokkien prawn mee.
Afternoon – Joo Chiat / Katong
Crowned Singapore's first heritage town in 2011, there's plenty to explore in this area, which is famous for its Peranakan heritage.
Head to The Intan, a private museum with a treasure trove of Peranakan costumes, furniture and more. An hour-long tour of the Intan includes tea, while a two-hour tour with lunch or dinner comes with authentic Nyonya cuisine.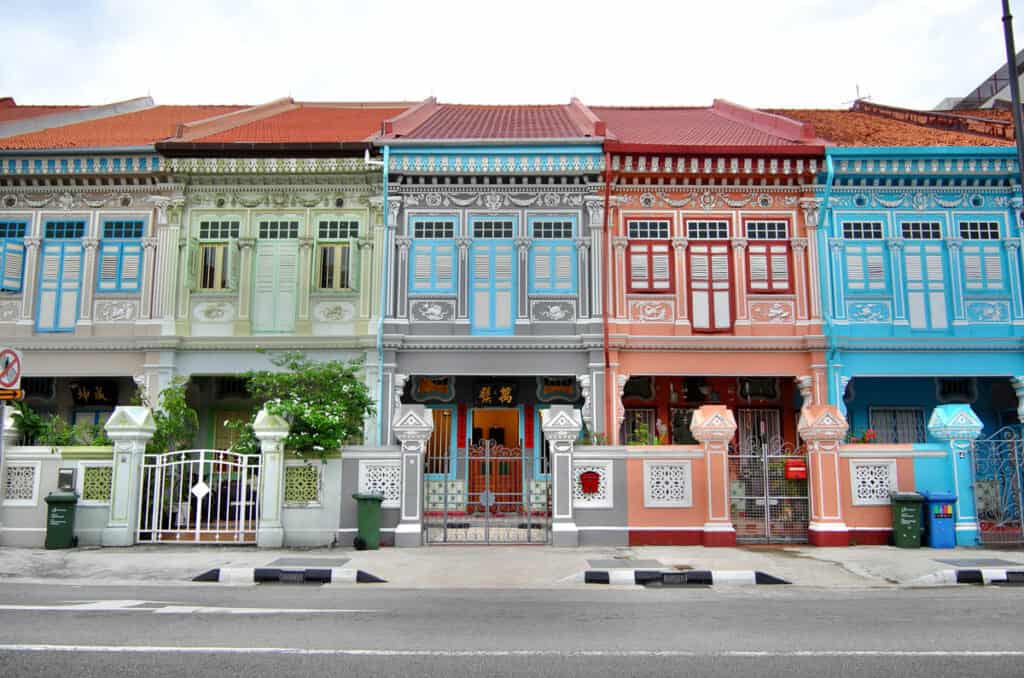 Don't leave the Joo Chiat and Katong area, without marvelling at the colourful Peranakan shophouses that are both rich in heritage and culture.
The ones at Koon Seng Road are particularly famous. With their intricate carvings and pastel hues, these shophouses are certainly Instagram-worthy.
Evening – East Coast Seafood Centre
Spend your last evening at East Coast Seafood Centre which has a plethora of seafood restaurants serving up some delicious Singapore seafood dishes in a convivial alfresco atmosphere.
Jumbo Seafood is a popular choice, and you can order the famous chilli crab here, the national dish of Singapore. Sweet, savoury, and mildly spicy, don't forget to order some mantous (steamed buns) to soak up all of that delicious sauce.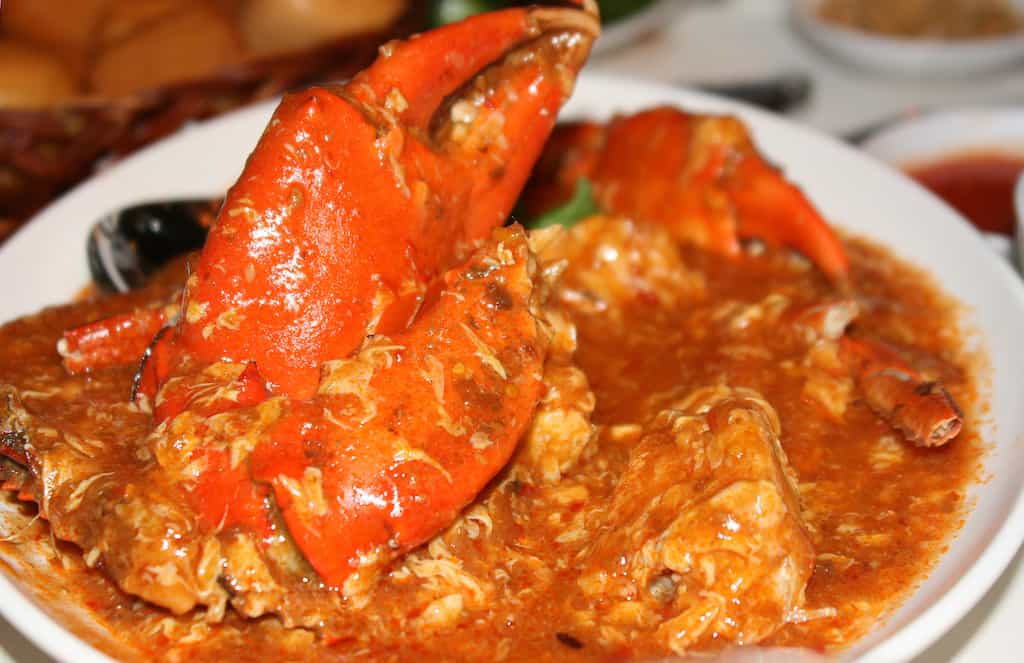 Other seafood delights to get include the signature black pepper crab, cereal prawns and crispy fried salt & pepper squid.
And that's it for your seven-day itinerary in Singapore!
Even though seven days is a good amount of time to explore the wonders of Singapore, there's still a lot more that Singapore has to offer.
From exploring the island of Pulau Ubin, to trekking through the rainforest or visiting the Asian Civilisations Museum or the incredible war museums, Singapore has so much more to offer.
FAQs
Is 7 days in Singapore too long?
No way! There is so much to see and do and eat and discover in Singapore that you could spend a week here and still have much more left over for next time. Whether you are in Singapore for culture, food, shopping or fun you will find plenty to keep you busy over 7 days.
How much does a 7 day trip to Singapore cost?
How long is a piece of string?! Singapore has a reputation for being an expensive city, and it's true. But it is easy to cut costs by staying in budget accommodation and eating out at hawker centres and food courts. There are also plenty of free things to do around town.