Our guide to Little India Singapore covers everything you need to know to eat, sleep, shop and explore the area.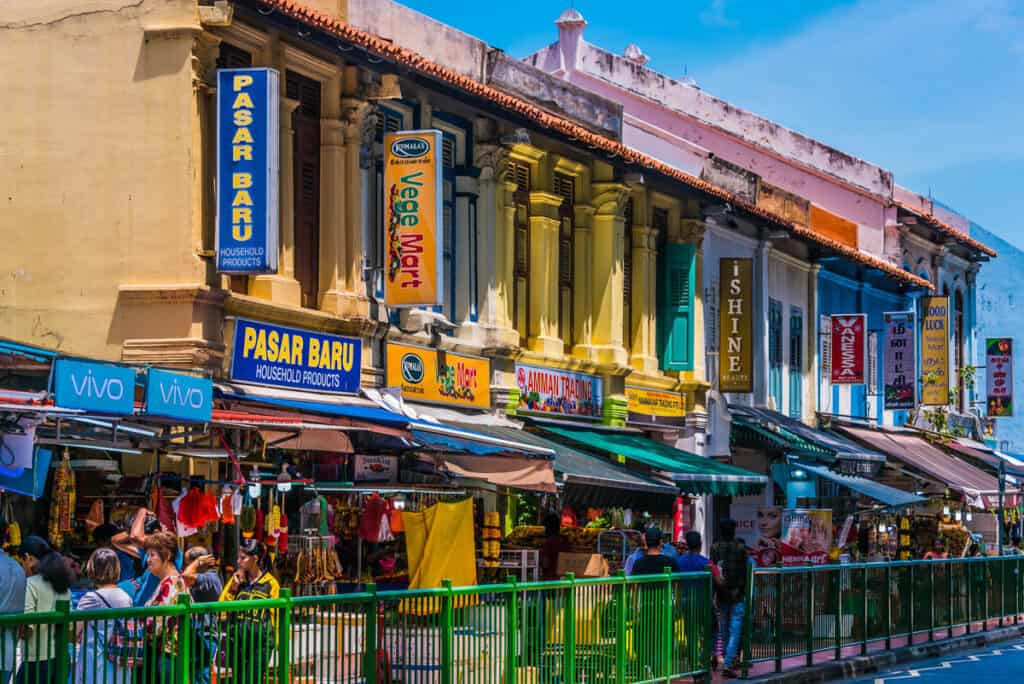 Arriving in Singapore's Little India will have you wondering whether you have been transported to Delhi rather than a district in Singapore.
This vibrant area of Singapore is home to colourful architecture, beautiful temples and bustling shops selling everything from gold jewellery to flowers, cheap clothing and souvenirs.
Of course, the area is also home to Indian cuisine, with people flocking here to sample the delights of the Race Course Road restaurants. For an authentic local wet market shopping experience, don't miss the market stalls hidden within the Tekka Centre.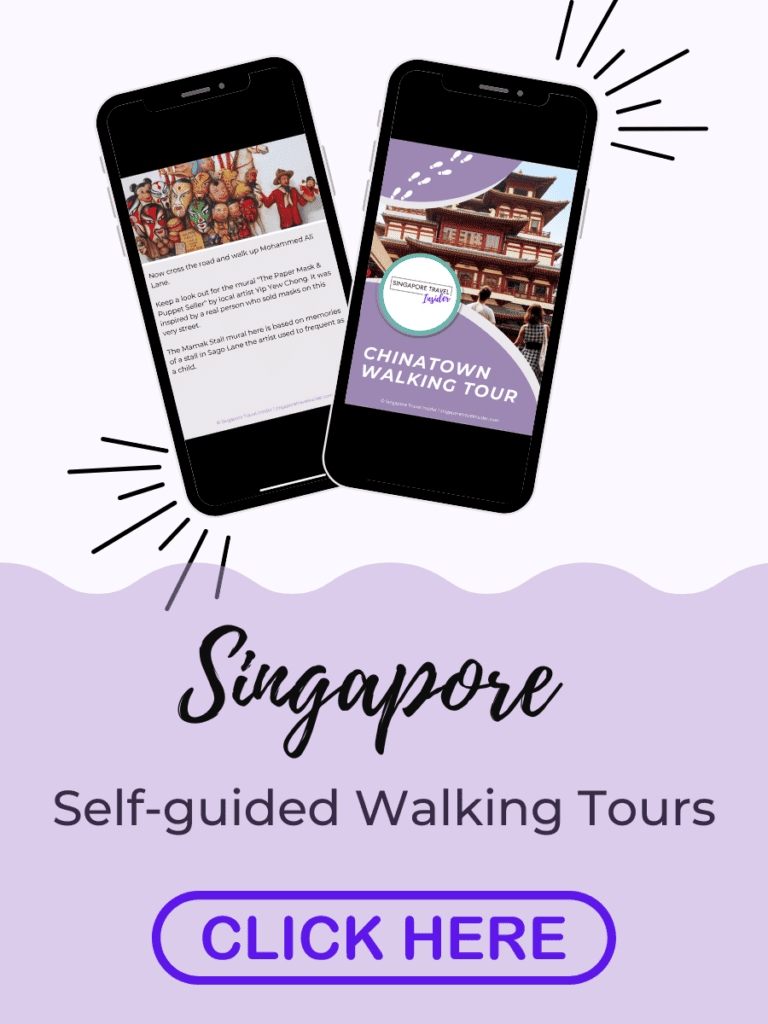 Why you'll love Little India
It is one of Singapore's most vibrant and colourful neighbourhoods.
You will find some of the city's best Indian food here.
The Tekka Market is one of the best wet markets in Singapore.
There are several beautiful temples to discover.
The shops make good hunting ground for souvenirs.
Some of Singapore's best budget accommodation can be found here.
Things to do in Little India
Just wandering the streets and soaking up the vibe is one of the pleasures of visiting Little India. It has such a distinct feel from the rest of Singapore.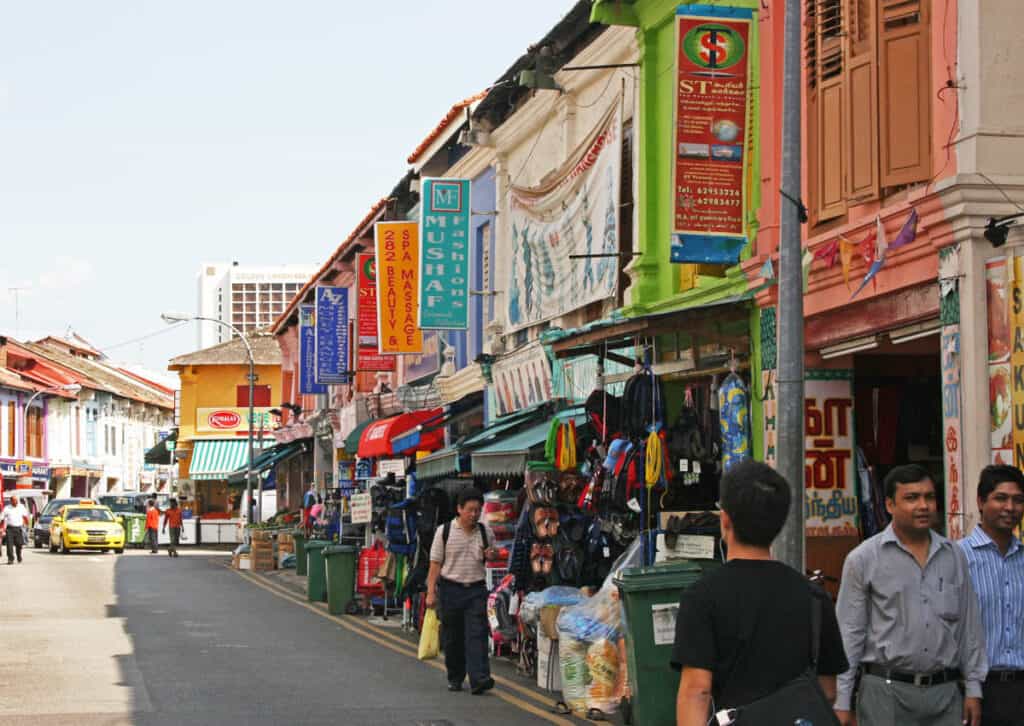 Notice the five-foot ways as you walk – these undercover walkways were built in accordance with the Raffles town plan of 1822 to provide protection from both rain and the hot sun. Today they have often become extensions of the shops, as their goods spill out into the walkways.
You will find several important and impressive temples here from across the faiths of Singapore's population.
Visitors are welcome to enter all of these places of worship but be sure to be mindful and respectful – cover bare shoulders and legs, and remove your shoes to enter if others have. 
Our self-guided walking tour of Little India takes you past all of the following attractions:
Sakya Muni Buddha Gaya Temple – popularly known as the "temple of 1,000 Lights". Famed for its 15m-high, 300-tonne seated Buddha, which towers above you as you enter the room.
Sri Srinivasa Perumal Temple – dedicated to Krishna, one of the incarnations of Vishnu. This temple is most famous as the starting point of the annual Thaipusam festival. Visitors are required to wash their feet before entering and you will find taps to the left of the entrance.
Sri Veeramakaliamman Temple – one of the oldest Hindu temples in Singapore with an impressive gopuram. It was built by early Indian immigrants who dedicated the temple to Kali, the Destroyer of Evil, to help them feel settled in their new land.
Abdul Gafoor Mosque – this impressive mosque dates back to 1910. The main entrance of boasts an elaborate sundial with 25 rays decorated with Arabic calligraphy, denoting the names of 25 chosen prophets. It is the only one of its kind in the Islamic world. Only worshippers are allowed to enter the prayer hall.
Indian Heritage Centre – call in here to gain an understanding of the history and culture of the Indian and South Asian communities in Singapore and throughout the Southeast Asian region. There are five permanent galleries plus visiting exhibitions to explore.
House of Tan Teng Niah – this brightly coloured house is perfect for tourist snaps and Instagram shots. It is one of the last surviving Chinese Villas in Little India. The eight-room villa was built my Mr Tan, a prominent Chinese businessman, for his wife, in 1900.
Sightseeing Tours in Little India
Taking a tour in a new city is a great way to get your bearings, get to know the place through the eyes of a local and gain a more in-depth understanding of the history and culture.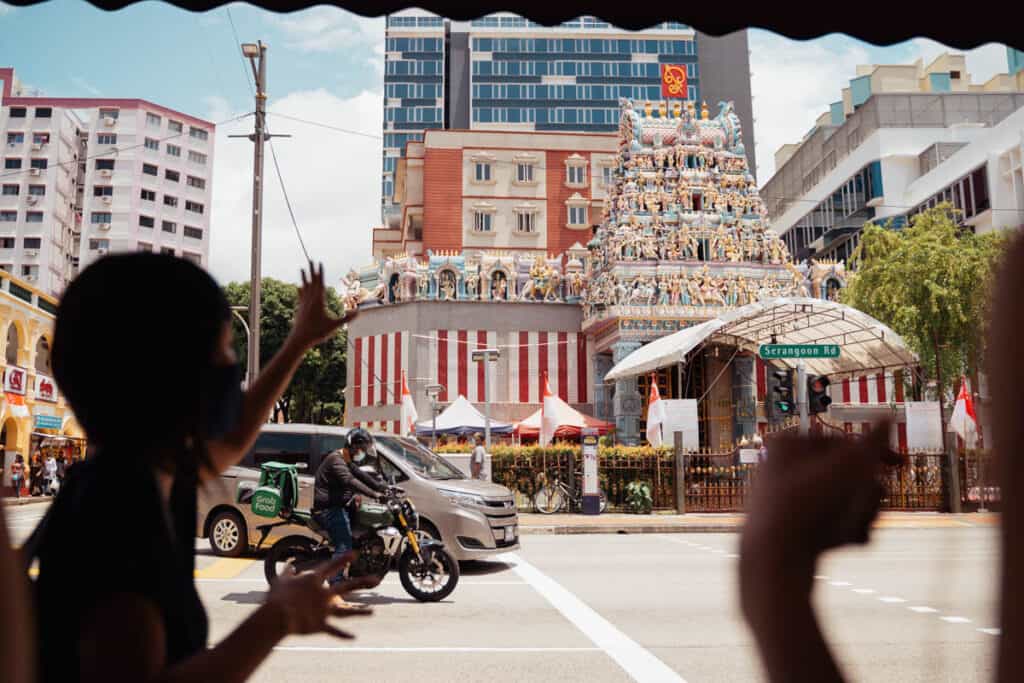 Want to explore the rest of Singapore? Read our pick of the Best Singapore Sightseeing Tours here.
Shopping in Little India
Little India is a great area to browse for cheap souvenirs, get a henna tattoo, buy Indian fabric, and splurge on gold jewellery.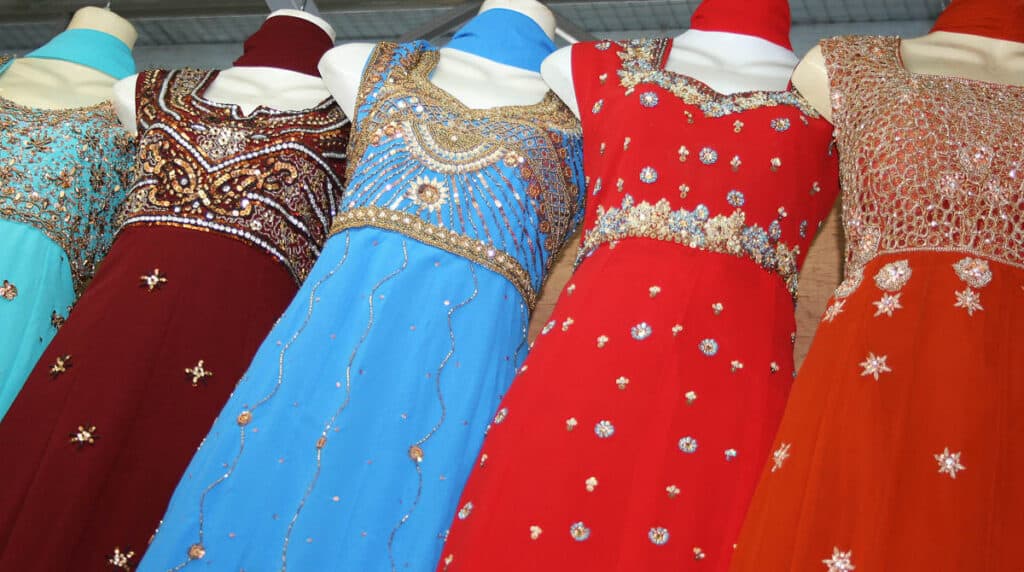 Here are some popular places to add to your shopping itinerary:
Tekka Centre – home to one of the biggest and busiest wet markets in Singapore. Head here for an authentic Asian shopping experience. It has an impressive seafood section and it's a great place to stock up on spices and curry pastes. The stalls upstairs are a good source of sari material and Indian clothing.
Mustafa Centre – this 24-hour department store has been a bargain hunter's paradise since 1971. It claims to have 75,000 items for sale through its four floors that cover an area of 70,000 square feet. Don't expect to have the place to yourself – they welcome 15,000 visitors every weekend!
Little India Arcade – a bustling warren of shops where you can find souvenirs, jewellery, henna stores and more. Don't miss Moghul Sweets shop for a delicious selection traditional Indian sweets.
Serangoon Road – more souvenir, clothing and jewellery shops line the sides of Serangoon Road between the Tekka Centre and Mustafa Centre. Take your time to stroll along, browse and soak in the atmosphere.
Little India Restaurants
Not surprisingly, Little India is the area to head to for an authentic Indian meal. And you are spoilt for choice here, no matter your budget.
For something cheap and cheerful, you will find a selection of food stalls within the Tekka Centre. Popular dishes here include Biryani from Allaudin's and Rojak from Temasek Indian Rojak. Don't forget to wash it down with a Teh Tarik (frothy hot milky tea).
For something more refined, check out some of these popular restaurants.
Click here to read more about the best local Singapore food.
Little India Hotels
Originally the home of backpacker hostels and internet cafes, Little India still has several good value accommodation options.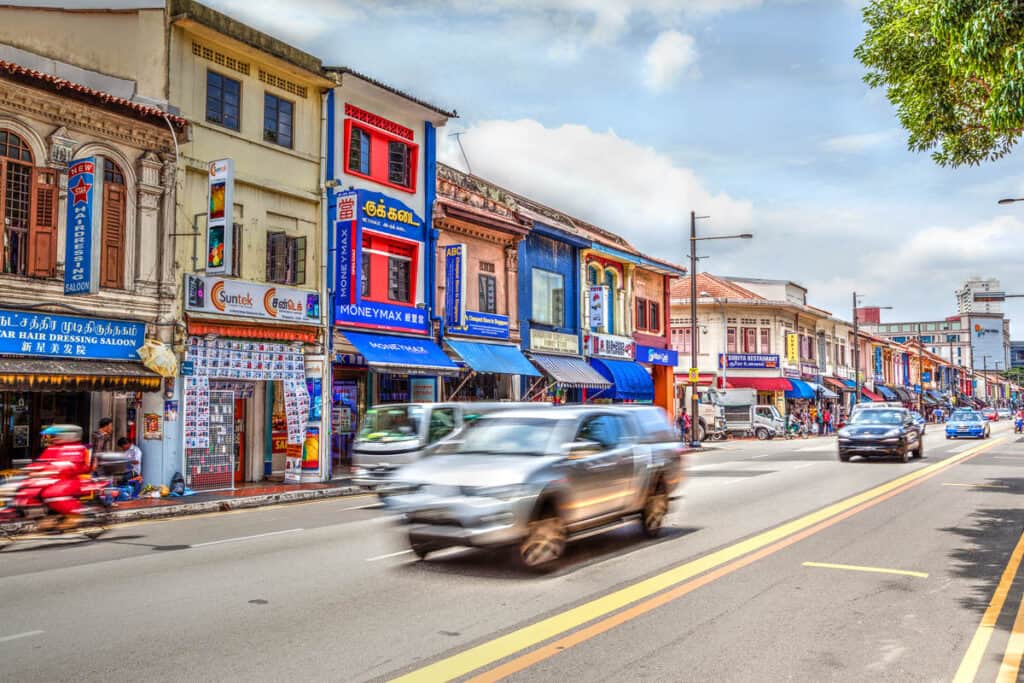 How to Get to Little India Singapore
Little India is centrally located in Singapore and easy to get o by foot, MRT or taxi.
Walking to Little India – depending on where you are in town, you could walk to Little India. It will take you around 15 minutes from Plaza Singapura at the bottom of Orchard Rd, 5-10 minutes from Kampong Glam and a 30-minute walk from the Padang. Remember that Singapore is hot and humid so if you are coming from much further afield, you would be best to take public transport to get here.
MRT – Little India is located on the North East (NEL – purple) and Downtown (DTL – blue) lines. There are six exits at the Little India MRT station. Take Exits B or C for the Tekka Centre.
Taxi – if you are not staying near an MRT station or don't or don't want to have to change trains to get here, remember that taxis are cheap and plentiful in Singapore. Depending on traffic, it should only take you around 10-15 minutes to get here by taxi from Orchard Road or Boat Quay.
Click here for a comprehensive guide to public transport in Singapore.
Love this article? You may also like these other Singapore district guides: