Our Guide to Chinatown Singapore gives you everything you need to know to eat, sleep, shop and explore the area.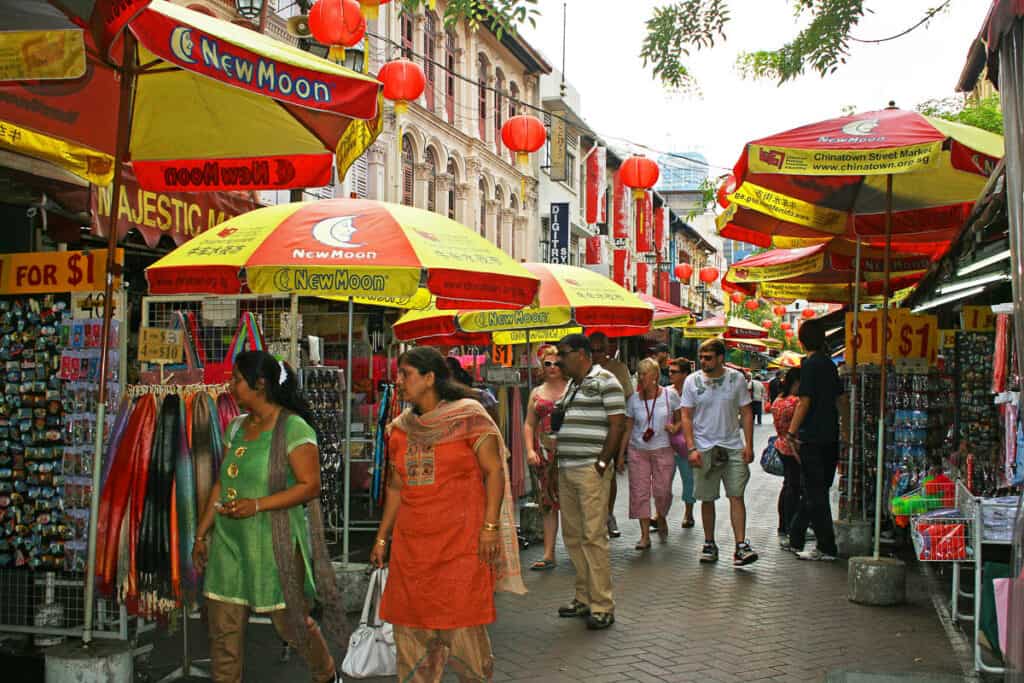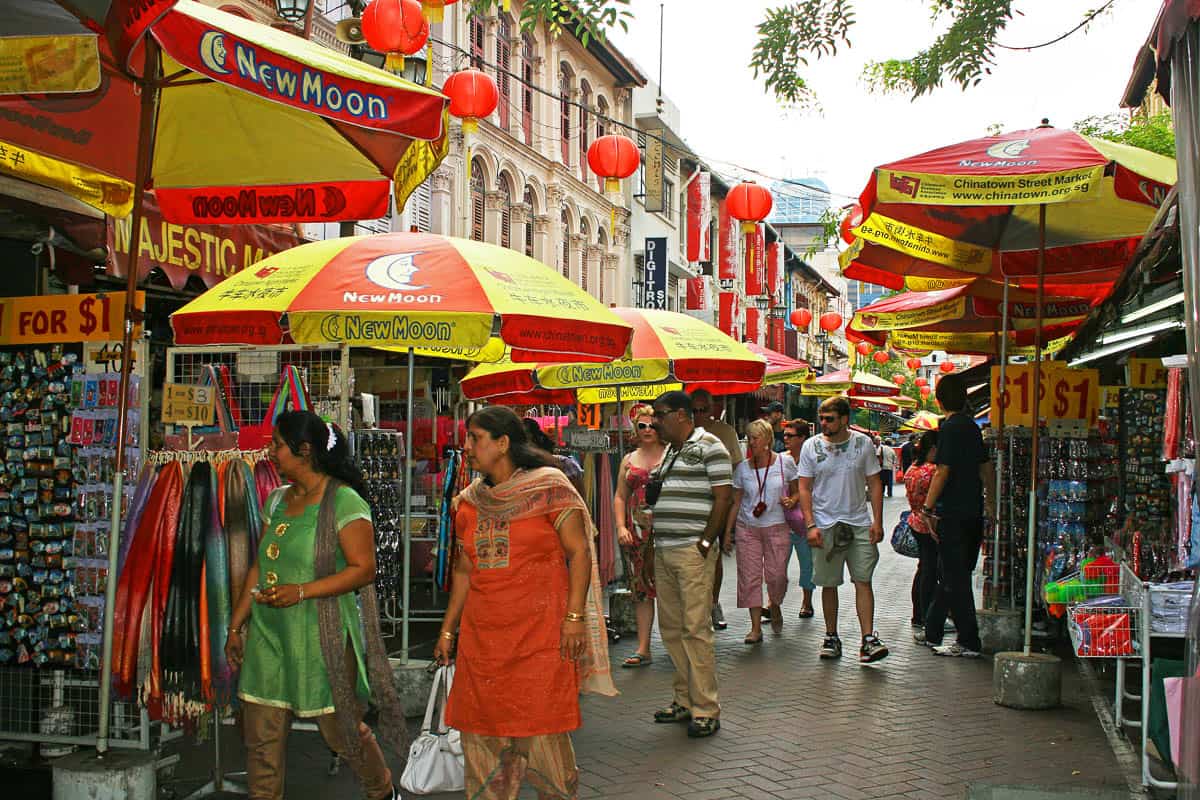 Chinatown is one of the most popular areas in Singapore with tourists thanks to its beautifully preserved heritage shophouses, street market stalls and boutiques, as well as many temples representing the multiple faiths of the Singapore population.
It is also home to a good selection of restaurants and wine bars and also to one of Singapore's most famous hawker centres, Maxwell Food Centre.
Don't miss a visit to the impressive Buddha Tooth Relic Temple with its excellent museum. Also be sure to call into the Chinatown Complex food centre to track down Liao Fan Hawker Chan, the hawker stall that was famously awarded a Michelin star in 2016.
Disclaimer: This post may contain affiliate links. If you make a booking or purchase using one of these links, we may receive a small commission – at absolutely no extra cost to you.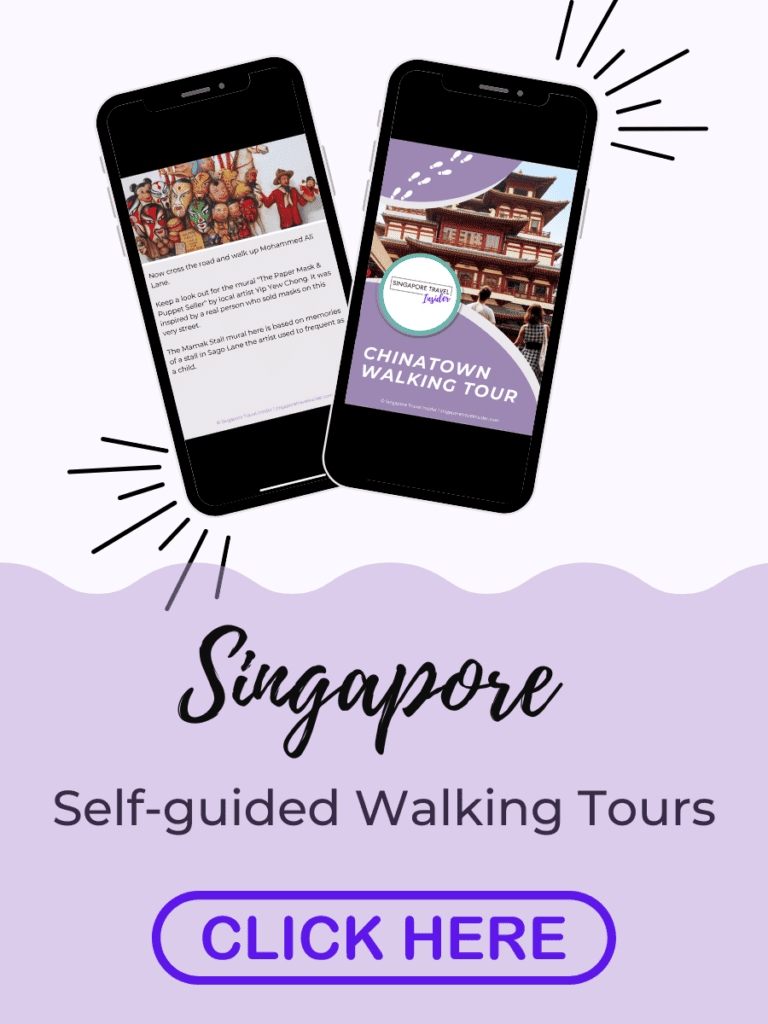 Why you'll love Singapore's Chinatown
The beautifully preserved heritage shophouses make it a stunning place to explore.
The street market stalls are a souvenir hunter's paradise.
It has an impressive selection of multi-cultural temples.
There are three great hawker centres for local food.
You will find loads of great bars and restaurants in this area.
Some of Singapore's best boutique hotels are located here.
Things to do in Chinatown
Just wandering the streets and admiring the architecture is a delight in Singapore, with the carefully preserved heritage shophouses making perfect Instagram fodder.
Notice the five-foot ways as you walk – these undercover walkways were constructed in accordance with the Raffles town plan of 1822 and provide protection from both rain and the hot sun.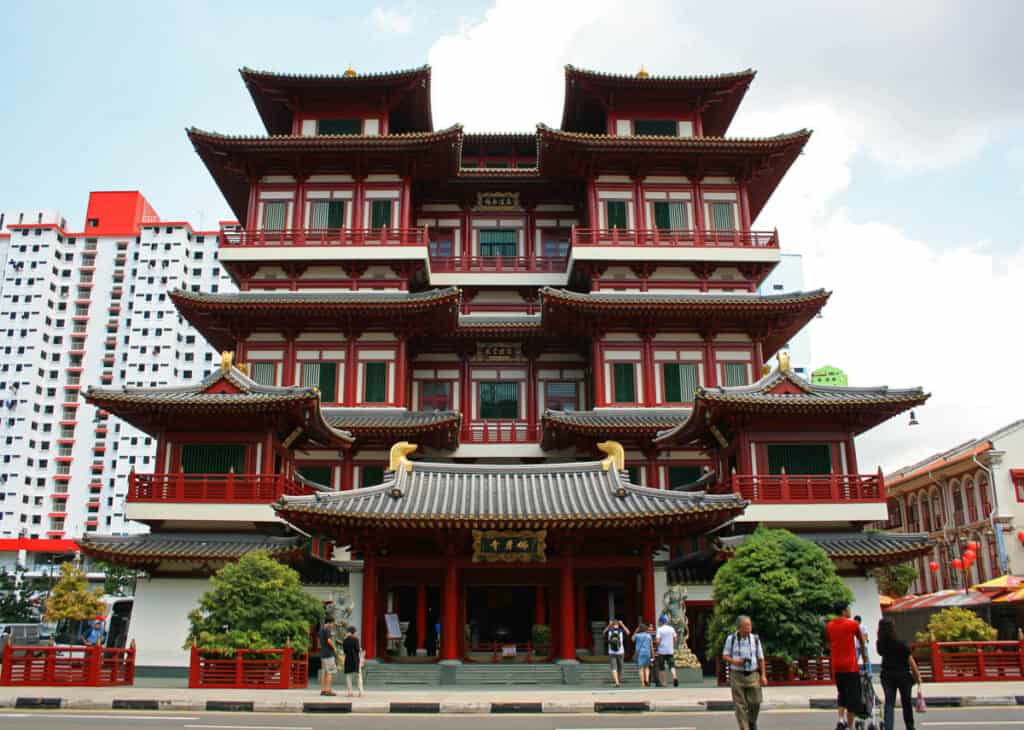 Singapore's multi-ethnic population is well represented here in Chinatown. Head to South Bridge Road and you will find a Hindu Temple, a Mosque and a Buddhist Temple all within a short walk of each other.
Visitors are welcome to enter all of these places of worship and take a look around. Be mindful of being respectful – cover bare shoulders and legs, and be sure to follow suit if other worshippers are removing their shoes to enter. 
Our self-guided walking tour of Chinatown takes you past all of these following attactions.
Buddha Tooth Relic Temple & Museum – this enormous Buddhist temple holds the Sacred Buddha Tooth and Relics. There are five floors plus a roof garden to explore, including the Ten Thousand Buddhas Pavilion and the excellent Buddhist Culture Museum.
Chinatown Heritage Centre (currently closed following Covid) – a great place to learn the history of the area. Housed within three preserved shophouses, the exhibitions tell the stories of the original residents of Chinatown, where they came from, the hardships they endured and their eventual successes.
Chinatown Street Markets – these street stalls are a souvenir-hunters paradise, with everything ranging from cheap Merlion keyrings and paperweights to silk cushion covers, lacquerware and chopsticks.
Sri Mariamman Temple – Singapore's oldest Hindu temple with its distinctive colourful gopuram dates back to 1827. The Theemithi fire walking ceremony is held here annually in October/November.
Jamae Chulia Mosque – this bright green mosque is one of the oldest mosques in Singapore.
Thian Hock Keng Temple – Singapore's oldest Chinese temple is one of the most elaborate and beautiful in the whole of Singapore. Admire the rooftop dragons, ceiling mosaics and intricately painted doors and find the 44ft mural depicting Singapore's early immigrants from China.
Sightseeing Tours in Chinatown
We love taking tours in a new city. It's a great way to get your bearings, get to know your surroundings through the eyes of a local and gain a more in depth understanding of the history and culture.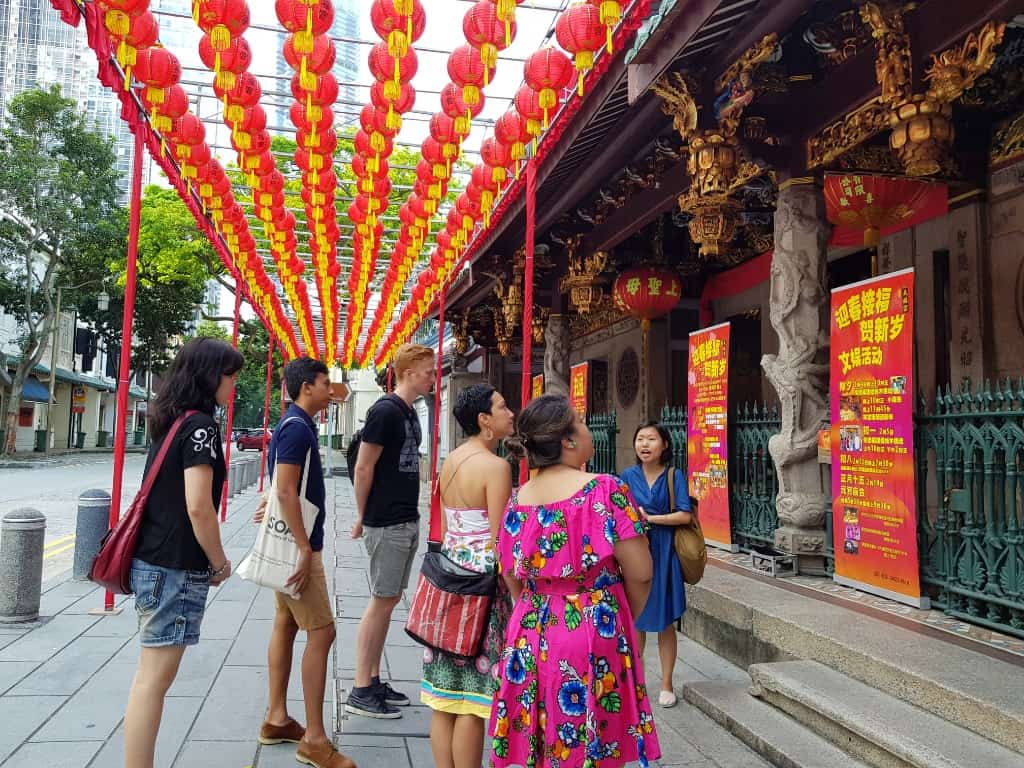 Here is our pick of the best Singapore tours that include Chinatown:
Want to explore the rest of Singapore? Read our pick of the Best Singapore Sightseeing Tours here.
Shopping in Chinatown
Chinatown is one of the best spots in Singapore for souvenir shopping. Look past the tourist tat and dig a little deeper and you will find that there are some great deals to be had here, particularly in the shops behind the market stalls.
But it's not just souvenir shopping that characterises Chinatown, there is also a wealth of clothing boutiques, homeware stores, antique shops, Chinese tea houses and Traditional Chinese Medicine shops.
Street market stalls – the street stalls of Pagoda Street, Sago Street and Trengannu Street are piled high with souvenirs and gift ideas, from silk cushion covers to Chinese calligraphy and silk clothing.
Chinatown Complex – there are market stalls upstairs, but head downstairs to find one of the best wet markets in Singapore. Among the fresh fruit, vegetables and seafood you're likely to come across live frogs and turtles on sale here too.
Yue Hwa – this famous department store specialises in Chinese food, medicine, handicrafts and gifts. It's a local institution and a great spot to pick up some Singapore souvenirs.
Sia Huat – this kitchen supply shop is a personal favourite of mine and I find it impossible not to leave with something new in my possession, be it a bamboo steamer, Chinese kitchen knife or any manner of 'useful' kitchen items.
Yixing Xuan Teahouse – this little teahouse is a tea lover's delight. They have a huge range of Chinese teas, from oolong to white, jasmine, pu-er and flower, plus a cute selection of teapots and accessories. If you're keen to learn more, you can book into a tea workshop here too.
Chinatown Restaurants
There's a tremendous choice when it comes to eating out in Chinatown, with everything from hawker stalls to fine dining.
If you're after a cheap and cheerful meal, join the locals for hawker favourites at one of these local Chinatown hawker centres:
Chinatown Complex Food Centre – hunt down Liao Fan Hawker Chan, the stall famous for receiving a Michelin Star in 2016.
Maxwell Road Food Centre – be sure to try Tian Tian Chicken Rice, one Singapore's most famous chicken rice stalls.
Amoy Street Food Centre – don't miss the J2 Famous Crispy Curry Puff, recipient of the Michelin Bib Gourmand for several years.
For something more upmarket, the heritage shophouses around Chinatown are home to a wide choice of fine-dining restaurants and casual eateries.
Head to Club Street/Ann Siang Hill, Tanjong Pagar, Keong Saik or Duxton Hill and take your pick.
Chinese Restaurants
Yum Cha – this popular dim sum restaurant is right in the heart of tourist Chinatown, making it an ideal stop for refuelling during your sightseeing. Famed for its large selection of dim sum, Yum Cha Chinatown is always busy and bustling. 20 Trengganu St.
Red Star – another popular dim sum restaurant, Red Star is tucked away in an HDB block in Chinatown and has more of a traditional local feel to it. Dim sum is served the traditional way – pushed by on trollies. 54 Chin Swee Rd.
Spring Court – located in a four-storey shophouse, Spring Court claims to be the oldest family-run restaurant in Singapore, having opened in 1929 (then named Wing Choon Yuen). This Singapore institution dishes up traditional Hokkien and Cantonese cuisine in elegant surroundings. 52-56 Upper Cross Street.
Tong Heng – come here for a sweet tooth fix. This traditional bakery specialises in old-school Cantonese pastries, and is famed for its egg tarts and mooncakes. 285 South Bridge Road.
International Restaurants
Chinatown Bars
Chinatown is full of cool (sometimes hidden) bars, its traditional shophouses making for cozy and hip surroundings. Below are a few worth seeking out.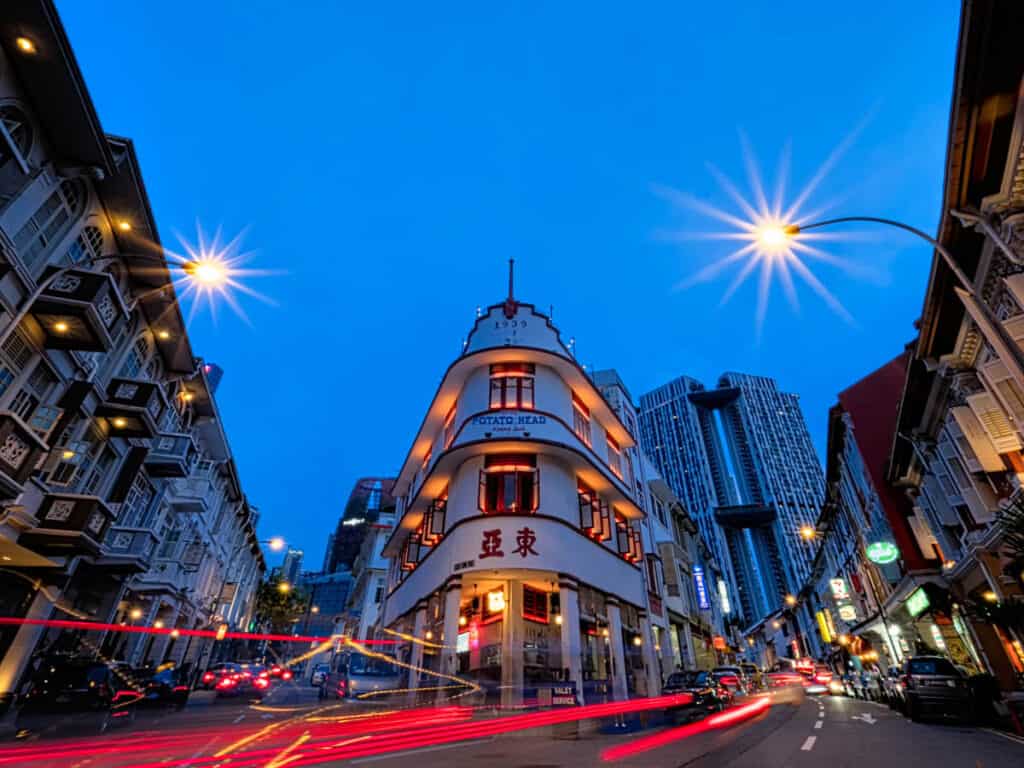 For a more comprehensive list, see our article: Best Bars in Chinatown (coming soon).
Chinatown Hotels
If you're bored of international chain business hotels, then Chinatown offers a good choice of small boutique hotels that complement the heritage architecture beautifully.
How to get to Chinatown Singapore
Chinatown is centrally located and easy to get to by foot, MRT or taxi.
Walking to Chinatown – Chinatown is just a 10-15 minute walk from Boat Quay or Clarke Quay. Remember that Singapore is hot and humid so if you are coming from much further afield, you would be best to take public transport to get here.
MRT – Chinatown is located on the North East (NEL – purple) and Downtown (DTL – blue) lines. There are six exits at the Chinatown MRT station. Exit A will bring you out onto Pagoda Street in the heart of the Chinatown markets.
Taxi – If you are not staying near an MRT station or don't want to have to change trains to get here, remember that taxis are cheap and plentiful in Singapore. Depending on traffic, it should only take you around 10 minutes to get here by taxi from Orchard Road.
Click here for a comprehensive guide to public transport in Singapore.
Want to explore more of Singapore? You might also like these district guides: