We share our Raffles Hotel High Tea review following a recent visit and let you know what to expect at this iconic Singapore experience.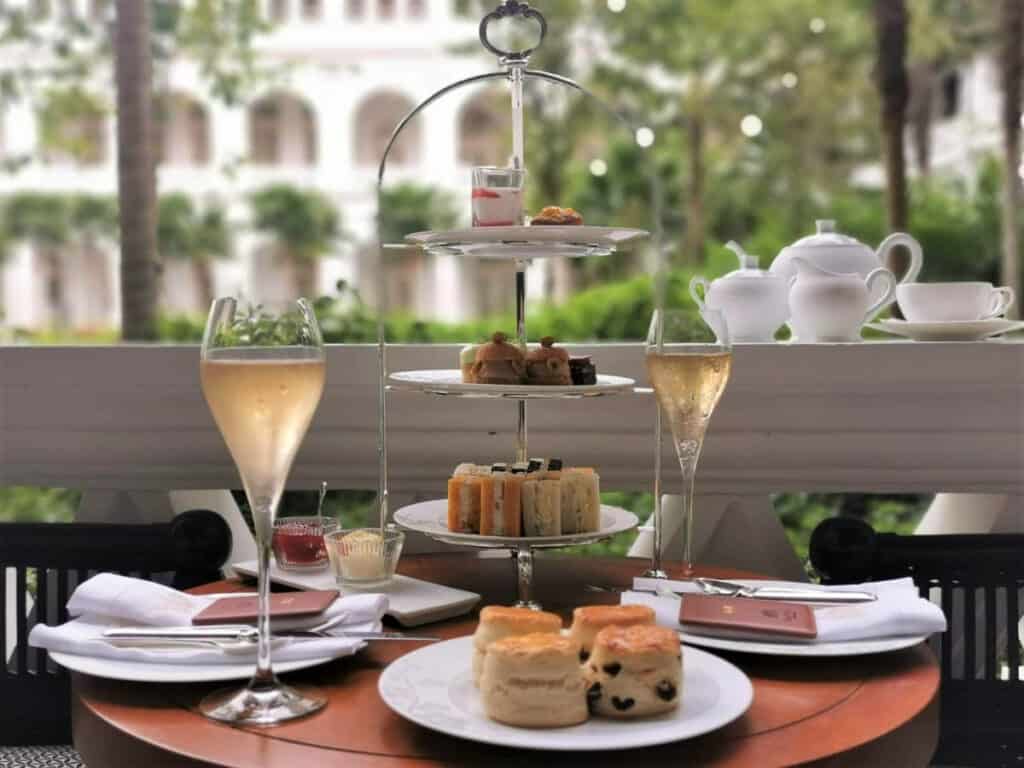 Stepping into the iconic Raffles Hotel Singapore, you'll find yourself transported to a world of elegance and sophistication.
As you settle into the refined atmosphere, it's time to indulge in one of Singapore's most beloved traditions: high tea at Raffles Hotel. With its rich history and exquisite offerings, this experience is sure to leave a lasting impression on both your palate and your heart.
We recently checked out this iconic Singapore experience and share it with you here.
You may also like these articles:
Got questions? Come join our Singapore Travel Tips Facebook group. It's the perfect place to ask questions and get inspiration for your trip!
Uniquely Raffles Experience
Picture yourself sipping on a freshly brewed cup of tea or a glass of champagne. The sound of a live harpist floats in the background as you gaze at the stunning architecture that surrounds you.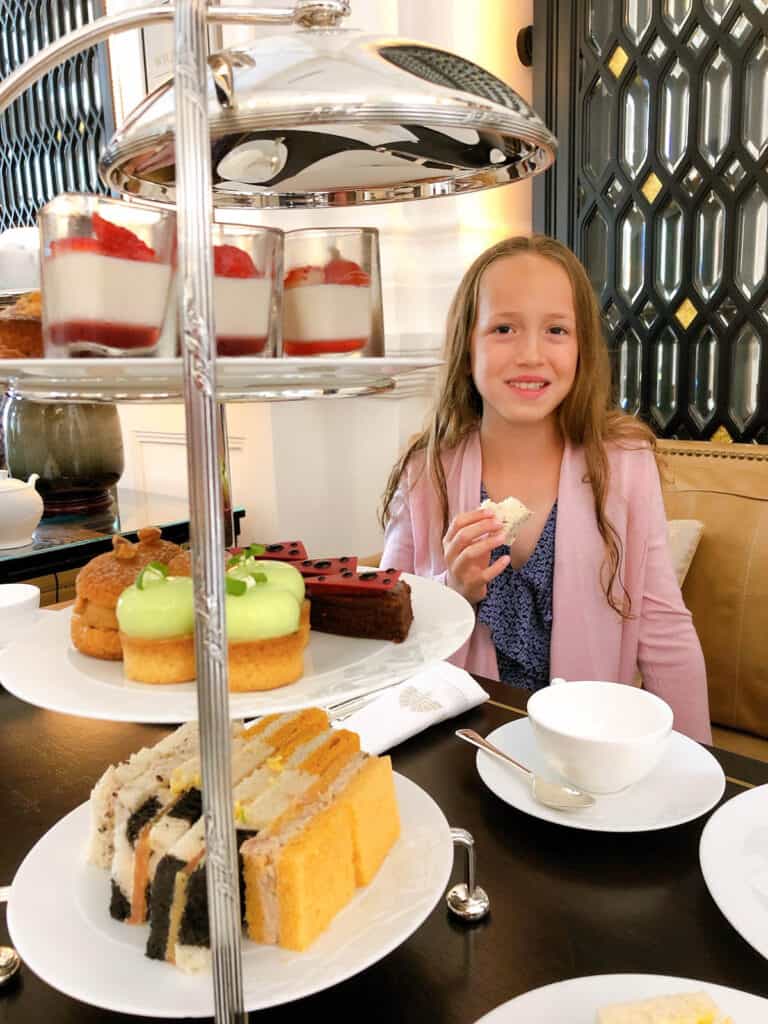 Raffles Hotel's high tea is more than just a meal; it's an opportunity to immerse yourself in Singapore's culture and history.
The refined service, the luxury surroundings and the exquisite selection of sandwiches, pastries and house-made scones, will make you feel like royalty.
If you're considering indulging in a Raffles High Tea while you're in Singapore, read on to find out what to expect.
Brief History of Raffles Hotel
Raffles Hotel in Singapore is one of the world's most famous hotels. As the doorman ushers you inside, you can't help but be drawn into its rich history.
This iconic hotel was originally established in 1887 and throughout the years, has welcomed a host of celebrities, royalty, and prestigious guests from around the world.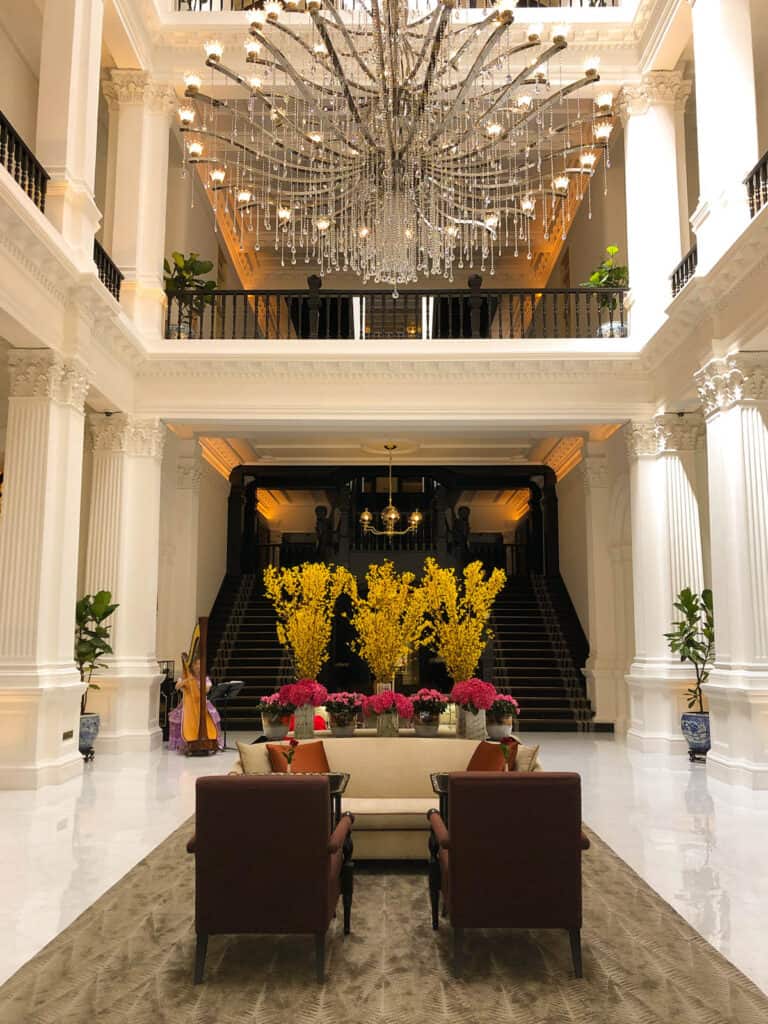 Raffles began as a modest 10-room bungalow and has grown over time to the luxurious and spacious property you see today. In the early 1900s, it became a social hub for the high society of Singapore, and it remains the epitome of luxury today.
You should spend some time exploring the breezy corridors before or after your afternoon tea, to marvel at the intricate woodwork, high ceilings, and lush green gardens of this heritage property.
Read more about the fascinating Raffles Hotel history here.
The Grand Lobby
High Tea takes place in the restored grand lobby of the iconic Raffles Singapore. The striking floor-to-ceiling Victorian pillars immediately catch your eye, enhancing the magnificence of the space.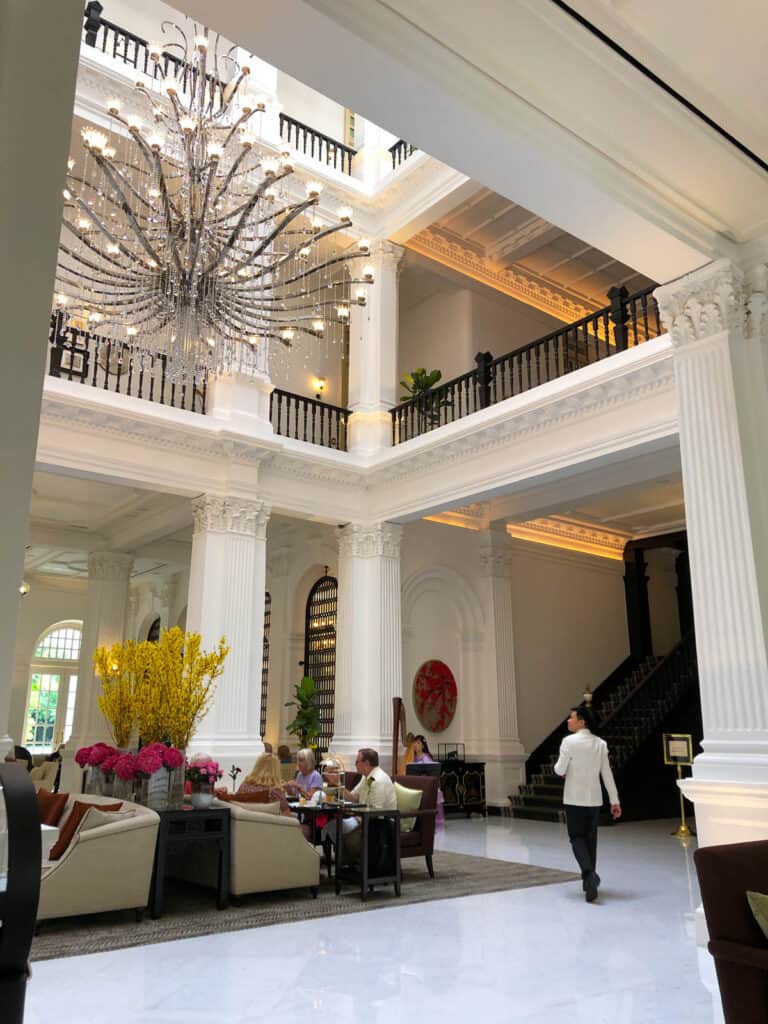 Look above, and you'll notice the magnificent chandelier that presides over the lobby, creating a warm and welcoming ambiance. The striking architecture brings a sense of grandeur to your afternoon tea experience.
Exquisite floral displays form a centrepiece to the lobby and comfortable seating allows you to simply sit and soak in the elegant setting to the sound of a live harpist.
Are you ready to indulge? Let's dive in!
High Tea Overview
At Raffles Hotel, high tea is an iconic Singapore experience. High tea, also known as afternoon tea, is a quintessentially British tradition where you can savour a selection of exquisite teas, freshly baked scones, delectable finger sandwiches, and a variety of cakes.
During your visit to Raffles, you will be able to enjoy an array of finger sandwiches and other sweet and savoury treats. Of course, no high tea experience would be complete without warm scones, freshly baked and served with clotted cream and preserves.
Alongside these delicious treats, you will have the opportunity to sample a range of freshly brewed teas. If you're not a tea enthusiast, don't worry. Coffee is also available, or you can choose to add on a glass of champagne to take the luxurious experience to another level.
Let's take a closer look at what's on offer.
Savoury Delights & Sweet Treats
Your Raffles High Tea is served in the traditional way, on a three-tier silver stand. Don't worry if you don't spot any scones on your stand – these are served separately.
So what's on the stand?
Finger Sandwiches
What's a high tea without the classic finger sandwiches? You'll find an assortment of sandwich flavours made using a selection of unique bread types. These take up the bottom tier of the afternoon tea stand.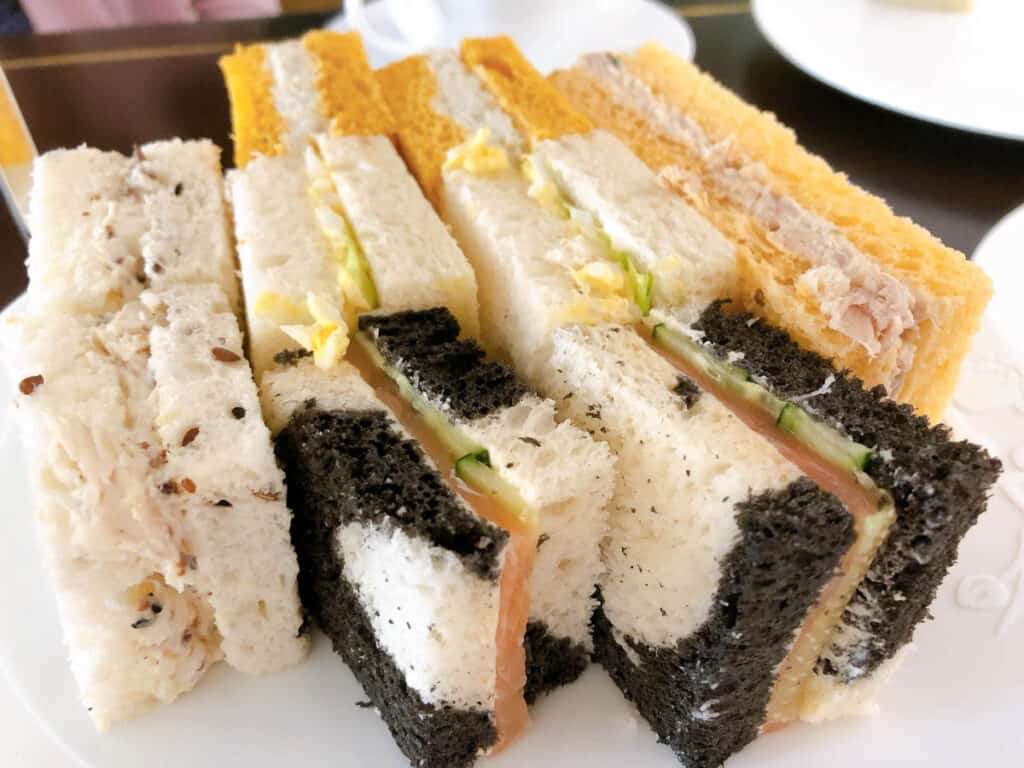 Our sandwiches included classic egg mayonnaise, smoked salmon and cucumber, chicken, tuna and curried crab. We loved all the flavours, and particularly the presentation with all the different bread types.
And as much as we all love cakes and desserts, it's definitely a welcome break to have the savoury fillings break up all that sweetness.
Sweet Treats
The two upper layers of the stand are made up of a fabulous assortment of cakes and mini desserts, courtesy of Executive Pastry Chef Tai Chien Lin. These continuously change, so you can try something new next time you come!
We had great fun tasting all the different sweet offerings. Choux buns with hazelnut parfait, strawberry and rose pannacotta, a rich chocolate Sacher cake, apple tarts and pineapple cakes.
All were innovative, with unexpected fillings and/or interesting textures, and exquisitely executed.
Classic scones
The home-made scones take centre stage, of course. These are brought along separately, freshly baked and perfectly flaky. You can choose from either plain or with raisin scones, and they are paired with the traditional accompaniments of rich clotted cream and rose petal jam.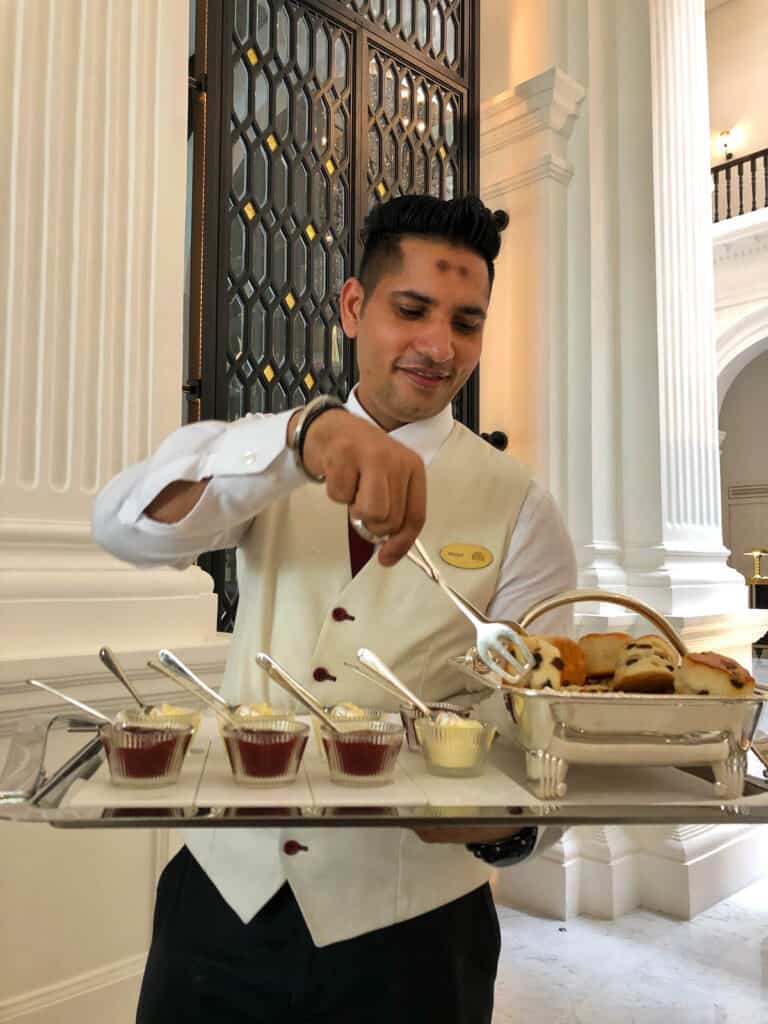 I have tried scones at several high teas in Singapore, and the ones at Raffles, in my opinion, are the best.
Tea and Beverage Selection
Of course afternoon tea is traditionally served with tea, and you have a large selection to choose from here at Raffles. As you browse through the tea selection, you will come across classic favourites such as Earl Grey and Jasmine, as well as more unique blends like Moroccan Mint and Maori Blue.
For coffee enthusiasts, there's a choice of coffees made from Raffles custom blended coffee and for kids, they can indulge in a hot chocolate.
Keen to kick it up a level? Why not complement your high tea with some bubbly? Raffles Hotel offers an array of champagnes for you to choose from, making your high tea experience even more memorable.
Ready for more Raffles Singapore experiences? Head up to the Long Bar and order a Singapore Sling – they were invented right here back in 1915!
Frequently Asked Questions
Is there a dress code for Raffles high tea?
Yes, there is a dress code for Raffles high tea. You're expected to dress elegantly, with men wearing collared shirts and women wearing dresses or smart casual attire. Flip-flops, shorts, and singlets are not allowed.
Are children allowed at Raffles high tea?
Absolutely! Raffles high tea welcomes children and is a great way for families to spend quality time together. Please note that children are expected to be well-behaved and under parental supervision to ensure an enjoyable experience for all guests.
How much is afternoon tea at Raffles Hotel?
Afternoon tea at Raffles is $88++ per person. If you decide to order a glass of champagne to accompany your high tea, it is $33 per glass, or $43 for rose champagne. 
Is the high tea menu halal?
While Raffles Hotel does offer a selection of halal options, it's always a good idea to check with the hotel directly before making your reservation. They will be happy to inform you about the current menu offerings to ensure that your dietary requirements are met.
How do you book Raffles high tea?
To book Raffles high tea, you can either visit their website or contact their reservations team by phone. Make sure to book in advance, as the high tea experience is quite popular and can fill up quickly. Additionally, notify the hotel of any special occasion or dietary request so they can cater to your specific needs.