Looking for fun date ideas in Singapore? Check out this list of 71 romantic and unique ideas that include everything from adventurous outdoor activities to cozy indoor experiences.
Singapore offers an array of exciting and unique date ideas for you and your special someone. If you're a visitor wanting to create unforgettable memories in Singapore with your partner, there's no shortage of activities to keep you entertained here.
From enjoying scenic outdoor spots and indulging in delectable Singaporean cuisine, to engaging in interactive workshops or getting lost in vibrant neighbourhoods, your romantic rendezvous can take you to unexpected and delightful places.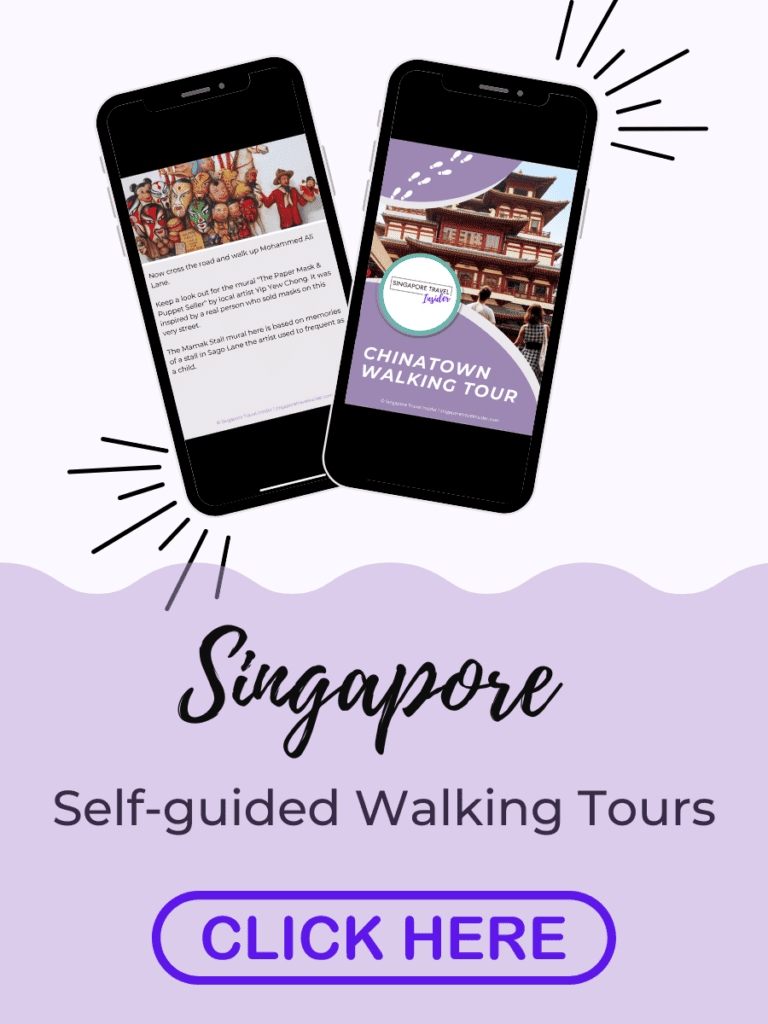 Whether planning for Valentine's Day, getting ideas for a first date or trying to rekindle the flame in a long-standing relationship, we've got your next date night covered.
So, grab your partner's hand… and let's go!
Disclaimer: This article contains affiliate links. If you make a booking using these links, we may receive a small commission, at no extra cost to you.
Got questions? Come join our Singapore Travel Tips Facebook group. It's the perfect place to ask questions and get inspiration for your trip!
Relaxed and Romantic Date Ideas
Ride the Cable Car
Ride the Singapore Cable Car and enjoy the views together. Start at Harbourfront to ride up to Mount Faber and take in the views at the top. Then re-board the cable car to travel across to Sentosa.
To make the experience more memorable, why not combine it with sunset cocktails and dinner at Dusk, where you can enjoy dining with a panoramic view.
Take a River Cruise
Enjoy the city's skyline lit up against the night sky, on a calming river cruise along the Singapore River. Glide past iconic landmarks such as the Marina Bay Sands, Merlion, and Clarke Quay.
Insider Tip: Try to catch the river cruise around 7.30 pm to catch the 8pm Spectra Light show at Marina Bay Sands.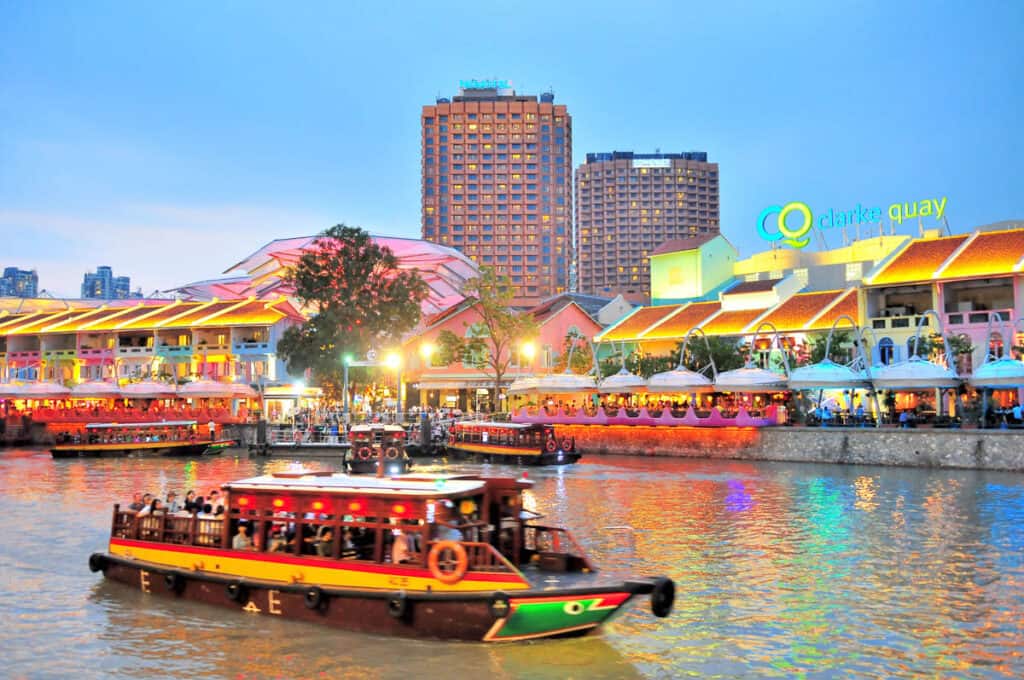 Watch a Candlelight Concert
Indulge in a night of culture and enchantment with a candlelight concert in Singapore. These unique concerts are performed by live musicians in some of the most iconic venues in Singapore.
Attend a performance at venues such as The Art House or Chijmes, where soft lighting and beautiful music offer the ideal setting for a magical and romantic date night.
Hire a Yacht for the Day
Ok, this one is clearly for those with a bit of cash to splash. Sail out into the open sea on board your own private yacht for the day.
Explore the Southern Islands, try your luck at fishing or just hang out on deck and work on your tans together. Click here to learn more.
Relax at the Spa
Relaxing and being pampered is the perfect way to bond with your beau. Most of Singapore's best spas have couples' treatment rooms so you can indulge together.
We recommend the following spas for romance:
Visit the SEA Aquarium
The SEA aquarium at Resorts World Sentosa, with its dimly lit corridors and ambient lighting, is the ideal place to spend a romantic day together.
Insider Tip: Our favourite spot is the Open Ocean aquarium at the end, where you can sit side by side and be mesmerised by the vista of sea creatures before you. Or book a table at the Ocean restaurant.
Enjoy views from the Singapore Flyer
At 165m tall, you are guaranteed great views across Singapore and the surrounding islands at The Singapore Flyer.
Each rotation takes around 30 minutes, and you will hopefully have the pod to yourselves to take in the views together.
Relax in a Japanese Onsen
Unwind together and enjoy the therapeutic effects of a Japanese onsen at the Joya Onsen Cafe.
Here, you can soak in private tea-infused bath before donning your yukatas (robes) and heading to the tatami cafe to indulge in some Japanese desserts.
Enjoy The Outdoors
Try Water Sports at Sentosa Island
Head over to Ola Beach Club on Sentosa, where you can try out some water sports together.
You can hire a double kayak, try your hand at paddle boarding, go for a banana boat or donut ride, or – if you're feeling adventurous – give jet blading a go. Fun!
Go Island Hopping
Embark on an island-hopping adventure through Singapore's Southern Islands. Discover Kusu Island, St. John's Island, Lazarus Island, Sisters' Island, and Pulau Hantu.
Each has their unique attractions and tranquil spots for picnicking, hiking and swimming.
Click here to check ferry times for the Southern Islands.
Cycle along East Coast Park
East Coast Park is a lovely spot for a romantic cycling trip. Rent bikes and ride along the scenic coastal route.
Make a pit stop for a meal or drink at one of the numerous dining options before continuing your journey.
Take a day trip to Pulau Ubin
A day trip to Pulau Ubin is like taking a trip back in time to what Singapore was like before the skyscrapers appeared.
Hire bikes on arrival and head to the Chek Jawa Wetlands, one of Singapore's richest ecosystems, where you can explore the mangroves and coast via boardwalks.
Insider Tip: Pulau Ubin is a 10-minute ride from Changi Point ferry terminal (adjacent to Changi Village) and costs $4 per person.
Explore Gardens by The Bay
Find tranquility and appreciate nature at Gardens by The Bay. Wander among the picturesque Supertrees and Cloud Forest and take plenty of photos with your loved one.
Be sure to catch the evening light show at Supertree Grove.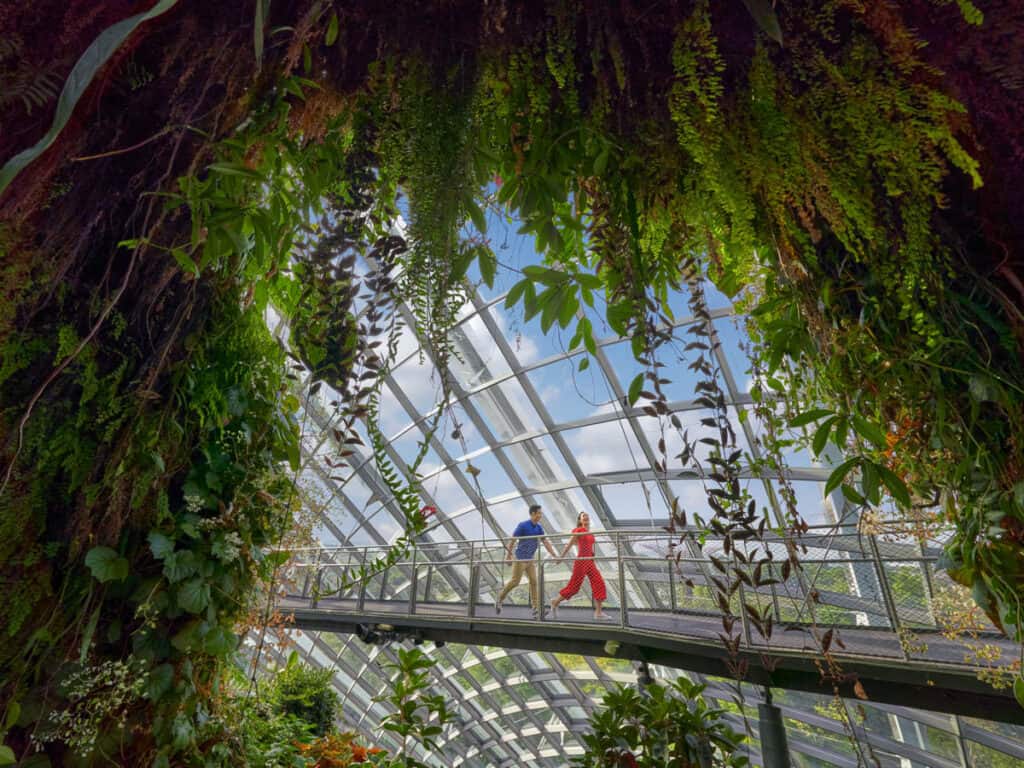 Admire the orchids at the National Orchid Garden
You'll find over 1000 species and 2000 hybrids of orchid at the beautiful National Orchid Garden, the world's largest tropical orchid garden. It's hard not to feel inspired strolling among such beauty.
Insider Tip: The VIP garden is home to hybrids created to honour visiting dignitaries and celebrities. Have fun together seeking out the orchids inspired by Margaret Thatcher, Nelson Mandela and even Ricky Martin and Jackie Chan!
Hike to the highest point of Singapore
Nature lovers can challenge their stamina and enjoy a hike at Bukit Timah Nature Reserve. Bukit Timah Hill is Singapore's highest natural point, although it is just 164m (538ft) high.
Work up a sweat while admiring the lush green rainforest, one of the few areas of primary rainforest in Singapore.
Hike the nature trails at MacRitchie Nature Reserve
Another idea for a hiking date is to head out to MacRitchie Nature Reserve, where you can choose from several hiking trails and boardwalks.
Our favourite is the TreeTop Walk, which takes you over a free-standing 250 m-long suspension bridge over the rainforest canopy.
Take a Trishaw Tour
For something less strenuous, you can let someone else do all the hard work and jump aboard a trishaw tour. Once a popular form of public transport, it's really just for sightseeing now.
Check out sightseeing company Trishaw Uncle, who employs a fleet of trishaw drivers to take you on heritage tours of the Bugis and Little India quarters of the city.
Go on a Kayak Fishing Tour
Going fishing is not usually what you would think of as a date idea.. but kayak fishing adds a whole new element of fun!
You'll explore the seas together and maybe even catch dinner during this unique experience.
Pack a Picnic
It's not called the Garden City for nothing – Singapore is blessed with many beautiful parks and gardens.
You'll find plenty of hidden spots, perfect for spreading out a blanket and sharing a picnic together. Want an Instagram-worthy picnic? This company provides beautiful picnic set-ups, with no effort from you!
We recommend the following picnic spots:
Singapore Botanic Gardens
Fort Canning Park
Gardens by the Bay
Jurong Lake Gardens
Marina Barrage
Sentosa Beaches
Get back to nature at Bollywood Farms
Escape the hustle and bustle by exploring the lush Bollywood Farms (formerly Bollywood Veggies). This organic farm is not only home to a wide variety of herbs, fruits, and vegetables but also offers farm-to-table dining experience at their bistro.
Stroll around the farm, learn about organic farming, and indulge in delicious, fresh meals. This unique date idea provides the perfect setting for a relaxed, nature-filled experience.
Food and Drink Hotspots
Of course a romantic dinner can't be overlooked for a date idea. However, you can go one better than just any old dinner date. Here we pick out some top ideas to take your date night to the next level.
Sip on a Rooftop Cocktail
Singapore has so many amazing rooftop bars to choose from, where you can take in the stunning views of Singapore's skyline as you sip on a cocktail.
Check out our pick of the Best Singapore Rooftop bars. All of these venues offer a sophisticated ambience, perfect for a memorable night out.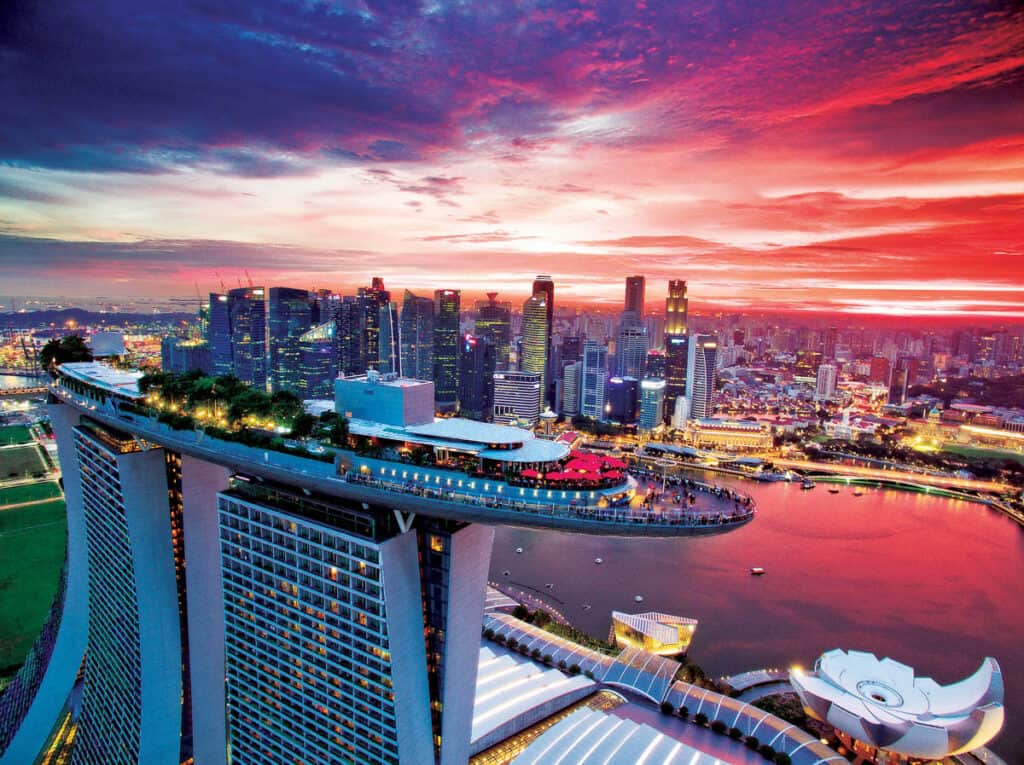 Dine in the Dark
For something completely different, check out Nox Dine in the Dark restaurant.
A 12-course mystery meal will take you on a journey through tastes and textures. Get to know your date intimately as you dine in complete darkness, on a multi-sensory experience.
Enjoy Dinner with a View
Prefer your meal with a view? You're in luck here, where you are spoiled for choice when it comes to restaurants with a stunning view here.
Check out our top pick of Singapore restaurants with a view here. All of these fabulous restaurants will set the scene for a perfect dinner date.
Indulge in some Beer Tasting
Head to Level33, the world's highest urban microbrewery, for beer tasting alongside some of the best views in Singapore. Order a tasting paddle for a taster of five Level33 craft brews.
Alternatively, join a brewery tour of the Tiger Brewery, home to Singapore's iconic Tiger Beer. Here, you'll witness each step of the brewing process, which takes more than 500 hours for every batch! Of course there's the opportunity for tasting at the end.
Treat yourselves to Afternoon Tea at Raffles
There's nothing more indulgent than an exquisite afternoon tea, and Raffles Hotel offers the one to beat them all.
Indulge in beautifully presented sandwiches and treats in the refined atmosphere of the Raffles Hotel lobby to the sound of a live harpist. Perfect for a special occasion.
Hang out at a Beach Club
Singapore has a fabulous selection of beach clubs over on Sentosa Island that are the perfect place to hang with your other half.
Kick back on sun loungers, sip on cocktails and soak in the sounds of the beach, before dipping in the pool to cool off. Our favourite beach clubs include:
Eat, Drink, Play at Level Up
It's all about having fun at Level Up arcade bar, making it a great option for a fun date night in Singapore.
There's live music every night, plus retro arcade games, darts, air hockey, pool, foosball, beer pong, karaoke and more.
Have Dinner in a Dome
The Summerhouse Garden Domes are perfect for a charming private romantic dining experience.
Here, you can wine and dine under the stars in the comfort of an intimate air-conditioned dome, set within the lush verdant of their edible garden.
Join a Food Tour
Joining a food tour is the best way to get to know all the amazing local food in Singapore. You'll get to eat loads of delicious food, explore the city and learn something along the way.
We recommend this Private Multi-cultural Food and Culture Walking Tour, which gives you a little bit of everything – culture, arts, heritage… and most importantly, food!
Click here for more recommendations of the best sightseeing tours in Singapore.
Take a Cocktail Masterclass
Take a deep dive into the art of cocktail making at the Tanglin Gin Distillery. They offer three cocktail masterclasses, depending on your level of expertise. You can also take a tour of the distillery while you are here.
Insider Tip: Just want to drink a gin & tonic in romantic surroundings? The Gin Jungle at the distillery is the perfect spot!
Indulging in Art and Culture
Go Art Jamming
Unleash your inner artist by trying out art jamming with your partner. This unique activity lets you express your creativity on a blank canvas, side by side.
Don't worry if you're not Picasso, as art jamming is about having fun and exploring your artistic side together. Several studios in Singapore offer sessions, with materials provided so you can focus on creating your masterpiece.
Here are a few places to check out:
Try your hand at Pottery Making
Remember that scene in Ghost? Say no more!
Get your hands dirty at a pottery studio, where you and your partner can learn how to mould, shape, and sculpt clay into beautiful pottery pieces. And of course you can take home your masterpiece as a memory of your date.
Click here to book a pottery-making class.
Go Museum Hopping
If you and your partner are history buffs or simply love to explore, museum hopping is an excellent way to spend some quality time together.
There are so many fascinating museums in Singapore, from the National Museum of Singapore to the ArtScience Museum, so whatever your interests, you'll find something to suit.
Take a Wander through FutureWorld
One of our favourite museum exhibitions for a date is FutureWorld at the ArtScience Museum. The high-tech interactive exhibitions are perfect for a fun museum visit, while ambient lighting gives a romantic feel to the place.
And if you're looking for insta-worthy photos of the two of you, this is the place.
Adventurous Date Ideas
Brave the TreeTop Obstacle Course
Challenge each other with a thrilling treetop obstacle course. Forest Adventure offers different obstacle courses for varying levels of difficulty.
You'll be racing through the treetops, balancing on wobbly bridges, and swinging through the air like Tarzan. Plus, conquering challenges together will bring you closer, I promise!
Go zip lining
The MegaZip flying fox whizzes you over the jungle canopy for over 450 metres before depositing you on Siloso beach.
Looking for more adrenalin-inducing activities? You'll also find Mega Climb, a 36-obstacle tree ropes course; MegaJump, a free-fall parachute simulator and MegaBounce, a bungee-assisted trampoline all in the same place.
Get an adrenaline rush Bungy Jumping
Bungy jumping is the ultimate adrenaline rush, and with a tandem jump you can take a leap of faith together and cling onto each other while you jump!
AJ Hackett is based on Siloso Beach on Sentosa, giving you unbeatable views out over the South China Sea from the 47m high platform.
Click here to book your tandem jump.
Feel the rush with an indoor skydive
Need more thrills? Nearby on Sentosa you'll find iFly Singapore, with one of the world's largest indoor skydiving wind tunnels.
You can experience true free-fall conditions, just like a real skydive… except you don't need to jump out of a plane!
Go Ghost Hunting
For a spine-tingling adventure, join a ghost hunting tour. On this creepy tour, you'll visit the site of one of the last and fiercest battles of World War II.
You'll end the tour roaming the eerie grounds of an abandoned Chinese cemetery, and bond over the spooky stories. Your date will definitely want to hold your hand during this tour!
Get Muddy at Mud Krank
To cap off your list of adventurous date ideas, give Mud Krank a go. Guaranteed to get you both dirty, this outdoor muddy ATV activity will have you navigating through muddy obstacles and laughing as you slip and slide.
This unconventional, messy, yet exhilarating experience is perfect for couples who love a bit of fun.
Give Wakeboarding a Go
If you're after a more sporty adventure, wakeboarding is a fantastic way to get your hearts racing. For a splashing good time, take your date to one of Singapore's wakeboarding spots, where both beginners and experienced riders are welcome.
What better way to bond than by learning a new skill together? Sharing laughs and encouragement as you both hit the water will make it a date to remember.
To get out on the water, check out Ryders Singapore or give it a go at the Singapore Wake Park, located in the East Coast Park.
Ride the Roller Coasters at Universal Studios Singapore
Prefer to stay clean while you get your thrills? You can't beat a fun day at Universal Studios Singapore, riding the roller coasters together.
With loads of movie-themed fun to be had here, you can't help but have a good time together.
Interactive Activities
Take a Cooking Class
Looking to spice up your date night? Why not try a cooking class together? Perfect for food-loving couples who want a hands-on activity, the experience allows you and your partner to discover new recipes, learn new techniques, and create lasting memories.
Not only will you bond over your love for food, but you'll also be able to enjoy the fruits of your labour once the cooking is done.
WE recommend the following cooking classes:
Create a Signature Scent together
Fancy a unique bonding experience? Why not craft your own custom scents together at a perfume workshop?
Guided by expert perfumers, you'll discuss your preferences and design your unique scent profiles. You'll leave with a one-of-a-kind fragrance to remind you of your special date.
Work together to Escape the Room
You'll need to work together to solve the mysteries and find the clues as you try to find your way out of the escape room.
We recommend this traditional escape room, or for something a bit different, check out a Virtual Reality Escape Room, where you go through challenges in full 3D.
Pose for photos at the Museum of Ice Cream
Specifically designed to be Instagram-worthy, the Museum of Ice Cream is a colourful and whimsical space that is perfect for snapping some fun couple photos for your Instagram feed. 
Oh, and did we mention that there's unlimited ice cream tasting?
Go Stargazing the Singapore Science Centre
Visit the Science Centre Singapore Observatory on any Friday (except public holidays), from 7.45pm to 10pm, to stargaze together.
Because this observatory is one of the few in the world located so close to the equator, it offers stargazers views of both the northern and southern hemispheres.
Because what is more romantic than staring at the stars together?
Belt out a song at Karaoke
Why not bring out your inner rockstars by hitting the karaoke bar? Choose your favourite tunes and sing your heart out together. Embrace the fun and laughter, making it a night to remember.
We recommend the following karaoke joints:
Purely Fun Date Ideas
Challenge each other at Axe Throwing
For couples seeking a unique and thrilling activity, look no further than Axe Factor. This axe-throwing range offers adrenaline-pumping fun in a safe, controlled environment.
With guidance from expert coaches, you and your partner can challenge each other and test your coordination, concentration, and throwing skills. A little friendly competition can only bring you closer together!
Explore the AirZone
You'll feel like children all over again as you have fun together at AirZone, the world's first indoor atrium net playground.
With bouncy nets spanning over four levels, interconnecting slides, floating ball pits and inflatables, fun is guaranteed at this indoor playground.
Play in an Indoor Playground
Enjoy a lighthearted date where you can unleash your inner child, laugh together, and create plenty of fun memories.
X-scap8 (pronounced escapade) is the largest integrated indoor Funground on Orchard Road, and offers loads of fun activities. You'll find obstacle courses, a high elements challenge, smash labs and golf simulators.
Everything you need for a fun time together.
Play Oche Together
Oche is a modern tech-driven twist on the classic game of darts. This high-tech venue offers a unique and lively atmosphere where you can enjoy food, drinks, and, of course, darts.
With interactive games designed to suit all skill levels, spend the evening challenging your partner to a playful match and see who has the most accurate aim.
Get Wet n' Wild at the Water Park
Adventure Cove is the perfect place to have fun while keeping cool in Singapore's heat and humidity.
Thrill seekers will love the Riptide Rocket, Southeast Asia's first hydro-magnetic roller coaster (ie. a water slide that takes you upwards).
For a more romantic experience, opt to float along the 620m-long Adventure River inner tube ride.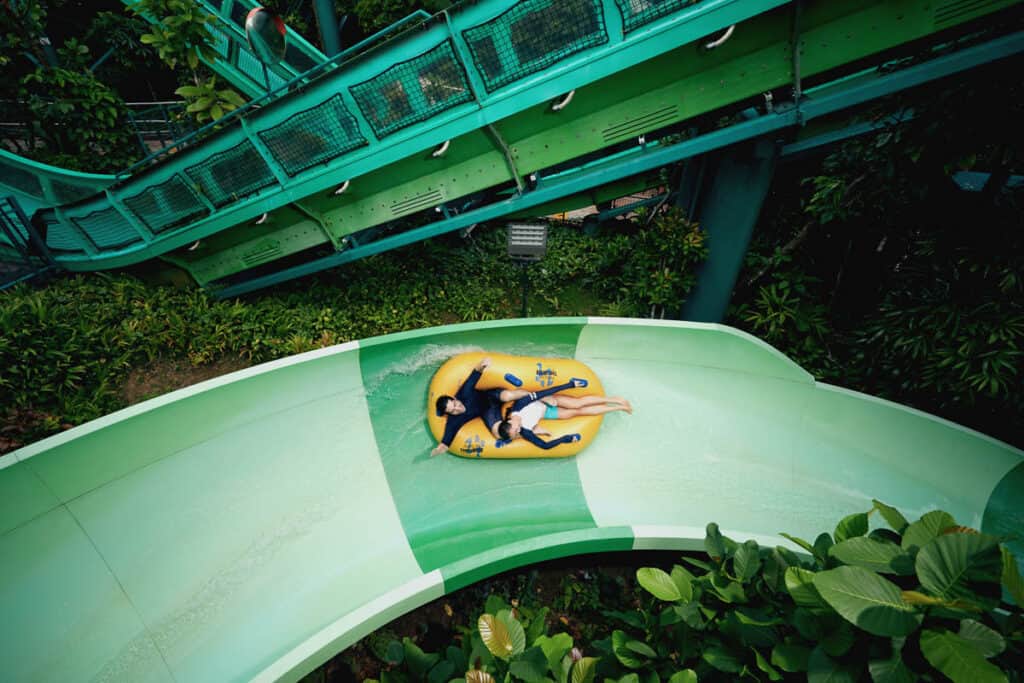 Chase each other around Hydrodash
Another one for water-loving couples, Hydrodash is a floating obstacle course located at Palawan Beach. With varying challenge levels, it's the perfect place for a day of bonding over thrills, spills and laughter.
Dash, slide, leap and repeat.
Visit the Night Safari
It's a zoo, but you visit it after-dark, which automatically makes it more romantic, right?
There's over 1,000 nocturnal animals from 120 different species to view at the Night Safari, either from the tram or from along the subtly lit walking tracks.
Get your Bounce On
How high can you go? Trampolining is not just for kids. Head over to Bounce Singapore on Orchard Road where you can have some fun jumping around together.
Insider tip: The sundowner sessions, starting at 6pm, are cheaper and less likely to have lots of kids around.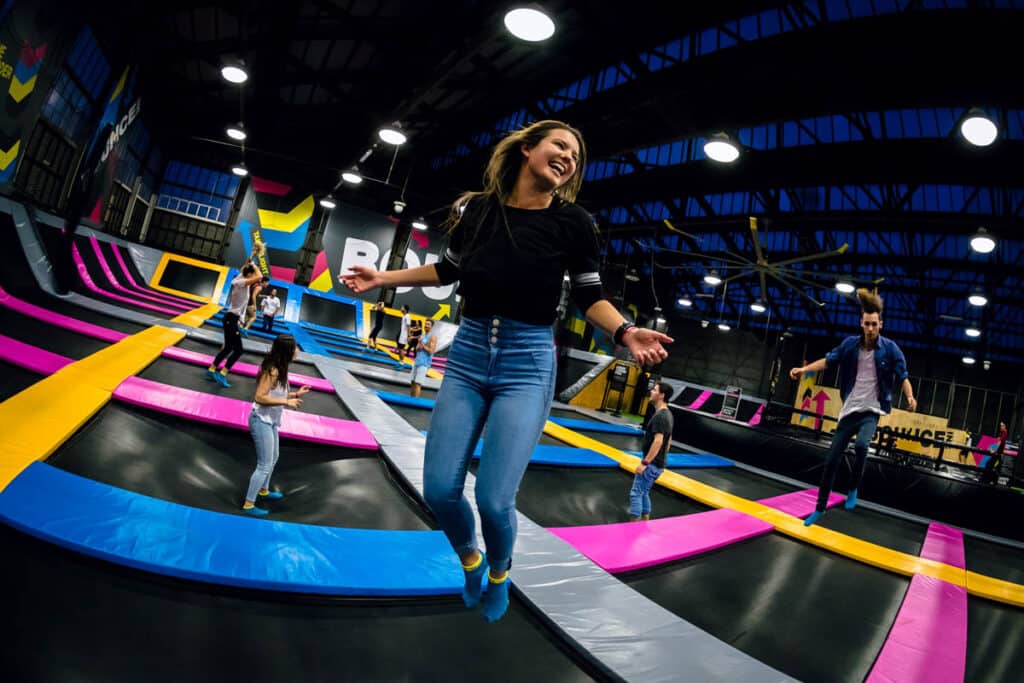 Try for a strike at K Bowling
There's bowling, and then there's K Bowling. Not your average bowling alley, you'll find lights, music and action at this cosmic bowling experience.
There's also darts, karaoke and arcade games, plus a full bar to keep you entertained.
Go for a hole-in-one at Ultragolf
Challenge your partner to a tee-off at Ultragolf, the 18-hole beachside mini golf course at Palawan @ Sentosa.
Insider tip: book a cabana at +Twelve Beach Club for afterwards, where you can enjoy cocktails at the swim-up bar.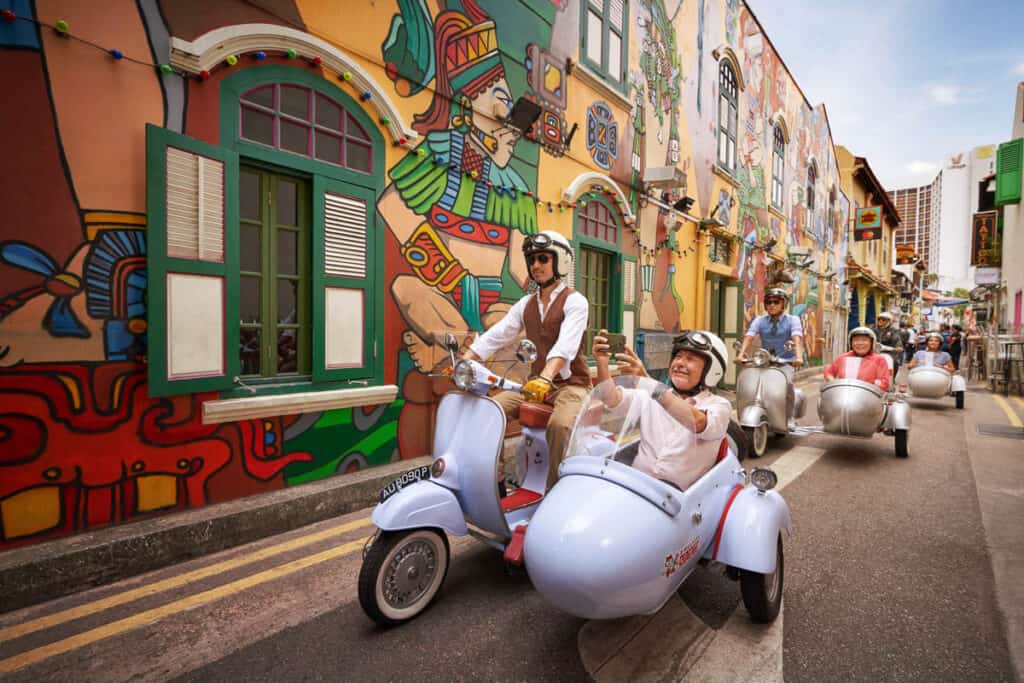 Take a Sidecar Tour
This Sidecar Tour is one of the most fun sightseeing tours in Singapore, and is guaranteed to give you fun memories.
There are four routes to choose from as you take to the streets on board a Vespa sidecar.
Unconventional Date Ideas
Try your hand at Tufting
Tired of the usual dinner-and-a-movie date? Try tufting together! Tufting is the art of creating beautiful and soft carpets or rugs.
It's great for couples looking for a fun, hands-on activity, and you'll create a unique piece for your home together.
Glamp it up with Glamping Society
Escape the hustle and bustle of the city with Glamping Society. Set up a luxurious tent at a beautiful outdoor spot, complete with cosy furnishings.
This alternative to a traditional hotel stay allows you to unwind and connect in nature, creating lasting memories together.
Get Matching Tattoos
Want a Singapore souvenir that will last forever? How about matching tattoos? We recommend checking out these top Singapore tattoo studios:
Free Date Ideas
Watch the Light show
Garden Rhapsody at Supertree Grove in Gardens by the Bay sees the magnificent supertrees light up to the sound of music.
It's one of the most iconic experiences in Singapore and it's free admission!
Shows are at 7.45pm and 8.45pm nightly.
Alternatively, head to Marina Bay waterfront to watch Spectra, a 15-minute extravaganza of fountains, lasers and light projections set to music in front of the Marina Bay Sands.
Laze at the beach
It costs nothing to chill at the beach, and Sentosa has three beautiful beaches for you to choose from: Siloso, Palawan and Tanjong beaches.
Bring a towel and pick your spot under a palm tree and gaze at the ocean together.
Watch sunset together
What's more romantic than watching the sunset together? And it doesn't cost a thing! Here are our top spots for watching sunset in Singapore:
Marina Barrage
Mount Faber
Merlion Park
Henderson Waves
Marina Bay Sands Skypark Observation Deck
Fly Kites at Marina Barrage
Marina Barrage has become the most popular spot for flying kites in Singapore, thanks to its wide open space, sea breeze and stunning city views.
Don't have a kite? There's a kite shop here too!
Take a Romantic Stroll
There are loads of great places to take a romantic stroll in Singapore. The Marina Bay Area is perfect for stunning skyline views, or head out to East Coast Park for some sea breeze.
Take a stroll around one of Singapore's beautiful parks or one of our favourites: do the Southern Ridges walk and plan to get to Henderson Waves for sunset.