Everything you need to know about the Raffles Hotel Singapore Sling… including a recipe!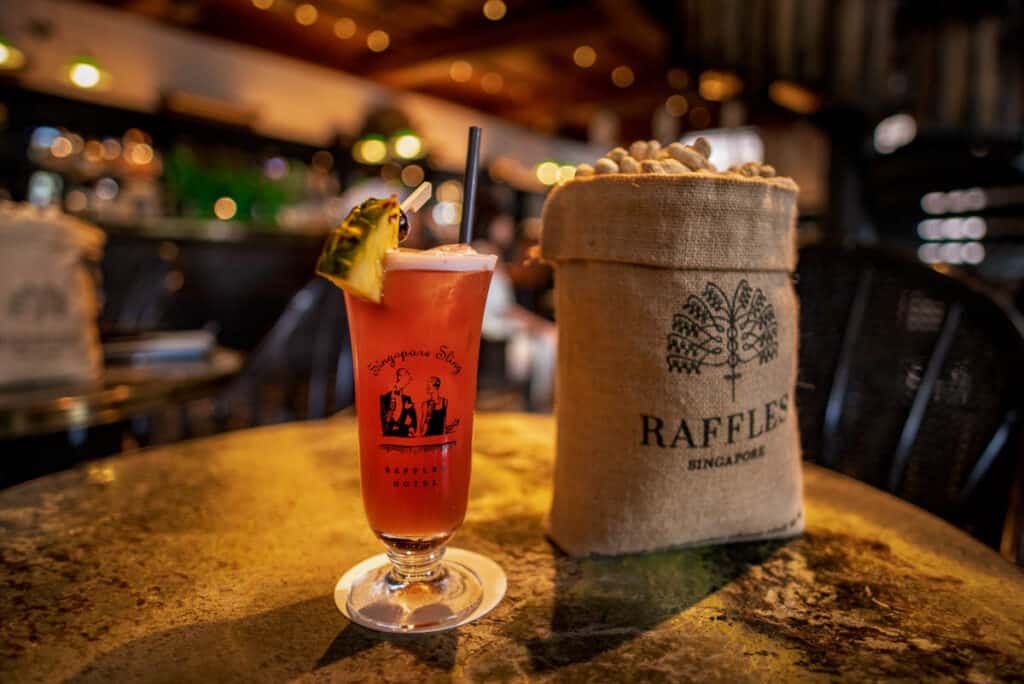 Ah the Singapore Sling – just the idea of sipping one makes you think of balmy evenings and swaying palm trees… or perhaps of the Raffles Hotel Long Bar, decked out in dark wood and the floor covered in peanut shells.
Because the Singapore Sling, the national drink of Singapore (alongside Tiger Beer) was created in the famous Long Bar, where you can still partake in one of these bright pink cocktails in its original setting.
Created by Raffles bartender Ngiam Tong Boon in 1915, the Singapore Sling is probably the most famous cocktail in the world to be named after its place of creation. (Along with the Long Island Ice Tea and the Manhattan of course).
Sipping on a Singapore Sling at Raffles Hotel features on many a Singapore bucket list and tourists flock to the Long Bar in the thousands for their chance to give it a go.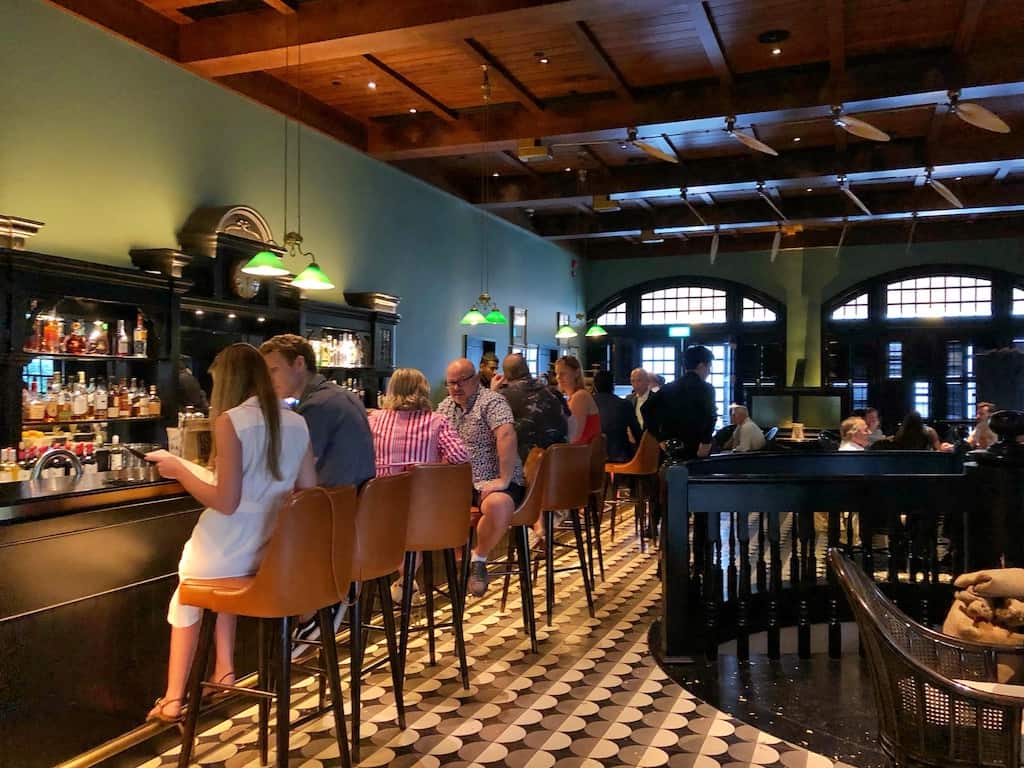 Here they queue at the door to be seated on rattan furniture below creaking fans and nibble on nuts before tossing the shells on the floor… And of course have their photos taken with their pink drink of choice.
But what inspired Ngiam Tong Boon to create this famous cocktail? And just what is in it?
Keen for more Raffles experiences? Why not indulge in the Raffles Singapore High Tea?
The Original Singapore Sling
The history of the Singapore Sling is an interesting one. At the turn of the Century the Raffles Long Bar was a popular watering hole amongst the colonial community.
But there was one problem: According to proper etiquette, ladies should not be seen to consume alcohol in public. Fruit juices and teas were therefore the drink of choice for ladies at the Long Bar.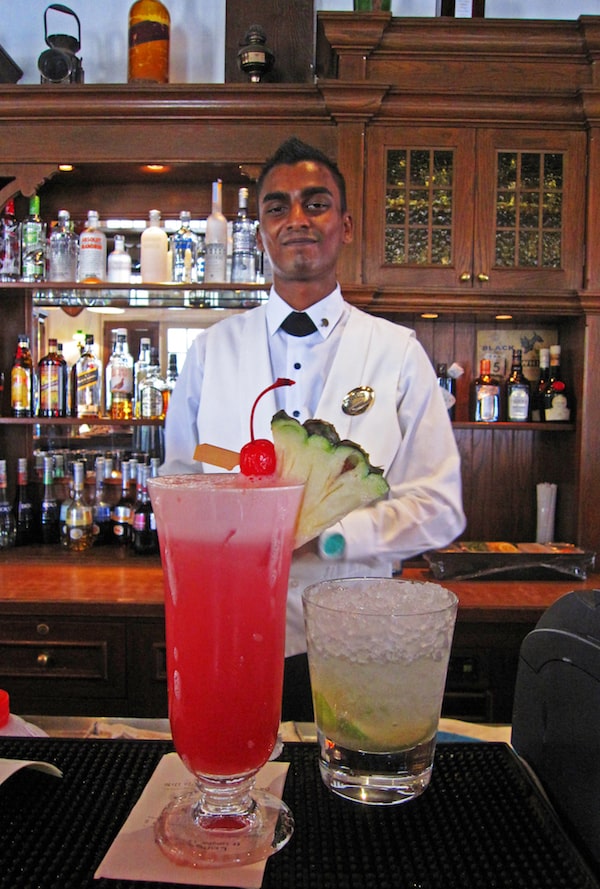 Bar tender Ngiam must have taken pity on these long suffering ladies and took it upon himself to create a cocktail that looked like a fruit juice, but was actually infused with gin and other liqueurs.
He added grenadine to give it a pretty pink colour to appeal to his female audience and laced it with clear spirits to help present it as an acceptable fruit punch.
And with that, the Singapore Sling was born!
You can read all about the fascinating history of Raffles Singapore here.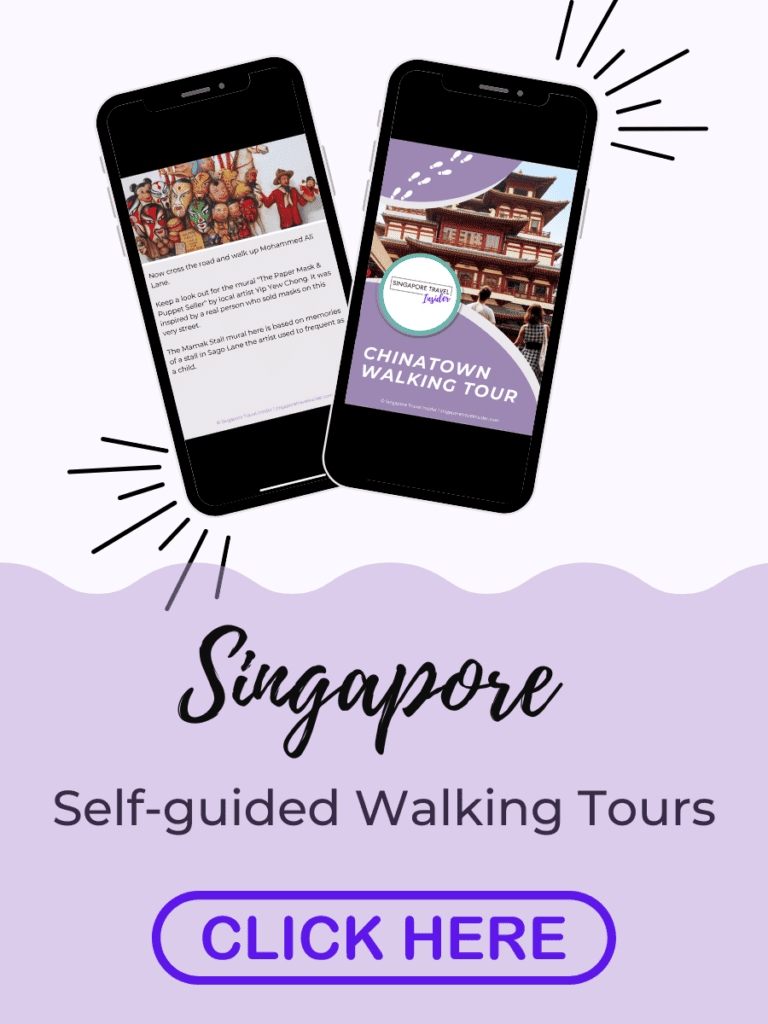 What's in a Singapore Sling?
Don't have plans to visit Raffles Hotel any time soon? It's easy to make a Singapore Sling at home! Here's what you'll need:
30ml Gin
15ml Cherry Brandy
120ml Pineapple Juice
15ml Lime Juice
7.5ml Cointreau
7.5 ml Dom Benedictine
10ml Grenadine
A Dash of Angostura Bitters
Mix all the ingredients in a cocktail shaker filled with ice. Shake vigorously and strain into an ice-filled Collins glass. Garnish with a slice of pineapple and a cherry.
FAQs
Can you get a Singapore Sling in Singapore?
You can get a Singapore Sling at many bars in Singapore – but the original and most famous place to drink this cocktail is at the Long Bar at Raffles Hotel, where it was invented in 1915.
How much is a Singapore Sling at Raffles?
A Singapore Sling in the Long Bar at Raffles will set you back $37. That's around £22 or $27 USD!
You may also like the following articles: