Discover the most Instagrammable places in Singapore. From colourful Peranakan shophouses to futuristic landmarks, capture stunning shots and explore the city's vibrant culture.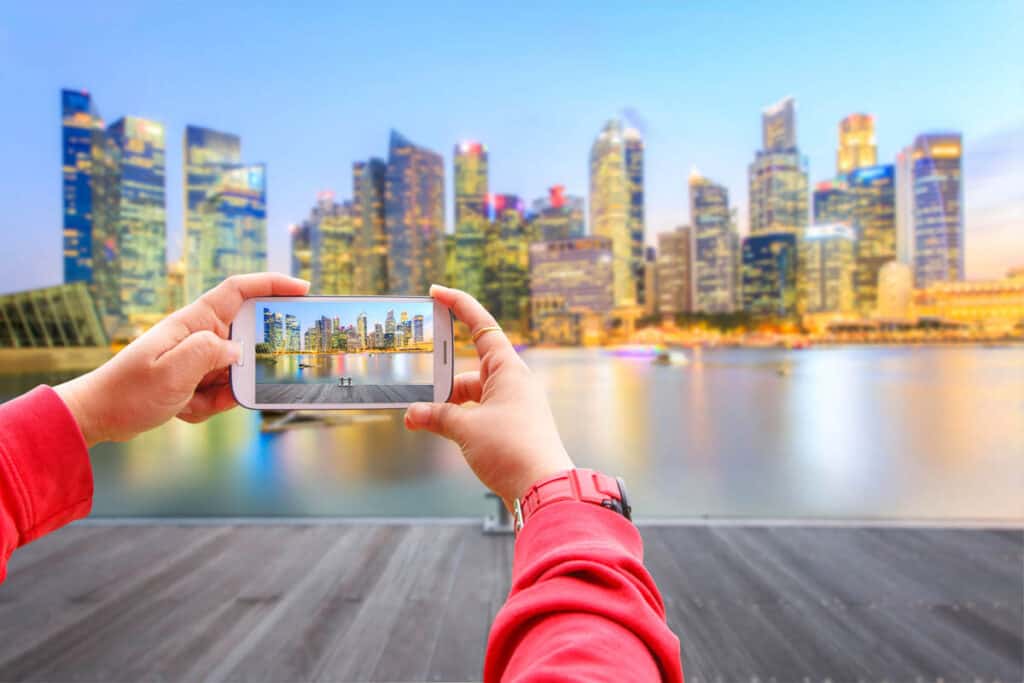 Singapore is known for its iconic skyline, lush greenery, and vibrant culture, making it a treasure trove of Instagrammable locations.
Some of these photogenic spots include heritage sites, colourful neighbourhoods, modern architectural marvels, and serene nature reserves.
You'll be spoiled for choice when it comes to capture stunning photos to share with your friends and followers.
So grab your camera and get ready, we're going to share the top Instagrammable places around town, that showcase the best of Singapore.
Got questions? Come join our Singapore Travel Tips Facebook group. It's the perfect place to ask questions and get inspiration for your trip!
Iconic Landmarks
Singapore is overflowing with incredible architecture, both heritage buildings and modern marvels, that make for the perfect Instagram shot.
Here we share our favourite iconic landmarks worth visiting for the 'gram.
Marina Bay Sands
When you think of Singapore, the Marina Bay Sands is probably one of the first images that pop into your head. This architectural marvel features three towers connected by the SkyPark, which boasts a breathtaking infinity pool overlooking the city skyline.
Using the stunning building as a backdrop makes the perfect iconic Singapore photo. You can get a great shot from several location around Marina Bay, or head to the lotus pond in Gardens by the Bay.
Another option is to venture up to the SkyPark observation deck during twilight to capture the panoramic views and the dazzling night lights.
If you're lucky enough to be staying as a hotel guest, you can also get access to the famous rooftop pool (sorry, hotel guests only) and can snap away with the skyline behind you.
Gardens by the Bay Supertrees
Directly adjacent to Marina Bay Sands, you'll find the awe-inspiring Gardens by the Bay. This immense nature park covers 101 hectares and contains several distinct gardens.
The futuristic Supertrees are not to be missed, as they make for an otherworldly backdrop to your photographs.
Time your visit during the evening to witness the extraordinary "Garden Rhapsody" show, bringing Supertree Grove to life with vibrant lights and music.
Another great photo spot is the OCBC Skyway that links the Supertrees. Whether you take this from the ground looking up, or brave the heights yourself, you'll get a great shot.
Merlion Park
No trip to Singapore is complete without a photograph with the country's national icon – the Merlion. The majestic statue combines the head of a lion with the body of a fish and is situated at the waterfront, providing a picturesque view of the Marina Bay area.
Be prepared to work with different angles to capture the perfect shot of the Merlion statue, with the city skyline complementing the background.
Raffles Hotel
Raffles Hotel is one of the most famous hotels in the world and benefits from incredible heritage architecture. The breezy corridors, leafy courtyards and beautifully designed interiors are a treasure trove for those looking for amazing photo ops.
HSBC Rain Vortex
The Jewel Changi is home to the world's tallest indoor waterfall, the HSBC Rain Vortex. This also happens to be one of the most photographed spots in the whole of Singapore.
Being located right next to the Changi Airport terminal, it's super handy for a quick snap before or after your flight.
Helix Bridge
The 280m pedestrian bridge links Marina Centre with Marina South in the Marina Bay area of Singapore. The double-helix stainless steel structures make for an interesting backdrop, especially with the colour-changing lights at night.
Insider Tip: If you get the angle right, you can also feature the Marina Bay Sands hotel in the shot.
Sultan Mosque
The Sultan Mosque, or Masjid Sultan, presides over the Kampong Glam neighbourhood. It sits atop one of the most picturesque streets in Singapore, Bussorah Street.
Singapore's largest mosque, with or without the surrounding street, is another of our favourite photo hotspots.
Buddha Tooth Relic Temple
Another striking Singapore building, the Buddha Tooth Relic Temple can be found in the heart of Chinatown.
Insider Tip: Play around with your camera to find interesting angles, particularly of the beautiful rooftop. Also, make your way to the rooftop for more unique photo ops, including the enormous prayer wheel.
Old Hill Street Police Station
This former police station has long been a favourite with photographers thanks to its rainbow-coloured shuttered windows.
Insider Tip: the best vantage point is from across the street, so you may need to wait a while for traffic to die down to get your spot. Try visiting early morning on a Sunday if you want to avoid traffic.
House of Tan Tang Niah
This bright and cheerful house in the heart of Little India provides a kaleidoscope of colours for your photographs.
The eight-room villa is one of the last surviving Chinese Villas in Little India. It was built my Mr Tan, a prominent Chinese businessman, for his wife, in 1900 and today is mostly used for tourist snaps and Instagram shots.
National Gallery of Singapore
It's the home to the world's largest public collection of Singapore and Southeast Asian modern art, but it's the impressive architecture that makes this such a photographic draw.
With sweeping staircases, majestic Corinthian columns, stunning floor tiles, glass canopies and rotunda domes, it's a photographer's delight.
Chijmes
This former girls' school, convent and chapel is now home to cozy alfresco restaurants dotted throughout its beautiful courtyards.
But the draw for photographers here is the stunning architecture, with its gothic archways, hidden cloisters and spiral staircases.
Sri Mariamman Temple
Located in the heart of Chinatown, this is the oldest Hindu temple in Singapore, dating back to 1827. It is known for its distinctive colourful gopuram (monumental tower) that dominates the entrance.
Insider Tip: Although it is this gopuram that features predominantly on Instagram, be sure to explore inside to find more photo ops.
Parks & Gardens
Singapore boasts an array of stunning parks and gardens, where you can immerse yourself in lush greenery and capture Instagram-worthy shots.
Singapore Botanic Gardens,
This UNESCO World Heritage Site, with its idyllic swan lake, picturesque gazebos, and beautifully landscaped gardens, offers ample photo opportunities.
Insider Tip: One of the most popular spots for photos within the Botanic Gardens is the Bandstand which is easily reached via the Tanglin Gate. You will pass it on the way to the Orchid Garden.
National Orchid Garden
The most photographed spot in the Botanic Gardens lies inside the National Orchid Garden. The Orchid Garden showcases the largest collection of tropical orchids in the world.
However, it is the Golden Shower arches that have become the most popular with instagrammers, thanks to the interesting curving shape they give to the background.
Fort Canning Park
Fort Canning Park is steeped in history and brimming with natural beauty. You can photograph the ancient artefacts scattered throughout the park, such as the striking fort gates and the pre-colonial forbidden spring.
One of the best places for photos is the Sang Nila Utama Garden, a little slice of Java right in the heart of Singapore. (Psst – We have another favourite spot – you can find it down under the hidden gems section below!)
Gardens by the Bay
There's more to Gardens by the Bay for Instagrammers than the Supertrees.
The Cloud Forest, with its high curved ceiling, towering plant walls, waterfalls and high bridges is chock full of photo opporutnities. But the most famous spot for snaps is the waterfall.
The Flower Dome is another great photo spot within Gardens by the Bay. this cavernous cooled conservatory holds the Guinness World Record for the world's largest glass greenhouse!
What we love is that the displays are constantly changing, so your instagram photos won't always look the same as everyone else's.
Treetop Walk
If you're up for a hike, head up to the MacRitchie Reservoir, where you'll find several hiking trails and boardwalks through the primary rainforest.
For your instagram feed, you're going to want to head to the TreeTop Walk, a free-standing 250 m-long suspension bridge over the rainforest canopy.
Photogenic Streets & Neighbourhoods
When visiting Singapore, you don't have to look far to find Instagram-worthy photo locations. The city-state is filled with picturesque streets and neighbourhoods that will captivate your followers.
Here are some of the top photogenic spots to consider:
Haji Lane
This trendy street in the Kampong Glam neighbourhood is a must-visit for any Instagrammer. You'll find a mix of colourful murals, unique boutiques, and trendy cafes.
With its narrow lanes, vibrant shophouses and diverse street art, Haji Lane is the perfect place for a photo walk.
Gelam Gallery
Not far from Haji Lane, the back alley of Muscat Street has been transformed into Singapore's first outdoor art gallery. The murals and framed art from over 30 local and international artists, make for a fun and eclectic backdrop.
Chinatown Murals
Want more street art? Head over to Chinatown where you'll find an array of fascinating murals and street art that are perfect for your Instagram feed. Not only do they showcase a mix of cultures, but they also tell engaging stories about Singapore's history.
Some of our favourites are by artist Yip Yew Chong and can be found on Temple Street and Smith Street in the heart of Chinatown (amongst others).
Peranakan Houses
The Peranakan Heritage is a unique blend of Chinese, Malay, and Indian influences, and is most evident in the Joo Chiat and Katong neighbourhoods.
Head to Koon Seng Road where you will find the insta-famous multi-coloured Peranakan shophouses just waiting to be photographed.
Emerald Hill
You don't have to travel out East to find Perankan shophouses. Just a stone's throw from bustling Orchard Road, you'll find the serene Emerald Hill.
This residential area is also known for its colourful Peranakan shophouses, dating back to the early 1900s. The intricate details, bright colours, and gorgeous architecture make for stunning photos.
Keong Saik Road
Keong Saik Road in the heart of Chinatown is known for its heritage architecture, which houses some of Singapore's hippest bars and restaurants.
At the intersection of Kong Saik Road and Neck Lim Road, you'll find rooftop bar Potato Head. This striking heritage building is a favourite with Instagrammers .
Hidden Instagram-Worthy Places
There are plenty of hidden gems waiting for you to discover. Let's explore a few lesser-known locations that will make your followers envious.
Fort Canning Tree Tunnel
We already covered Fort Canning Park, but the Tree Tunnel, with its spiral staircase deserves its own entry. This hotspot with wedding photographers has also become one of the most famous Instagram spots in Singapore.
Japanese Cemetery Park
Confused as to why a burial ground should become insta-famous? It's thanks to its bright pink bougainvillea-adorned archways that people flock here for photos.
Redhill MRT
Again, you wouldn't expect an MRT station to be a photo-draw, but the striking red and pink walls and ceilings have people heading here to strike a pose.
The Pinnacle@Duxton
This public housing complex offers an awe-inspiring 360-degree view of Singapore from its 50th floor Skybridge.
With picturesque panoramic vistas, you'll be able to create enviable skyline shots that showcase the city's unique blend of old and new. We particularly love the views at night, when the city lights up.
Henderson Waves
This very cool pedestrian bridge along the Southern Ridges walk, connecting Mount Faber Park and Telok Blangah Hill Park.
Singapore's highest pedestrian bridge, is an architectural masterpiece with its undulating wave-like structure and curved steel 'ribs'.
It's popular with local runners and joggers, but those in the know head here for sunset to enjoy the views over the urban sprawl and out to Sentosa.
Instagrammable Cafes in Singapore
A photographer's gotta eat, right? Here we help you combine refuelling your body with restocking your photo album. This selection of picturesque cafes is perfect for your Instagram feed.
Q Classified
You'll find these whimsical floral-themed cafes in several shopping malls around Singapore – Vivocity, Takashimaya and Parkway Parade.
The blooms of each location have their own colour palate, meaning you can take a trip to all three for different photo opportunities.
PS Cafe
The Parisian-inspired interiors and abundance of fresh flower displays at PS Cafe are always a magnet for instagrammers. There are eleven outlets to choose from across Singapore.
No matter which you choose, be sure to order one of their famous cakes to chew on while you snap your photos.
Wildseed Cafe at the Alkaff Mansion
This cafe and patisserie is located in a picturesque conservatory where you can tuck into equally picturesque cakes and pastries.
You can head here for breakfast, lunch, dinner or drinks – but our favourite for the 'gram is the pretty-as-a-picture afternoon tea set.
Instagrammable Restaurants
Looking for something more substantial to eat? These restaurants are some of the most Instagrammable spots, where you can dine and take photos to impress.
Also check out our pick of the best rooftop bars in Singapore and Singapore restaurants with a view for more ideas.
Ce La Vi
Perched on the rooftop of Marina Bay Sands, offers not only a delectable dining experience but also an iconic view of Singapore's skyline. With the city lights serving as your backdrop, your dinner photos are sure to stand out.
Le Jardin
Located in the heart of Fort Canning Park and surrounded by nature, you'll be transported to Monet's garden in Giverny, Paris at Le Jardin.
You can choose to dine alfresco, but you'll want to head indoors to snap photos of the Victorian-style interiors with sparkling chandeliers and stunning floral art.
Rumah Bebe
Rumah Bebe is a Peranakan boutique, workshop and restaurant in one. You can enjoy nyonya delicacies such as otak-otak, baked curry puffs and Beef Rendang in beautiful heritage shophouse surroundings.
Insider Tip: Be sure to check out the incredible Peranakan beadwork and embroidery on display in the boutique while you are here.
Other fun Singapore photo spots
Looking for more Instagrammable locations in Singapore? Let's wrap this up with a few final options to capture stunning shots that will light up your social media feed.
Palawan Suspension Bridge
Did you know that Sentosa Island is home to the Southernmost Point of Continental Asia? What's even more exciting is that you cross a very instagram-worthy suspension bridge to reach here!
Head down to Palawan Beach to get your photo here.
FutureWorld at the ArtScience Museum
The ArtScience Museum with its futuristic lotus flower design is insta-worthy in itself.
But the best spot is to head inside to the permanent exhibition, Future World, where the high-tech colourful installations provide several good spots for snapping some photos.
The most popular spot is the Crystal Universe, an interactive light sculpture that throws up endless photo possibilities.
Haw Par Villa
This strange and surreal statue garden in the West of Singapore has hundreds of multi-coloured statues and tableaux depicting Chinese myths and legends.
It's the perfect spot to add some surreal snaps to your feed.
Sentosa Beaches
You don't need to travel to Thailand or Bali to get your palm trees on the beach Instagram shots for your feed. Just head on over to Sentosa and check out the beaches here.
There are three beaches to choose from: Siloso, Palawan and Tanjong, each providing unique areas for a photoshoot.
Insider Tip: There is a free beach tram that runs the length of the beaches, so you can visit all three beaches easily.
Alkaff Bridge
Spanning the Singapore River at Robertson Quay, the Alkaff Bridge is known for its bright and colourful appearance. This pedestrian bridge is painted in 55 different colours and is sure to jazz up your Instagram feed.
Museum of Ice Cream
The Museum of Ice Cream has specifically been designed to be Instagram-worthy, so you are spoiled for choice here.
This colourful and whimsical space filled with interactive ice cream-inspired installations, so you can look forward to selfies in the giant sprinkle pool, banana-themed room, or a room filled with giant cherry sculptures.