Discover the best things to do in Singapore with our pick of 60+ must-see attractions and activities, from iconic landmarks to hidden gems.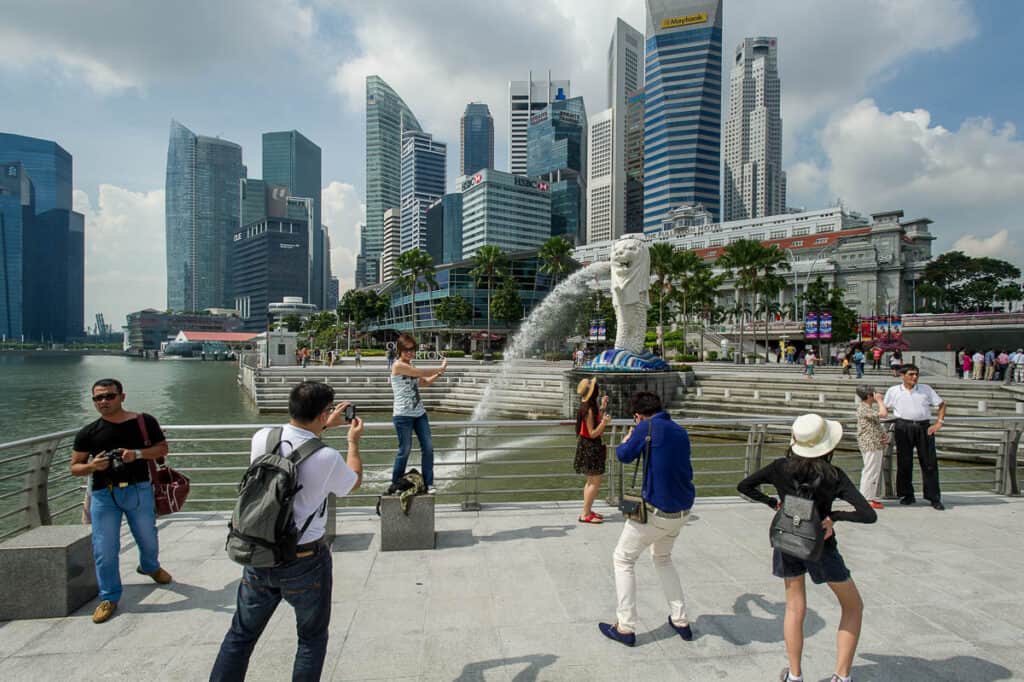 Known for its rich cultural heritage, diverse cuisine, and stunning architecture, Singapore is a must-visit destination for travellers from all over the world.
There are also loads of fun things to do here, from world-class theme parks and wildlife parks to botanical gardens, museums, galleries and more.
With so many things to see and do, it can be overwhelming to plan your itinerary. So we've put together a comprehensive list of 60+ of our favourite things to do in the Lion City. We've included everything from iconic landmarks and attractions to hidden gems and off-the-beaten-path experiences.
Whether you're a first-time visitor or a seasoned traveller, this guide will help you make the most of your time in Singapore.
You should also check out our itineraries, to see how you can fit in all these attractions to your time in Singapore:
Disclaimer: This article contains affiliate links. If you make a booking using these links, we may receive a small commission, at no extra cost to you.
Got questions? Come join our Singapore Travel Tips Facebook group. It's the perfect place to ask questions and get inspiration for your trip!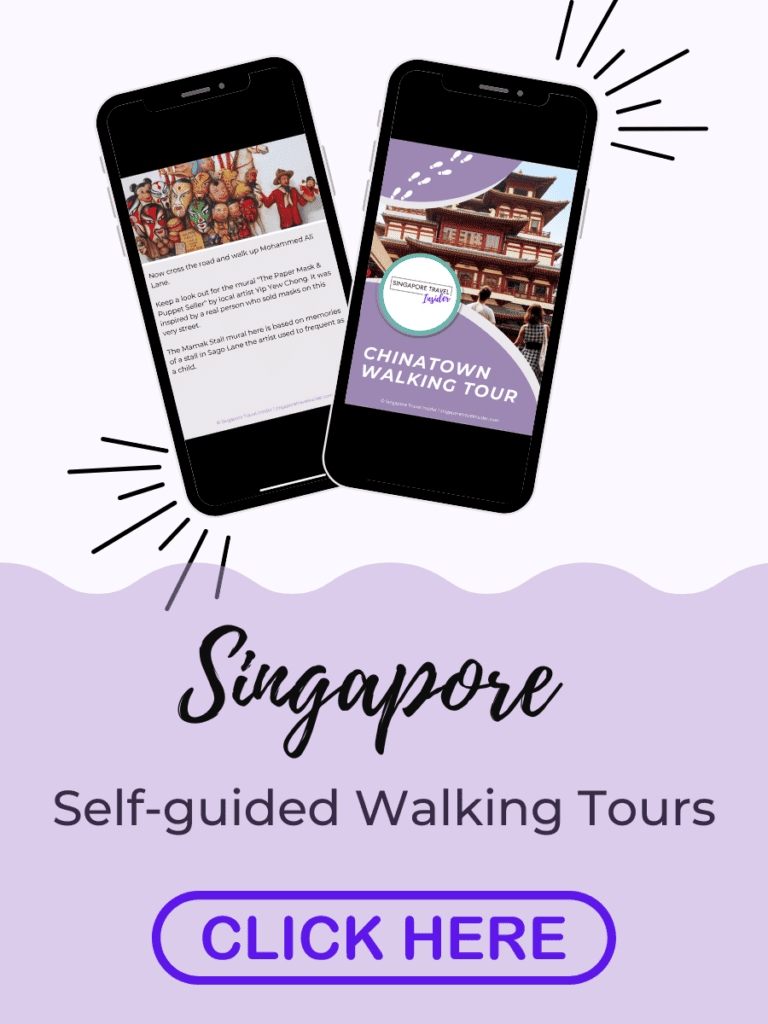 Top Singapore Attractions
We've broken down our top recommendations into sections. So whether you are a nature lover, culture buff or food fanatic, you can skip ahead to your section of choice.
Let's get started!
Tours & Sightseeing
Insider Tip: We have loads of great suggestions in our article: Best Sightseeing Tours in Singapore.
Singapore Flyer
Great views are guaranteed at The Singapore Flyer, once the world's tallest observation wheel. At 165m tall, it is the height of a 42-storey building. The rotation takes around 30 minutes and you will be treated to fabulous views across Singapore and the surrounding islands.
Click here to find out more and check availability.
Singapore Cable Car
If you're heading to Sentosa, one of the most fun ways to get there is to ride the Singapore Cable Car. Start at Harbourfront to ride up to Mount Faber and take in the views at the top. Then re-board the cable car to travel across to Sentosa.
Click here to find out more and book tickets.
River Cruise
A boat ride along the Singapore River is one of the best ways to take in the sights of the Civic District, Marina Bay and the Quays. Board the boat at Marina Bay Sands or Merlion Park to ride the whole river up to Robertson Quay and enjoy the views.
Click here to find out more and check availability.
Trishaw Tour
The trishaw was once a popular form of transport in Singapore. Today it is strictly the preserve of the sightseeing tourist, but it remains one of the most fun ways to get to know the city.
Sightseeing company Trishaw Uncle employs a fleet of trishaw drivers to take you on heritage tours of the Bugis and Little India quarters of the city.
Click here to find out more and check availability.
Captain Explorer DUKW Tour
Much more fun than a standard open-top bus tour, the Captain Explorer DUKW Tour takes you on an adventure aboard an authentic revamped Vietnam War era vehicle.
You begin the tour with a drive around some of the city's landmarks in the colonial district, before splashing down into Marina Bay for views of the Merlion and the Singapore Flyer.
Click here to find out more and check availability.
Sidecar Heritage Tour
Choose from four heritage neighbourhoods – Kampong Gelam, Joo Chiat, Tiong Bahru and the Civic District as you ride in a Vespa sidecar to take in the sights. It's a unique and memorable way to take in the Singapore sights and you'll get some awesome photos to remember your trip by.
Click here to find out more and check availability.
Self-guided walking tour
Our self-guided walking tours are a great way to take in the sights of Singapore for a fraction of the price of a sightseeing tour. These allow you to sightsee at your own pace, and include easy-to-follow directions, plus an insider's guide to the history and culture of each neighbourhood.
They are available for Chinatown, Little India and the Civic District.
For Thrill Seekers
Universal Studios Singapore
It's all about movie magic and fun at Southeast Asia's only Universal Studios theme park. Get your heart racing on the roller coasters and movie-themed rides, meet some of your favourite kids movie characters, and enjoy the live shows that take place throughout the day.
Click here to book discounted tickets to Universal Studios Singapore.
Adventure Cove Waterpark
A water park is the perfect place for thrill seekers in Singapore's heat and humidity. Don't miss the Riptide Rocket, Southeast Asia's first hydro-magnetic roller coaster (ie. a water slide that takes you upwards). Then chill out at the wave pool and float along the 620m-long Adventure River inner tube ride.
Click here to find out more and book discounted tickets.
Skyline Luge Sentosa
Scream if you wanna go faster! Part go-cart, part toboggan, the Luge sees you whizzing down a 650 metre long, paved track that begins at Imbiah Lookout and ends at Siloso Beach on Sentosa.
There are plenty of hairpin bends and fast straight sections to keep the adrenaline junkies amongst you going back for more.
Click here to find out more and check availability.
Mega Adventure
There is plenty to keep adrenaline junkies happy at Mega Adventure on Sentosa. The MegaZip flying fox whizzes you over the jungle canopy for over 450 metres before depositing you on Siloso beach.
Then there's Mega Climb, a 36-obstacle tree ropes course; MegaJump, a free-fall parachute simulator and MegaBounce, a bungee-assisted trampoline.
Click here to find out more and book tickets.
Sky Dive at iFly
If you haven't had enough of an adrenaline rush by now, then head to iFly Singapore on Sentosa Island. Here, you will find one of the world's largest indoor skydiving wind tunnels. You can experience true free-fall conditions, just like a real skydive… except you don't need to jump out of a plane!
Kids as young as 7 years old can join in the fun, and the best bit is that it is a fraction of the price of an actual skydive.
Click here to find out more and check availability.
Bungy Sentosa
Over 4 million people have braved an AJ Hackett bungy jump over the past 30 years all round the world. And now you can also jump here in Singapore too. Skypark by AJ Hackett is located at Siloso Beach on Sentosa, where the 47m-high platform gives you views out over the South China Sea.
Not enough excitement for you? Jump aboard the Giant Swing, which will have you soaring at speeds of up to 120km/h.
Click here to find out more and check availability.
Forest Adventure
Channel your inner Tarzan and head to Bedok Reservoir, where Forest Adventure will have you swinging through trees, flying along zip-wires and crashing into cargo nets at high speed.
There are two courses here – a Kids Course for children aged five and up, and the Grand Course for adults and children aged ten and up.
Click here to find out more and check availability.
Animal Attractions
Singapore Zoo
It is renowned as one of the best zoos in the world, thanks to its natural rainforest setting and spacious landscaped enclosures. Start the day in style with Breakfast with Wildlife, and if you're visiting with kids, pack their swimmers for the fun water play area.
Click here to find out more and book tickets.
Night Safari
The ever-popular Night Safari has been drawing in the crowds since 1994 thanks to its unique opportunity to view hundreds of exotic nocturnal animals in their natural habitat.
There's over 1,000 nocturnal animals from 120 different species to view here, either from the tram or from along the subtly lit walking tracks.
Click here to find out more and book tickets.
River Wonders
Tucked in between the Singapore Zoo and the Night Safari, River Wonders offers a wildlife experience inspired by the world's most iconic rivers. Housing over 6,000 animals, it is home to the world's largest freshwater aquarium and also features beavers, crocodiles, tapirs, squirrel monkeys and more.
The highlight for many is the Giant Panda Forest, home to Singapore's two resident Giant Pandas, Jia Jia and Kai Kai.
Click here to find out more and book tickets.
Bird Paradise
Bird Paradise is Asia's largest bird park and home to over 3,500 birds from over 400 species. Highlights of this beautifully landscaped park include eight walk-through aviaries, feeding the Loris, Ostriches and Pelicans and watching the fun and educational shows.
Click here to find out more and book tickets.
Insider Tip: Planning on visiting more than one wildlife park? Buy a combo ticket to save money!
Click here to buy a Mandai Pass and save money.
SEA Aquarium
Over 800 species of sea creatures are represented across the 49 different habitats of the SEA Aquarium in Resorts World Sentosa. There's over 100,000 marine creatures in total.
The grand finale is the impressive Open Ocean aquarium– a panoramic vista teaming with manta rays, sharks, and goliath grouper.
Click here to find out more and book tickets.
Museums & Galleries
We have more ideas in our article about all the Best Museums in Singapore.
National Museum of Singapore
If you only have time to visit one museum in Singapore, make it the fabulous National Museum of Singapore to give you an overview of the country's history.
The exhibitions take you all the way from the 14th century to the building of modern Singapore. Along the way, you'll learn about the arrival of Sir Stamford Raffles and the difficult times of World War II and the Japanese occupation.
Click here to find out more and book tickets.
National Gallery Singapore
Singapore's National Gallery is is home to the world's largest public collection of Singapore and Southeast Asian modern art. As you wander through the halls of this impressive building, you'll get to admire the diverse collection spanning from the 19th century to the present.
Click here to find out more and book tickets.
ArtScience Museum
This museum-cum-art gallery at Marina Bay Sands hosts a rotating line-up of international touring exhibitions from art and science, media and technology, and design and architecture. The permanent FutureWorld is an impressive digital interactive installation that everyone will love.
Click here to find out more and book tickets.
Buddha Tooth Relic Temple & Museum
The magnificent Buddha Tooth Relic Temple is located in the heart of Chinatown. On the third floor you'll find the Buddhist Culture Museum, which houses an impressive collection of rare Asian Buddhist artefacts. You'll also find a display on the life story and teachings of Lord Buddha.
Asian Civilisations Museum
Housed within a magnificent neo-palladian building on the banks of the Singapore River, you'll find the excellent Asian Civilisations Museum. It safeguards over 13,000 artefacts, and explores the history of the Asian cultures brought to Singapore by the different ancestral groups.
Click here to find out more and book tickets.
Fort Siloso
The sole surviving coastal fort in Singapore is now a museum dedicated to the memory of soldiers who lost their lives trying to defend Singapore. Take a self-guided tour of the fort, while waxwork models and audio recordings bring the scenes to life. Entrance is free.
The Battle Box Tour
Nine metres below ground in the centre of Fort Canning Park, Battle Box was the underground bomb-proof bunker of Britain's HQ Malaya Command during World War II.
Visits to the Battle Box are by guided tour only, with scenes recreated to allow visitors to relive the last few hours prior to the British surrender.
Click here to find out more and book tickets.
Changi Museum
The Changi Museum tells the stories of all the civilians and Prisoners Of War who suffered during the Japanese occupation of Singapore from 1942-45. This incredibly moving exhibition is put together based on interviews with former inmates, Prisoners of War and their families.
The Museum encircles the outdoor Changi Chapel – a replica of the many chapels that were built by Prisoners Of War in Changi.
Peranakan Museum
The Peranakan Museum, housed in a beautiful building in the heart of the Civic District, showcases the fascinating cultural heritage of the Peranakan Chinese.
It holds the most comprehensive collection of Peranakan artefacts in the world. As you wander the galleries, you'll gain an insight into this unique culture, including the 12-day wedding rituals, religious beliefs, rites of passage, and the importance of food and feasting.
Parks, Gardens and Beaches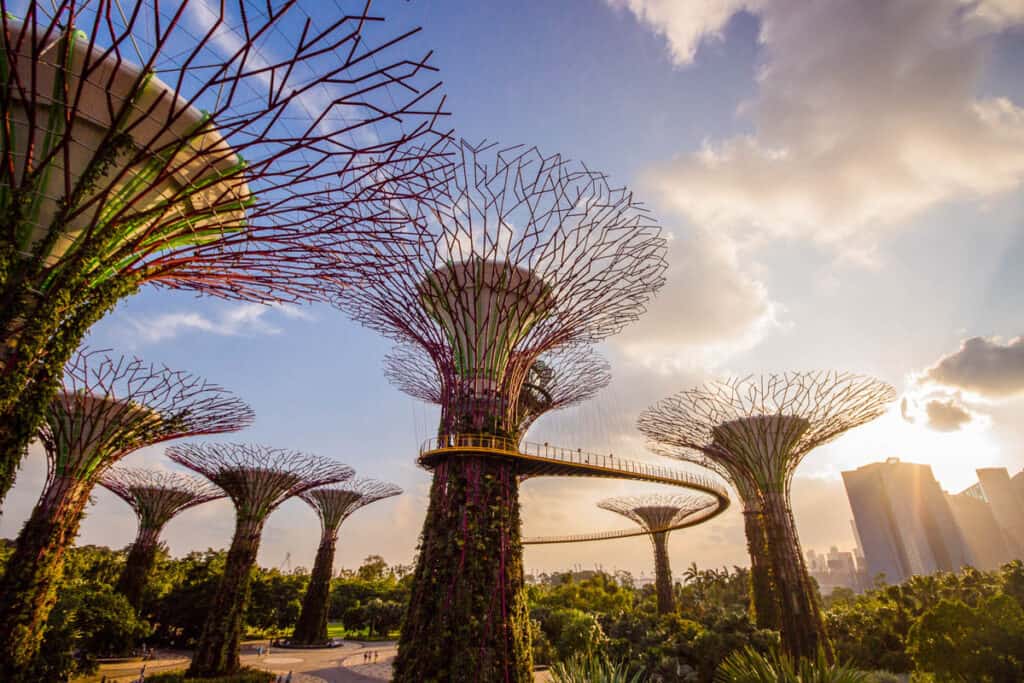 Gardens by the Bay
The Super Trees at Gardens by the Bay are one of the most recognisable sights in Singapore and the view from the Supertree Observatory is not to be missed.
Also within this 100-hectare park, you will find the climate-controlled conservatories Cloud Forest, Flower Dome and Floral Fantasy, which make for a welcome break from Singapore's heat and humidity.
Insider Tip: Visiting with kids? Bring their swimmers for the fun water play area.
Click here to learn more and book tickets.
Sentosa Beaches
Three beaches: Tanjong, Palawan and Siloso line the southern coast of Sentosa, and are the perfect setting for some fun in the sun. They may not rival those of neighbouring Thailand and Malaysia, but there are some cool beach bars and plenty of palm trees.
Botanic Gardens
It's a little overshadowed by the Gardens by the Bay these days, but the Singapore Botanic Gardens are still worth a visit. You'll find a huge variety of areas to explore and relax in, including lakes, fountains, sculpture gardens and plenty of well-manicured lawns.
National Orchid Garden
One of the highlights of the Botanic Gardens is the National Orchid Garden, where you'll find over 1000 species and 2000 hybrids.
The VIP garden is home to hybrids created in honour of visiting dignitaries and celebrities, with flowers in honour of Margaret Thatcher, Nelson Mandela and even Ricky Martin and Jackie Chan!
MacRitchie Reservoir
The primary rainforest surrounding Singapore's oldest and largest reservoir is home to more than 840 flowering plant and 500 animal species.
There are several hiking trails and boardwalks to explore. The highlight is TreeTop Walks, a free-standing 250 m-long suspension bridge over the rainforest canopy.
Sungei Buloh Wetland Reserve
The Sungei Buloh Wetland Reserve in the far north of the island has a network of boardwalks that provide excellent bird viewing opportunities.
Keep your eyes out for herons, kingfishers, mudskippers and crabs. You are pretty much guaranteed to see large monitor lizards along the way, and if you're lucky you may spot an estuarine crocodile too.
Pulau Ubin
Pulau Ubin is just a 10-minute boat ride from Changi. A visit here lets you step back in time and discover what Singapore was like fifty years ago, before the construction companies moved in.
Hire bikes on arrival and head to the Chek Jawa Wetlands, one of Singapore's richest ecosystems, where you can explore the mangroves and coast via boardwalks.
East Coast Park
East Coast Park is one of the best places to go cycling, scooting or rollerblading, with its 15km of coastline. There are plenty of playgrounds and restaurants here and also a great hawker centre for some local food. There are several places to hire bikes if you don't have your own.
Jurong Lake Gardens
Jump on the MRT and head west and you will find the beautifully presented Jurying Lake Gardens made up of Lakeside Gardens, Chinese Garden and Japanese Garden. At the time of writing the Chinese and Japanese Gardens are under redevelopment but there is still plenty to explore here.
Labrador Nature Reserve
Labrador Nature Reserve is full of hidden treasures amongst the tropical rainforest, including war bunkers, WWII machine gun posts and secret tunnels. There are also playgrounds, a jetty and a seaside boardwalk that takes you all the way to Keppel Bay.
Shop til you Drop
Browse a Wet Market
For an authentic shopping experience away from the organised calm of the air-conditioned malls, head down to a local wet market to take in the sights and sounds of local Singapore. It's a great introduction to local fruits and vegetables, and most wet markets also have a large fresh seafood section to explore.
Cruise the malls at Orchard Road
Orchard Road has one of the highest concentrations of shopping malls worldwide. So if you want to flex those credit cards, this is where to go. Head to nine-storey ION Orchard for the best designer and high street shopping, or try the Mandarin Gallery for more boutique offerings.
Souvenir shopping in Chinatown
The street stalls of Pagoda Street, Sago Street and Trengannu Street in Chinatown are piled high with souvenirs and gift ideas, from silk cushion covers to Chinese calligraphy and silk clothing.
Dig at little deeper int eh shops behind the stalls and you'll discover a wealth of clothing boutiques, homeware stores, antique shops, Chinese tea houses and Traditional Chinese Medicine shops.
Bargain shopping in Little India
Little India is a great area to browse for cheap souvenirs. Get a henna tattoo, buy Indian fabric, and splurge on gold jewellery. Serangoon Road is lined with shops, and the Little India Arcade offers a bustling warren of stalls.
For the best bargains, head to Mustafa Centre, which boasts 75,000 items for sale throughout its four floors that cover an area of 70,000 square feet!
Explore Haji Lane
Once known for its carpet and fabric stores, the arrival of cool boutiques and vintage record stores slowly transformed Kampong Glam into a bit of a hipster enclave. Haji Lane remains one of the most popular destinations, with its trendy hole-in-the-wall boutiques and homeware stores.
Singapore Foodie Experiences
Eat at a Hawker Centre
Having a meal at a Hawker Centre, the city's version of street food, is one of the culinary highlights of Singapore. You'll find many of Singapore's best-loved dishes on offer here, so take your time to wander around. If in doubt, go for the stall with the longest queue!
Click here to read our pick of the best hawker centres in Singapore.
Tuck into some Chilli Crab
It's known as the national dish of Singapore and is definitely worth a try when you're in town. This delicious local dish features crabs stir-fried in a tangy tomato and chilli sauce. It is traditionally served with mantous (steamed buns), which are perfect for mopping up all that beautiful sauce.
Try it once, and you'll be back for more!
Go for Dim Sum
Enjoying a dim sum lunch is another culinary highlight of Singapore. There are Chinese restaurants serving dim sum all over Singapore, but one of our favourites is Yum Cha in Chinatown. This bustling and busy restaurant can be found up a hidden staircase on the corner of Trengannu and Temple Streets.
Join a Food Tour
It's one of the best culinary cities in the world and if you are short on time, joining a food tour can be a great way to sample some of the best food in a short amount of time. Let a local show you exactly what you should be eating and where to find it best.
Sip Cocktails at a roof bar
You are spoiled for stunning views in Singapore, so why not enjoy a cocktail while you admire the view? There is an abundance of rooftop bars, making the most of high-rise living and impressive vistas. Read our pick of the best Singapore rooftop bars here.
Laze at a beach club
The Sentosa beaches are lined with laid-back bars and restaurants, but our favourite way to spend a day here is at one of the cool beach clubs. Here you can swim in the pool, dance to the DJs tunes, or just kick back and enjoy a cocktail on a sun lounger.
Insider Tip: Our favourite picks include Tanjong Beach Club and Rumours Beach Club.
Enjoy a Singapore Sling at Raffles
It's the most famous cocktail in town, and the most famous place to try it is at the Long Bar at Raffles Hotel, where it was invented by Raffles barman Ngiam Tong Boon in 1915.
You'll probably need to queue to get in, but once inside, you can take a seat on a rattan armchair below creaking fans and nibble on peanuts before tossing the shells on the floor.
Read more about the Raffles Singapore Sling here.
High Tea at Raffles
If you prefer a scone to a cocktail, then the High Tea at Raffles is another unforgettable experience. Here you can indulge in delicate sandwiches, exquisite cakes and delectable scones to the sound of a live harpist, while sipping on tea or champagne.
Cultural Heritage Centres
Chinatown Heritage Centre (currently closed)
The Chinatown Heritage Centre celebrates the early Chinatown residents. Divided between the maze-like warrens of three restored shophouses, the exhibitions tell the stories of Singapore's Chinese immigrants. They highlight where they came from, their hardships, and their eventual successes.
Malay Heritage Centre (currently closed for revamp)
Housed in the former Istana Kampong Gelam, the historic seat of the Malay royalty of Singapore, this heritage centre showcases the the history of the Singaporean Malays.
You'll learn the background of Kampong Glam, from its origins as a fishing village to become a self-sufficient urban centre of thriving commerce and trade by the end of the 19th century.
Indian Heritage Centre
Located in the heart of Little India, this cultural centre celebrates the history and culture of the Indian and South Asian communities in Singapore and throughout the Southeast Asian region. There are five permanent galleries plus visiting exhibitions to explore.
Places to Snap a Selfie
Looking for some insta-worthy Singapore places to snap a selfie? Read on!
Merlion Park
Standing tall by the waterfront at Marina Bay, this half-fish, half-lion sculpture symbolises the Singapore's origins as a fishing village and its modern transformation.
From here you have unbeatable views across the bay for selfies in front of the iconic Marina Bay Sands. Or take the cliched tourist snap of pretending the catch the Merlion's spouting water in your hands!
Marina Bay Sands Skypark Observation Deck
Located 56 storeys up from Marina Bay, atop the Marina Bay Sands hotel the Skypark Observation Deck boasts 360-degree views of Marina Bay and Singapore's world-class cityscape. You'll be able to spot the Supertrees at Gardens by the Bay, the skyscrapers of the CBD and beyond. Impressive, day or night.
The Jewel Waterfall
Located at the Jewel Changi Airport, the world's tallest indoor waterfall is a sight to behold and a must-snap for your photo memories. The water here cascades 40 meters from the ceiling to the basement and is surrounded by lush greenery.
Gelam Gallery
Singapore's first outdoor art gallery has transformed the back lanes of Muscat Street in the Kampong Gelam neighbourhood. Once used for deliveries and garbage disposal, you'll now find murals and framed art from over 30 artists, both local and international. Instagrammers, get snapping!
Madame Tussauds
Like all the other Madame Tussauds found worldwide, you can rub shoulders with the doppelgangers of celebrities from the world of sport, music, cinema and history.
Unlike other Madame Tussauds attractions, here you can also jump aboard the 'Spirit of Singapore' boat for a ride through a celebration of Singapore. Or race against Lewis Hamilton in the VR Racing experience.
Museum of Ice Cream
The Museum of Ice Cream is a colourful and whimsical space filled with interactive ice cream-inspired installations. Much of it is specifically designed to be Instagram-worthy, so you can look forward to selfies in the giant sprinkle pool, banana-themed room, or a room filled with giant cherry sculptures.
Oh, and did we mention the unlimited ice cream tasting?
Haw Par Villa
This strange and surreal statue garden in the West of Singapore has hundreds of multi-coloured statues and tableaux depicting Chinese myths and legends. Photo opportunities abound for the snap-happy. The highlight is undoubtedly the 10 Courts of Hell, depicting scenes of bloodthirsty torture…