Our list of the best hotels in Singapore for families have been specially picked for their family friendly facilities – from themed rooms to outdoor pools, you're sure to have a blast.
Singapore is an excellent place for families to have fun at any time of the year. It has many family-friendly attractions, from the world-famous Singapore Zoo to Universal Studios, and plenty of family-friendly hotels with interconnecting rooms, kids' clubs, and themed lodgings.
Here, we've put together some of the best family hotels in Singapore that will make your stay an unforgettable experience with great bonding time for the whole family.
Disclaimer: This article may contain affiliate links. If you make a booking using these links, we may receive a small commission, at no extra cost to you.
Before we dive in, here is our pick of the best of the best: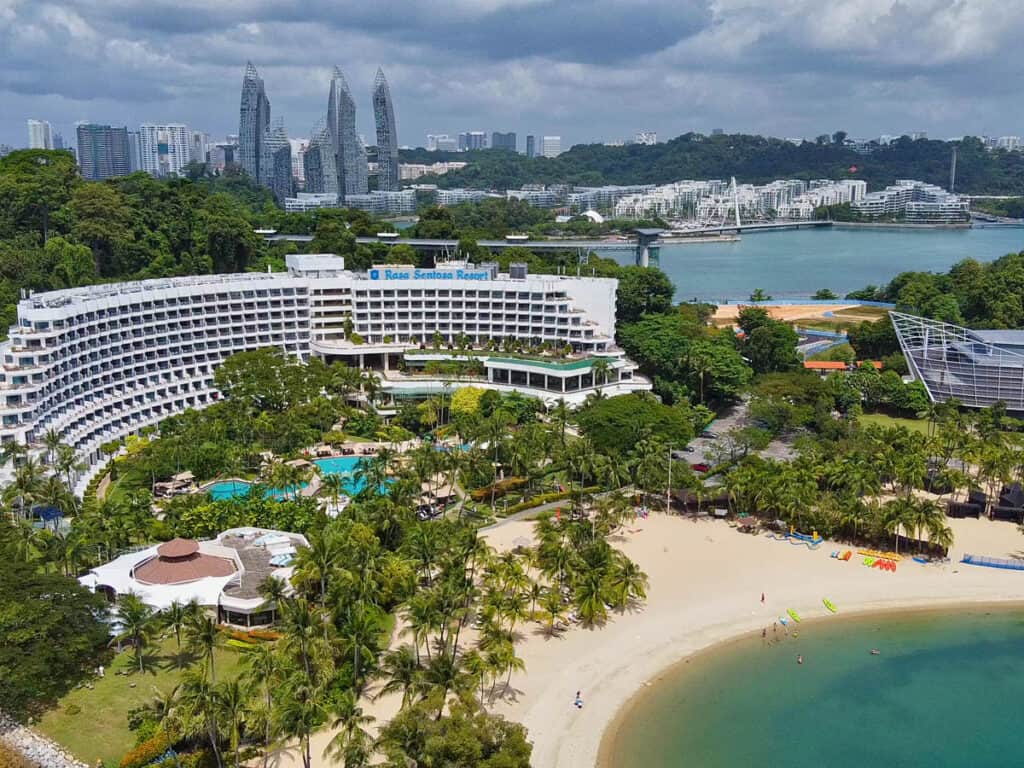 Shangri-La's Rasa Sentosa Resort
Singapore's only absolute beachfront property
Huge swimming pool with water slides and splash pad
Excellent kids club
Shangri-La Singapore
Dedicated family floor includes themed suites
Outdoor swimming pool, water play park and playground
Excellent kids club
Village Hotel Sentosa
Spacious outdoor pool deck area with 4 pools
Large number of family rooms
Located an easy walk from Resorts World Sentosa
The Best Singapore Hotels for families
Singapore has an extensive selection of family hotels to choose from. We've chosen a range of hotels in different parts of Singapore – Sentosa, Marina Bay and other central areas, and each has so much to offer.
If you're unsure which area is best for you – check out our article Where to Stay in Singapore.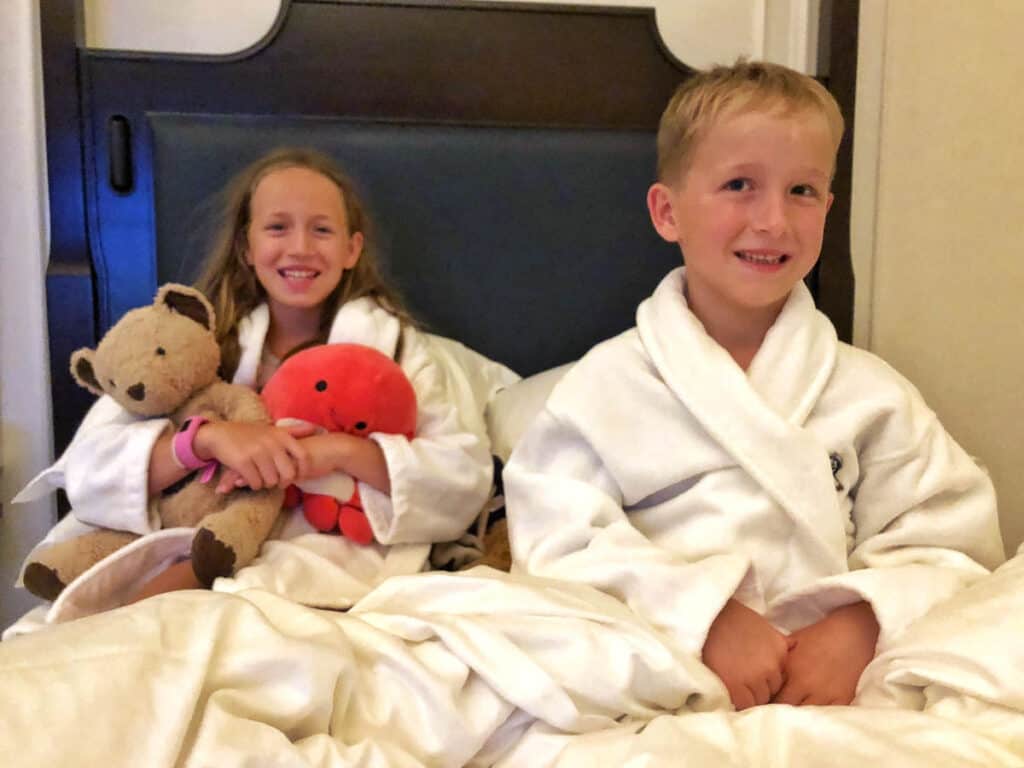 While some of these Singapore family hotels come with themed rooms, others have fun children's activities or amenities catering to children's needs. All of them have swimming pools, which you will appreciate in the heat of Singapore.
No matter the reason, our list of hotels will ensure you have a fantastic family vacation.
Let's dive in!
Family Hotels in Sentosa
Why you'll love Sentosa for a family vacation:
It is close to some of Singapore's best family attractions.
Hotels here are resort-style with lots of facilities.
You have the beach on your doorstep.
Read more about Sentosa in our Insider Guide to Sentosa Island.
Shangri-La Rasa Sentosa
Shangri-La's Rasa Sentosa Resort & Spa is widely considered the ultimate destination for family vacations in Singapore. This resort is the only absolute beachfront hotel in Singapore, and it boasts numerous family-friendly amenities.
The resort features one of Singapore's largest freeform swimming pools, with a separate children's pool with water slides and a play area.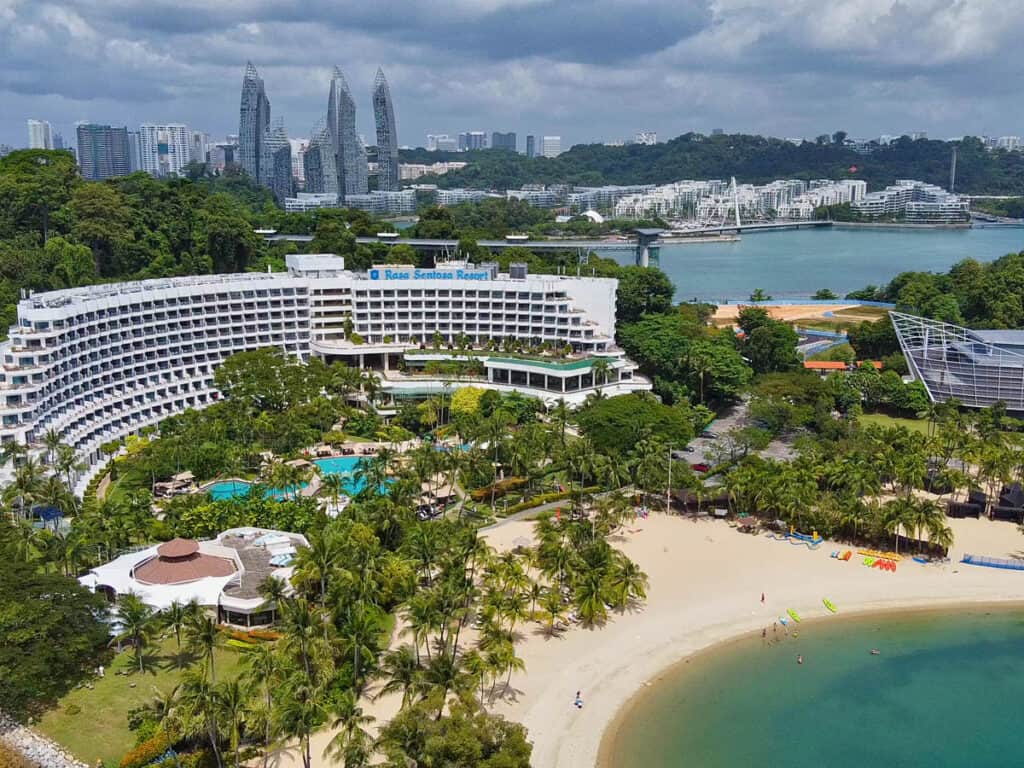 There's also a sea sports centre that offers a range of equipment, including kayaks, pedal boats, and bicycles for rent. Organised family activities such as beach games, water exercise, fitness fun, and garden tours are available daily.
"The "Fun Team" at the property are brilliant at entertaining the kids."

– Emma, Australia. Read more reviews here.
Another feature that sets this family-friendly resort apart is its fantastic kids' club, the Cool Zone. This spans 100 sqm over two stories and caters to children aged 5 to 12.
The centrepiece of the Cool Zone is a massive tree-house slide that winds down three levels into a pool of colourful balls, while the Mini Toots toddler zone offers plenty of soft-play areas.
Insider Tip: all public transport on Sentosa Island is free. Kids will love the beach tram that runs the length of the beaches, stopping off at family friendly beach clubs along the way.
Village Hotel Sentosa
The Village Hotel on Sentosa has been specifically designed with families in mind. It features a large number of family rooms and a beautiful spacious outdoor pool deck area.
There's also a variety of entertaining and kid-friendly activities that take place every day.
The family rooms consist of two connecting rooms, with two ensuite bathrooms and two televisions, ensuring everyone can watch what they want and avoid queuing for the shower in the morning.
While there is no dedicated kids club at the Village Hotel, the Mini Hotelier Programme is a fun option for younger children. A corridor of hotel rooms has been transformed into a kids' play area with themed rooms for role-playing and creative activities.
"The facilities are amazing and so well kept."

– Heather, Australia. Read more reviews here.
The onsite restaurant, Native Kitchen, is available within the hotel, while other dining options are located just across the courtyard in the Mess Hall.
The hotel's excellent location allows easy access to the rest of Sentosa, just a short walk from Resorts World Sentosa. You'll also find the Sentosa and hotel shuttle bus stops right outside, making both the beach and Vivocity just a short bus ride away.
Insider Tip: check out the snack station in the lobby where the kids can sample some local Singaporean treats.
Hard Rock Hotel
The Hard Rock Hotel is another excellent choice for a family-friendly resort on Sentosa Island. Located within the Resorts World Sentosa complex, it is right on the doorstep of some of Sentosa's best attractions, including Universal Studios Singapore, Adventure Cove Waterpark and the SEA Aquarium.
The contemporary rooms and suites are uniquely furnished with modern decor and ambient lighting and feature state-of-the-art entertainment systems.
We particularly love that all rooms have pull-out beds to accommodate the whole family. Those staying in the Rock Star Suites will also enjoy a spacious living room area and balconies with pool views.
"The pools and memorabilia around the hotel were amazing."

– Emma, Australia. Read more reviews here.
Kids will love the free-form pool with poolside cabanas, a sandy beach with swaying palm trees, and even a beach volleyball court.
When you're ready to explore Singapore, hop aboard the monorail to Vivocity shopping mall to connect with the MRT.
Insider Tip: The Hard Rock Cafe is a popular spot with kids for lunch or dinner, or check out everyone's favourite dumpling restaurant, Din Tai Fung – just a few minutes walk away.
Amara Sanctuary Resort Sentosa
The Amara Sanctuary Resort is a beautiful 5-star hotel located in a lush tropical setting in the heart of Sentosa.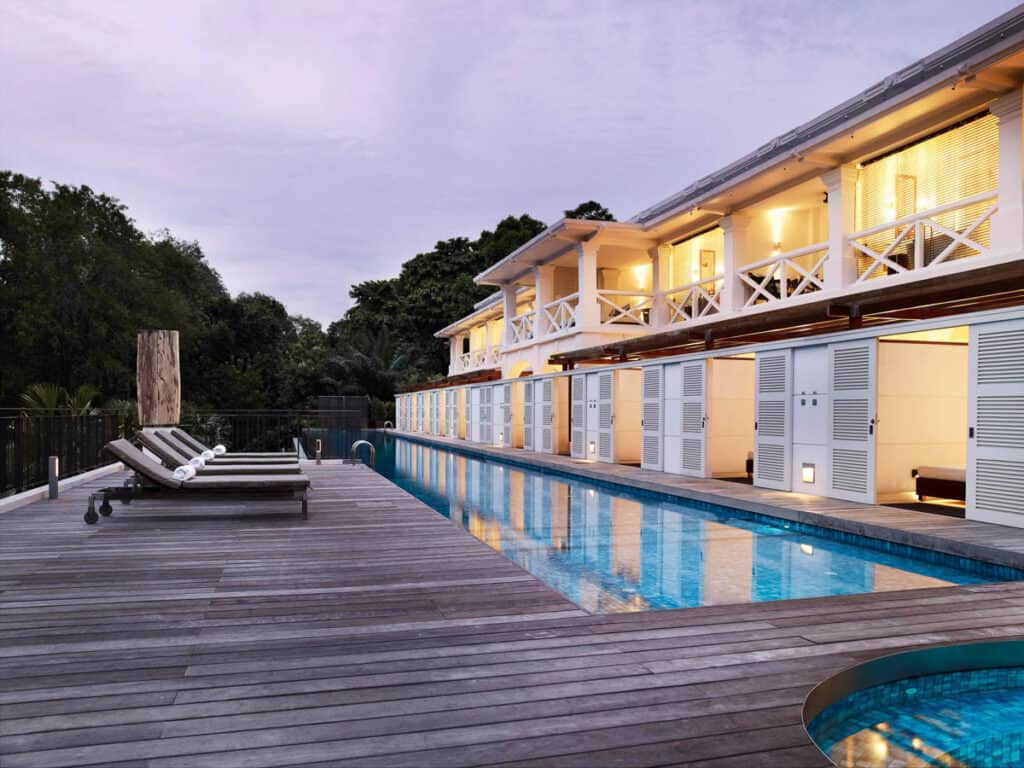 The hotel's six Family Suites are housed in a unique colonial-style heritage building that was formerly a WWII British Army barracks from the 1930s. These stunning suites feature a king-sized bed, living room and private verandah overlooking the lap pool.
"The resort is surrounded by the forest, and it's very relaxing."

– Acliu, Hong Kong. Read more reviews here.
If you're looking for something with a bit more space, the hotel also has one and two-bedroom villas that boast private patios with plunge pools.
Around the resort, you'll find three outdoor swimming pools, including a children's pool with water slides, a fitness centre and spa.
Family Hotels near Orchard Road
Why you'll love Orchard Road for a family vacation:
It is well-connected to the rest of Singapore via public transport.
You are close to several shopping malls, including supermarkets.
The shopping malls also have food courts for easy and cheap meal options.
Shangri-La Singapore
When it comes to family-friendly hotels in Singapore, you can't go wrong with the Shangri-La Singapore.
This hotel has an entire floor dedicated to family rooms in their Tower Wing, including their impressive two-bedroom themed suites. These spacious rooms are super fun for kids, with a tunnel dividing the adult and kids' bedrooms and kids' amenities in their bathroom.
Themes range from a castle theme to a safari theme… or maybe a space-themed suite is more your style.
The family floor also has a central pantry loaded with baby and kid supplies, such as high chairs, diapers, baby baths, and even washing machines, which we all know can be a godsend when travelling with kids.
"It is by far one of the most kid friendly hotels we have been to."

– Amirul, Singapore. Read more reviews here.
Another reason this is a great choice, is the awesome kids club, Buds by Shangri-La, where you can drop the kids off for a play session. It features a ball pit, play gym, an art room and karaoke room, and you can even book them in for a baking class.
The fun continues outdoors with an outdoor playground, water play zone, and splash pad. And that's before you've spent an afternoon exploring the resort pool.
All of this is within easy walking distance from Orchard Road in the heart of Singapore.
Insider Tip: Don't miss the buffet breakfast, it is one of the best in town! Plus with the kids' meal plan, kids up to age 6 eat free and kids 6-12 enjoy 50% off.
Four Seasons Hotel Singapore
The Four Seasons Hotel is conveniently located in the heart of Orchard Road and has spacious and luxurious rooms perfect for families. All guest rooms allow rollaway beds and cribs.
Four Seasons pride itself on being family-friendly. Its Singapore hotel is no exception, with kid-friendly amenities such as child-sized bathrobes, toys, and age-appropriate activity kits to make your kids' stay more comfortable.
The kid-friendly meal deals will also be appreciated: complimentary menu options for those under six and 50% off breakfast for kids aged seven through to 12 – a great perk!
"The pool on the top floor was the perfect near private place to unwind & help to deal with jet lag"

– Anne, Serbia. Read more reviews here.
Families will love the rooftop pool on the hotel's 20th floor, complete with panoramic city views. There are several bars and restaurants to choose from, including Nobu Singapore and the excellent Cantonese restaurant Jiang-Nan Chun.
Family Hotels in Marina Bay
Why you'll love Marina Bay for a family vacation
You will be staying right in the most picturesque area of town.
There are loads of dining options right on your doorstep.
It is well connected via public transport to the rest of Singapore.
The Ritz Carlton Singapore
While The Ritz Carlton is known for being a luxurious five-star hotel, it also has a well-known kids programme known as Ritz Kids. With this programme, kids between the ages of four and 12 can collect their Welcome Kit during their stay, including an Activity Book and an Adventurer Passport.
There are also welcome amenities for young guests and infants and toddlers below the age of four. If you're looking for something extra special, The Ritz Carlton even has a Ritz Kids Night Safari sleeping tent to bring the outdoor adventure experience inside.
"Our new favourite hotel in Singapore! We were made to feel so welcome from the second we walked through the door."

– Stephen, United Kingdom. Read more reviews here.
A children's menu is also available 24 hours, and those two and under also enjoy complimentary meals.
The three-tiered timber pool deck, with a 25-m swimming pool, sun loungers and private cabanas, is the perfect place to spend some family chill out after a hard sightseeing day.
Marina Bay Sands
We had to include the Marina Bay Sands because who doesn't want a family photo at the world-famous rooftop infinity pool?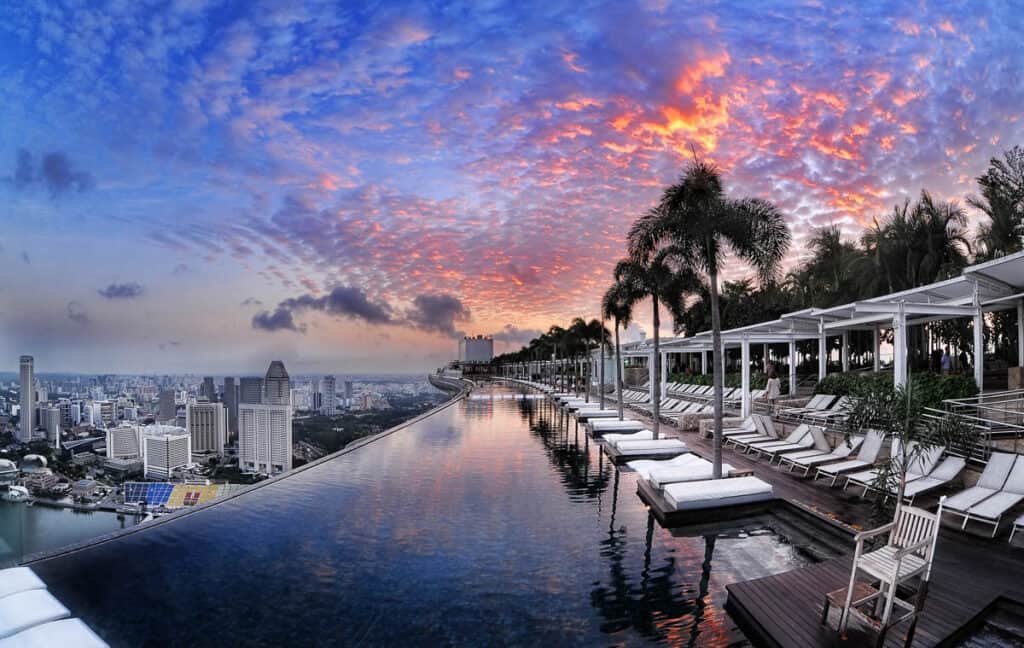 Renowned for its incredible architecture and superb dining options, Marina Bay Sands is also a great hotel for family stays. Several room categories are available with two queen beds, and all rooms boast fantastic views of the city or Gardens by the Bay.
"The infinity pool was just out of this world!"

– Mark, Australia. Read more reviews here.
The location can't be beaten – you have pedestrian access to the rest of the Marina Bay Area and a short walk to Gardens by the Bay. Dining options are also aplenty at Marina Bay Sands, where you've got everything from casual cuisine to Michelin-starred dining.
Insider Tip: While you're there, be sure to check out the neighbouring ArtScience Museum and its fantastic FutureWorld exhibition.
The Fullerton Hotel
The Fullerton Hotel is one of Singapore's best-loved hotels. Housed within one of the city's most iconic buildings, it was built in 1928 and served as the General Post Office.
It was converted into a hotel in 2001 and now boasts 400 luxurious rooms and suites with several room categories accommodating families.
Kids are greeted to the iconic hotel with activity colouring books and ice cream vouchers upon arrival. The hotel is also conveniently located on the Singapore River pedestrian zone, making it easy for families to stroll to nearby attractions and restaurants with a stroller.
"The swimming pool overlooking boat quay was the highlight for us."

– Melissa, United Kingdom. Read more reviews here.
The hotel also has good dining options, including dim sum lunches in Jade and afternoon tea in the lobby. Our favourite, though, is breakfast on the terrace as the boats cruise by on the Singapore River.
The swimming pool is another highlight of this Singapore hotel. Surrounded by Doric columns and overlooking the Singapore River and the Civic District's neo-classical buildings, it's the perfect spot to cool off.
Pan Pacific Singapore
Another luxury hotel in the Marina Bay area, the Pan Pacific has really ramped up its kid-friendly offerings recently, with the opening of its children's play area and themed family suites.
The Urban Jungle Suite is especially adorable and has a separate sleeping zone, a jungle-themed room with a treehouse bunk bed, and even an inflatable rocking hippo!
There are also plenty of other amenities for children, from bath toys to an Urban Jungle Survival Pack. Children will also enjoy the Urban Jungle Village, an indoor play area on level four of the hotel with animal-themed slides and various activity zones.
"Comfortable rooms with great beds and amazing view."

– Vincent, Netherlands. Read more reviews here.
Also, within the hotel, you'll find a large swimming pool, garden games and even a bouncy castle at weekends.
More Family Hotels in Downtown Singapore
InterContinental Singapore
Another hotel rolling out the red carpet for kids is the Intercontinental Singapore.
The highlight for families is the King Suite Kids' Theme Room. This comes with a living area and a specially designed kids' zone featuring two custom-designed bunk beds with a slide, crawl spaces and a tepee.
"Location was great; staff were very helpful, friendly and professional; hotel was beautiful and service spot on."

-Sharon, Australia. Read more reviews here.
The room has in-room entertainment and galaxy night lights for the evening as a special touch. When you check in, you can also pick up an exclusive kids' activity booklet from the Front Desk.
The hotel also has a lovely swimming pool and several dining options.
Insider Tip: Walk a couple of blocks to Chijmes, where you will find several family friendly restaurants in a beautiful al fresco setting.
Grand Park City Hall
Located in the heart of the Civic District, the Grand Park City Hall has six sets of interconnecting family suites with kid-friendly amenities.
Each can accommodate two adults and three children and comes with an activity wall, a bean bag, and even a swing chair. There's also a chalkboard, feature wall, and a dining area. You could also opt for interconnecting rooms.
Within the hotel you'll also find an outdoor swimming pool with a kid's wading pool and an onsite restaurant.
"The room was great and the staff were unbelievably friendly and helpful!"

-Rupy, United Kingdom. Read more reviews here.
If you prefer to eat out, the hotel is just a short walk from Boat Quay and Clarke Quay, where you will find a huge choice of restaurants.
Furama RiverFront
When it comes to family suites and rooms without the massive price tag, Furama RiverFront has it all. They've got Family Rooms with two queen beds, Premier Family Rooms with bunk beds, Theme Rooms, Theme Suites and even an Executive Family Suite.
The Theme Suites will be the most popular with the kids, coming with two separate bedrooms, bunk beds and fun games and toys for the family.
"Kids enjoy it with a nice swimming pool and a mini playground for them to play."

– Zhong, Singapore. Read more reviews here.
There's also an outdoor swimming pool with toys for the little ones and a kid's play area. Dining-wise, there are two onsite restaurants and you're just a short walk to all the bars and restaurants at Robertson Quay.
Village Hotel Bugis
Village Hotel Bugis is another great option for families on a budget. Situated near Kampong Glam, the hotel is near plenty of dining options, the Sultan Mosque, and the Malay Heritage Centre.
The hotel has a Family Room that comes with multiple bedding configurations and a rain shower. There's also a Kid's Themed Room that comes with a king bed, a sofa bed, kids' bedding a small play area and kids' amenities.
"Family Room had a little tent, cute wall paper, stool for the kids in the toilet and the bathtub!"

-Aheng, Singapore. Read more reviews here.
The hotel also has an outdoor swimming pool that's perfect for unwinding, along with two restaurants.
Alternative Family-Friendly Hotels in Singapore
D'Resort at Downtown East
If you don't mind being out of town a bit and you're looking to just have some fun, look no further than D'Resort at Downtown East. It's one of Singapore's first nature-inspired, all-inclusive family staycation resorts with an integrated water park experience!
There are plenty of rooms here for you to choose from, whether that be the Rainforest Family room or the Rainforest Premier Suite.
For themed rooms, they've got both the Amazonian Jungle room and the Underwater room. In these rooms, there are bunk beds for the kids and a treasure box full of surprises.
"Excellent location, access to mall with great food options, great for kids as water park is right in front of hotel."

-Sura, Australia. Read more reviews here.
At D'Resort, there's plenty to do, whether it be watching the latest blockbusters at Cathay Cineplex, experiencing Singapore's biggest indoor skating rink, or heading to Pasir Ris Park to enjoy some sun, sea and sand. It's also close to Changi Airport; another bonus.
Gallop Kranji Farm Resort
For something completely different, give Gallop Kranji Farm Resort a shot. The hotel has a Family Suite perfect for larger families as it sleeps eight people and has a separate living area.
What's unique about this resort is that it spans 50,000 sqm and is surrounded by over 100 farms. A shuttle bus operates during the day, and you can head to the different farms, such as Bollywood Veggies or Hay Dairy. In addition, you can also explore Sungei Buloh Wetland Reserve or Kranji Reservoir Park.
There are two dining options for you to choose from, and children can also enjoy visiting the World of Bird Nest Museum, embark on a Herbal Farm tour, or head to the fishing spot to enjoy catching some fish!
You may also like these articles: