Our guide to Sentosa Island Singapore gives you everything you need to know to shop, eat, sleep and play on the Island of Fun.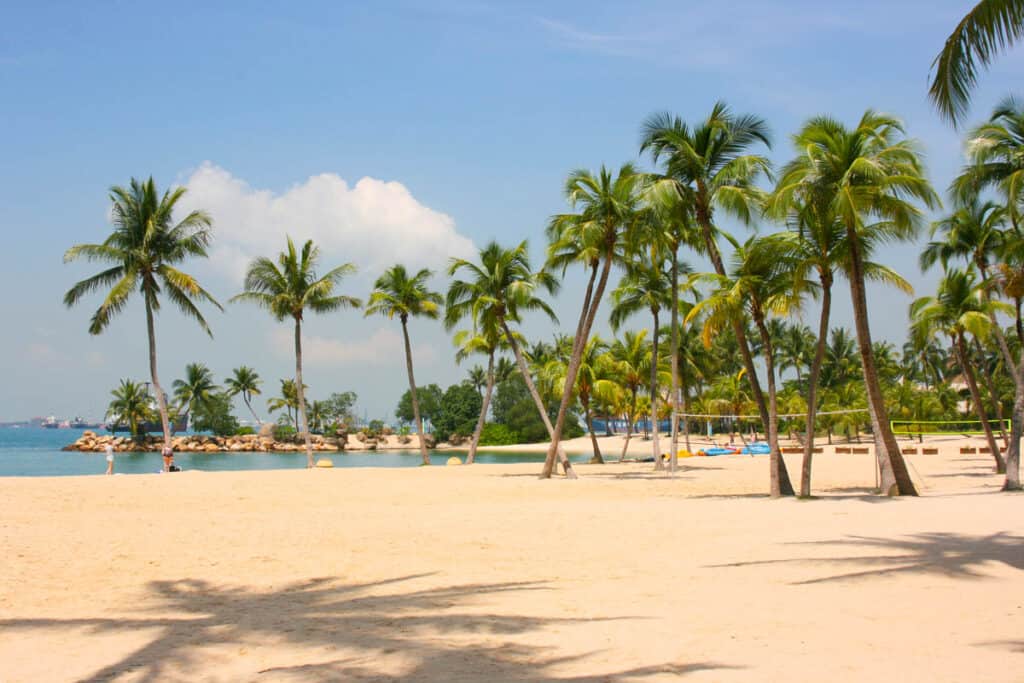 It's known as the Island of Fun or Singapore's Playground and you are certainly not short of fun things to do here in Sentosa.
Not only is it home to some of Singapore's biggest and best attractions (Universal Studios, SEA Aquarium, Adventure Cove Waterpark) but it also has loads of other fun activities, beaches, beach bars, free transport around the island, loads of restaurants and some of Singapore's best hotels.
In short, there's not a lot NOT to love about Sentosa, but in case you still need convincing: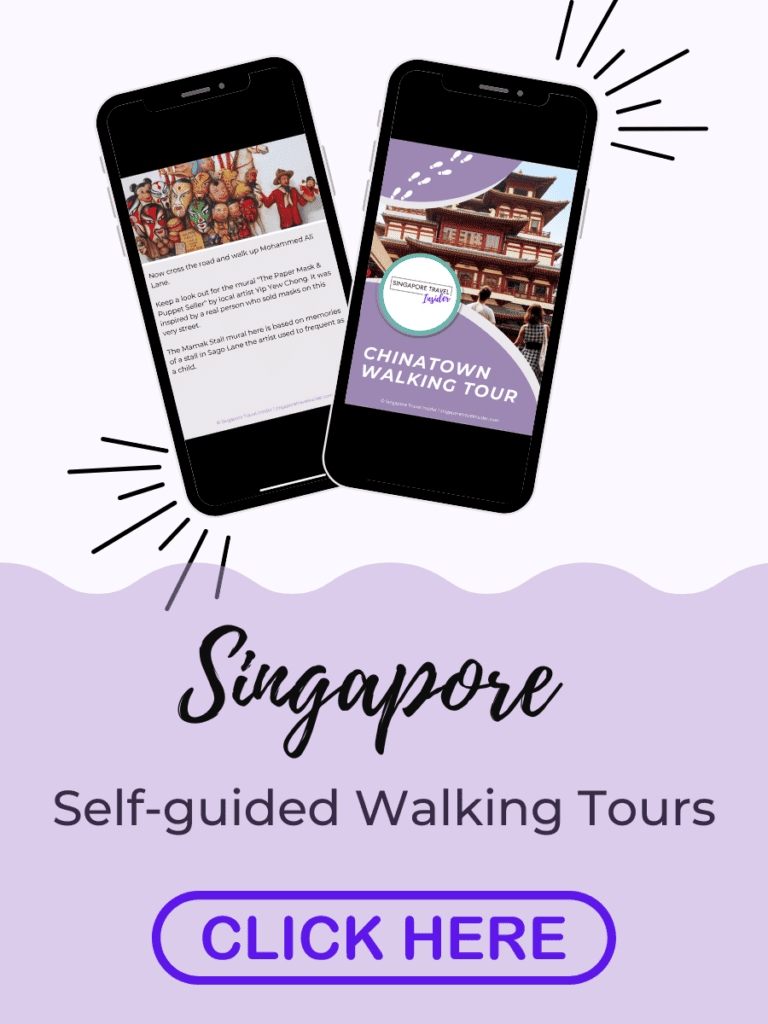 Why you'll love Sentosa
It's known as the Island of Fun!
It has some of Singapore's biggest and best attractions.
You'll find Singapore's best beaches here.
There is a good choice of beachfront bars, clubs and restaurants.
It has a good choice of high-end and family-friendly hotels.
There is free transport around the island.
Things to do on Sentosa
There is SO MUCH to do on Sentosa! It's not known as the Island of Fun for nothing.
From the big ticket items like Universal Studios to the Luge, MegaZip zip line or just playing on the beach, you are totally spoilt for choice when it comes to having fun on Sentosa. We're not going to cover off EVERYTHING here, but here is our pick of the best.
You can read more in our comprehensive guide of Things to do in Sentosa.
Universal Studios Singapore – this theme park is filled with movie-themed rides, roller coasters and other attractions. A must for movie fans and thrill seekers.
SEA Aquarium – an impressive aquarium with over 100,000 marine creatures from over 800 species. The Open Ocean at the end of the journey is mesmerising, its huge tank teeming with manta rays, sharks, and goliath grouper.
Adventure Cove Waterpark – this is where thrill seekers go when they want to cool off. You'll find six fun waterslides, a wave pool, lazy river and kids' water play area.
Mega Adventure Park – there's the MegaZip, a 450m flying fox; Mega Clijmb, a 36-obstacle tree ropes course; MegaJump, a parachute simulator and MegaBounce, a bungee-assisted trampoline Fun!
Skyline Luge – scream if you wanna go faster! This 650m Sentosa luge has been a favourite with kids in Singapore for years. Their catchphrase is "once is never enough" and they might just be right.
Fort Siloso – based in Singapore's only surviving coastal fort, this excellent museum remembers the soldiers who lost their lives trying to defend Singapore during WWII and gives you a feel for their lives here. Visits are via a self-guided tour and the museum is free to enter.
Fort Siloso Skywalk – take a walk with a view along this 180m trail that soars 11 storeys high. Enjoy views over the rainforest canopy, the beach and the fort itself.
Hydrodash – this floating obstacle course is located at Palawan Beach and is fun for kids and adults alike.
Southernmost Point of Continental Asia – if you're someone who likes to tick off significant landmarks, then cross the suspension bridge at Palawan beach and climb the tower to gaze out over the South China Sea.
Shopping in Sentosa
You don't come to Sentosa to shop, you come here to have fun. Aside from the odd gift shop and the 7-11 down at Beach Station, you won't find much shopping down at the beaches.
If you are desperate to flex your credit card, however, you'll need to head to Resorts World Sentosa. The mall here is home to high-end brands such as Bulgari, Cartier and Versace and you'll also find a few affordable stores, such as Candylicious candy store and a LEGO store.
For more mainstream shopping, jump aboard the Sentosa Express monorail, which will bring you directly into Vivocity shopping mall, one of the largest malls in Singapore.
Sentosa Restaurants
There's a good choice of restaurants in Sentosa. These can be found at Resorts World Sentosa, in and around the hotels and down at the beach.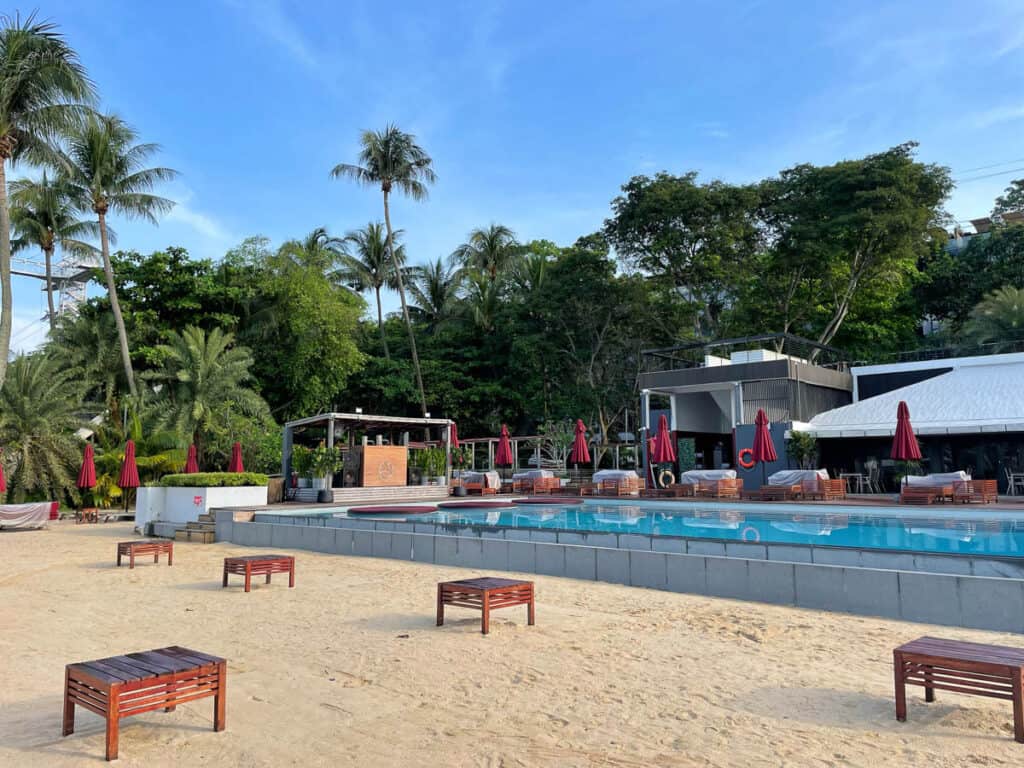 There are loads of restaurants to choose from, so we've tried to narrow it down a bit here for you, based on area.
Resorts World Sentosa Restaurants
There are plenty of options here for both dine-in and takeaway, from Mcdonald's and Toast Box to the ubiquitous Harry's Bar and fine dining establishments such as Osia and Table65.
Din Tai Fung – everyone's favourite dumpling restaurant is the perfect place to refuel from all that fun you'll be having. Be prepared to queue for a table, but it will be worth it.
Hard Rock Cafe – burgers, beers and rock music – I mean, what's not to love?
Sentosa Cove Restaurants
Sentosa Cove is a firm favourite with Singapore locals and expats thanks to its chilled vibe and views over the marina. Restaurants here tend to be casual but pricey, complementing the surrounding oceanfront villas and super-yachts.
Skirt – if you're looking for a good juicy steak, then this is your place. Located inside the W Hotel, this upmarket restaurant dishes up expertly grilled dry-aged meats and sustainable seafood.
Two Chefs Bar – offering a unique combination of Mexican and Italian food (hence the two chefs) plus a fun vibe and good cocktails.
Sabio by the Sea – one of Singapore's first tapas bars is still going strong here on Sentosa, dishing up Spanish favourites. They offer an all-you-can-eat 'Hangover Brunch' at weekends.
Sentosa Hotel restaurants
There are plenty of restaurants to choose from within the hotels on Sentosa, from family-friendly buffets such as
Bedrock Origin – located inside Wellness hotel Oasia Resort, this fine dining restaurant specialises in seafood and dry-aged meat cooked on the bone.
Cassia – this fine dining Chinese restaurant at luxury hotel The Capella offers contemporary Cantonese cuisine with a twist. Head here for an exquisite dim sum lunch or indulge in the elaborate dinner menu.
The Cliff – Cali-Italian restaurant at the Sofitel Sentosa Resort and Spa. We especially love the outdoor tables for the ambience – arrive before sunset for sundowner drinks.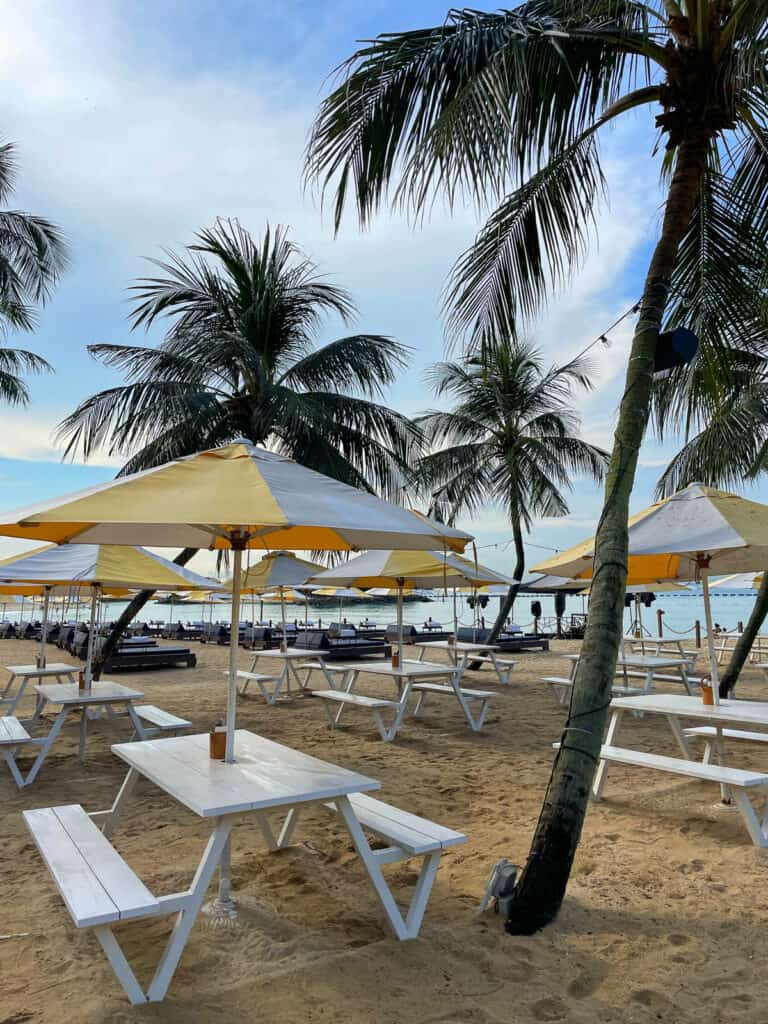 Sentosa Beach restaurants
If you want to dine with your toes in the sand, then you are in luck in Sentosa, with several beachfront restaurants to choose from. Here is our pick of the best.
FOC – this Mediterranean restaurant has a beach club vibe with its swimming pool and laid-back music. Food is a delicious selection of hot and cold Spanish tapas that can be eaten poolside or on the sand.
Coastes – one of Sentosa's oldest beach restaurants still pulls in the crowds who flock here for the laid-back vibes and comfort food. It is located on a lovely stretch of beach with easy access to the water, so perfect for families.
Trapizza – this beachfront pizza restaurant has long been a favourite with Singapore families thanks to its delicious wood-fired thin-crust pizzas. Pasta and Italian mains also on offer.
Sentosa Beach Clubs
In addition to restaurants, Sentosa does a good line in Beach Clubs.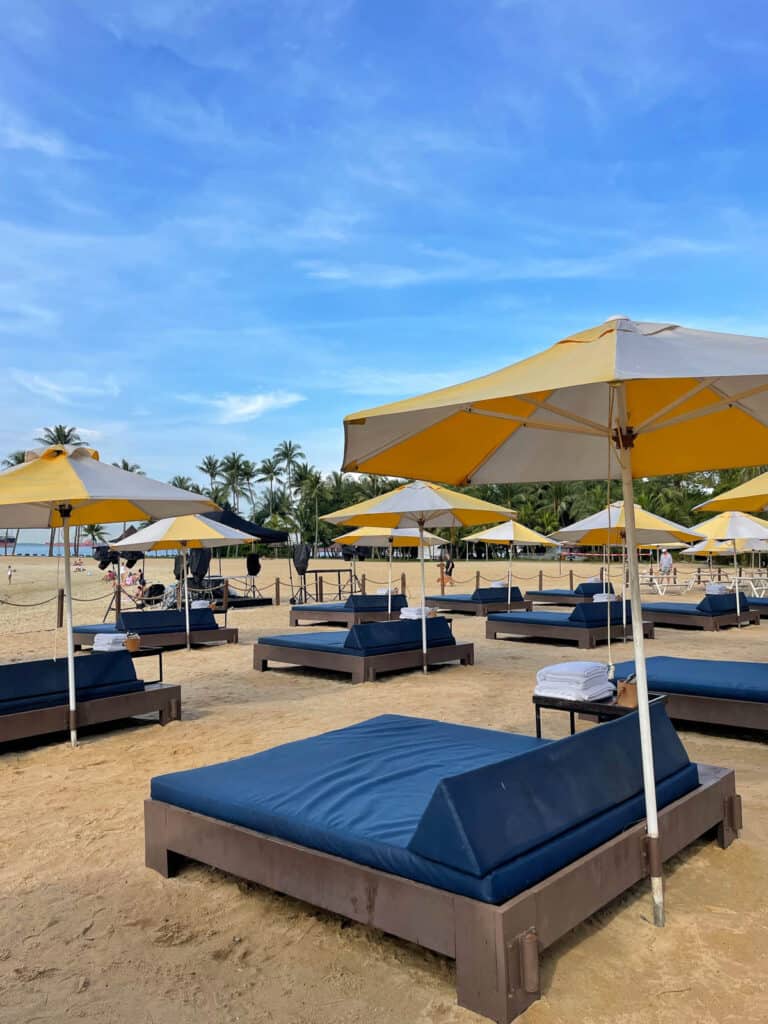 These combine swimming pools, restaurants and music and are a great place for everyone to hang out and enjoy the sunshine. Book ahead for the best seats.
Tanjong Beach Club – Sentosa's original beach club has come a long way since it was was little more than a beach shack called KM8. Today it is all about seeing and being seen on the numerous day beds or posing in the pool to the DJs tunes. Tanjong Beach
Rumours Beach Club – this sleek beach club boasts three swimming pools and plenty of cabanas and loungers for some serious beach lounging. There's pizza, salads and burgers on offer but our favourite is the Jimbaran Bali BBQ Seafood Platter. Siloso Beach
Ola Beach Club – it's a bit more laid-back here at Ola, with its Hawaiian-themed food and cocktails, and DJs after dark. There are also water sports on offer here, with kayaks and paddle board available to hire and banana boat rides too.
Sentosa Hotels
There are some fantastic hotels on Sentosa and it is a great place to stay in Singapore if you want to be close to the beach and attractions.
Hotels on Sentosa tend to be in the mid- to high-end and many have a strong focus on being family-friendly.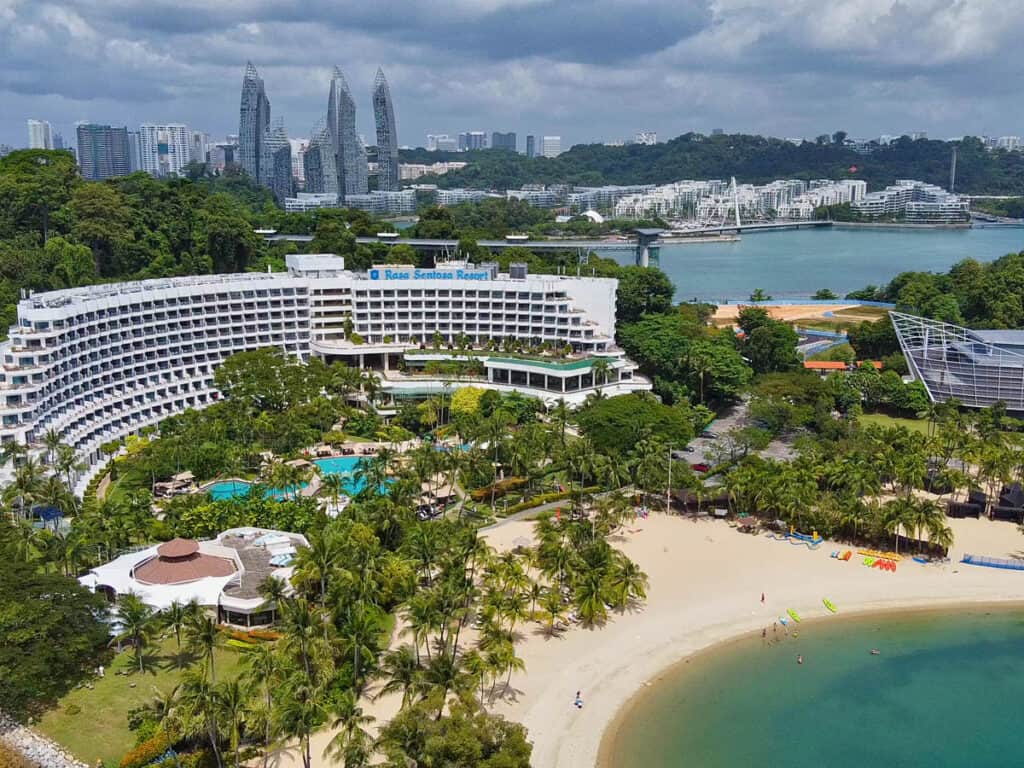 Here is our pick of some of the best hotels in Sentosa. You can read our full guide to the best hotels in Sentosa here.
How to get around Sentosa
Once you are on Sentosa, all public transport is free. Several bus routes link all the major attractions, and beach trams run along the length of the beaches.
Sentosa Express – the monorail connects Resorts World Station, Imbiah Station and Beach Station.
Shuttle Bus – there are three shuttle bus routes that connect the main hotels and attractions on Sentosa. These run every 15 minutes.
Beach Shuttle – these beach trams run the length of the beaches, from Siloso beach to Tanjong Beach. They are scheduled to arrive every 10 minutes.
How to get to Sentosa
There are several ways to get to Sentosa, some arguably more fun than others.
Cable Car to Sentosa
This is definitely our favourite way to get to Sentosa – combining transport with sightseeing.
Start your journey at Harbourfront station and ride the cable car up to Mount Faber. You can alight here at the top to enjoy the views then jump back on board the cable car and take the 12-minute journey across Keppel Harbour to Sentosa.
The Sentosa Line then takes you onward towards all the attractions of Sentosa at Merlion Station, Imbiah Lookout and Siloso Point.
To get to the Cable Car station at Harbourfront, take Exit B from the MRT and follow the signs to the Singapore Cable Car station at Harbourfront Tower II.
Sentosa Express Monorail
The Sentosa Express monorail connects Vivocity with Sentosa. Jump on board the monorail at Vivocity Station in Lobby L, Level 3 of the shopping mall (next to Food Republic).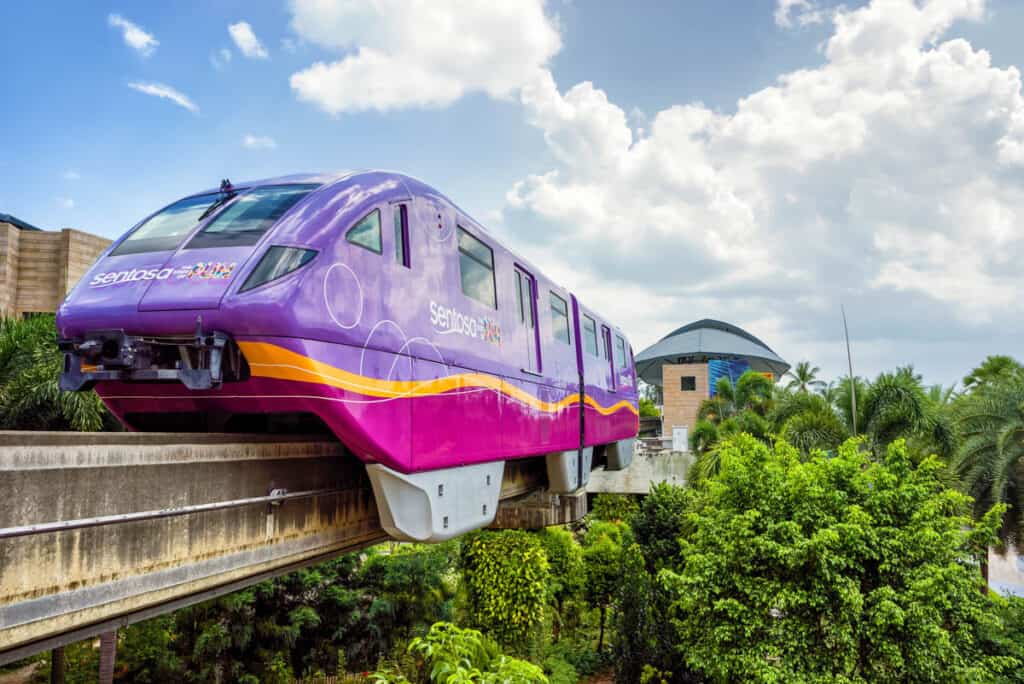 The Sentosa Express stops at Resorts World Station (for Resorts World Sentosa), Imbiah Station and Beach Station, located on the beach between Siloso and Palawan beaches.
Price is $4 per person (ages 3 and above).
There is an MRT station at Vivocity called Harbourfront Station, which is on the Northeast and Circle Lines.
Walking to Sentosa
The Sentosa Boardwalk connects Vivocity shopping mall with Sentosa. It's only about a 10-minute walk along the boardwalk, but there are also undercover travellators to help you along the way if you need.
Taxi to Sentosa
You can take a taxi to Sentosa, but note that you will need to pay admission charges on top of your taxi fare. These range from $2- $6 per vehicle, depending on the time of day.
Bus to Sentosa
The public bus no 123 also goes to Sentosa and terminates at the Beach Station bus terminal. You can jump aboard this bus at various stops along Orchard Rd, outside the Hotel Miramar at Havelock Rd, and along Tiong Bahru Rd.
Click here to see the full bus route.
Click here for a comprehensive guide to public transport in Singapore.
Want to explore more of Singapore? You might also like these district guides: