Our guide to Kampong Glam Singapore helps you discover where to eat, shop and explore in this hip part of town.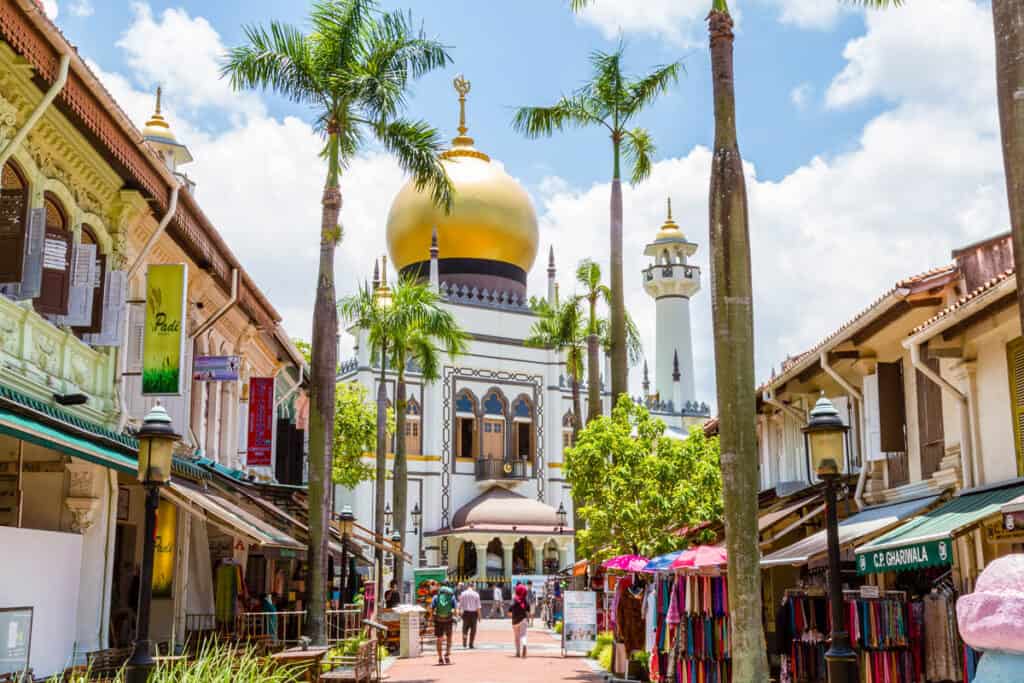 When Raffles made his town plan in 1822, he designated this area to the Bugis traders, Malays, Arabs, Javanese, Boyanese and other Muslim traders. It remains the Muslim centre of Singapore today and much like Chinatown or Little India, the area has a completely unique feel to it.
In Malay, Kampong means "village" (the area began as a fishing village) and the Gelam was a tree that once grew in abundance in the area.
The area grew in prominence after Sultan Hussein Shah made it his home after ceding Singapore to the East India Company. Today it is neither a fishing village nor a Sultan's home, but rather an eclectic and laid-back enclave, home to artists and boutique owners, hidden cocktail bars and casual restaurants.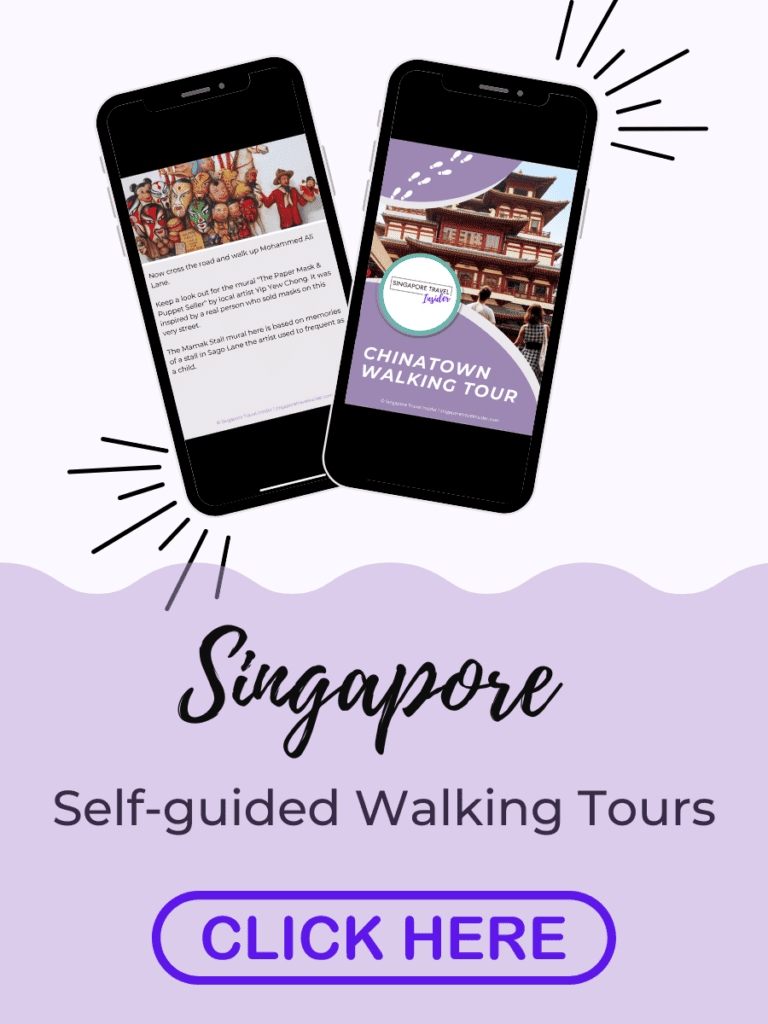 Why you'll love Kampong Glam
It has a cool hip vibe.
You'll find one of the city's most picturesque streets here.
There are some cool boutiques to browse.
Some of Singapore's best bakeries are to be found here.
There is a good selection of great-value restaurants.
Things to do in Kampong Glam
As well as wandering the streets and admiring the architecture, there is a thriving arts scene to discover in Kampong Glam. From Singapore's first outdoor art gallery to live performances at the Aliwal Arts Centre, it's the perfect place to get your art on.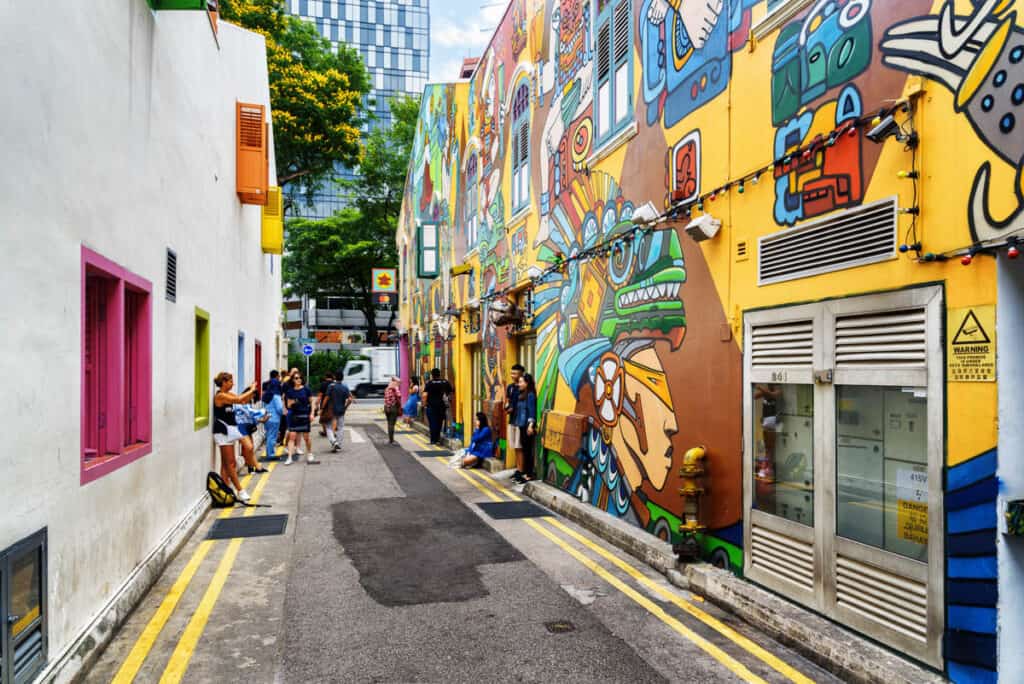 Of course, you can't visit Kampong Glam without paying a visit to the Sultan Mosque, Singapore's largest mosque that presides over the area. And visiting the Malay Heritage Centre will give you a keen insight into the heart and soul of the neighbourhood.
Sultan Mosque – the Masjid Sultan is the city's largest mosque. Originally built in 1824 (it was rebuilt in 1928), the huge golden dome and four minarets protect the main prayer hall that can accommodate 5,000 devotees. If you wish to enter, make sure you are appropriately dressed and note that it is closed during prayer times.
Gelam Gallery – Singapore's first outdoor art gallery has transformed the back lanes of Muscat street. Once reserved for deliveries and garbage disposal, the laneways are now home to murals and framed art from over 30 artists, both local and international. Instagrammers, get snapping!
Malay Heritage Centre – formerly the Sultan's palace, the Istana Kampong Glam is now home to the Malay Heritage Centre. Its nine galleries showcase the roots, history and material culture of the Singapore Malays.
Aliwal Arts Centre – this art centre has a strong focus on performing arts, incorporating live painting, music and dance performances. The Aliwal Urban Arts Festival is a highlight. Click here to see what's on.
Vintage Cameras Museum – who knew there was such a thing? But this quirky museum provides a fascinating insight into the history of photography. It showcases over 1,000 cameras dating from the late 19th century to the early 2000s. Don't miss the spy cameras and the pigeon camera, that was once attached to pigeons for taking aerial photos in the early 1900s.
Sightseeing tours in Kampong Glam
One of the best ways to get to know a new city is to take a tour with a local guide. You'll get your bearings quicker, and gain a more in-depth understanding of the history and culture.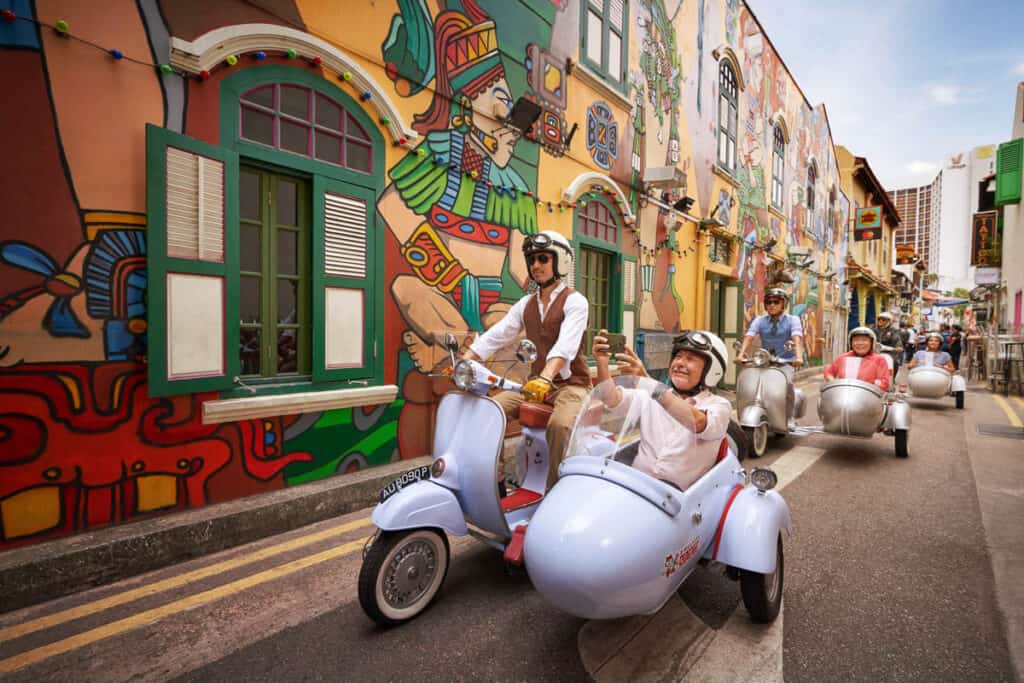 Here is our pick of the best Singapore tours that include Kampong Glam:
Sidecar Heritage Tours – a really memorable and unique tour around Kampong Glam, while your friendly guides offer stories of Singapore's history, offer cultural insights, and insider tips. Click here to learn more and book.
Trishaw Uncle Guided Tours – enjoy a nostalgic ride around the streets on board a trishaw. You'll learn the history and culture of the area via an audio narration and your 'uncle' will be happy to take photos of you. Click here to learn more and book.
Private Multi-cultural Food and Culture Walking Tour – explore the ethnic neighbourhoods of Chinatown, Little India, and Kampong Glam, sampling up to 10 local dishes along the way. Click here to learn more and book.
Want to explore the rest of Singapore? Read our pick of the Best Singapore Sightseeing Tours here.
Shopping in Kampong Glam
Once the domain of carpet and fabric stores, the arrival of cool boutiques and vintage record stores has transformed Kampong Glam into a bit of a hipster enclave.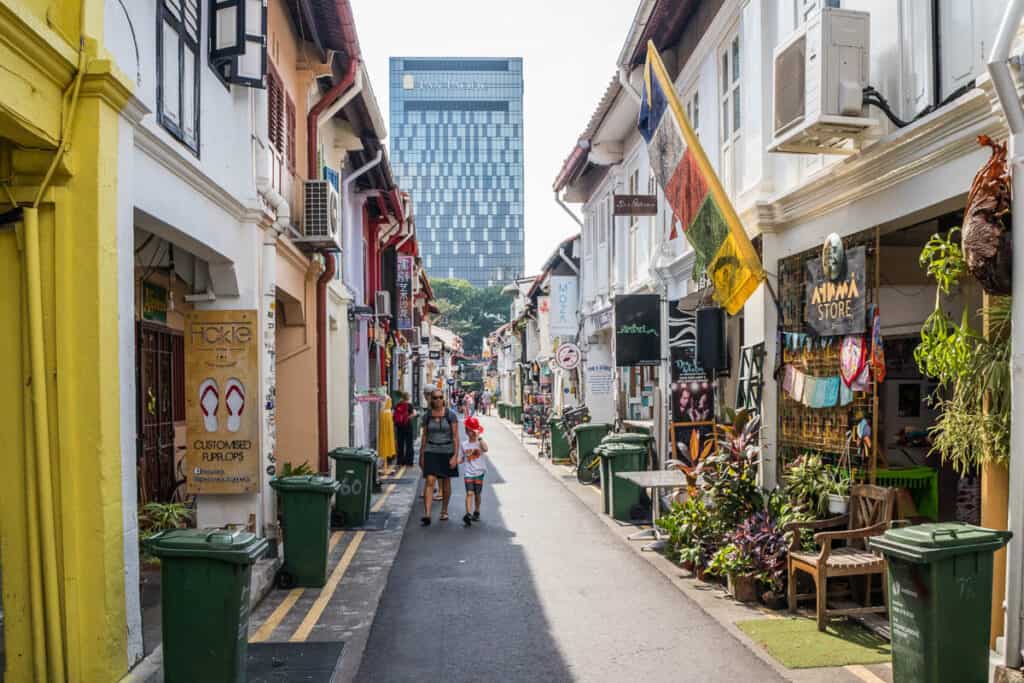 Bussorah St has a selection of standard souvenir shops, but it's way more fun to wander the back lanes such as Bali Lane and Haji Lane to discover trendy hole-in-the-wall boutiques and homeware stores.
Here are a few other stand-out stores to look out for during your wanders:
SIFR Aromatics – step inside for in-house blended perfume oils, scented candles, body balms and more. You can also take part in perfume discovery workshops and have a private custom perfume consultation. Conde Nast Traveller declared this "one of the finest custom perfumers in Southeast Asia". 42 Arab St.
Galeria Tokokita – this boutique specialises in batik. Learn about the history and significance of batik and shop for ready-to-wear batik clothing from Singapore brand Baju by Oniatta. 757A North Bridge Rd.
Kin Soon Minton House of Ribbons – Singapore's leading ribbon supplier since 1975, the shelves here are overflowing with every kind of ribbon you can imagine. All at wholesale prices too. 36 Arab St.
Fickle Store – tired of wearing the same pair of Havaianas as everyone else? This custom flip-flop store ensures your shoes suit your personality. 42 Haji Lane.
Kampong Glam Restaurants
Kampong Glam is strongly associated with Middle Eastern cuisine, so you will find plenty of reasonably-priced Turkish, Lebanese and Egyptian restaurants here. Note that many restaurants in the area are Halal so don't always expect to enjoy a beer with your meal.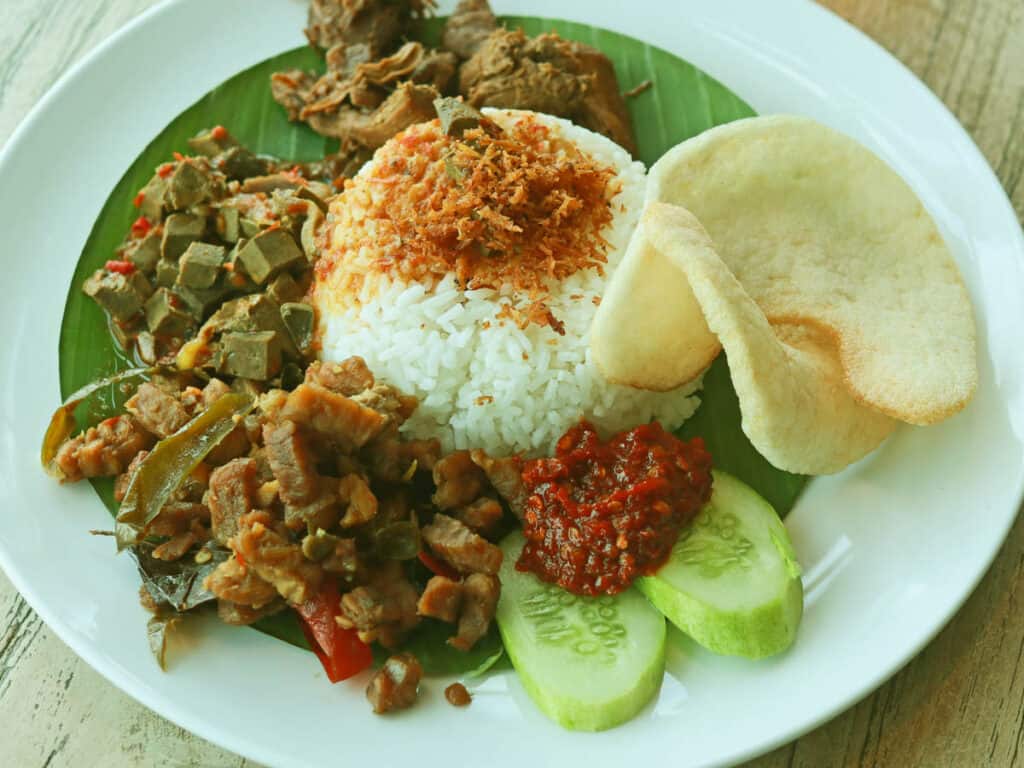 The area also has a good selection of Nasi Padang restaurants. These buffet-style Malay/Indonesian restaurants offer excellent value for money. We've highlighted our favourites below.
Click here to read more about the best local food in Singapore.
Nasi Padang Restaurants in Kampong Glam
Other cuisines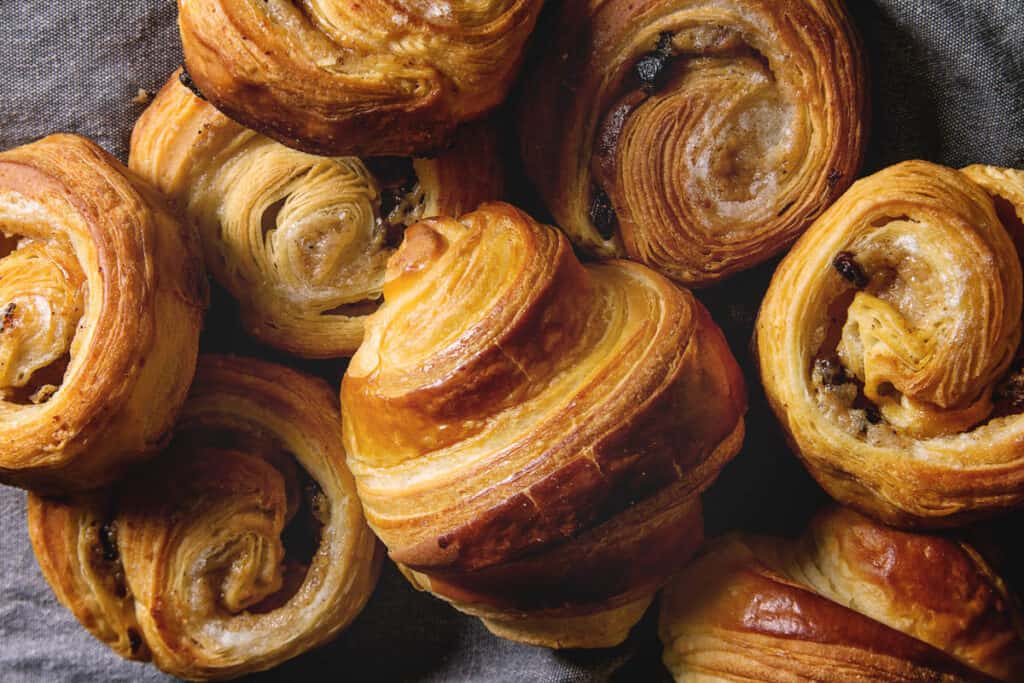 Kampong Glam has also recently become a bit of a hotspot for bakeries, so be sure to save some room for all the delicious treats these places have on offer.
Kampong Glam Bakeries
Kampong Glam Bars
Being the Muslim centre of Singapore, for a long time it was more traditionally home to alcohol-free cafes and it was hard to find anywhere serving alcohol.
This has definitely changed over the years and there are now a few bars to be found, although it is still a fairly sleepy part of town.
Blu Jaz Cafe – a long-term favourite with locals thanks to its packed calendar of live music and comedy nights. The cheap beer and cocktail deals also help bring in the crowds. 11 Bali Lane.
Bar Stories – Intimate bar serving original bespoke cocktails, with an eye for presentation. There's no menu here, so go with an open mind and be prepared to try something new. 55 Haji Lane.
Kampong Glam Hotels
Kampong Glam is known for its good value hotels. Here is our pick of where to stay in Kampong Glam: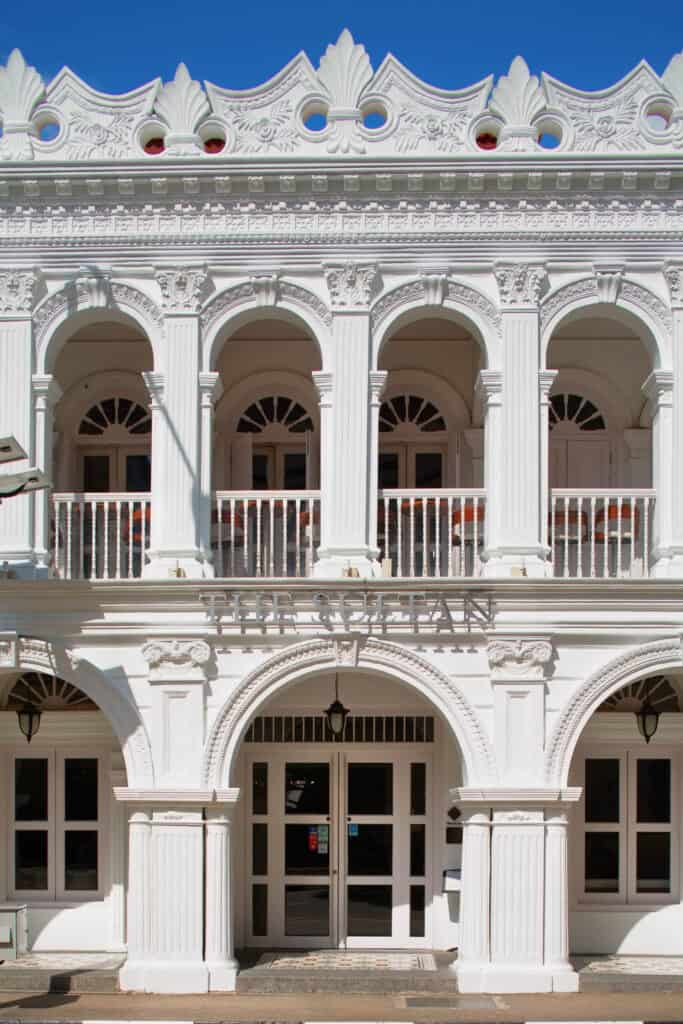 How to get to Kampong Glam
Kampong Glam is centrally located in Singapore and easy to get to by foot, MRT or taxi.
Walking to Kampong Glam – depending on where you are in town, you can easily walk to Kampong Glam. It will take you around 30 minutes from Boat Quay, 15 minutes from Raffles City and a 10-15 minute walk from Little India. Remember that Singapore is hot and humid so if you are coming from much further afield, you would be best to take public transport to get here.
MRT – Bugis MRT station is the closest to Kampong Glam and is within a 5-10 minute walk of most of the Kampong Glam attractions. It is located on the East West (EW – green) and Downtown (DTL – blue) lines. There are six exits at Bugis MRT station. Take Exit D for Kampong Glam.
Taxi – if you are not staying near an MRT station, remember that taxis are cheap and plentiful in Singapore. Depending on traffic, it should only take you around 10-15 minutes to get here by taxi from Orchard Road or Boat Quay.
Click here for a comprehensive guide to public transport in Singapore.
Love this article? You may also like these other Singapore district guides: