Our insider guide to Chinese New Year in Singapore gives you the low down on how to celebrate, where to go and what to eat during the Lunar New Year celebrations.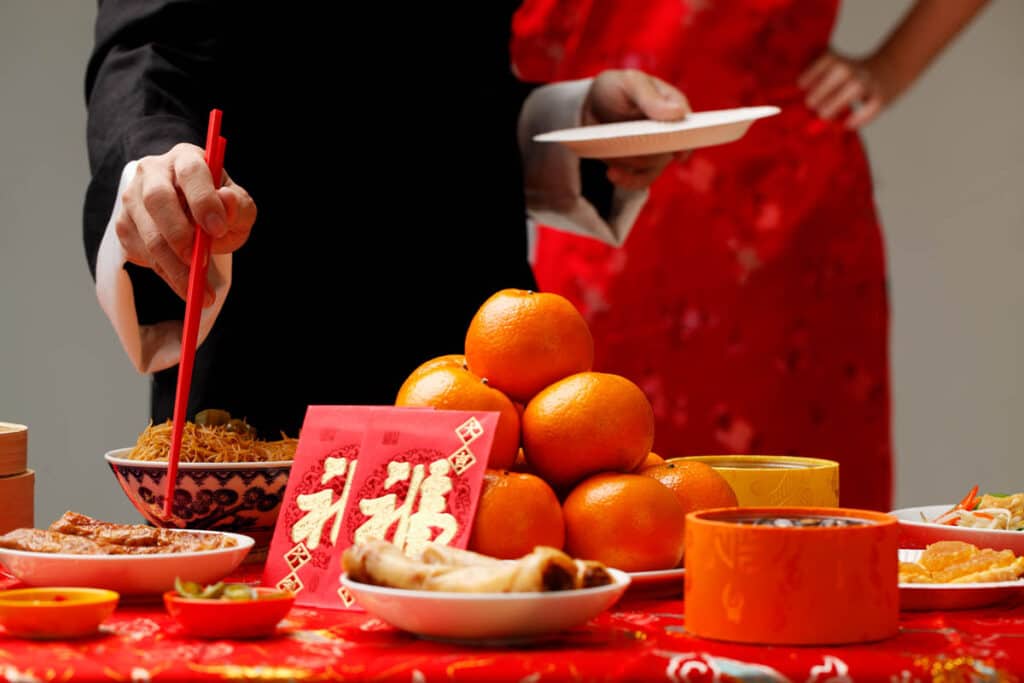 In Singapore, Chinese New Year (also known as Lunar New Year or Spring Festival) is one of the biggest holidays of the year. It is a time for families to come together to celebrate, exchange gifts and eat together.
It is also a time when the whole city seems to light up and celebrate, with lantern displays, cultural performances, lion dances, parades, food festivals and more.
Read on for more about how to celebrate Chinese New Year in Singapore.
When is Chinese New Year?
The dates of Chinese New Year change depending on the lunar calendar but usually takes place in late January or early February. The festival lasts for the first 15 days of the lunar new year, but only the first two days are public holidays in Singapore.
In 2023 (year of the Rabbit), Chinese New Year will Sunday 22nd January and in 2024 (year of the Dragon) it will be 10th February.
The city prepares for Chinese New Year for several weeks in the lead up to it.
What to do in Singapore at Chinese New Year
If you are visiting Singapore during Chinese New Year, there are always plenty of fun and festive activities taking place around the city.
It's a great time to head to Chinatown to take in the lanterns, decorations, food fairs, stage shows and general fun atmosphere.
Head to New Bridge Road, Eu Tong Sen and South Bridge Road to see the lights. The street light-up usually starts around 3 weeks before the Chinese New Year weekend.
You can learn more about the Chinatown festivals here.
There are also two large-scale celebrations that take place for the Singapore Chinese New Year festivities every year: the Chingay Parade and River HongBao. You can read more about these fun celebrations below.
Beyond these two events, you will likely come across lion dances and other cultural performances throughout the city during the celebrations.
It is also a good time to go shopping, as you will notice many Chinese New Year sales and discounts in the stores. Note however that some businesses will close during the Chinese New Year period.
Chingay Parade
The Chingay Parade is one of the biggest festivals of the year in Singapore. This Chinese New Year celebration is known for its extravaganza of colour and cultural diversity, and is always a fun and vibrant affair.
What began as a small neighbourhood parade in 1973 has grown to be one of the biggest street parades in Asia, featuring over 3,000 performers and has earned it the reputation of being the "Mardi Gras of the East".
Head to the F1 Pit building to watch performers from around the globe, including dancers, musicians, stilt walkers and acrobats as well as the famous street floats.
Note: this is a ticketed event. You can buy tickets here.
River HongBao
The River HongBao is another iconic event that now takes place at Gardens by the Bay. This festival includes large-scale lantern displays, live performances, food stalls, carnival rides and more.
Note: this event is free and no tickets are required. You can learn more here.
Chinese New Year Traditions in Singapore
There are several traditions for Singapore Chinese New Year that you will either observe, or can get involved with.
Gifting of Hong Bao
Hong Bao (also known as ang pao) are little red (sometimes gold) envelopes adorned with auspicious symbols and filled with money. They are given to friends and family members as a way to wish them good luck and prosperity in the new year.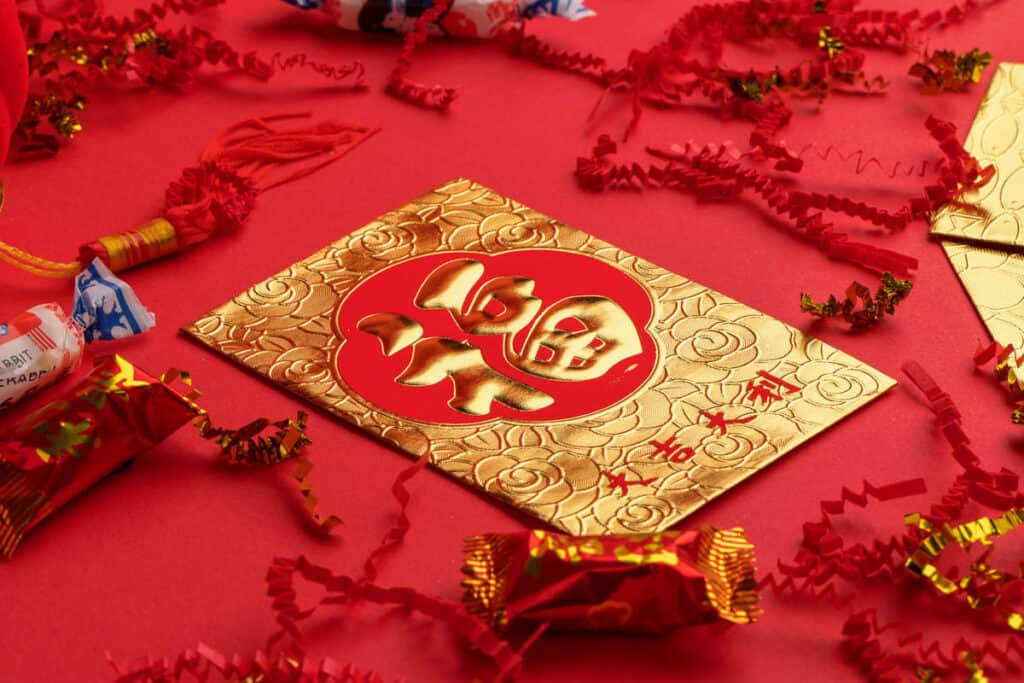 Traditionally Hong Bao are given to the children and younger members of the family and are also given out by employers to their employees.
The amount of money given in the red packets is discretionary, but should always be of an even number. However, be sure to avoid any amount with the number 4 in it, as it is considered to be unlucky. Also remember that being miserly is definitely not auspicious!
Reunion Dinner
The reunion dinner is another common tradition and is the time for families to come together to eat and celebrate.
It was traditionally held on Chinese New Year's eve in the home of the family matriarch. However, many Singaporean families choose to eat out these days, and it can take place any time during the festive season.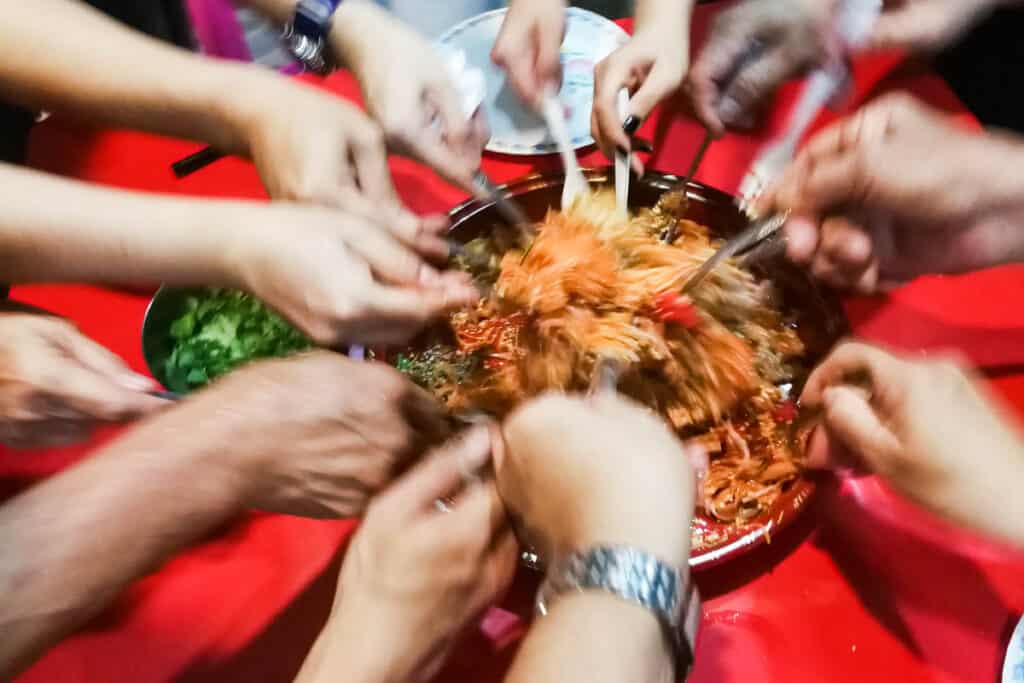 A steamboat or hot pot (where everyone cooks their own meal in a boiling pot of soup in the middle of the table) is a popular option, as is an elaborate Chinese banquet.
Another popular choice is a Yu Sheng salad (also known as Lo Hei), a raw fish salad that everyone tosses together with their chopsticks at the beginning of the meal for good fortune. Head to any Chinese restaurant during this time to try one for yourself.
Exchanging Oranges
Mandarin oranges are considered to be auspicious, and gifting them to friends and family symbolises wishing them good health and prosperity in the coming year.
If you visit anyone during the Chinese New Year period, be sure to gift your host or hostess with two oranges… just don't be surprised to be gifted two in return!
Lion Dances
There are always lots of lion dances taking place around Singapore during the Lunar New Year celebrations, so you are more than likely to come across one.
Lion dances are accompanied by loud drums and cymbals and always manage to attract a crowd.
Many businesses pay for lion dance troops to visit their place of business to ensure prosperity for the coming year. The business owner will feed the lion oranges, green leafy vegetables and hong bao during the dance to increase their chances of prosperity.
Eating Sweets
As if Chinese New Year was't good enough – it's actually considered auspicious to eat sweets, as it signifies that your year ahead will be filled with sweetness.
Head to the Chinatown food market to stock up on love letters, pineapple tarts, candied sweets and fruit, and nian gao ("new year cake").
Spring Cleaning
Many Singaporeans prepare for new year by undergoing a thorough spring clean as it's important to start each New Year with a fresh start.
Their houses will be cleaned spick and span, from top to bottom, symbolising sweeping away the dirt of the old year in order and welcoming in a brand shiny new year.
Spring cleaning doesn't stop with your the house either – this is also a time to get a haircut, buy new clothes, fill the house with fresh food and try to clear your debts.
Decorating
Once their houses have been thoroughly cleaned, Singaporeans will decorate them with symbols of good fortune.
These are usually in bright red and gold and include banners adorned with symbols of good fortune, kumquat trees, and vases of pussy willows, hung with auspicious items such as hong bao.
What do Singaporeans eat during Chinese New Year?
There are several traditional foods to look out for during Chinese New Year in Singapore. Here are a few to try:
Yusheng / Lo Hei: this raw fish salad contains several ingredients such as shredded vegetables and various sauces, each meant to represent an auspicious trait. Before eating this salad, everyone participates in the "prosperity toss" – using their chopsticks to toss the salad together. The higher the toss, the better, to signify reaching great heights in your goals – so a bit of fun is guaranteed!
Steamboat or Hot Pot – another popular option for a reunion dinner is a steamboat or hot pot. Symbolising a family reunion, a large round bubbling pot of broth takes centre stage on the table and family members cook their own food in the soup.
Chinese banquet – often families nowadays opt for an elaborate banquet at a restaurant. Popular items to eat at this time of year include abalone (considered auspicious as it is so expensive), fatt choy (a type of seaweed, whose name sounds like the Chinese for 'to prosper'), fish, prawns and serng (Chinese leek).
Fish – the Chinese word for fish yu sounds like the word for 'extra' or 'plenty' and so eating fish is significant of prosperity in the new year. Often families will serve a whole fish on New year's eve and save half of it for New Year's Day.
Bak Kwa – this deliciously sweet and smoky barbecued meat (usually pork) is popular all year round, but particularly so at this time of year, thanks to its deep red colour and luxury reputation.
Pineapple Tarts – the word for pineapple ong lai resembles the word for prosperity and so these gorgeous little parcels of sweet pineapple jam with crumbly pastry are a popular treat.
Nian Gao – this steamed glutinous rice cake in banana leaf is sticky and sweet. The name of these sticky rice cakes resembles the words for "a more prosperous year".
Love Letters – not the romantic kind, these little treats are crispy crunchy sweet wafers.
Kueh Bangkit – a white baked coconut/tapioca cookie that melts in your mouth. These traditional Nyona cookies were given as offerings to ancestors in the afterlife and come in various auspicious shapes, including money, goldfish, butterflies and flowers.
Kueh Baulu – little sponge cakes with a crisp outer shell, similar to madeleines.
Candied sweets and fruits – traditionally served in an octagonal dish known as the Eight Treasures Box (eight being an auspicious number), these signify having a 'sweet' year ahead.
What are good gifts to give people during Chinese New Year?
Hong Bao – these red envelopes are filled wth money (always in an even denomination) and given to younger family members and employees to wish them prosperity in the new year.
Oranges – if you visit someone in Singapore during Chinese New Year, be sure to bring two mandarin oranges with you. Your host will offer you two in exchange.
Chinese Sausage (lap cheong) – this cured sausage is considered a symbol of prosperity and abundance and is often gifted at this time of the year.
Peach blossoms – believed to give luck in love.
Kumquat trees – the Chinese word for gold "kum" sounds like that for oranges and so kumquats have become a symbol of prosperity.
Candied sweets and fruits – traditionally served in a dish with eight compartments (eight being an auspicious number), these signify having a 'sweet' year ahead.
Festive foods – popular Chinese New Year sweets and treats include love letters (also known as kueh balanda, pineapple tarts, bak kwa (barbecued meat) and nian gao ("new year cake").
Gong Xi Fa Cai!
You may also like these articles: