It's known as one of the most expensive cities in the world but just how much does a trip to Singapore cost? We dive in to find out.
Planning a trip to Singapore and wondering about the costs involved? Read on!
Singapore is one of the most popular travel destinations in Southeast Asia, but it is also known as one of the most expensive countries in the world.
The cost of travel in Singapore can obviously vary significantly depending on whether you're eyeing luxurious hotels or budget-friendly hostels, dining at hawker stalls or experiencing fine dining at Michelin-starred restaurants.
To help you plan your trip better, we'll cover aspects such as accommodation, dining, transportation, and activities, ensuring you can prepare your budget accordingly.
Whether you're a hostel and street food kind of guy or a luxury hotel and fine-dining gal, you'll see that there's something for everyone's taste buds and wallet.
So, let's take a look at the costs and experiences you are likely to encounter to help you make the most out of your stay in this diverse, exciting destination.
Looking to save money? Check out our article about planning a visit to Singapore on a Budget.
Disclaimer: This article contains affiliate links. If you make a booking using these links, we may receive a small commission, at no extra cost to you.
Got questions? Come join our Singapore Travel Tips Facebook group. It's the perfect place to ask questions and get inspiration for your trip!
Trip to Singapore Cost Overview
A trip to Singapore can vary greatly in cost depending on your budget and preferences.
For a low-cost visit, you may spend as little as $40 per day (not including accommodation). This would require you to eat local food in hawker centres, travel by public transport and avoid the most expensive attractions.
In contrast, a luxury trip could have you spending over $400 per day if you choose to eat in high-end restaurants and visit the most popular attractions.
The most popular attractions, such as Universal Studios Singapore, can cost as much as $180 per person if you opt for the Express pass. Conversely, you can wander around the Botanic Gardens for free.
It's difficult to give an overall average cost, as how much money you spend is dependent on a lot of factors. We break these down below to help you put together your Singapore travel budget.
Singapore Dollar
The currency used in Singapore is the Singapore Dollar (SGD, or S$). All prices in this article are in SGD.
Cost of Accommodation in Singapore
Whilst you can find some of the world's most expensive and luxury hotels in Singapore, there are plenty of other budget options too.
Average accommodation costs are as follows (based on a per-night cost).
Hostel – $25-50
Budget hotel – $80-100
Mid-range hotel – $200-350
Luxury hotel – $400 + (the sky's the limit!)
Price is also variable on location and number of guests in the room. You will find that hotels in the popular areas of Marina Bay, Orchard Road and Sentosa command higher rates than those in budget-friendly neighbourhoods such as Little India and Bugis.
Read more about the best areas to stay in Singapore here.
Other tips for working out your accommodation budget include:
Hotel room rates in Singapore are subject to a 10% service charge and 8% GST. These surcharges are often not quoted in hotel prices, so be sure to check.
Check if breakfast is included. Hotel breakfast buffets tend to be expensive.
Most Singapore hotels come with free WiFi, but check that it is included.
Choosing a hotel close to an MRT station will mean taking less taxis.
Cost of Transport in Singapore
Singapore offers a well-connected and efficient public transport system. Transport costs are low too, making it easy for you to explore the city without blowing your daily budget.
You can read our full guide to Singapore Public Transport here.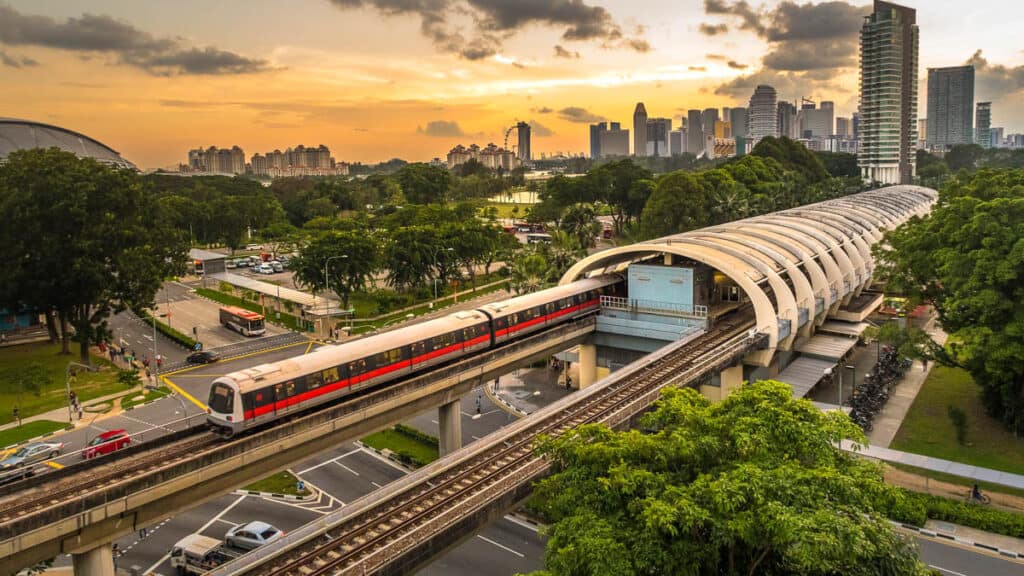 MRT
The most popular mode of public transport in Singapore with tourists is the MRT (Mass Rapid Transit). This efficient train system is affordable, with fares calculated based on distance.
For trips under 5km, you can expect to pay under S$1.
Longer trips with station changes may cost up to $2.50.
MRT services typically operate from 5:30 am until midnight, with peak hours occurring between 7 am and 9 am. Announcements and signage in the MRT are in English, so you shouldn't have any difficulty navigating the system.
Bus
Another option for getting around is the public buses. Singapore's bus network is extensive, covering most parts of the city, and bus fares are comparable to the MRT.
Taxi / Grab
Taxis are also surprisingly cheap in Singapore. All taxis run on meters, so you don't need to worry about negotiating a fare or encountering dishonest drivers.
Note that taxi surcharges of 25-50% apply at certain times of day, and there are also airport surcharges. Booking fees also apply if you use an app to call out a cab.
Download the Grab and Gojek apps (similar to Uber) to compare costs with taxis and private hire pick-ups. You will often find that taxis are cheaper and can also be booked using Grab.
As an idea you can expect to pay around:
Paying for public transport
You can use a debit or credit card to tap on and off public transport. Note that foreign-issued cards can incur extra charges though, so if you plan on using a lot of public transport, it can work out cheaper to get an EZ-Link card. You can read more about this in our guide to public transport in Singapore.
Singapore Tourist Pass
Another option for visitors is the Singapore Tourist Pass, a special EZ-link card that offers tourists unlimited travel on buses and the MRT.
These are available as 1-3 day passes, and cost as follows. Note that costs are inclusive of a $10 refundable deposit:
1 day: $22
2 days: $29
3 days: $34
2-day and 3-day cards must be used on consecutive days.
Another option is the 3-day SG Tourist Pass, which costs $29 and doesn't require a deposit.
I advise thinking about how much you are planning to use public transport before purchasing one, as they can work out more expensive if you don't use several trains or buses in a day.
Cost of Food and Drink in Singapore
Food in Singapore varies from cheap hawker meals to very expensive Michelin-starred dining and everything in between.
Fine dining in Singapore is expensive (especially those with a coveted Michelin Star or with a celebrity chef to their name), but beyond that, you can find a large choice of reasonably priced restaurants.
Here's what you can expect to pay:
Hawker centre meal – $5-10
Mid-range restaurant – $25-50 per person (not including alcohol)
Luxury restaurant – $100+ per person (not including alcohol)
Michelin-starred degustation – $300+ (not including alcohol)
Hawker Centres & Food Courts
For a more budget-friendly option, visiting hawker centres in Singapore is highly recommended. Not only will you find the best local food in Singapore, but you will also save those dollars.
These food havens offer a wide variety of food stalls selling local dishes, with prices ranging from S$4 to S$10 per dish. Some popular hawker centres include Tiong Bahru Market, Lau Pa Sat, and Maxwell Food Centre.
Water in Singapore
The good news is that when it comes to drinking water in Singapore, tap water is completely safe to drink. Instead of spending money on bottled water, which can cost around S$4 for a 1-litre bottle, you can simply refill your own bottle from the tap, saving both money and the environment.
Alcohol in Singapore
For those who enjoy a tipple, it's worth noting that alcohol is expensive in Singapore. If you want to indulge while in Singapore, consider visiting bars during happy hour to take advantage of discounts and promotions, or enjoying a beer at a hawker centre.
The average price you can expect to pay:
Beer – $15 per pint in a bar or $6-7 per bottle in a hawker centre
Wine (glass) – $12-18 house wine in a restaurant
Wine (bottle) – $60+ house wine in a restaurant
Cocktails – $20+
Singapore Sling at Raffles Hotel Long Bar – $37
Cost of Attractions and Activities in Singapore
The main attractions in Singapore tend to come with high ticket prices, so if you are planning to visit a number of them, you will need to budget accordingly.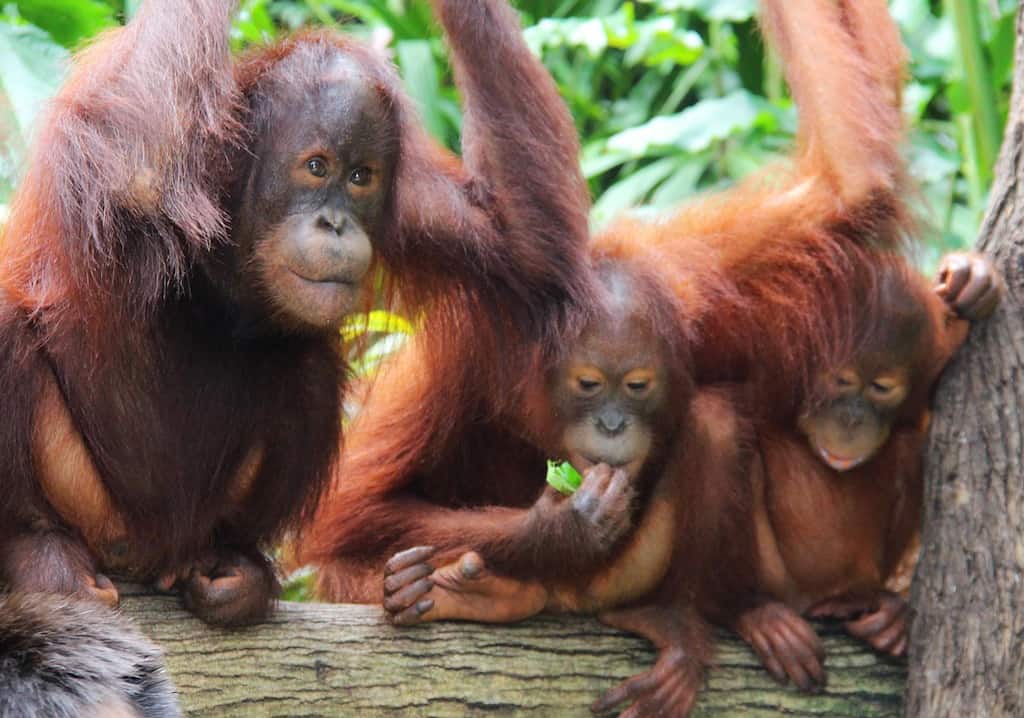 You can often get discounted attraction tickets via Klook and you can also sometimes buy combo tickets for a number of attractions for a discounted price.
Here are some examples of attraction and tour prices:
Singapore Zoo – $48 (adult) / $33 (child)
Gardens by the Bay Cloud Forest & Flower Dome -$53 (adult) / $40 (child)
Hop on Hop off bus – $38 (adult) / $30 (child)
Universal Studios Singapore – $82 (adult) / $61 (child)
National Musuem of Singapore – $15 (adult) / $10 (concession)
Food tour – $120 per person
Combo tickets examples:
Free Attractions
Despite its reputation for being expensive, there are several free attractions in Singapore to discover. 
The iconic Gardens by the Bay, known for its impressive Supertree Grove and light shows, cost nothing to enter, although some areas, such as the Cloud Forest and Flower Dome, have an entrance fee. There are plenty of other beautiful parks in Singapore to visit.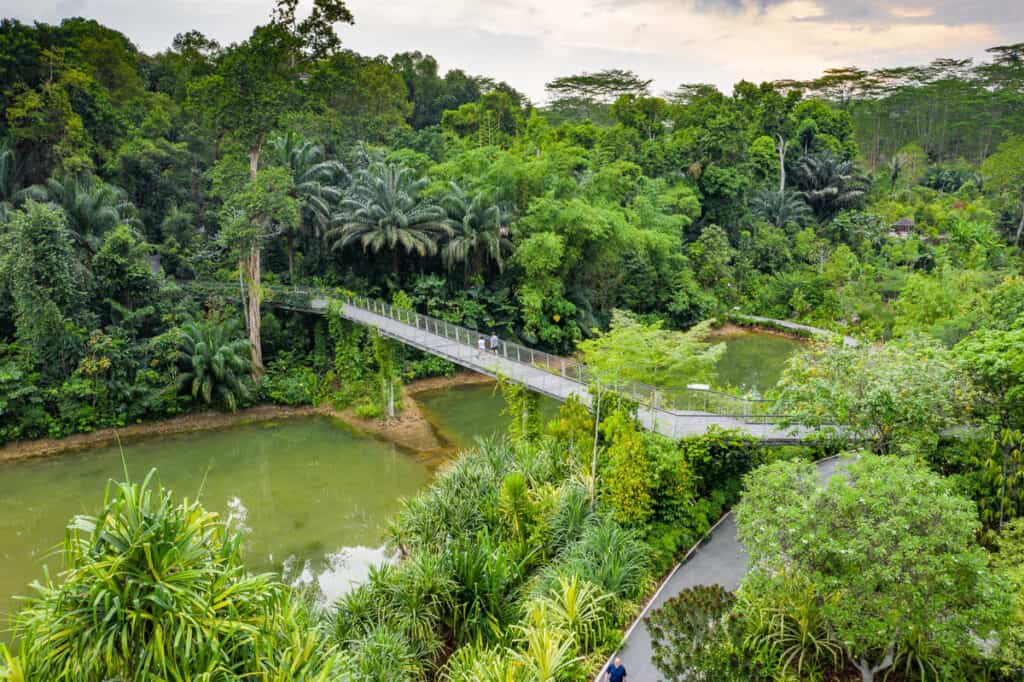 It also costs nothing to explore the cultural neighbourhoods of Chinatown, Little India, and Kampong Glam. These areas feature picturesque architecture, delicious food, and vibrant markets.
Here are some of our favourite free activities in Singapore:
Gardens by the Bay (except the OCBC Skyway and conservatories)
Botanic Gardens (except the Orchid Garden)
Buddha Tooth Relic Temple & Museum
Fort Siloso
MacRitchie Reservoir & Treetop Walk
Changi Museum
Sungei Buloh Wetland Reserve
Southern Ridges Walk
Cheap Flights to Singapore
Singapore's Changi Airport is one of the world's busiest transport hubs and so you have a huge choice of air carriers to choose from when flying to Singapore.
Singapore Airlines is one of the best airlines in the world, but it is also an expensive option. If you are flying in from a neighbouring Asian country, you can also take advantage of the variety of budget airlines offering flights to Singapore.
I recommend using Skyscanner to compare all the available options. You can also use it to look for the cheapest days to fly and set up price alerts to receive and email if the price changes.
Keep an eye on airline sales and promotions, and consider travelling during off-peak seasons to find the best deals on flights.
Travel Insurance for Singapore
Yes, travel insurance will add to your travel costs, but do not be tempted to skip it.
Medical and hospital expenses in Singapore are very expensive, so I highly recommend having medical insurance when you travel to Singapore. It's really not worth the risk.
If you are travelling from Australia, we always use CoverMore for our travel insurance. If you are travelling from elsewhere, we suggest you look at WorldNomads.
Tips for Saving Money in Singapore
While visiting Singapore can be expensive, there are several ways to save money during your trip. By following these tips, you'll be able to stretch your budget and get the most out of your Singapore adventure for less.
Use public transport. The MRT is cheap, clean and efficient and will get you to most places you need to get to.
Eat in hawker centres. Eating out in restaurants can be expensive, but it's easy to get a cheap meal in a hawker centre and you can find some great local food here.
Drink in hawker centres. Drinking a beer in a bar will set you back around $15 per pint. A bottle of beer in a hawker centre will cost just $6-7.
Look out for happy hours. There are always happy hours advertised in bars around Singapore. Look for 1-for-1 deals to keep your costs down.
Look for lunch deals. Some high-end restaurants offer great value lunch deals. This way, you can try Michelin-star dining at a fraction of the usual cost.
Don't buy bottled water. The tap water in Singapore is safe to drink. You need to drink a lot of water in Singapore to stay hydrated in the humidity. Bring a reusable water bottle and save up to $10 per day on water!
Buy discounted tickets. Booking ahead and using websites such as Klook can help you save money on attraction tickets.
Save on roaming charges by buying a Singtel Tourist SIM card and pick it up at Changi airport when you get here. This costs just $12 SGD and gives you 100GB 4G data, 500 mins of local calls and 30 mins of IDD calls over 14 days!
Use free WiFi. Lots of attractions, hotels, restaurants and shopping malls have free WiFi which will help keep your data usage down.
Download the Grab and Gojek apps and compare costs between ride shares and taxis at the time of booking.