Our Singapore Packing List will help ensure you have all the essentials for your Singapore trip. We share what to wear and list all the travel accessories you need.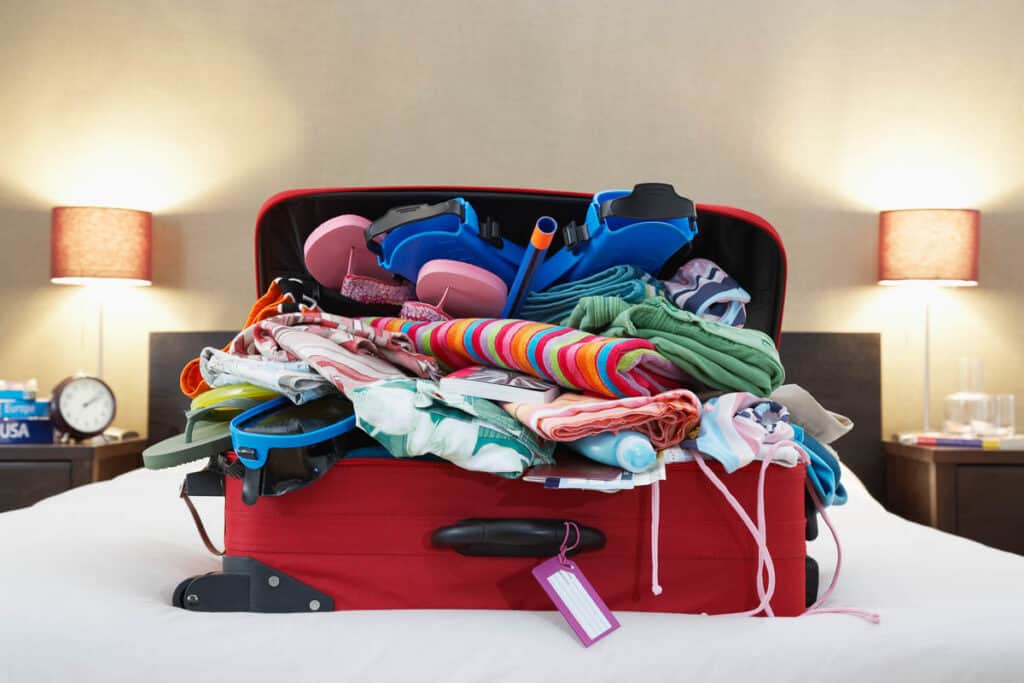 As you start preparing for your upcoming trip to Singapore, I wanted to help you make sure you have everything you need, to make your visit as enjoyable as possible.
Singapore is known for its tropical climate, with year-round hot and humid weather and frequent heavy rain showers.
Therefore, you're going to want to pack breathable, lightweight clothing that can handle both the heat and sudden rain. Additionally, packing a foldable umbrella is advisable, as the weather can be somewhat unpredictable.
We also recommend that you don't leave your hotel room without first applying your sunscreen. And it's wise to carry insect repellent and hand sanitiser with you too.
Ready to get packing? Let's dig in deeper!
Other articles you may like:
Disclaimer: This article contains affiliate links. If you make a booking using these links, we may receive a small commission, at no extra cost to you.
Got questions? Come join our Singapore Travel Tips Facebook group. It's the perfect place to ask questions and get inspiration for your trip!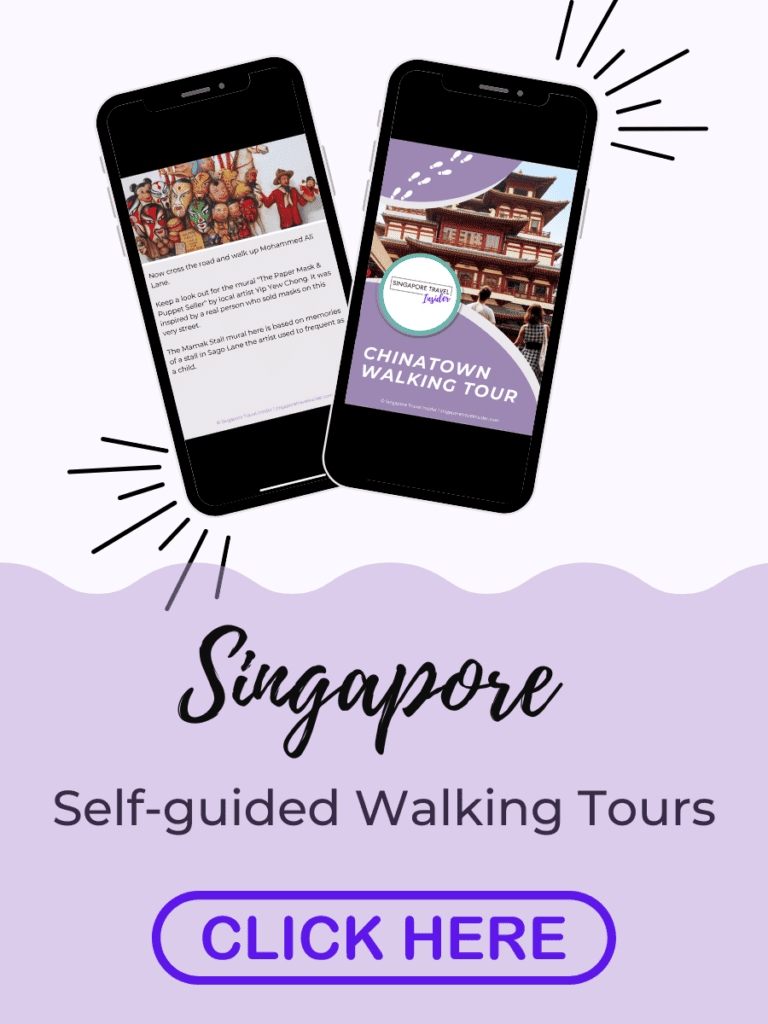 Clothes for Singapore
When choosing what to wear in Singapore, remember that the weather is hot and humid all year round. Rain showers are also common, as are thunderstorms, especially during monsoon season.
Click here to read about the best time to visit Singapore.
If you're not used to a tropical climate, then you are really going to feel it as soon as you leave the air-conditioned comfort of your hotel.
So lightweight clothes are recommended in Singapore.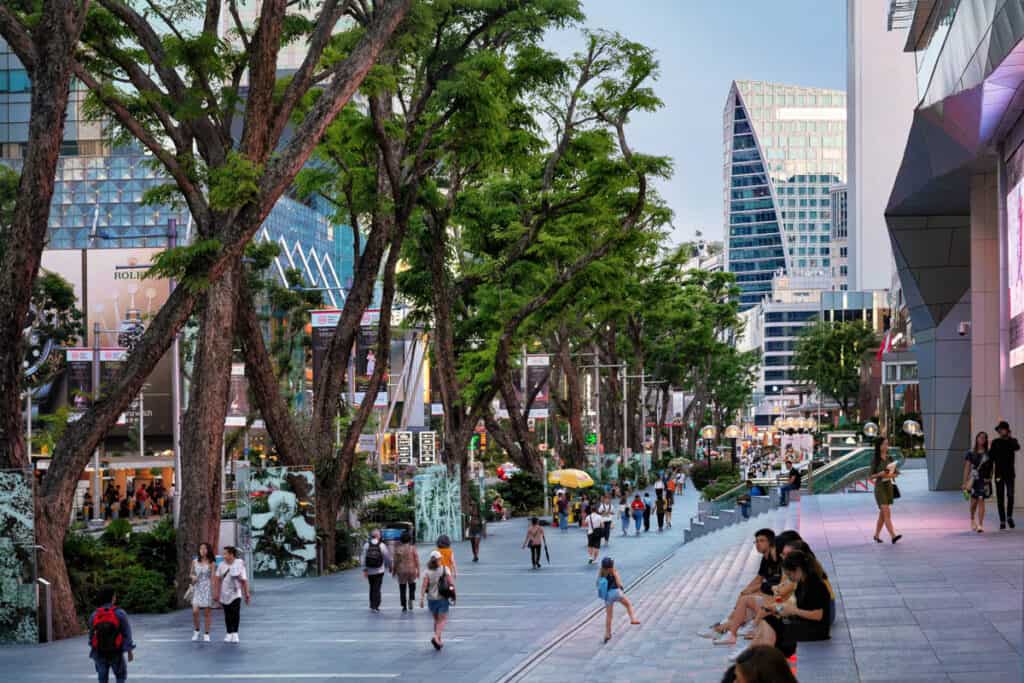 Although this is a modern busy city, the dress code for tourists is pretty relaxed. Shorts and flip-flops are the norm for daytime.
For women, I recommend including a pashmina or sarong in your day bag in case you want to enter temples that require you to cover up bare legs or shoulders. This can also be handy when inside shopping malls or indoor restaurants, as the air conditioning can be quite fierce in Singapore!
If you plan to head out to more upmarket restaurants or one of Singapore's rooftop bars in the evening, you will need to pack something more classy than shorts and t-shirts!
Dresses and heels are the norm here, although you can also get away with a nice pair of sandals. Men will need long pants and closed shoes for many bars and restaurants with a dress code.
Lightweight clothing: Shorts, skirts and t-shirts or sleeveless tops are perfect for keeping cool and comfortable during the day.
Swimsuit: Don't forget a swimsuit for hopping in your hotel pool to cool off, or if you choose to head down to one of the beaches on Sentosa.
Lightweight sweater: While it's hot outside, air-conditioned buildings like restaurants and malls can get quite chilly. Pack a lightweight sweater or cardigan to wear indoors.
Pashmina or sarong: If you are wearing shorts and sleeveless tops for sightseeing, pop a pashmina or sarong in your bag to easily cover up when entering a temple or other place of worship.
Sun hat or baseball cap: Protect yourself from the sun with a wide-brimmed hat or a cap with a visor.
Evening wear: Singaporeans like to dress up and love a designer label. You will want to pack something nice to wear in the evening if you are venturing to more upmarket establishments.
Shoes for Singapore
If you're planning to do a lot of walking, then you will obviously need a pair of comfortable shoes. Bear in mind the heat and humidity when choosing these, and also be mindful of the frequent rainstorms that can occur here.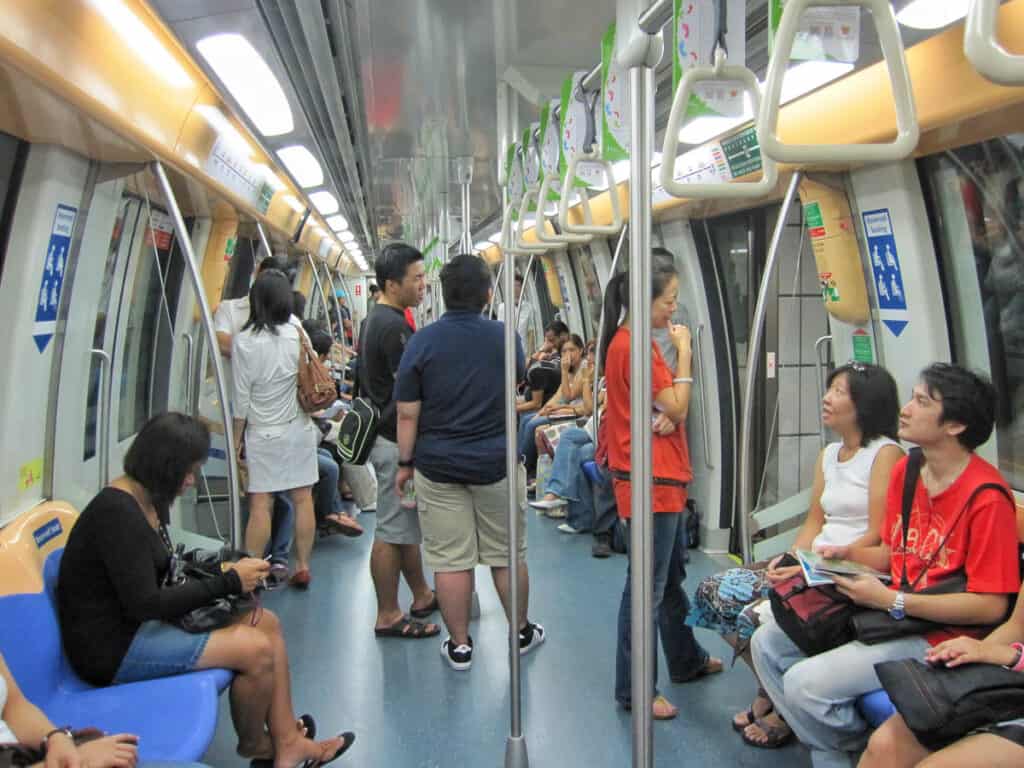 For general day-to-day activities, flip flops (or thongs) are very commonly worn here, and these will also be handy if you are heading to the beach or hotel swimming pool.
As with clothing, if you are planning to head to upmarket places in the evenings, your shoes will need to reflect this.
Comfortable walking shoes: Essential if you are planning to do a lot of sightseeing and travelling by MRT. Opt for lightweight fabric that dries quickly to cope with the heat, humidity and frequent rainstorms.
Flip flops / thongs: These are commonly worn in Singapore and are acceptable for daytime wear. They are also handy for slipping on and off if you are calling into temples while sightseeing. If you plan on going to a nice restaurant for lunch, be mindful of dress codes.
Evening shoes: If you are heading to more upmarket bars or restaurants, you will need to pack a pair of nice shoes. Closed shoes for men; heels or nice sandals for women.
Travel Accessories
In addition to the usual recommended travel accessories, such as packing cubes, headphones and travel wallets, we recommend the following items specifically for travel to Singapore.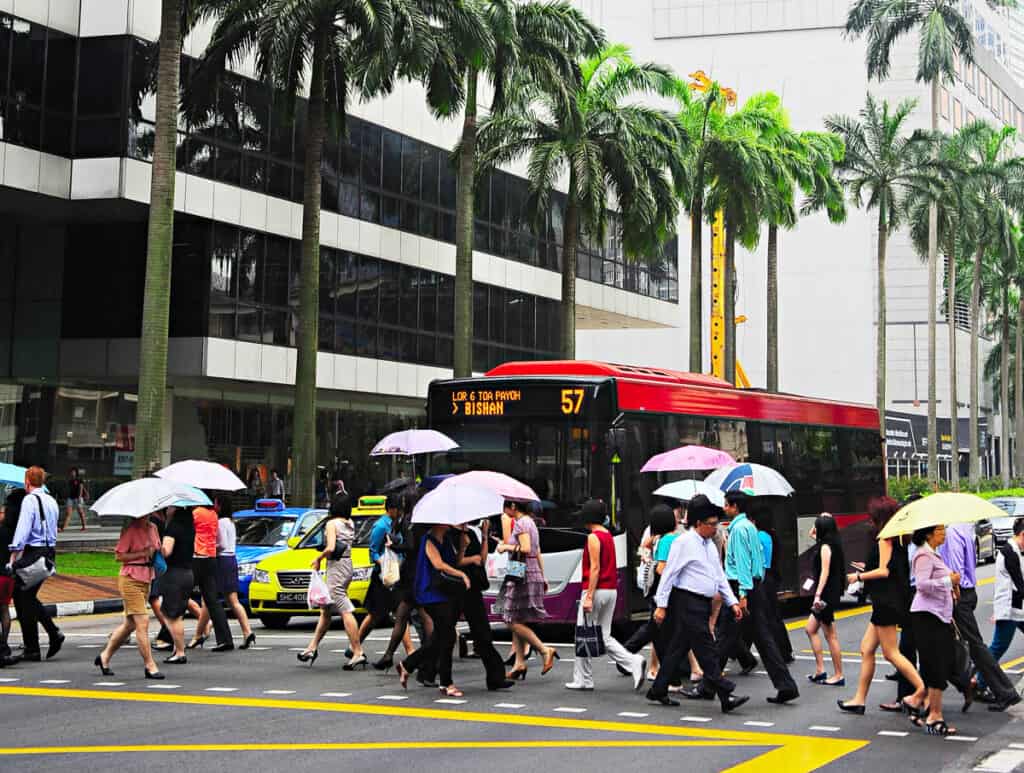 Day Bag: We recommend having a decent-sized day bag to carry all your essentials – suncream, umbrella, hand sanitiser, pashmina etc
Umbrella: Even when a day starts out with bright sunshine, it can soon turn into a thunderstorm, so it's always a good idea to have a foldable umbrella in your bag.
Travel adaptor: The standard electrical voltage in Singapore is 220V and most electrical sockets take the standard UK-style 3-prong plugs.
Portable charger: If you're using your phone as a camera, and using apps such as Google Maps or Grab while you're out and about, be sure to pack a portable charger to ensure you don't run out of battery.
Refillable water bottle: Due to the humidity, you should be sure to drink plenty of water in Singapore. Tap water is safe to drink here, and so a refillable water bottle is essential for filling up on the go.
Tourist SIM card: A tourist SIM card is a cost-effective way to access mobile data, make calls, and send messages during your stay in Singapore. Read our guide to choosing the best SIM card for Singapore here and all our recommended apps for Singapore here.
Toiletries & Personal Items
As well as all the usual toiletries and personal items you would pack for a vacation, we recommend including the following important items.
If you are precious about the way you look, the main concern here is the humidity. That humid climate causes hair to frizz like nobody's business. So pack those hair straighteners and all your favourite anti-frizz products!
We also always recommend that you don't leave your hotel room without having applied sun screen and bug spray, and pop a travel sized bottle of hand sanitiser in your day bag.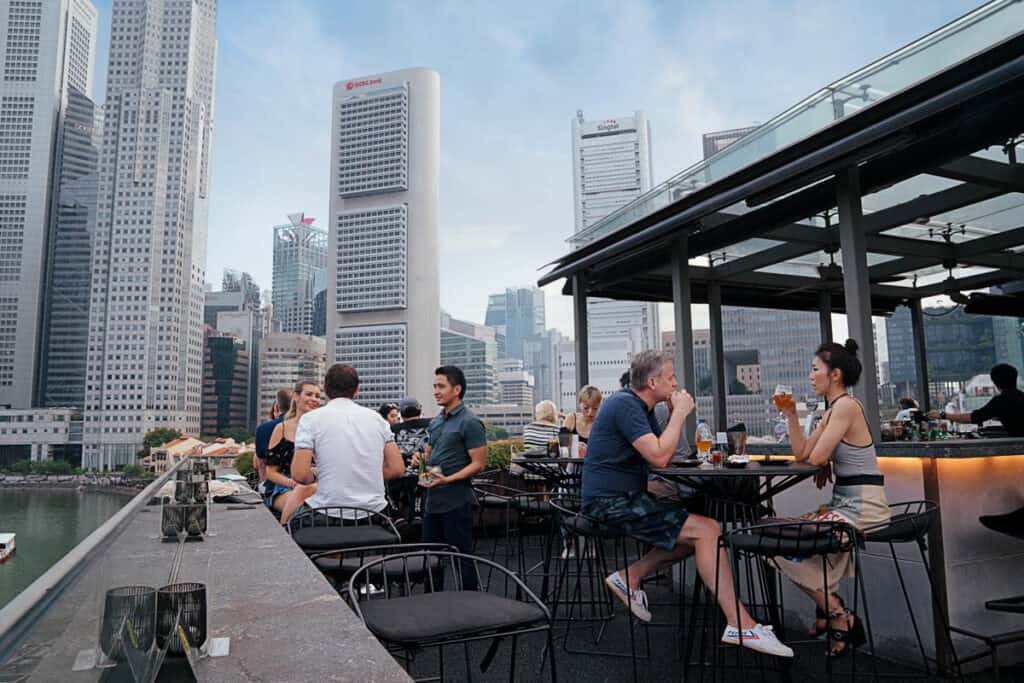 Suncream: It's always hot in Singapore, and even on a cloudy day, we recommend applying sunscreen before you head out for the day or head to the pool.
Insect repellent: You will definitely need to include bug spray. As well as being a nuisance, Singapore has dengue fever, so be sure to protect yourselves from the mosquitos.
Hand sanitiser: Whether you are travelling by public transport, sightseeing or heading to a hawker centre to eat, it's always handy to have a travel-sized bottle of hand sanitiser in your bag.
Hair straighteners: That humidity wreaks havoc on your hair! You will be very grateful for hair straighteners when in Singapore!
Hair products: If you're worried about frizz (and it will frizz in that humidity!) then pack all your hair products to try to counteract it.
Don't forget Travel Insurance!
We always recommend travel insurance to Singapore. This is not only to protect your luggage and belongings and/or cover you for delayed flights, hotel cover etc.
The main reason we recommend travel insurance is due to the high cost of medical care in Singapore. Singapore is known for having excellent health care, but it comes at a cost. And if you need emergency medical treatment, it could be prohibitively expensive.
It is definitely worth the extra cost up front.
If you are travelling from Australia, we recommend CoverMore for travel insurance.