Want to know how to plan a Singapore trip? You've come to the right place! We walk you through step by step everything you need to do to plan the best trip to Singapore.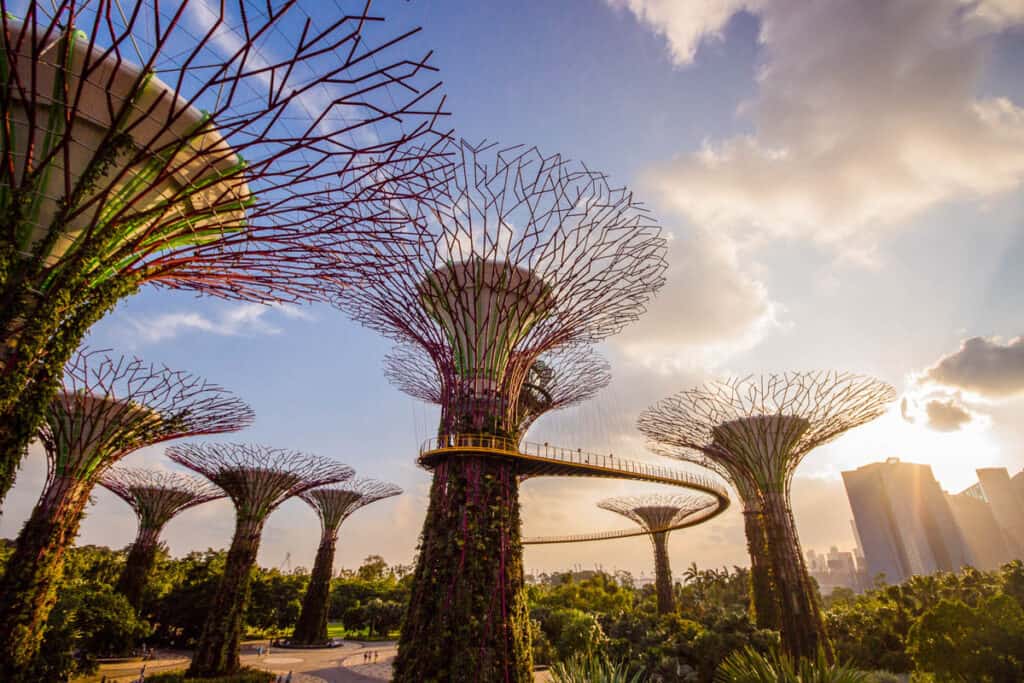 In this article, I will take you step by step through planning your trip to Singapore.
From deciding when to go and how much it will cost, to where to stay, how to get around and everything else you could possibly need to know for the perfect city break.
It's all here in this article, to help remove the overwhelm and simplify your trip planning.
Because Singapore is just one city, it's easy to plan a Singapore trip all on your own. There are no internal flights or trains to worry about or complicated itineraries for travelling around. It's all right here.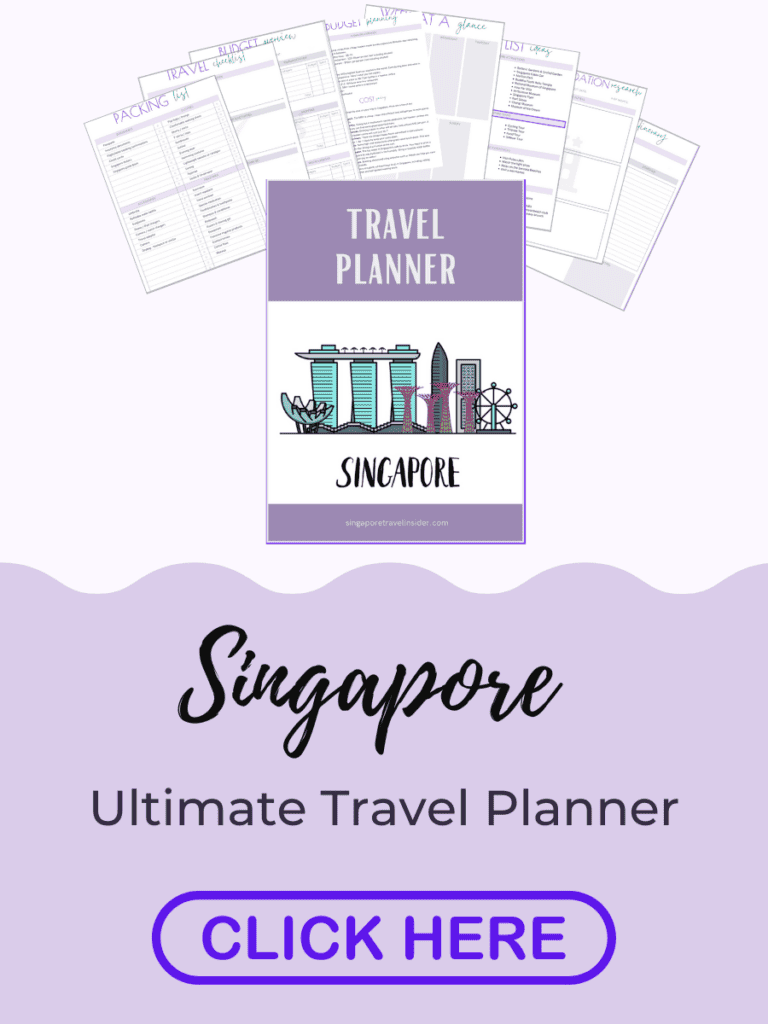 Are you ready to start your Singapore travel plan? Let's go!
Disclaimer: This article contains affiliate links. If you make a booking using these links, we may receive a small commission, at no extra cost to you.
Got questions? Come join our Singapore Travel Tips Facebook group. It's the perfect place to ask questions and get inspiration for your trip!
Step 1: Decide When to Go to Singapore
The good news is – there really isn't a bad time to visit Singapore! It is a year-round destination.
Singapore is situated near the equator and therefore has a typical tropical climate. You can expect it to be hot and humid all year round, and you can expect both sunshine and rain on any given day. The average temperature is around 26-29°C (80-84°F) all year round.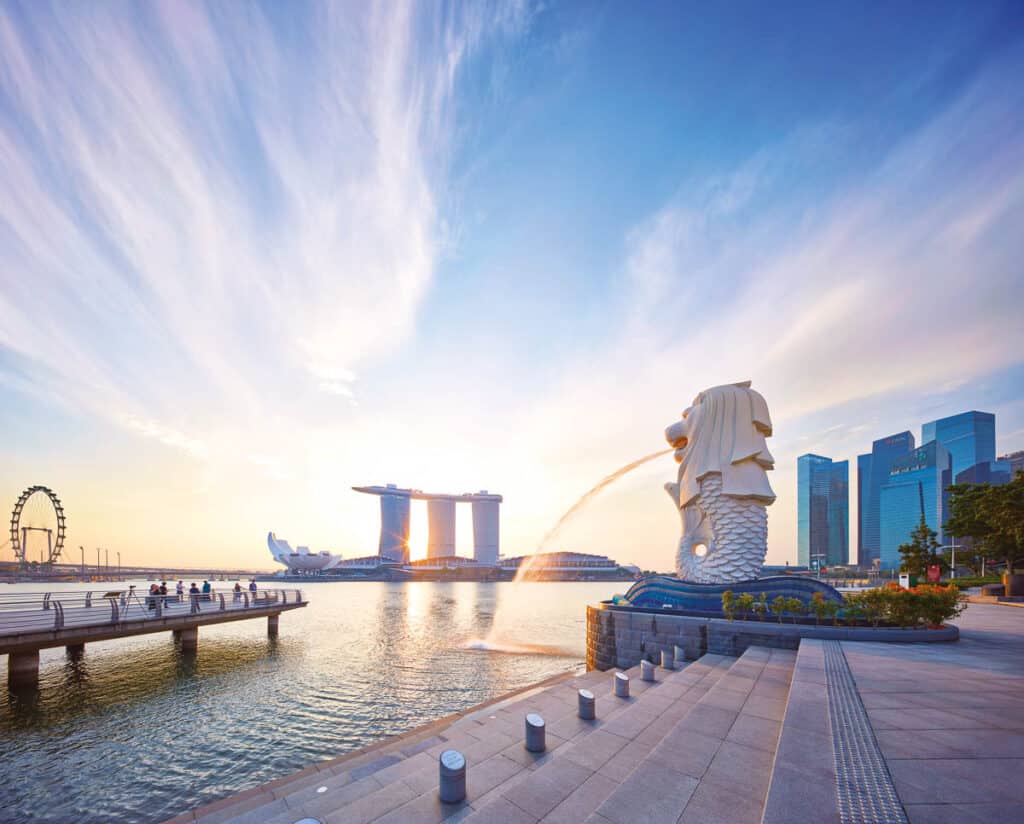 It does not have distinct seasons like summer or winter, although the monsoon seasons (Northeast Monsoon in December to early March, and the Southeast Monsoon in June to September) will bring more rain.
The wettest months are November to mid-January.
The driest month is February.
It does rain an average of 167 days of the year in Singapore, but don't be put off! Sunny days are also plentiful and you will find plenty of opportunities to hit the beach, swimming pool and sightsee.
Thanks to its multi-cultural population you can always expect there to be some kind of festival taking place in Singapore. From Chinese New Year, to Deepavali to Hari Raya Puasa or the Singapore Grand Prix, there is always something culturally or socially exciting going on in Singapore.
Big events, such as the Singapore Grand Prix will affect flight and hotel prices, restaurant availability and also the ease of getting around some parts of the city, so it is a good idea to check what is going on before you set your dates.
Step 2: Work Out Your Travel Budget
So how much does it cost to travel to Singapore? Obviously this will depend on your expectations, interests and travel style.
But yes, Singapore is an expensive city, so it is important to set a budget to stop those expenses from spiralling out of control.
If you want to stay in a top luxury hotel, go to all the main attractions and eat in Michelin-starred restaurants every night then the sky is really the limit when it comes to cost.
However, there are also plenty of ways you can save costs when visiting Singapore. Here are a few things to bear in mind when setting your budget and some tips for keeping costs down.
All example costs given are in SGD.
Accommodation costs can vary from around $25-50 per night for a hostel, to a minimum of $400 per night for a luxury hotel.
Both Public transport and taxis are cheap in Singapore. MRT rides range from $1-2.50 per ride and a taxi ride across town should only cost you $5-10 depending on the time of day.
The most popular attractions in Singapore (eg. Universal Studios, Gardens by the Bay, Singapore Zoo) tend to come with high ticket prices. Booking tickets via Klook will often get you discounts.
Eating out can range from the very cheap (eg. $5 for a dish in a hawker centre) to the very expensive ($400+ for a degustation menu in a Michelin-starred restaurant).
Singapore has one of the highest taxes on alcohol in the world. Expect to pay around $15 for a pint of beer in a bar, and $12-18 for a glass of house wine in a restaurant.
Step 3: Planning List and Countdown
From our experience, Singapore doesn't tend to get fully booked out much in advance. This, of course, is dependent on big events such as the Singapore Grand Prix when accommodation and incoming flights are in high demand.
Also bear in mind that Singapore is a popular conference and events destination, so some of the more popular business hotels and high-end hotels can get block-booked months in advance.
If you have your heart set on a certain hotel, book it as soon as possible. We recommend booking with booking.com as we have found they have the best cancellation terms, in case you change your mind or have to rearrange your travel dates later.
From a cost point of view, you are generally best off booking flights 6 – 12 months in advance for the best deals. Flights tend to get more expensive as time goes on, so booking in advance is advised, especially if you want to travel during school holidays.
Here's our recommended countdown for planning your Singapore trip:
6-12 months in advance:
Check passport validity – your passport needs to be valid for at least six months from the date of your arrival in Singapore.
Book international flights
Get travel insurance
Consider booking accommodation
3 – 6 months in advance:
Book accommodation
Book any in-demand restaurants
1 month in advance:
Get visa, if necessary (read our article about Singapore Visa requirements here)
Book attractions and tours
Book restaurants
Work out how you will access money
Final Week:
Step 4: Book flights
Singapore's Changi Airport is one of the world's busiest transport hubs and so you have a huge choice of air carriers to choose from when flying to Singapore.
Singapore Airlines is one of the best airlines in the world, but it is also an expensive option. If you are flying in from a neighbouring Asian country, you can also take advantage of the variety of budget airlines offering flights to Singapore.
I recommend using Skyscanner to compare all the available options. You can also use it to look for the cheapest days to fly and set up price alerts to receive and email if the price changes.
Step 5: Buy travel insurance
As soon as you have booked your flights (or paid for anything) I highly recommend getting travel insurance. Given the number of cancelled trips, delayed or cancelled flights and lost luggage we have experienced over the past few years, we always make sure we have travel insurance now.
Additionally, be aware that medical and hospital expenses in Singapore are very expensive. This is another reason we always recommend travel insurance for your Singapore trip.
If you are travelling from Australia, we always use CoverMore for our travel insurance. If you are travelling from elsewhere, we suggest you look at Hey Mondo.
Step 6: Book Accommodation
Singapore has accommodation to suit everyone, from some of the world's most expensive and luxury hotels to hostel dorm rooms and everything in between.
We prefer to use booking.com to book our accommodation, as we find they have the best cancellation terms.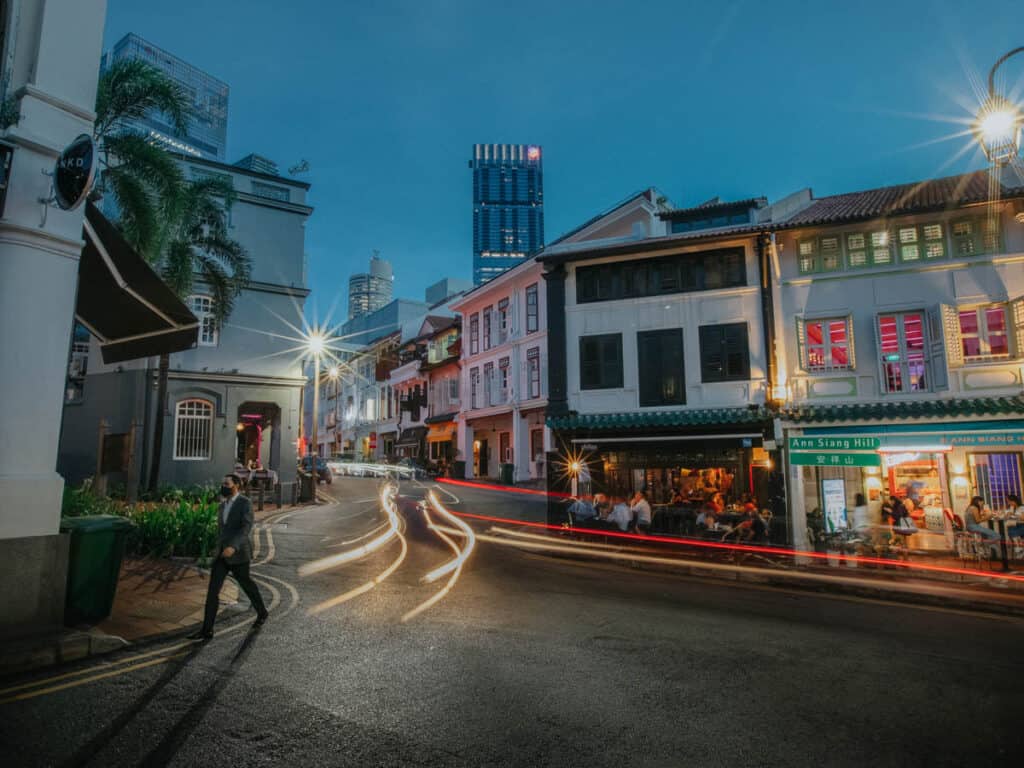 Here are a few things to bear in mind when choosing accommodation in Singapore.
Hotel room rates in Singapore are subject to a 10% service charge and 8% GST. These surcharges are often not quoted in hotel prices, so be sure to check.
Try to choose a hotel close to an MRT station to make travelling around Singapore quick, cheap and easy.
Airbnb is illegal in Singapore. You may see Airbnb properties advertised but know that you and the host will be breaking the law if you choose to book one.
Hotel rooms tend to be small in Singapore, particularly in the budget category. So be prepared!
Singapore is a pretty small city and you can get to most places in around 20 minutes in a taxi no matter where you are. If you are staying centrally, you can access most popular attractions, shopping and restaurant areas quickly either via public transport or taxi.
Step 7: Create your Singapore itinerary
Now that you have flights and accommodation sorted, it's time to sort out what you are going to do!
What you can do in Singapore is obviously highly dependent on how long you have in the city. The good thing about Singapore is that, as it is small, you can fit a lot into a day, as you don't need to build in much travel time.
Having said that, however, remember that it will be hot and humid for sightseeing and so we always recommend building in some time to chill by the pool or take some time out indoors in the air conditioning!
You can easily plan an activity for the morning and another for the afternoon, and even another for the evening if you have the energy. Don't forget to plan your lunches and dinners too, as there is a lot of amazing food in Singapore and you won't want to miss out!
You can check out our itinerary suggestions to help build your own Singapore itinerary:
Step 8: Book your attractions, tours and activities
It's not usually necessary to book ahead for most attractions, so if you can be flexible, you can wait to see what the weather is like in the morning before booking.
I still prefer to book my tickets online to save queuing at the ticket kiosk. Additionally, some attractions have capacity limits with time slots allocated (eg. the ArtScience Museum), so it is a good idea to book ahead before turning up, or at least check the website.
Click here to read my pick of the best things to do in Singapore to help you with your planning.
I am a big fan of taking at least one guided tour in Singapore. This way, you'll be guided by local Singaporeans who are knowledgeable, fun and keen to share their love of their hometown with you.
There are loads of excellent sightseeing tours in Singapore, including food tours, bike tours, hop-on-hop-off bus tours and more.
Our two favourite websites for booking attractions and tours are Klook (you can often get good discounted tickets for attractions) and GetYourGuide (we mostly use them for tours, but they have some attraction tickets too).
Step 9: Book restaurants
Singapore food is legendary and one of the highlights of visiting Singapore is definitely the delicious food you can find here.
The melting pot of cultures in Singapore has led to an incredible variety of food on offer and you will be spoilt for choice when it comes to cuisines and restaurants.
And no matter what your budget, you can eat well in Singapore. A dish in a hawker centre will cost you just around $5.00. We definitely recommend visiting at least one hawker centre during your visit to enjoy some of the amazing local Singaporean food.
If you are a fan of fine dining, then you have that in abundance in Singapore too, with a total of 52 Michelin-starred restaurants to choose from.
If you have your heart set on a particular restaurant, I recommend that you book well ahead. Some of the most popular fine dining restaurants, or restaurants with a view, can be booked up months in advance. Even some of the more popular mid-range restaurants can require bookings a few weeks in advance.
So if you don't want to be disappointed – be organised!
Of course, if you are not too particular about where you eat, you will find plenty of casual restaurants where you can just turn up and ask for a table too.
Step 10: Organise your money and credit cards
The local currency in Singapore is the Singapore dollar. It is a good idea to get some Singapore dollars before you arrive in Singapore, as you may need cash to pay for your transport from Changi airport to the city.
It is also a good idea to carry some cash with you while in Singapore. While credit and debit cards are widely accepted, some taxis will only accept cash (or their card machine may not be working), and you will need cash to pay at most hawker stalls.
You can use a debit or credit card to tap on and off public transport. Note that foreign-issued cards can incur extra charges though, so if you plan on using a lot of public transport, it can work out cheaper to get an EZ-Link card. Read more in our Singapore public transport guide here.
Prior to your trip, you should review the cards you are taking with you and check foreign currency charges and ATM withdrawal fees when overseas. You may want to consider a foreign currency card like the Wise Travel Money Card, where you can convert Singapore dollars easily and cheaply from other currency accounts.
It is always a good idea to inform your bank before you go so that they don't block your card due to unusual activity.
Step 11: Organise phone coverage and internet access
You will find many places in Singapore offer free WiFi. However, it is still a good idea to sort out some sort of roaming or buy a Singapore tourist SIMcard, particularly if you plan to use your phone to order taxis etc.
Check with your phone provider at home if they have a day-charge for Singapore. Otherwise, our favourite option is to buy a Singtel Tourist SIM card for$12 SGD. This gives you the following over 14 days:
100GB 4G data
500 mins local calls
30 mins IDD calls
Click here to buy your Singtel Tourist SIM card now and pick it up at Changi Airport on arrival.
Step 12: Get ready for departure!
It's time to get ready to travel! Here are a few last-minute reminders of what you need to do in the week before you travel.
Submit your SG Arrival Card – all visitors to Singapore must fill this in 3 days prior to your date of arrival (including the date of arrival). You can fill it in online here.
Download some Singapore Apps – there are a few apps that we recommend using in Singapore. These include Grab or Gojek for booking taxis and the MyTransport.SG app for using public transport.
Pack! – remember that Singapore is hot and humid, so pack lightweight clothes. Shorts and t-shirts are fine for sightseeing but if you are going to nice restaurants in the evening, Singaporeans tend to dress up. Other items you should include are:

Suncream – it's always hot in Singapore, and even on a cloudy day, we recommend applying sunscreen before you head out for the day or head to the pool.
Insect repellent – You will definitely need to include bug spray. As well as being a nuisance, Singapore has dengue fever so be sure to protect yourselves from the mosquitos.
Umbrella – even when a day starts out with bright sunshine, it can soon turn into a thunderstorm, so it's always a good idea to have an umbrella in your bag.
Travel adaptor – The standard electrical voltage in Singapore is 220V and most electrical sockets take the standard UK style 3-prong plugs.
Refillable water bottle – Due to the humidity, you should be sure to drink plenty of water in Singapore. Tap water is safe to drink here and so a refillable water bottle is essential.
Click here to read our full article on packing for Singapore.