Discover the best Singapore has to offer in just three days with our comprehensive 3-day Singapore itinerary for first-time visitors.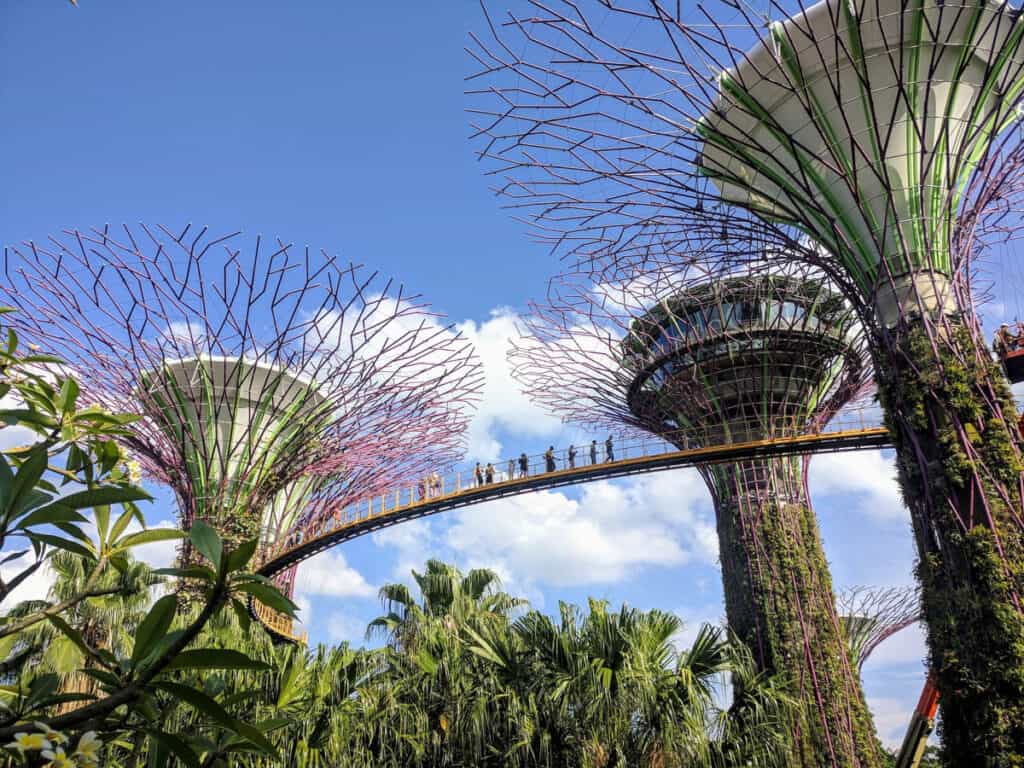 Embarking on a 3-day adventure through the vibrant city of Singapore may seem overwhelming at first, especially if it's your first visit.
Well, fear not, as this guide will help you create an itinerary that captures the essence of this extraordinary city-state. With its rich heritage, diverse culture, and stunning attractions, Singapore is the perfect destination for a few days.
As a first-time visitor, you will be captivated by the city's seamless blending of modern and traditional elements. From the futuristic Gardens by the Bay to the charming streets of Kampong Glam, Singapore's multicultural heritage shines through in its architecture, cuisine, and way of life.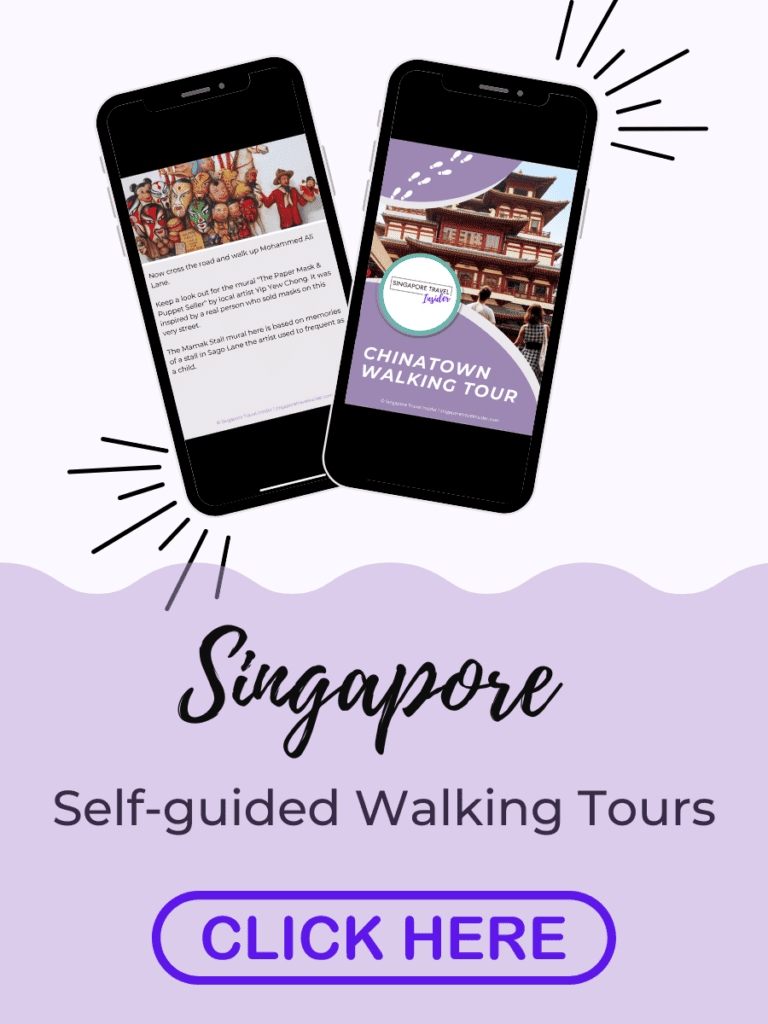 With so much to see and do, you'll want to ensure you make the most of your precious time here, so read on to check out all our suggestions so you don't miss out on any of the best places.
Planning to spend longer or less time? Check out our other itineraries:
Disclaimer: This article contains affiliate links. If you make a booking using these links, we may receive a small commission, at no extra cost to you.
Got questions? Come join our Singapore Travel Tips Facebook group. It's the perfect place to ask questions and get inspiration for your trip!
Arriving and Transport
Singapore has a very efficient public transport system that is widely used by locals and tourists. Here's what you need to know for your 3 days in Singapore.
Changi Airport
Welcome to Singapore! Upon your arrival at Changi Airport, you'll find a wide range of transportation options available to help you get into the city and explore once you get there.
Before setting off, it's a good idea to familiarise yourself with the various options to make your journey as smooth as possible.
There are several ways to get into the city from the airport, including taxi, bus, shuttle bus and MRT (train). Changi airport is close to the city so none of these options will take that long. Which you choose will depend on cost, number of people travelling together and where in the city you are staying.
Click here to read our specific guide on getting from Changi Airport to the city.
MRT System
One of the most efficient and cost-effective ways to explore Singapore is by using the Mass Rapid Transit (MRT) system.
This underground train system is cheap, clean and efficient and is the transport mode of choice for most visitors to Singapore. There are six train lines and 140 stations, which will get you close to most places you want to go.
Taxi and Grab/Gojek Services
Taxis and Grab/Gojek services are another convenient and surprisingly affordable way to travel around Singapore. Especially if you're in a hurry, have lots of luggage, or prefer door-to-door service, they are a great option.
Taxis are easily available at the airport and at taxi stands throughout the city, while Grab or Gojek services can be booked through an app on your phone. You can also book taxis via the Grab app.
Taxis in Singapore operate on a metered fare system with additional surcharges, such as peak hour, CBD, and airport fees. On the other hand, Grab rides have fixed fares displayed before the trip, as with Uber in other countries.
Click here to read more about exploring Singapore by public transport.
Best Time to Visit
Singapore is a year-round destination. It enjoys a typical tropical climate, meaning the temperature remains high and uniform throughout the year, with high rainfall and humidity.
Typically, February is the least rainy month, whereas December is the wettest. Despite frequent afternoon thunderstorms and showers, there are also many clear and sunny days.
Singapore's diverse population guarantees a constant stream of festivals and events, including Chinese New Year, Deepavali and Hari Raya Puasa. There is also the Singapore Grand Prix held in September every year.
While this means there is always something exciting happening, it's important to note that accommodation may be harder to come by and more costly during major events like the Singapore Grand Prix.
Read more about the best time for visiting Singapore here.
3 Day Itinerary for Singapore
This itinerary balances sightseeing with opportunities to experience Singapore's unique culture.
You'll get to see the main Singapore attractions, but also get a good sense of the soul of Singapore. And you'll get to eat some of the best food in the world along the way. 
Ready to embark on the journey of a lifetime? Let's dive in and discover all that awaits you in Singapore.
Day 1: Iconic Attractions
You're going to hit the ground running on day one, with the opportunity to visit some of Singapore's most iconic landmarks.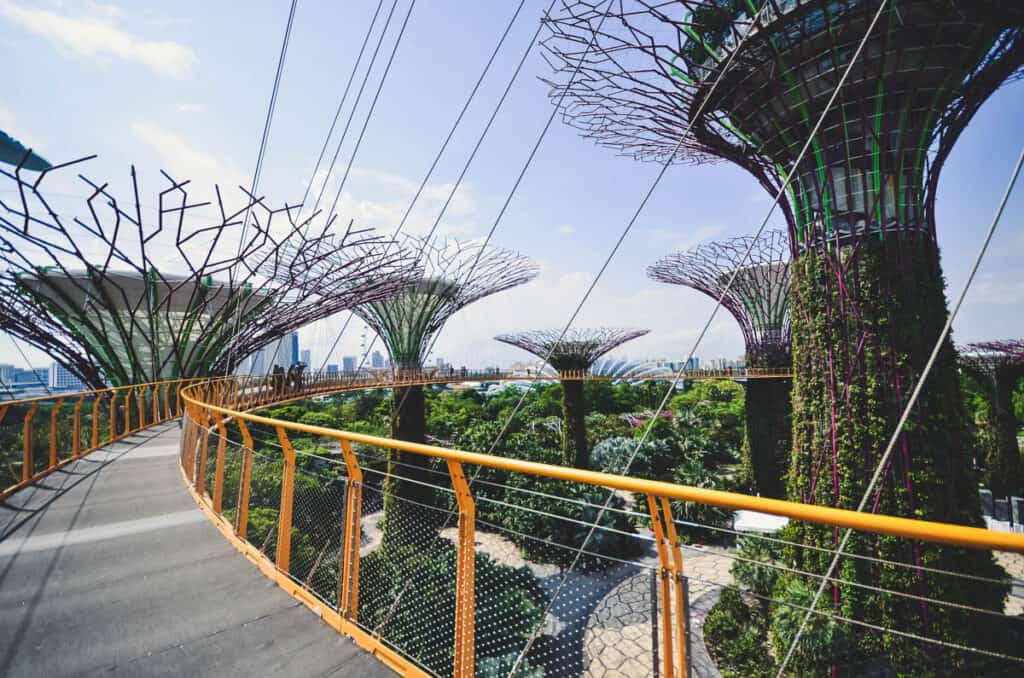 This is the heart of Singapore with some of the city's most famous attractions all within easy walking distance of each other .
Gardens by the Bay
Begin your first day in Singapore at the Gardens by the Bay, a beautiful and unique attraction showcasing diverse flora and home to the impressive Supertrees.
Spend some time wandering through the cooled conservatories, such as the Flower Dome and the Cloud Forest. Don't forget to snap a picture with the famous Supertrees and catch the mesmerising Garden Rhapsody Light Show at Supertree Grove during the evening!
Insider Tip: Entry to Gardens by the Bay is free, but you need to purchase tickets for the Cloud Forest, Flower Dome, OCBC Skyway and Supertree Observatory.
Marina Bay Area
Next, make your way to the Marina Bay area, where you'll find iconic structures such as the Marina Bay Sands and ArtScience Museum.
You can take a leisurely stroll along the waterfront promenade, soak in the stunning views of the city skyline, or even embark on a relaxing river cruise around the bay and down the Singapore River.
If you love a good view, head on up to the Marina Bay Sands Skypark Observation Deck for panoramic views over the city.
If you return in the evening, you can also catch the Spectra Light and Water Show, which is free.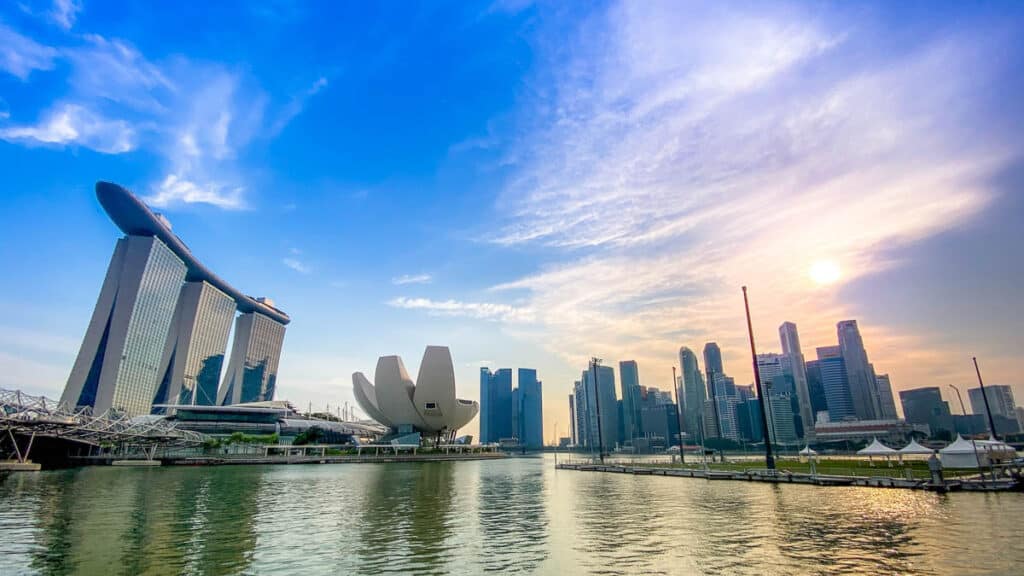 Art Science Museum
The ArtScience Museum hosts a range of visiting exhibitions exploring the world of art, science, and technology.
The permanent FutureWorld exhibition is excellent and well worth a visit. Its impressive digital interactive installations take you on an immersive journey through the world of art, science and magic. Both kids and adults will love it.
Insider Tip: Tickets for FutureWorld are based on timed entry. So be sure to pre-purchase tickets to secure your timeslot.
Merlion Park
A visit to Singapore wouldn't be complete without seeing the Merlion, a national symbol that represents the city's humble beginnings as a fishing village.
Head to Merlion Park, a popular spot to capture memorable photos with the iconic Merlion statue. This statue, which has the head of a lion and body of a fish, has a picturesque spot, with Marina Bay forming a stunning backdrop for your photos.
Insider Tip: If you are done sightseeing for the day, you will find a selection of restaurants here at One Fullerton, and just a short walk away at Customs House. All offer fantastic Marina Bay views and you can watch the Spectra light and water show from here.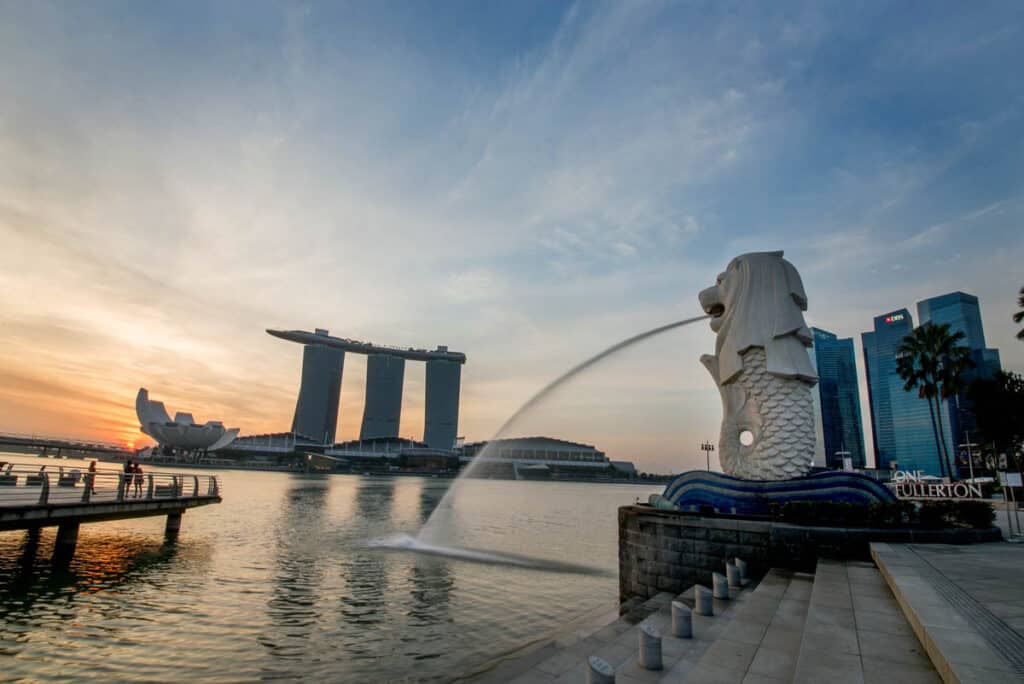 Civic District
If you still have energy, and depending on how long you spent at Gardens by the Bay and the ArtScience Museum, you can continue into the historic Civic District.
Here you'll find an array of colonial-era landmarks and museums, such as the National Museum of Singapore, Asian Civilisations Museum and the National Gallery Singapore.
Discover the rich history of the city and learn about its evolution from a tiny settlement into a modern metropolis.
Our self-guided walking tour of the Civic District is a great way to take in all the important sights.
Dinner at Lau Pa Sat or Makansutra Gluttons Bay
To round off your exciting first day, treat yourself to a dinner of some of Singapore's best street food at either Lau Pa Sat or Makansutra Gluttons Bay.
These are two of the most popular hawker centres in Singapore and offer a wide range of local dishes. You'll be spoilt for choice when it comes to satisfying your hunger after a long day of sightseeing.
Day 2: Exploring Cultural Neighbourhoods
Take the opportunity to appreciate the striking contrast between traditional and contemporary Asia in these charming neighbourhoods.
As you explore these three unique areas, embrace the diverse ethnic heritages and stunning architecture, and discover the charm of each area's cultural nuances.
Our self-guided walking tours are a great way to see all the important sights at your own pace.
We also recommend joining a guided sightseeing tour of some of these areas, so you can gain a better insight into the history and culture, through the eyes of a local.
Click here to read our pick of the best Singapore sightseeing tours.
Chinatown
Begin your day by exploring the vibrant and colourful neighbourhood of Chinatown.
As you stroll through the bustling streets, you'll be greeted by a mix of traditional and modern architecture, including beautifully restored shophouses.
Immerse yourself in Singapore's rich Chinese heritage by visiting the Buddha Tooth Relic Temple, a must-see highlight. You'll find an excellent museum on the third floor here.
Don't forget to stop by the street market stalls to find some unique souvenirs to take home.
You can read our full guide to Singapore's Chinatown here.
Insider Tip: If you're hungry, you'll find two fantastic hawkers centres here: Maxwell Food Centre and the Chinatown Complex Food Centre. If you're up for a dim sum lunch, call in at Yum Cha, on the corner of Trengannu and Temple streets.
Little India
Next, jump on the MRT and make your way to Little India, an exciting and energetic enclave that showcases the rich Indian culture and heritage in Singapore.
As you wander through the lively streets, take in the colourful and intricate temples, such as the Sri Veeramakaliamman Temple.
Stop by the Tekka Centre to try tasty Indian dishes and pick up exotic spices, or shop for textiles and jewellery at the Little India arcade.
Read our comprehensive Little India Singapore guide here.
Kampong Gelam
Finally, round off your cultural tour by visiting Kampong Glam, a historically significant Malay district.
At the heart of this neighbourhood, you'll find the majestic Sultan Mosque, an architectural masterpiece featuring golden domes and ornate details.
Stroll along Haji Lane, a narrow lane filled with hip boutiques, trendy cafes, and vibrant street art that showcases the area's eclectic mix of cultures.
Don't miss a visit to the Gelam Gallery, an outdoor gallery showcasing murals and framed artworks from more than 30 artists.
Read our full Kampong Glam Singapore guide here.
Dinner with a view
End your day with a memorable dinner with a view. There are loads of fantastic restaurants offering impressive views around Singapore.
These range from very high end restaurants atop some of Singapore's tallest buildings, to more casual alfresco haunts. You can check out our recommendations of restaurants with a view in Singapore here.
Day 3: Entertainment and Shopping
On your third day, you're going to combine some adrenaline packed fun on Sentosa with some retail therapy on shopping thoroughfare Orchard Road.
Sentosa Island
Sentosa Island, is an entertainment and leisure hub, known as Singapore's playground. It has some of Singapore's best family attractions, including theme parks, a water park, aquarium and loads more fun activities.
To get there, take the Sentosa Express from VivoCity (Harbourfront MRT station) or use the Singapore cable car for a fun ride and some stunning views.
There are loads of fun attractions on Sentosa for the whole family including:
Once you've had your fill of fun, take a leisurely stroll along the island's three beaches: Siloso, Palawan and Tanjong beaches.
Insider Tip: You'll find a good selection of beachfront bars, restaurants and beach clubs on Sentosa. Some of our favourites include FOC Sentosa, Tanjong Beach Club, Coastes and Rumours Beach Club.
Orchard Road
Next, make your way to Orchard Road, Singapore's premier shopping district. Here, you'll be spoilt for choice with numerous shopping malls, department stores, and high-end boutiques.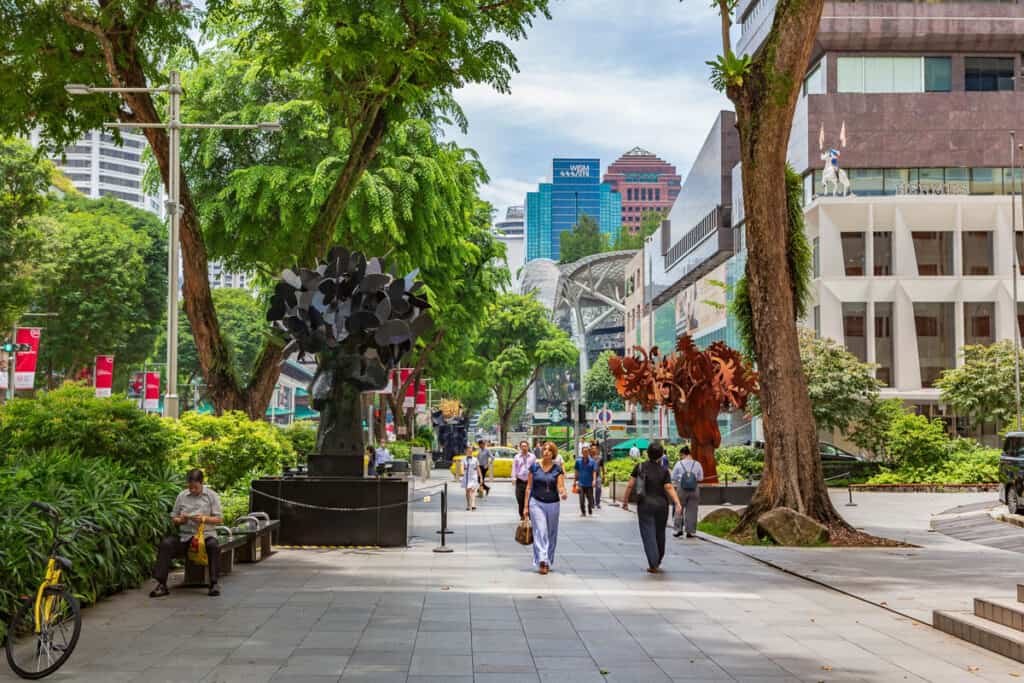 The most famous shopping mall on Orchard Road is ION Orchard. It offers nine levels of shopping outlets, with everything from high-end designer boutiques to high-street fashion stores. You'll also find numerous restaurants, a food court and an MRT station,
Other malls worthy of a look include Paragon, Ngee Ann City and Mandarin Gallery for more boutique options.
Drinks at a rooftop bar
As your day comes to an end, treat yourself to a drink at a rooftop bar while taking in the panoramic views of the city.
Whether it's a classy establishment or a laid-back atmosphere you're after, you're sure to find the perfect place to unwind and reflect on your incredible three-day adventure in Singapore.
Read our article about Singapore's best rooftop bars to find one to suit your mood.
Additional Attractions
If any of the above don't suit your agenda, here are a few other attractions to consider slotting into your Singapore itinerary,
Singapore Zoo
Singapore Zoo is one of the most famous zoos in the world. Here, you'll find a remarkable collection of wildlife, including over 300 species of animals.
The zoo is known for its open concept, where animals roam freely in beautifully landscaped habitats.
You can head here for the wildlife breakfast and be done by lunchtime, giving you the afternoon to explore further. Alternatively, spend the afternoon at River Wonders or Bird Paradise, two other fantastic wildlife parks located nearby.
Night Safari
The Night Safari, a separate attraction next door to the zoo, offers a unique chance to experience nocturnal creatures up close.
You can take a tram ride to view all the animals, or hop off and get a close view from the many pathways.
It opens up at 7.15pm, so offers an alternative way to spend your evening.
Botanic Gardens
If you're a plant lover, then the Singapore Botanic Gardens is a must.
This sprawling, 82-hectare park is home to a rich variety of flora and fauna and was inscribed as a UNESCO World Heritage Site in 2015.
These botanical gardens are an excellent spot for a picnic or a leisurely walk, and a great place to unwind amidst the bustling city.
Don't miss the stunning National Orchid Garden with over 1,000 species of orchids to admire.
Jewel Changi
When departing from Singapore, try to arrive at the airport early so you can explore Jewel Changi, a magnificent shopping and lifestyle complex at Changi Airport.
As you enter this architectural marvel, you'll be greeted by the awe-inspiring HSBC Rain Vortex, the world's tallest indoor waterfall.
The Canopy Park on the top floor offers a host of recreational facilities, such as a hedge maze, floral installations, and a sky net for a unique trampoline experience above the ground.