Discover the best of the city with our ultimate 2-day Singapore itinerary. We'll make sure you take in the iconic attractions and get a good feel for the city during your short visit.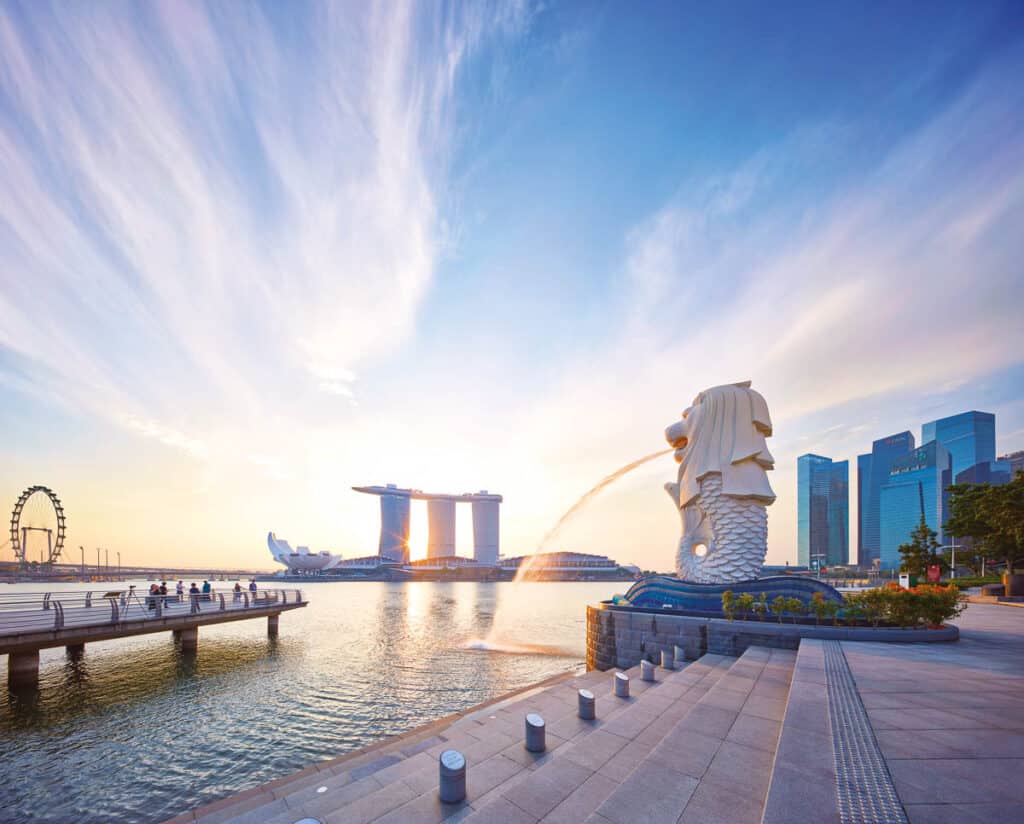 Planning a quick trip to Singapore? You're in for a real treat! In just two days, you can experience a remarkable blend of culture, history, and modern marvels that make this city-state so unique.
You may be worried that two days aren't enough to take in all this vibrant destination has to offer.
However, with a well-planned itinerary, you'll be able to make the most of your short time here and get a good taste of all the city has to offer.
Disclaimer: This article contains affiliate links. If you make a booking using these links, we may receive a small commission, at no extra cost to you.
Got questions? Come join our Singapore Travel Tips Facebook group. It's the perfect place to ask questions and get inspiration for your trip!
Planning your Singapore Trip? You may also like these articles:
Two days in Singapore
As you embark on your Singapore adventure, you'll find yourself immersed in a harmonious fusion of fascinating neighbourhoods, awe-inspiring architecture, and tantalising cuisine.
Your journey will lead you through the colourful streets of Chinatown, the captivating Kampong Gelam area, and the lively vibes of Little India.
Along the way, you'll get to take in Singapore's iconic landmarks, such as Gardens by the Bay, the Merlion, and the spectacular skyline from Marina Bay.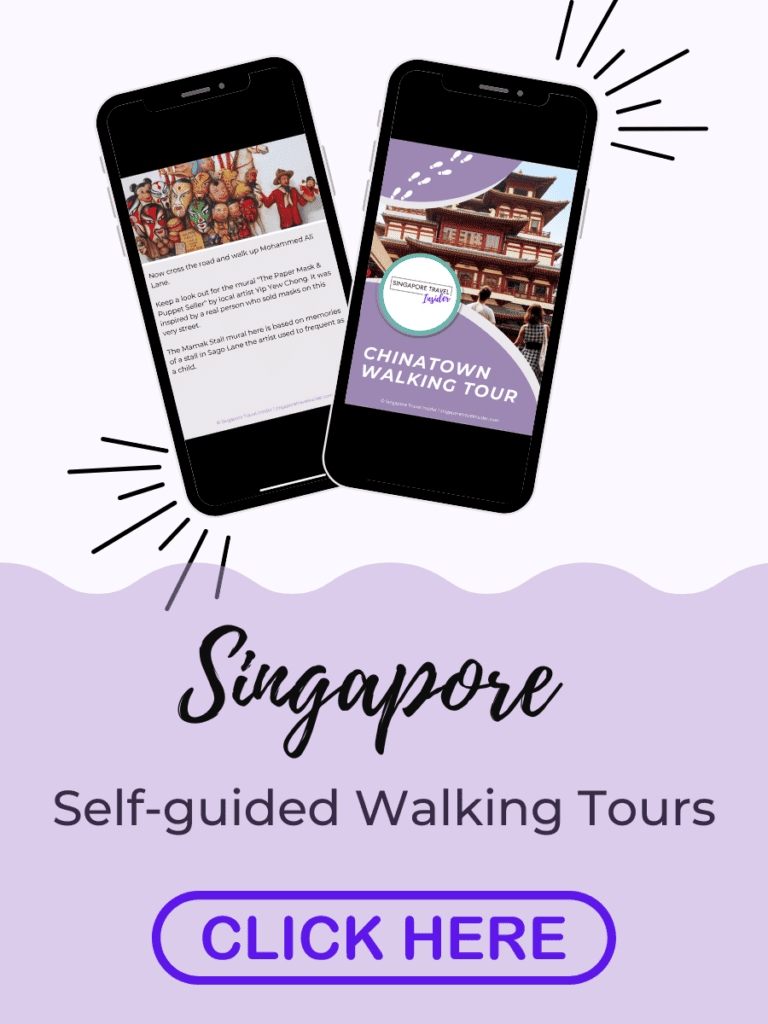 As time is short, in order to make the most of your two-day Singapore experience, make sure you prioritise your must-see attractions.
Our suggestions are below to give you an idea of what you can manage to squeeze into your Singapore 2-day adventure and ensure you have the best time here.
Are you ready? Let's get started!
Planning to stay for longer? Check out these other itineraries:
Day 1: Exploring Singapore's Iconic Attractions
On your first day, you're going to tick off some of Singapore's most famous attractions. These gems combine natural beauty, modern architecture, and cultural heritage, making them a must-visit for any traveller.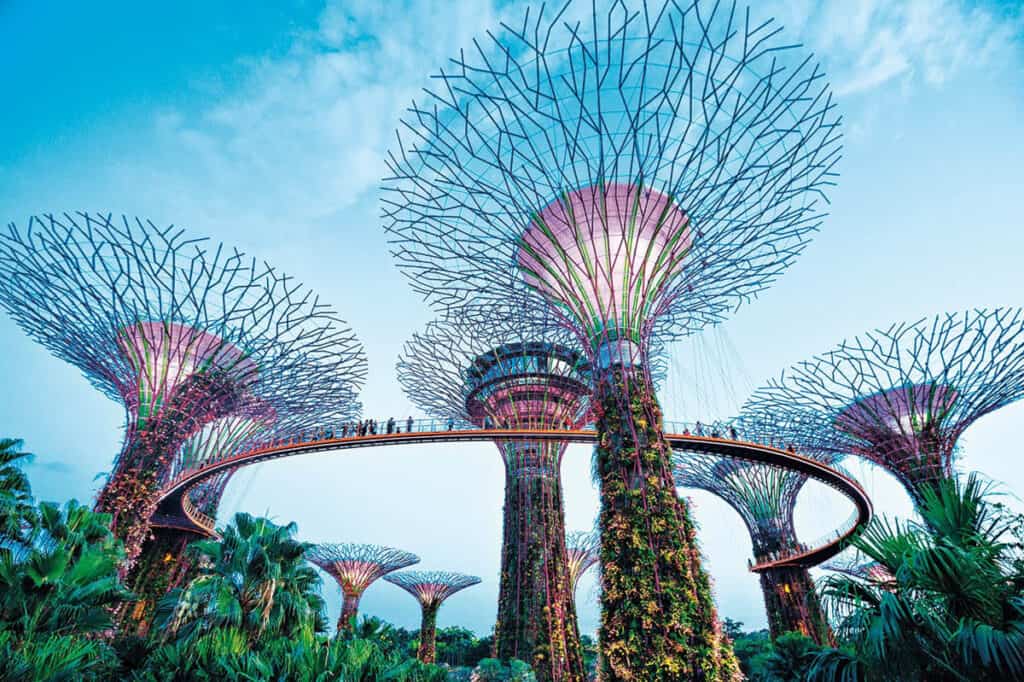 Gardens by the Bay
Begin your day at Gardens by the Bay, a stunning park with larger-than-life structures and breathtaking gardens. While you're here, don't miss:
The famous SuperTree Grove, where you can stroll along the OCBC Skyway and head to the Supertree Observatory for panoramic views of the surrounding area.
The mesmerising Flower Dome and Cloud Forest conservatories, which showcase countless flora from various regions of the world.
The Far East Organisation's Children's Garden, with its fun water play area that is perfect for the kids to cool off in (Open Thurs-Sunday).
Entry to Gardens by the Bay is free, but you need to purchase tickets for the Cloud Forest, Flower Dome, OCBC Skyway and Supertree Observatory.
Insider Tip: If you're keen to try some local food while you're here, head on down to Satay by the Bay, where you'll find a good selection of local Singapore hawker dishes.
Marina Bay Sands
Next, make your way to Marina Bay Sands, Singapore's iconic hotel, which you have no doubt seen photos of.
Unfortunately, the famous infinity pool is exclusively for hotel guests, but you can still marvel at the structure from the outside. You can also:
Head to the Marina Bay Sands Skypark Observation Deck for panoramic views.
Browse through luxury shops at The Shoppes.
Enjoy a delicious meal at one of the many eating options (you will find everything from a food court to several Michelin-starred, celebrity chef restaurants inside).
ArtScience Museum
Continue your journey to the nearby ArtScience Museum, a striking architectural marvel in the shape of a lotus flower. Here, you'll have the opportunity to:
Visit the excellent FutureWorld exhibition, an impressive digital interactive installation. Both kids and adults will love it.
Explore a variety of rotating exhibitions that blend art, science, technology and culture to inspire creativity and innovation.
Insider tip: Tickets for FutureWorld are based on timed entry. So be sure to pre-purchase tickets to secure your timeslot.
Merlion
Finally, wrap up your day by visiting Singapore's national icon, the Merlion, which is just a short stroll around Marina Bay from the ArtScience Museum.
Standing tall by the waterfront, this half-fish, half-lion sculpture symbolises the city's origins as a fishing village and its modern transformation. While you're there:
Capture a photo with the gracefully spouting Merlion against the backdrop of the stunning Singapore skyline.
Stroll along the waterfront promenade, taking in the scenic Esplanade and appreciating the vibrant atmosphere.
Stop for an evening drink or bite to eat at a choice of restaurants at either one Fullerton or further along at Customs House at Collier Quay.
Jump aboard a boat cruise for a scenic sunset ride up the Singapore River.
Evening and Nightlife
If you still have some energy left in the evening, you are spoiled for choice when it comes to evening dining and entertainment. Here are some of our top suggestions:
Boat Quay/Clarke Quay/Robertson Quay
Head over to the vibrant areas of Boat Quay, Clarke Quay, and Robertson Quay. These lively quays offer a variety of dining and entertainment options perfect for a night out in Singapore.
You can head along here on board a river cruise, or just take a stroll along the river.
Boat Quay is popular with the after-work crowd, who head here for beers by the river and you'll find a good choice of bars and restaurants here.
Clarke Quay is traditionally more popular with a younger crowd and stays busier later with bars with live music and a couple of nightclubs. Plenty of riverside eating options.
Robertson Quay has a more laid-back vibe and is popular with families. You'll find several al-fresco dining options here in a leafy riverside setting.
Dinner at a Hawker Centre
We always say that every visitor to Singapore should enjoy at least one meal in a hawker centre. It's the best way to try some of the best local food and soak in the vibe of real Singapore.
For first-timers, we recommend the following hawker centres for dinner, based on their central locations and unique atmosphere.
You can read our full list of recommended hawker centres here.
Lau Pa Sat – handily located in the heart of the CBD. At night, the satay stalls set up on the street and everyone flocks here to meet for dinner, making for a fun and vibrant atmosphere.
Makanstura Gluttons Bay – Located next to the Esplanade Theatre, this hawker centre offers a more refined experience, with high-quality food stalls and al-fresco dining with views of Marina Bay.
Supertrees Light Show
If you're more into sightseeing than wining and dining, then head back to Gardens by the Bay to catch the spectacular Supertrees Light Show, known as Garden Rhapsody.
This dazzling display of lights and colours is set to music and starts at 7:45 pm and 8:45 pm every night.
Be sure to arrive early to secure a spot with a great view of the towering Supertrees. Immerse yourself in this mesmerising light show, which is definitely a must-see when in Singapore.
Rooftop Bars
To end the night, visit one of Singapore's many rooftop bars, where you can take in the stunning city skyline while enjoying a cocktail or two.
Popular options include Ce La Vi at the top of Marina Bay Sands, which boasts impressive panoramas of Marina Bay; and Level 33, where you can enjoy craft beer on tap alongside skyline views.
These rooftop bars offer a fantastic opportunity to unwind, kick back, and appreciate the lively atmosphere of Singapore's nightlife.
You can read our full selection of the best Singapore rooftop bars here.
Day 2: Cultural and Heritage Neighbourhoods
On day 2, you're going to explore three unique areas of Singapore: Chinatown, Little India and Kampong Glam.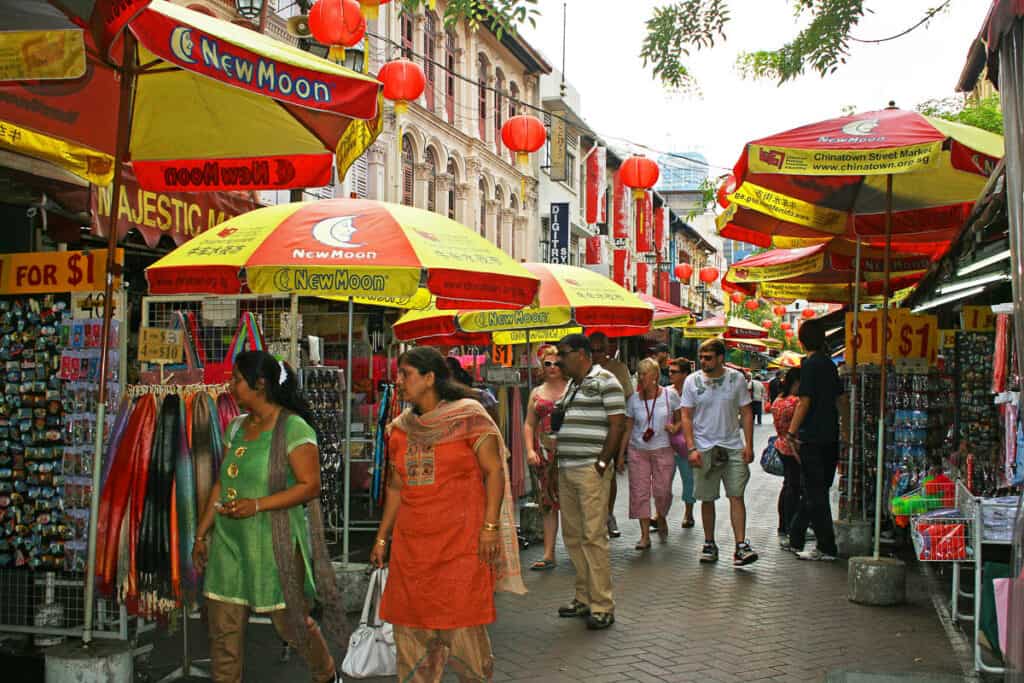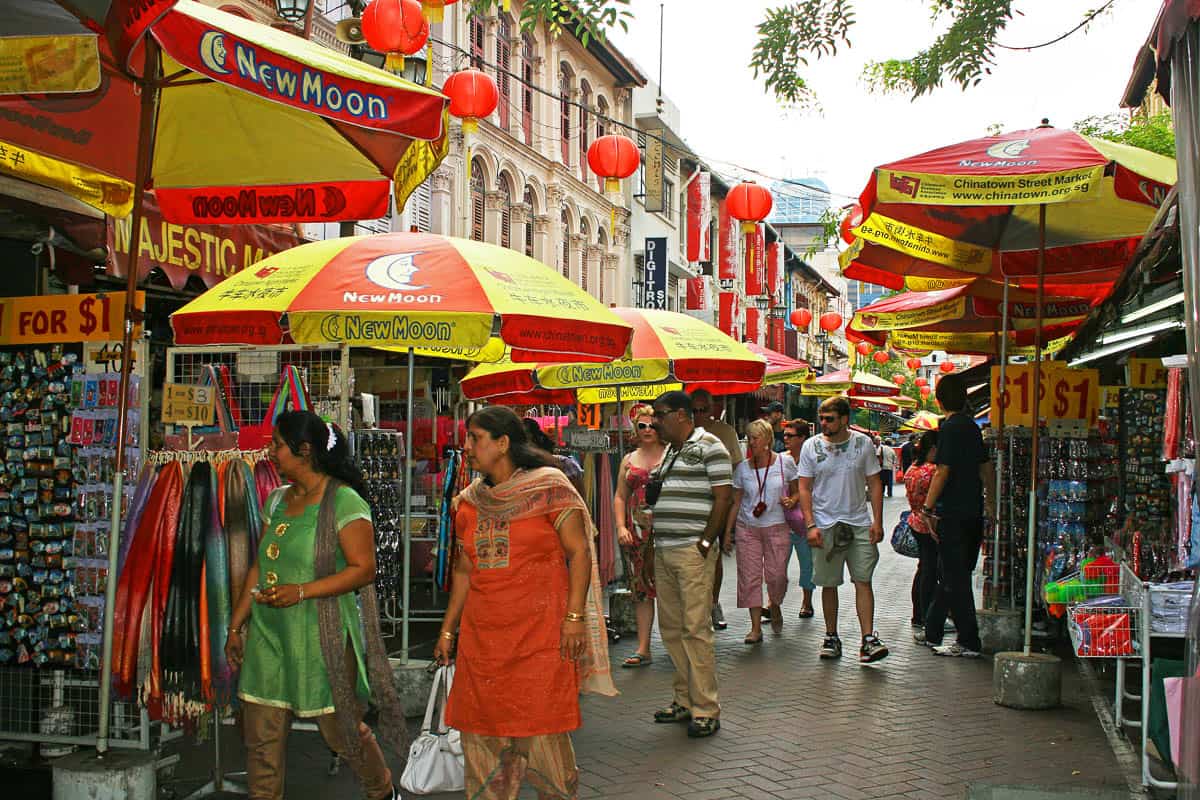 Here, you'll discover the diverse ethnic heritages of Singapore's population and enjoy the cultural charm of each district.
Our self-guided walking tours are a great way to see all the important sights of each area at your own pace.
We also recommend joining a guided sightseeing tour of one or more of these areas, so you can gain a better insight into the history and culture, through the eyes of a local.
Click here to read our pick of the best Singapore sightseeing tours.
Chinatown
Start your second day by exploring the vibrant streets of Chinatown. Known for its colourful heritage shophouses and lively street markets, it's one of the most popular neighbourhoods in Singapore with visitors.
Chinatown is home to an abundance of temples, souvenir shops and eateries. Strolling the streets and browsing the shops is half the fun.
Our self-guided Chinatown walking tour takes you past the highlights, introduces the history and gives you a guided tour of the Buddha Tooth Relic Temple.
We recommend the following Chinatown highlights:
Buddha Tooth Relic Temple -this enormous Buddhist temple holds the Sacred Buddha Tooth and Relics. There are five floors plus a roof garden to explore, including the Ten Thousand Buddhas Pavilion and the excellent Buddhist Culture Museum.
Chinatown Heritage Centre – (currently closed following Covid) – a great place to learn the area's history. The exhibitions tell the stories of Singapore's Chinese immigrants, highlighting where they came from, their hardships, and their eventual successes.
Street Market Stalls – the street stalls of Pagoda Street, Sago Street and Trengannu Street are piled high with souvenirs and gift items, from silk cushion covers to Chinese calligraphy and silk clothing.
Chinatown Complex – skip past the market stalls and head downstairs to find one of the best wet markets in Singapore. You'll also find one of the largest and best hawker centres in Singapore here, with over 250 stalls.
Insider Tip: Hungry? Maxwell Food Centre is famous for serving some of Singapore's best Hainanese Chicken Rice at Tian Tian, or try Michelin famous Hawker Chan at the Chinatown Complex food centre. Keen for dim sum? We recommend Yum Cha on the corner of Temple St and Trengannu St.
Click here to read our full guide to Singapore's Chinatown.
Little India
Take an MRT ride to Little India, a buzzing district that offers a glimpse of Indian culture right here in the heart of Singapore.
Wander through its bustling streets, lined with stores selling vibrant fabrics, traditional sweets, and fragrant spices. Stop for a hearty Indian meal at one of the authentic restaurants scattered throughout the area.
Our self-guided Little India walking tour takes you past the area's highlights and introduces its history and culture.
We recommend the following Little India highlights:
Sri Veeramakaliamman Temple – one of the oldest Hindu temples in Singapore, famed for its intricately designed gopuram (entrance tower) adorned with colourful carvings of Hindu deities.
Indian Heritage Centre – a great way to learn about the history and culture of the Indian and South Asian communities in Singapore. There are five permanent galleries plus visiting exhibitions to explore.
Tekka Centre is home to one of Singapore's biggest and busiest wet markets with an impressive seafood section plus spices and curry pastes.
Little India Arcade – a bustling warren of shops selling souvenirs, jewellery, henna and more. Don't miss Moghul Sweets shop for a delicious selection of traditional Indian sweets.
Insider Tip: Hungry? We love the cheap and cheerful Masala Dosai at Komala Vilas. Or head to Muthu's Curry or Banana Leaf Apolo to try the famous fish head curry.
Click here to read our full guide to Little India.
Kampong Gelam
If you've still got power in your legs, head over to Kampong Glam, a charming neighbourhood brimming with Malay and Arab history.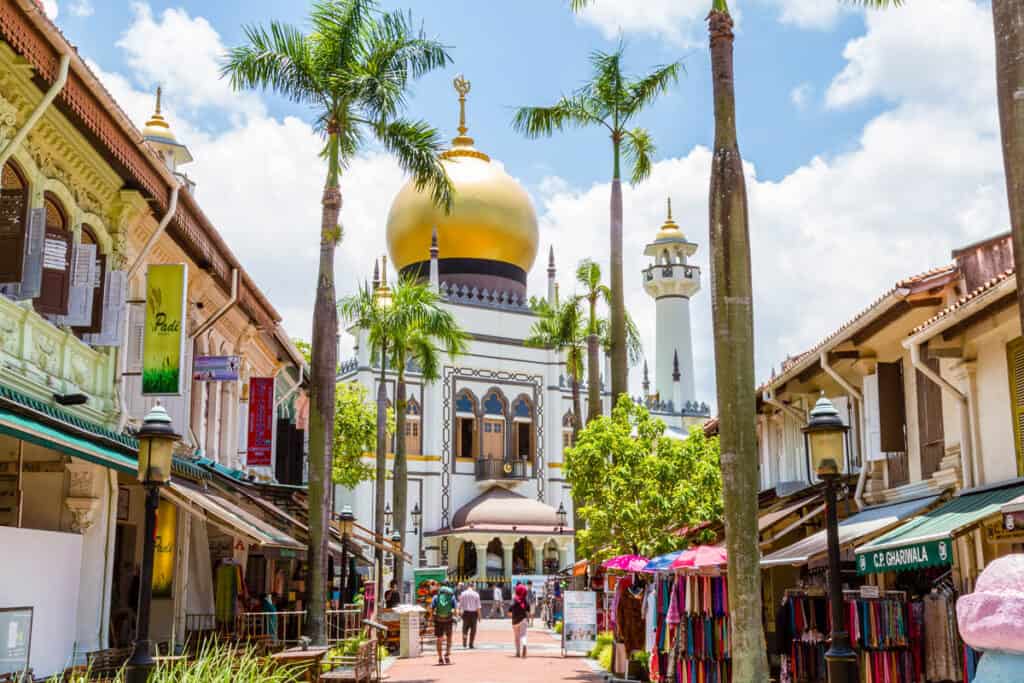 This area is home to the iconic, golden-domed Sultan Mosque – a must-visit sight, presiding over one of the most picturesque streets in Singapore.
As you stroll through the area's narrow lanes, you'll encounter stylish coffee shops, art galleries, and boutiques, showcasing the area's artistic inclinations.
We recommend the following highlights:
Sultan Mosque – the Masjid Sultan is the city's largest mosque. Originally built in 1824 (it was rebuilt in 1928), the huge golden dome and four minarets protect the main prayer hall that can accommodate 5,000 devotees.
Gelam Gallery – Singapore's first outdoor art gallery is home to murals and framed art from over 30 artists, both local and international.
Malay Heritage Centre – formerly the Sultan's palace, the Istana Kampong Glam is now home to nine galleries, showcasing the history and culture of the Singapore Malays.
Haji Lane – hip alleyway famous for its eclectic mix of boutiques, cafes, and bars.
Insider Tip: Hungry? We love the charcoal-grilled kebabs and meze platters at Alaturka Mediterranean & Turkish restaurant.
Click here to read our full guide to Kampong Gelam.
Additional Options to add to your itinerary
Of course the above ideas may not suit everyone. So if you are looking for a few more ideas to chop and change an itinerary to suit you, here are a few other highlights you might want to include: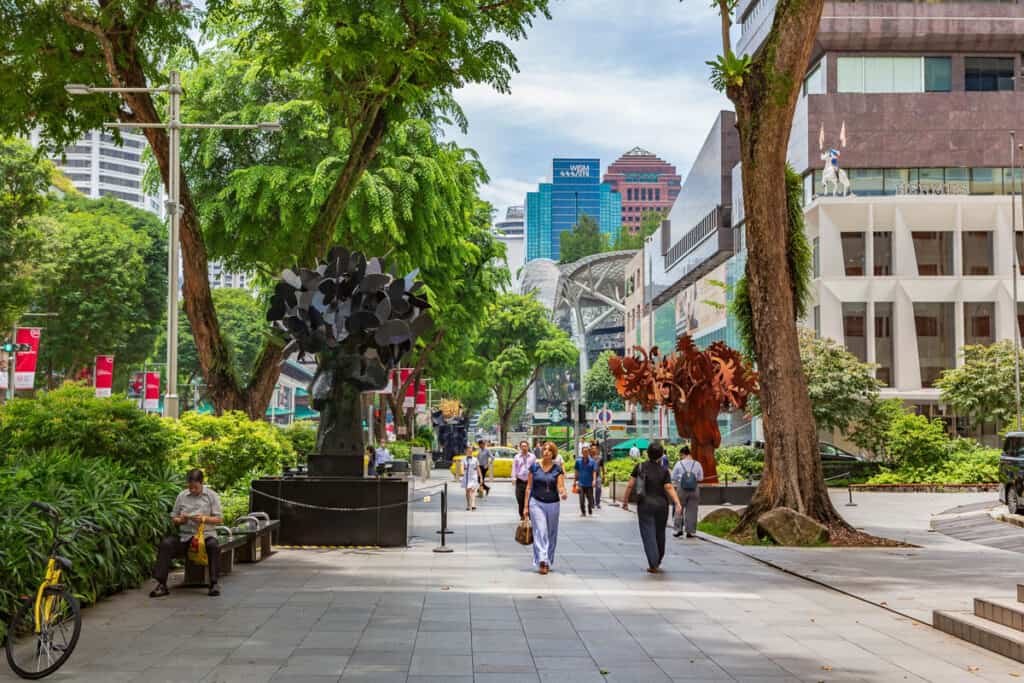 Orchard Road
If you love to shop then Orchard Road is for you. Singapore's famous shopping thoroughfare is one of the largest accumulation of shopping malls in the world.
You'll find a fantastic mix of retail outlets, from budget-friendly stores to luxurious designer boutiques.
ION Orchard, with its nine levels of retail outlets, is the most famous shopping mall on the strip. We also recommend Paragon and Ngee Ann City, plus the Mandarin Gallery for more boutique options.
Botanic Gardens
If you're a plant lover, then the Singapore Botanic Gardens is a must.
This sprawling, 82-hectare park was inscribed as a UNESCO World Heritage Site in 2015 and is easily accessible in the centre of town.
One of the highlights is a precious six-hectare fragment of primary tropical forest that dates back to before the founding of modern Singapore in 1819.
Also don't miss the stunning National Orchid Garden with over 1,000 species of orchids to admire.
Raffles Hotel
Often featuring on people's bucket lists is a Singapore Sling at Raffles Hotel.
Established in 1887, Raffles Hotel is one of the most famous hotels in the world and it is worth a visit just to admire its beautiful heritage architecture.
However most people head here for a Singapore Sling in the Long Bar, where the bright pink cocktail was invented by Raffles barman, Ngiam Tong Boon, in 1915.
Singapore Zoo
If you're visiting with kids, then the Singapore Zoo will probably be top of your list. One of the most famous zoos in the world, Singapore Zoo is home to over 300 species of animals.
It's also known for its open zoo concept, allowing the animals to roam freely in beautifully landscaped habitats.
We recommend heading here early for the Breakfast in the Wild, and then letting the kids cool off in the water play area before heading back into town for lunch.
Alternatively, spend the afternoon at River Wonders or Bird Paradise, two other fantastic wildlife parks located nearby.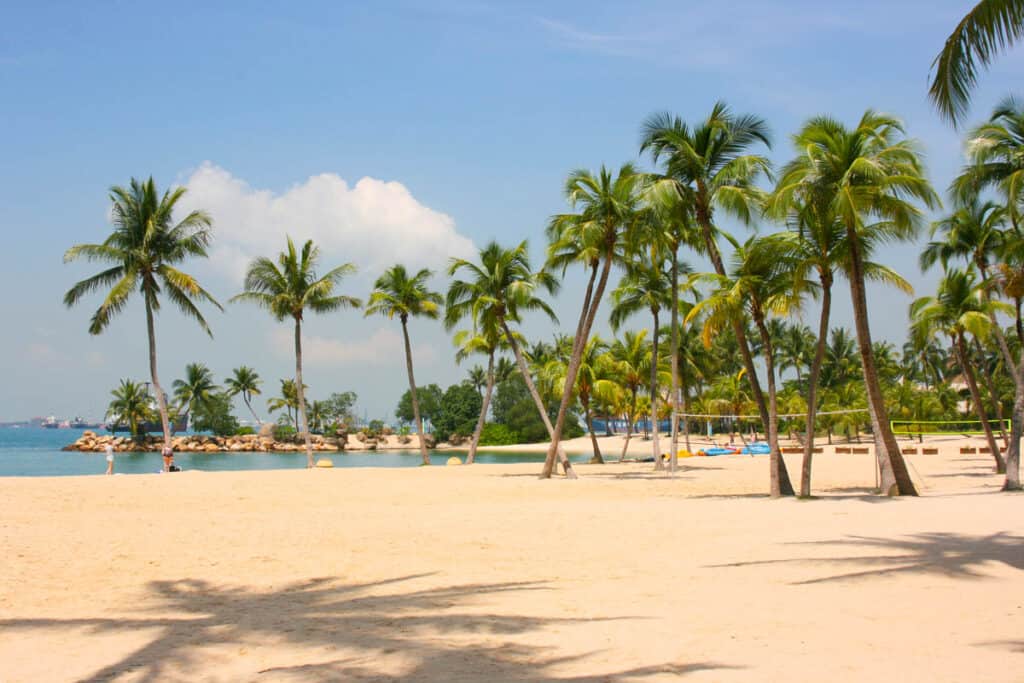 Sentosa Island
If you're just looking to skip the sightseeing altogether and just have some fun, then head on over to Sentosa.
Here you'll find plenty to keep you busy for two days, including:
You'll also find a good choice of cool beach bars restaurants and beach clubs to hang out at and enjoy some cocktails in the sun.
Arriving and Transport in Singapore
Getting around Singapore is easy and convenient thanks to its efficient public transportation system.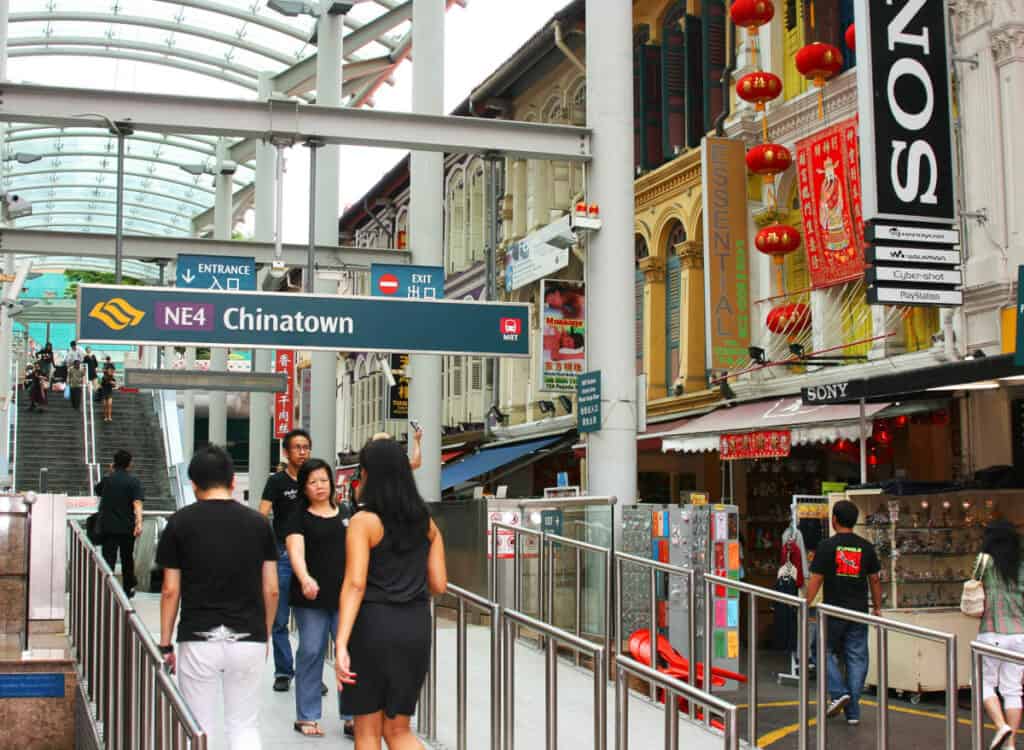 Changi Airport
There are several ways to get into the city from the airport, including taxi, bus, shuttle bus and MRT (train).
Changi airport is close to the city (around a 20-minute drive), so none of these options will take that long.
Which you choose will depend on cost, number of people travelling together and where in the city you are staying.
Click here to read our specific guide on getting from Changi Airport to the city.
Getting around
The MRT (Mass Rapid Transit) is the most popular mode of transport with visitors to Singapore. It is cheap, clean, safe and efficient with frequent trains and extensive coverage across the island.
Taxis in Singapore are also affordable and plentiful. You can flag them down, pick one up at a taxi stand (found at most shopping malls, office blocks and hotels) or use the Grab app to book one.
Grab / Gojek offer rideshare alternatives to taxis, similar to Uber in other countries. We recommend downloading these apps when you get to Singapore.
Click here to read our complete guide to using public transport in Singapore.