Our Singapore 5-day itinerary is filled with must-see attractions, delicious food, and insider tips to make the most of your time here.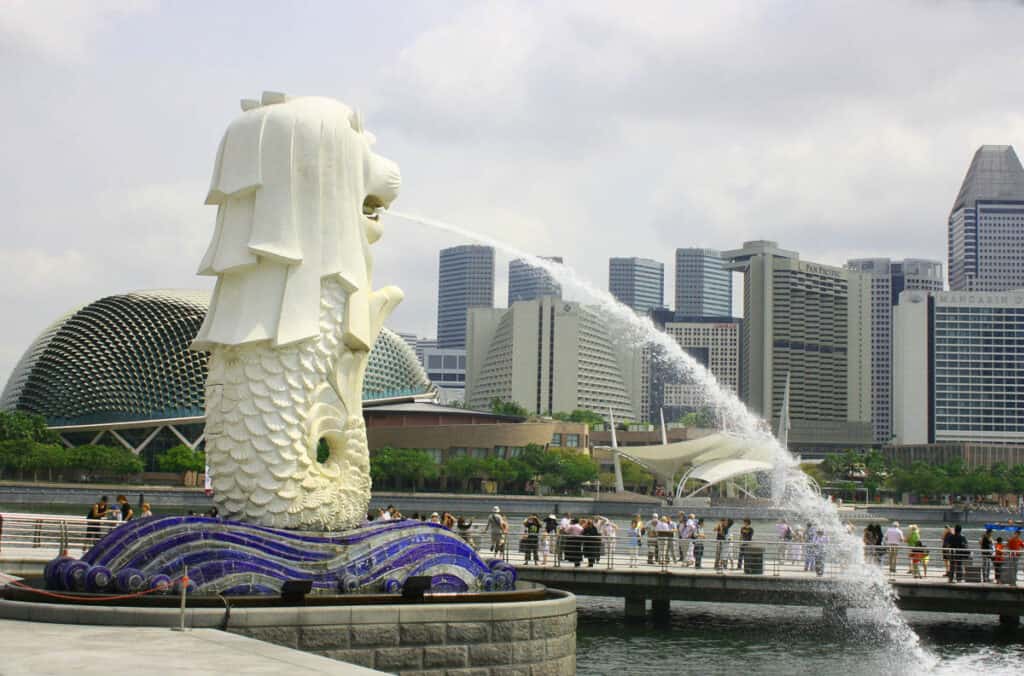 In our 5 day Singapore itinerary, we'll ensure you experience the best Singapore has to offer. From iconic landmarks and the best tourist attractions to hidden gems, you'll have a diverse and memorable vacation.
You'll explore the cultural side of Singapore, diving into distinctive neighbourhoods such as Little India, Chinatown, and Kampong Glam. Along the way, you'll enjoy delicious cuisine, vibrant markets, and captivating architecture.
There will be time for some fun on Sentosa Island and a visit to the famous Singapore Zoo, as well as taking in awe-inspiring views of the Marina Bay Sands and the iconic Supertrees at Gardens by the Bay.
As you follow this 5-day itinerary, you're sure to fall in love with Singapore's fascinating blend of history, modernity, and natural beauty.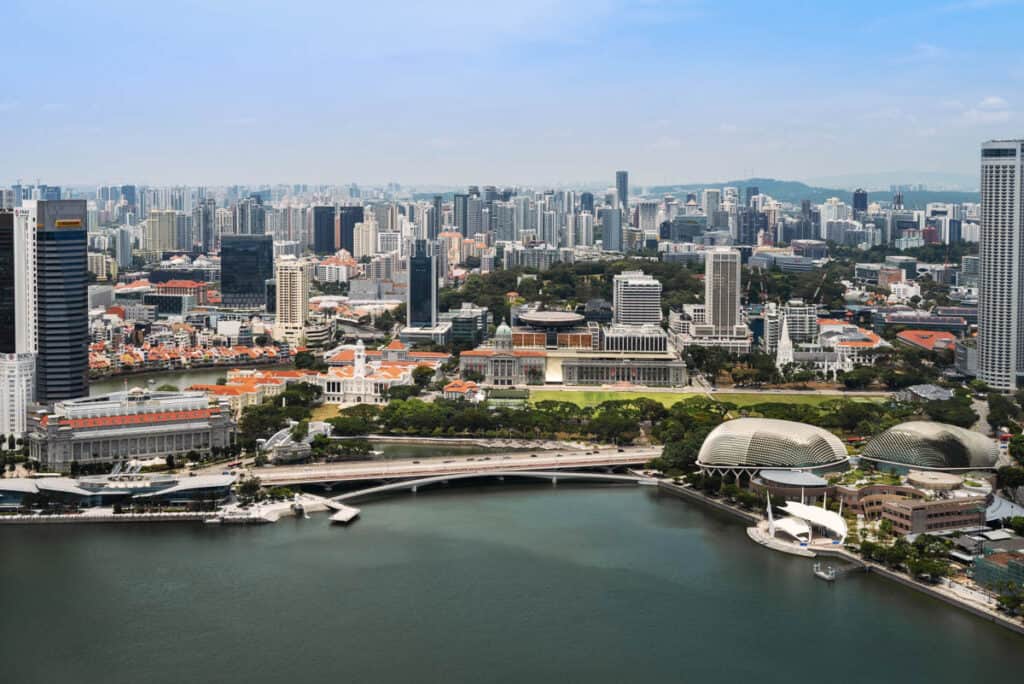 Of course, you don't need to stick to this exact plan. It is here to act as a guide, to showcase the diversity of Singapore and to demonstrate what you can squeeze into 5 days in the Lion city.
We also recommend taking a guided Singapore sightseeing tour during your stay. This is a great way to get a local's perspective of the city and the local culture before you head off to explore on your own.
Got longer or shorter in Singapore? Check out these itineraries:
Note: The days in this itinerary are busy. So you have our full permission to cut out anything that doesn't excite you… and spend a few hours chilling at your hotel pool or on one of Sentosa's beaches instead 🙂
Disclaimer: This article contains affiliate links. If you make a booking using these links, we may receive a small commission, at no extra cost to you.
Got questions? Come join our Singapore Travel Tips Facebook group. It's the perfect place to ask questions and get inspiration for your trip!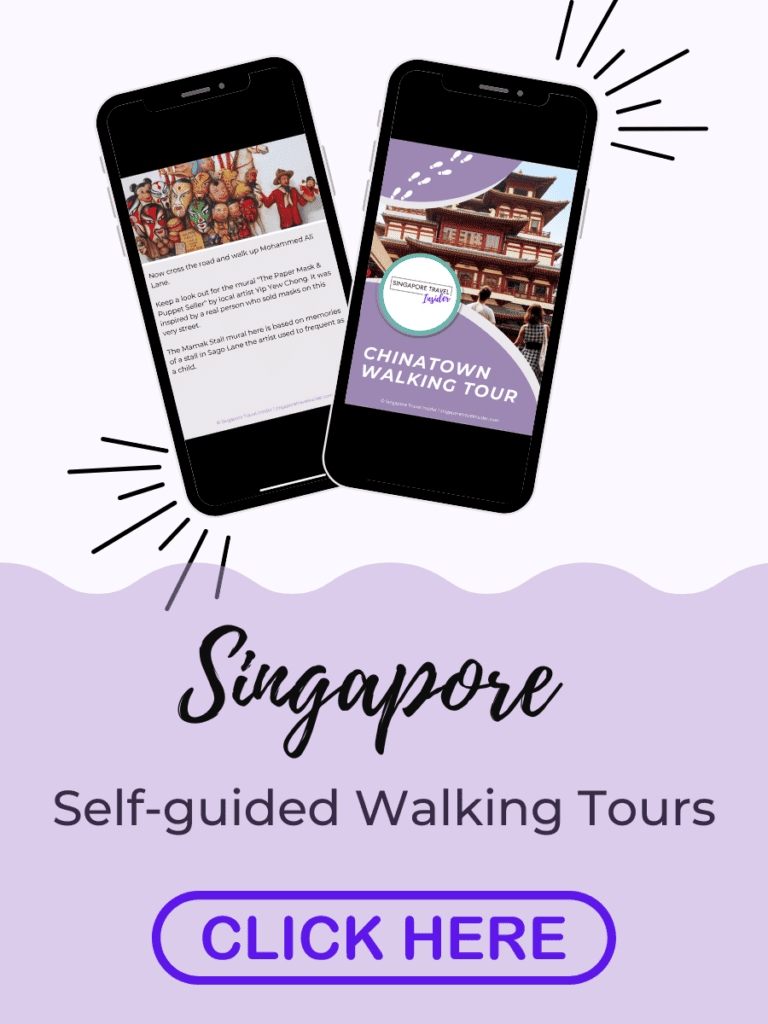 When is the best time to visit Singapore?
Singapore is a destination that can be visited all year round due to its typical tropical climate. The temperature remains high and uniform throughout the year, with high rainfall and humidity.
February is usually the driest month, while December is the wettest. Although afternoon thunderstorms and showers are common, there are plenty of sunny days too.
Singapore's multi-cultural population ensures that there is always a festival or event happening, such as Chinese New Year, Deepavali, Hari Raya Puasa or the Singapore Grand Prix.
This means that there is always something fun going on, but keep in mind that during events like the Singapore Grand Prix, accommodations may be more difficult to secure and more expensive.
Click here to read more about When is the Best Time to Visit Singapore.
How to get around Singapore
Singapore boasts a cost-effective, clean, and well-organised public transport system. You can opt for MRT, public bus, taxi, or Grab/Gojek ride-hailing services.
The majority of tourists prefer the MRT (subway/underground) due to its user-friendliness, but the public bus is equally efficient and ideal for areas not covered by the MRT.
Taxis are widely available and reasonably priced in Singapore. Additionally, you can book a Grab or Gojek, which are similar to Uber, by downloading their apps.
Click here to learn more about Travelling by Public Transport in Singapore.
Further reading:
As you start your Singapore trip planning, you may also find these articles useful:
Day 1: Exploring the City Centre
You'll begin your Singapore 5-day itinerary by taking in some of the city's most famous sights, all perfect for getting some photos for the memory books.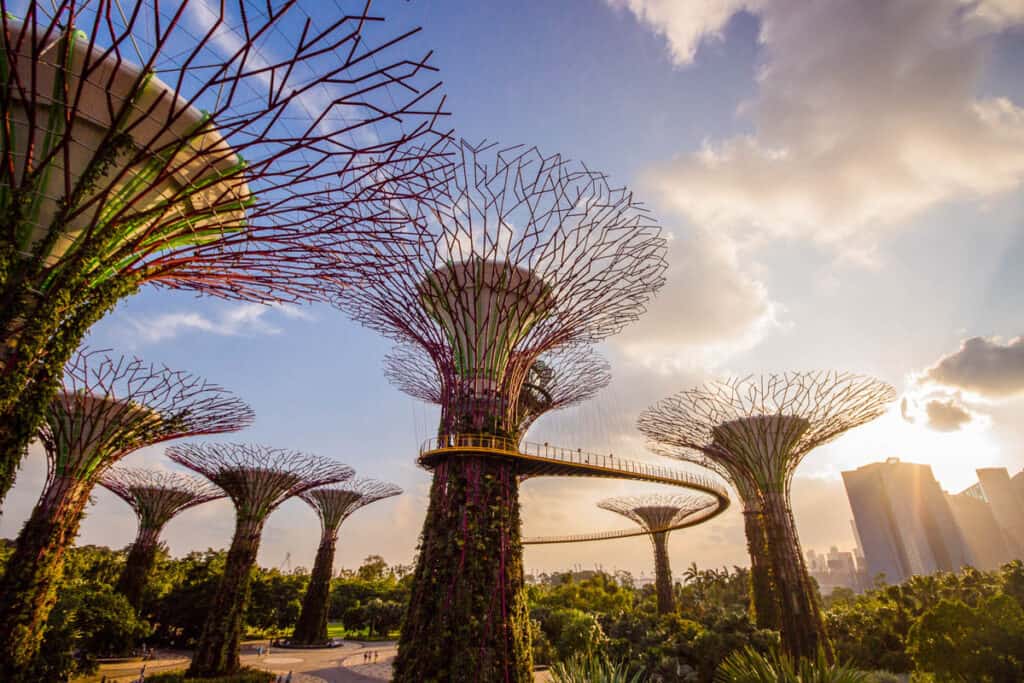 Gardens by the Bay
Start the day by stepping into the magical world of Gardens by the Bay, home to impressive towering vertical gardens, the insta-famous Supertrees.
Entering the gardens is free but the main attractions require tickets to enter. These include the two conservatories: the Cloud Forest and Flower Dome and the OCBC Skyway. From here you'll get a birds-eye view of the gardens and surrounding city.
Insider Tip: There is a beautiful sound and light show that takes place at Supertree Grove every evening at 7.45pm and 8.45pm so you may choose to come back for this.
Lunch at Satay by the Bay
For lunch, head to Satay by the Bay, a waterfront food court offering a variety of delicious local Singapore dishes.
Choose from a range of mouth-watering options such as Hainanese Chicken Rice, Char Kway Teow, and, of course, Satay. Soak in the lively atmosphere and enjoy your meal against the backdrop of Marina Bay.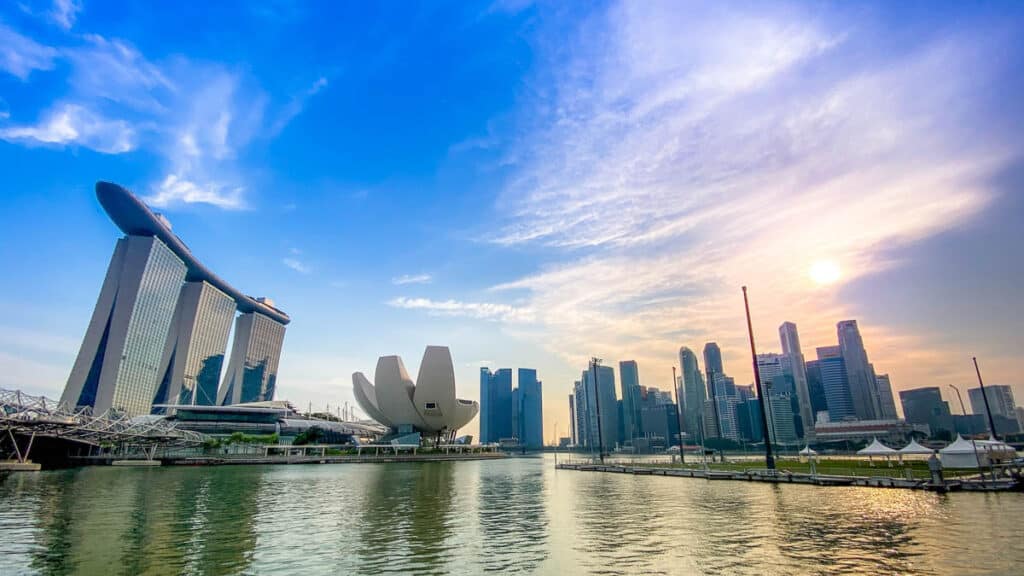 ArtScience Museum
In the afternoon, make your way to the iconic ArtScience Museum. This fascinating museum is known for its stunning architecture resembling a lotus flower. It boasts a diverse range of exhibits showcasing the perfect blend of art, science, and technology.
The permanent exhibition, Future World, is excellent. It offers an immersive journey through a world of art, science and magic through a collection of digital interactive installations. It is an impressive exhibition for both kids and adults.
Insider Tip: Entry to Future World is based on pre-purchased tickets with time slots, so be sure to book tickets ahead and secure your entry time.
Marina Bay Sands
After the museum, it's time to explore the iconic Marina Bay Sands. Take a leisurely walk around the Shoppes and treat yourself to some retail therapy.
If you're feeling adventurous, head up to the Marina Bay Sands Skypark Observation Deck for breathtaking panoramic views over Singapore's skyline. If you have cash to splash, you'll find three of Singapore's best restaurants with a view up here too.
Insider Tip: If you choose not to have lunch at Satay by the Bay, there is a huge choice of restaurants within Marina Bay Sands Shoppes. You will find everything from a food court to Michelin-starred restaurants here.
Merlion Park
As the day comes to an end, make your way around Marina Bay to Merlion Park for a twilight stroll along the waterfront. You'll find the mythical Merlion, a famous symbol of Singapore with a fantastic view of Marina Bay Sands.
Insider Tip: If you're looking to dine with a view, there are several restaurants at Customs House at Collier Quay, with beautiful views of Marina Bay. Another option for drinks for the Spectra Light Show is the Lantern Bar at Fullerton Bay Hotel, one of our favourite rooftop bars in Singapore.
Day 2: Cultural Immersion
Day two is dedicated to exploring three of Singapore's most interesting and colourful neighbourhoods: Chinatown, Little India and Kampong Glam.
Each neighbourhood has its own distinctive feel, epitomising the multi-cultural make-up of Singapore's population.
Our self-guided walking tours are a great way to see all the important sights at your own pace.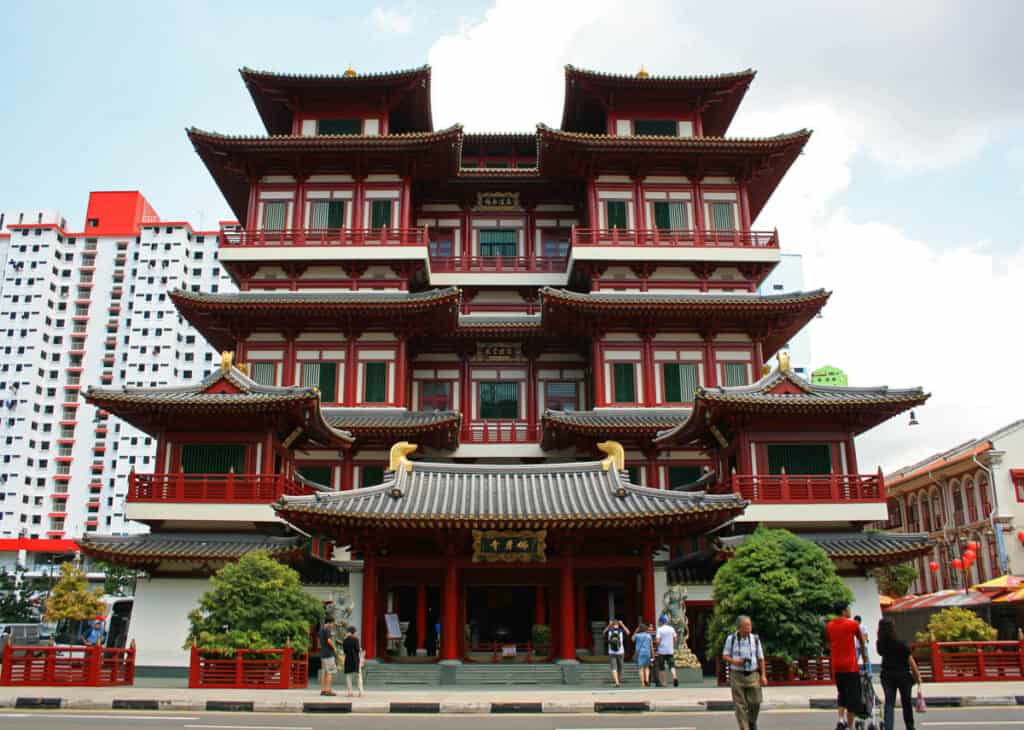 Chinatown
Chinatown is a must-visit area when exploring Singapore. Start your day by heading over to this vibrant neighbourhood and wander around the colourful streets, taking in the beautifully preserved shophouses.
A visit to the Buddha Tooth Relic Temple and Museum is a must, where you can admire its stunning architecture and learn about Buddhist culture.
You should also take time to discover the oldest Hindu temple in Singapore, the Sri Mariamman Temple, which offers intricate carvings and an insight into the city's Indian community. Also be sure to take a look at the wet market in the basement of the Chinatown Complex.
Read our comprehensive guide to Chinatown here.
Lunch at a Hawker Centre
Here in Chinatown you will find two of Singapore's best hawker centres: Maxwell Food Centre and the Chinatown Complex Food Centre. We highly recommend grabbing a local lunch here to refuel before heading up to Little India.
Another great option is to indulge in a dim sum lunch at Yum Cha, which is just around the corner from Chinatown MRT station.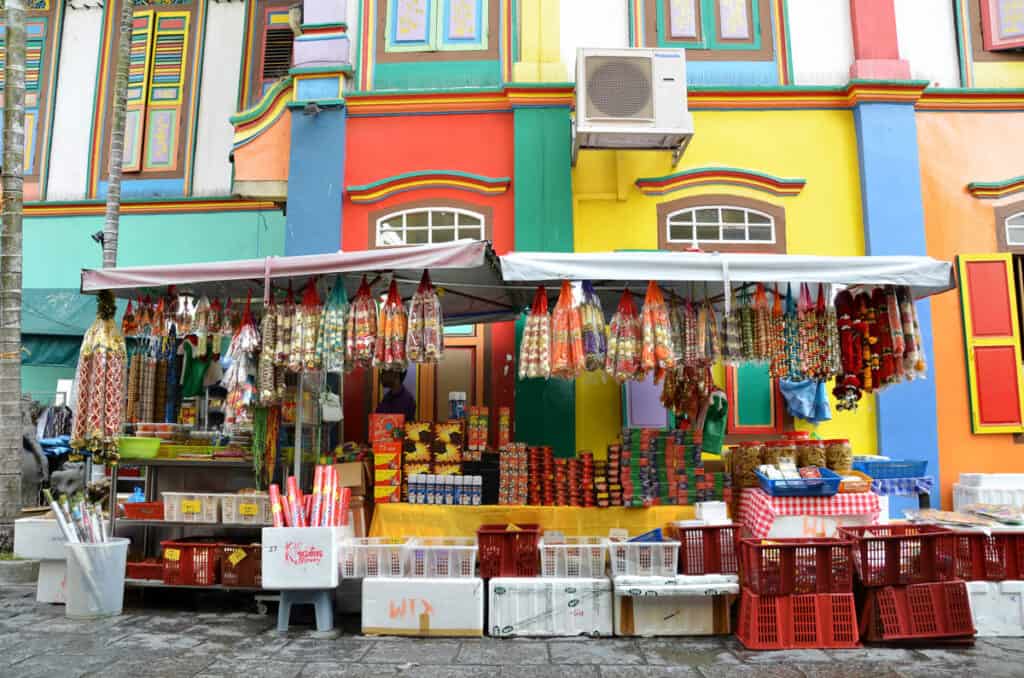 Little India
Continue your cultural immersion by making your way to Little India, a bustling neighbourhood that celebrates the country's Indian heritage. Here, you'll find colourful streets filled with traditional shops, eateries and markets.
Insider Tip: Little India is just three stops from Chinatown on the MRT North East Line. It takes no time to travel between the two neighbourhoods.
A must-visit spot in the area is the Sri Veeramakaliamman Temple, dedicated to the Hindu goddess Kali, the Destroyer of Evil. It is one of the oldest Hindu temples in Singapore and features an impressive gopuram. It was built by early Indian immigrants to help them feel settled in their new land.
Do not miss the Indian Heritage Centre, where you can learn more about the history and contributions of the Indian diaspora. Browse through the various stalls at Serangoon Road, the main shopping street in Little India, and try some authentic Indian cuisine at one of the many eateries.
The Tekka Centre here is home to one of the best wet markets in Singapore and also a hawker centre for cheap and tasty local dishes.
Read our detailed guide to Little India here.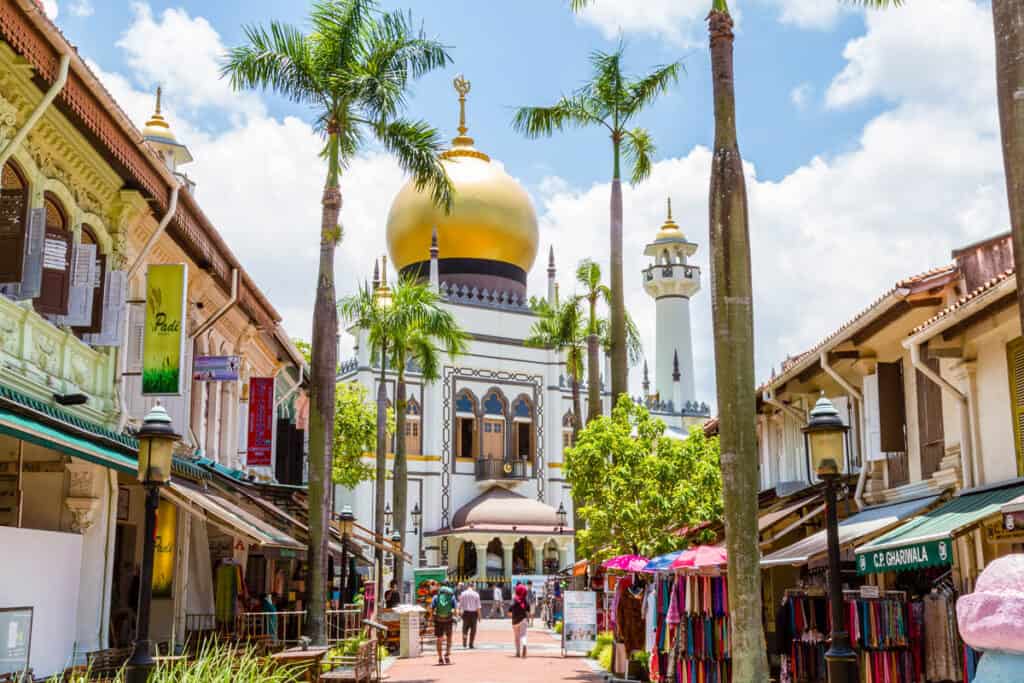 Kampong Glam
In the evening, head to Kampong Glam, the heart of Singapore's Malay community and a charming corner of Singapore's cultural heritage.
Get lost in the bustling streets and discover the rich history of the neighbourhood, which was once home to Malay royalty.
The iconic Sultan Mosque is a must-see, its golden dome and impressive architecture being visible from across the neighbourhood. Afterwards, explore Arab Street and Haji Lane, known for their textile shops and Middle Eastern cafes and trendy boutiques.
Don't miss a visit to the outdoor Gelam Gallery for some shots for your Instagram page!
Read our guide to Kampong Glam to get some ideas on where to head to for dinner.
Day 3: Civic District and Shopping
The Civic District, also known as the Arts & Culture District, is home to some of the most beautiful heritage buildings in Singapore. You'll visit several of them today before heading to the more modern side of Singapore, with a wander down Orchard Road, Singapore's famous shopping belt.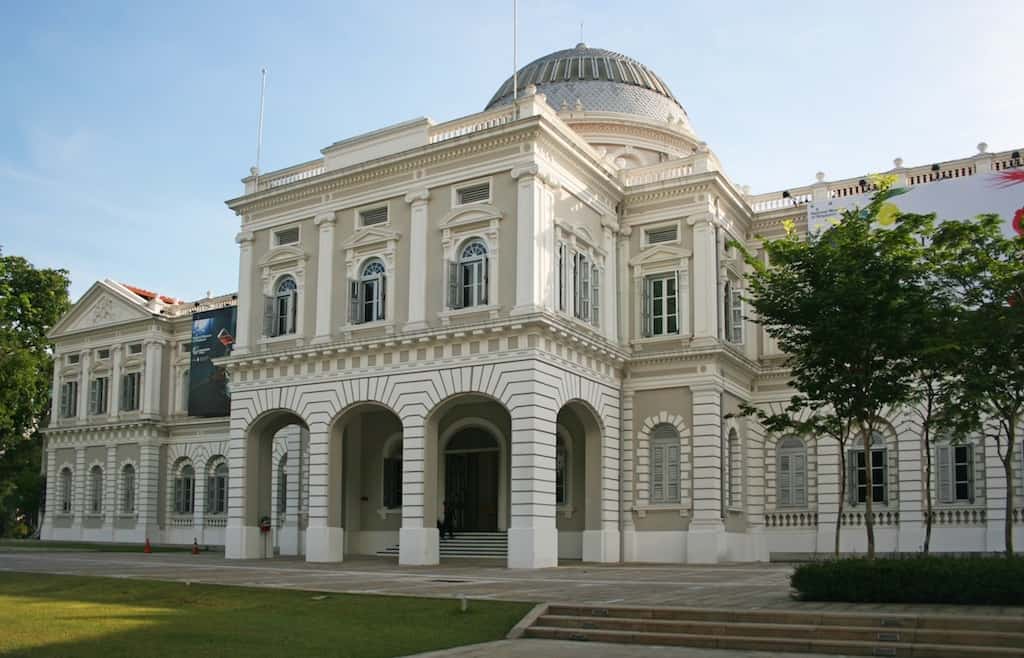 National Museum of Singapore
On your third day in Singapore, kick off the day with a visit to the excellent National Museum of Singapore. This museum offers an insightful look into the country's history and culture.
As you explore the exhibits, you'll gain a deeper understanding of Singapore's past, including its colonial days and path to independence.
National Gallery
Next, head to the National Gallery Singapore, which is around a 10-minute walk away.
The gallery is home to the largest public collection of Singaporean and Southeast Asian modern art, with more than 8,000 works of art.
As you wander through the halls of this impressive building, you'll get to admire the diverse collection spanning from the 19th century to the present.
Lunch at Chijmes
A 5-10 minute walk will bring you to Chijmes, a former convent and chapel and home to two National Monuments. Caldwell House here is the second oldest building in Singapore, dating back to 1840.
Chijmes is now a dining destination. Its beautiful courtyard offers an alfresco eating area for several bars and restaurants, including Prive, Carnivore Brazilian Churrascaria and Harrys Bar. If you enjoy Japanese food, you are in luck, as there are several Japanese restaurants and izakayas here too.
Insider Tip: You'll also find several chain restaurants and a food court in Raffles City shopping mall. There's also City Hall MRT station in the basement here.
Singapore Sling at Raffles Hotel
Afterwards, it's time to treat yourself to an iconic Singapore Sling at the famous Raffles Hotel.
Take some time to wander the public areas of this luxury hotel, before heading to the Long Bar, where the Singapore Sling cocktail was first invented all the way back in 1915.
Orchard Road
Finally, make your way to Orchard Road for a shopping extravaganza.
This famous shopping district is lined with numerous malls, boutiques, and department stores, catering to all tastes and budgets.
Don't miss the opportunity to visit ION Orchard, one of the most famous malls in the area, boasting an incredible array of local and international brands.
Insider Tip: Spend $50 in ION Orchard and you'll receive a complimentary welcome drink at ION Sky on the 56th floor. (Valid between 12pm – 4pm)
You'll find an MRT station in the basement of ION Orchard to easily transport you back to your hotel or onwards for dinner.
Day 4: Family Fun
If you're visiting with a family, your fourth day in Singapore will definitely be one of the trip's highlights. Filled with fun, excitement, and bonding for the entire family, Sentosa is not called Singapore's Playground for no reason!
Universal Studios Singapore
It's time to experience some thrilling rides and attractions at Universal Studios Singapore. Begin your day early and make sure to grab a map to plan out the shows and rides you want to prioritise.
There are seven themed zones to explore at this theme park, so there is something for everyone in the family. For little adventurers, the Madagascar zone has fun rides like King Julien's Beach Party-Go-Round. Thrill-seekers should definitely try the Battlestar Galactica roller coaster in the Sci-Fi City zone.
You can read more tips for visiting Universal Studios Singapore here.
Sentosa Island
After an exhilarating morning at Universal Studios, continue your family day of fun at some of the main attractions in Resorts World Sentosa and around Sentosa Island.
There are loads of fun activities here, so be sure to check out our detailed guide to Sentosa. Some top fun Sentosa attractions include:
Head over to the beaches for some relaxation and water activities. At Palawan Beach, you'll also find a suspension bridge leading to the Southernmost Point of Continental Asia.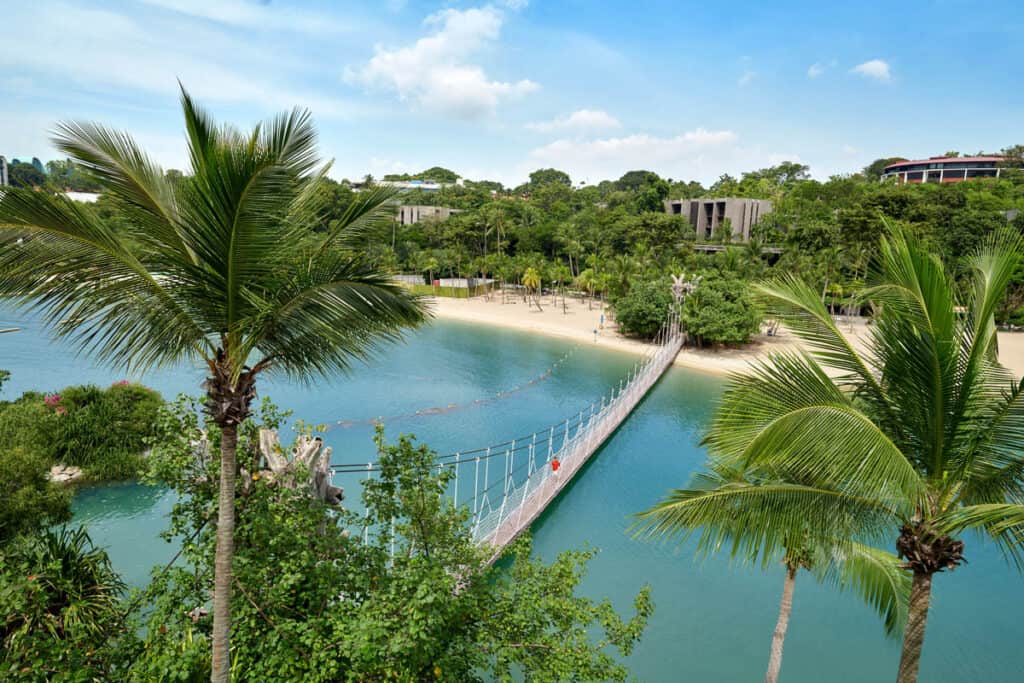 Another option is to explore Fort Siloso, Singapore's only preserved coastal fort, where you can learn about Singapore's rich military history. It's both educational and interactive for all ages.
Best of all, it's completely free! You'll also find the Fort Siloso Skywalk here.
Insider Tip: If you just want to chill out for the afternoon, you'll find a range of beachside bars, restaurants and beach clubs here on Sentosa. Some of our favourites include Tanjong Beach Club, FOC Sentosa, Coastes and Rumours Beach Club.
Day 5: Animal Fun
On your final day, you'll head out of the city and into nature, spending some time with the animals at Singapore's biggest wildlife parks.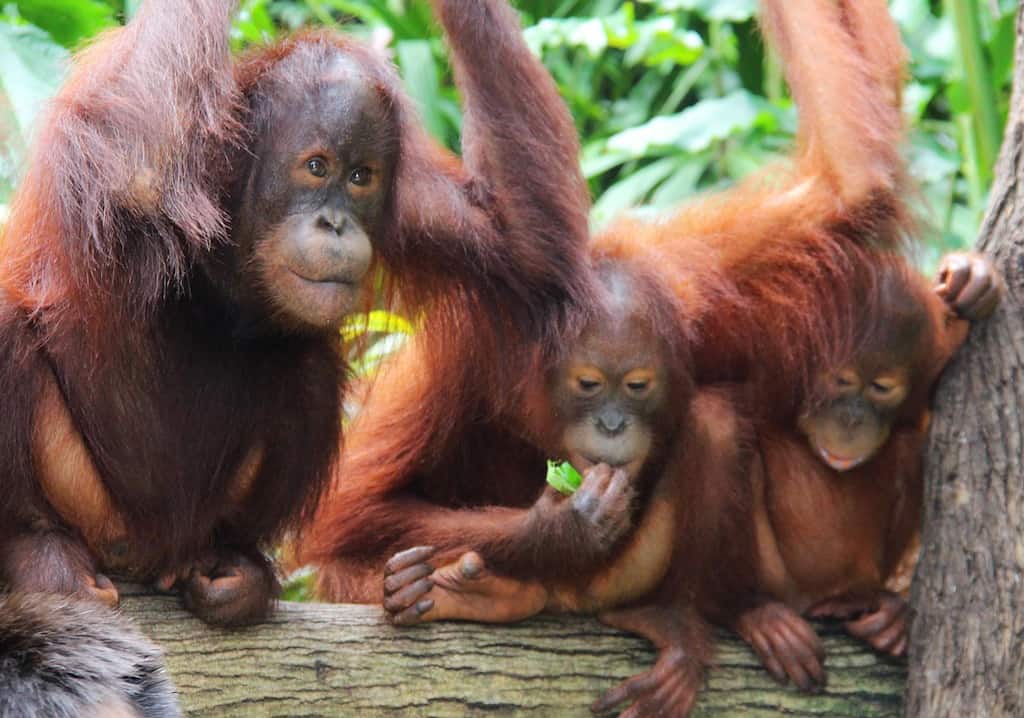 Insider Tip: These parks are all big, and the weather will be hot and humid. We don't really recommend doing them all in one day. We suggest choosing just one or two to visit in a day.
If you plan on visiting two or more of these parks during your stay, buying a Mandai Pass allows you to combine two or three parks at a discounted price.
Singapore Zoo
Start your day early with the Breakfast in the Wild at Singapore Zoo before embarking on a journey to meet over 2,800 animals from 300 different species. The zoo is designed as an "open concept" with natural barriers, so you'll witness the animals roaming in their habitats.
Don't miss the chance to watch the orangutans swinging on trees and feeding sessions for some of your favourite animals. If you're visiting with kids, be sure to pack their swimmers so they can cool off in the fun Splash Zone.
River Wonders
Next door to Singapore Zoo, River Wonders (formerly the River Safari) is a river-themed wildlife park showcasing the world of Earth's most iconic rivers, including the Amazon, the Nile, the Congo, and the Mekong.
Marvel at more than 11,000 land and aquatic creatures from 260 species, such as the critically endangered Mekong giant catfish, manatees, and the Chinese alligator.
The highlight for many is the Yangtze River exhibit with its resident Giant Pandas Kai Kai and Jia Jia.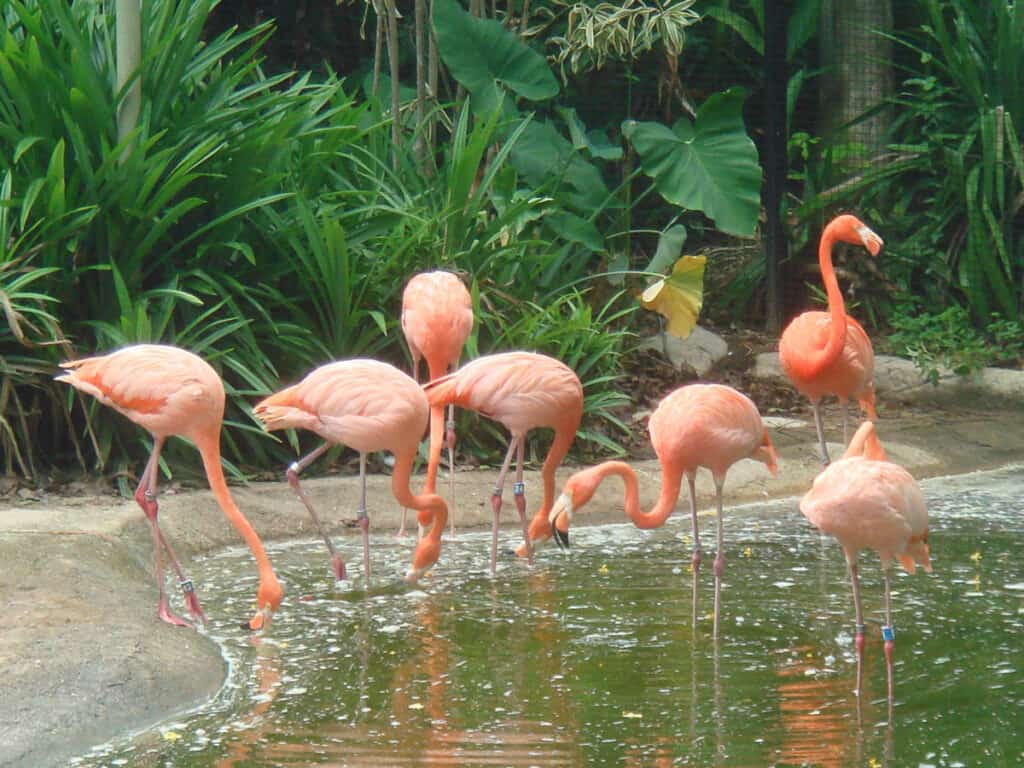 Bird Paradise
Recently relocated and renamed from Jurong Bird Park, the new Bird Paradise offers an unforgettable aviary experience.
This bird sanctuary is home to over 3,000 birds from 400 species, representing an array of colours, sizes, and characters.
Witness some of the world's most brilliantly coloured birds at the Crimson Wetlands, feed the parrots at the Lory Loft, and attend interactive bird shows.
Don't forget to visit the stunning Penguin Cove, where you'll get a chance to see adorable penguins up close.
Night Safari
End your day with an exhilarating experience at the world's first Night Safari.
Hop onto the guided tram ride that takes you through different geographical zones, where you can spot nocturnal animals in their natural habitats.
Go on walking trails to get even closer to the animals, and catch the captivating Creatures of the Night Show.
Before you leave: Jewel Changi Airport
If you have time, it's worth heading to the airport early before you leave so you can check out the Jewel Changi Airport.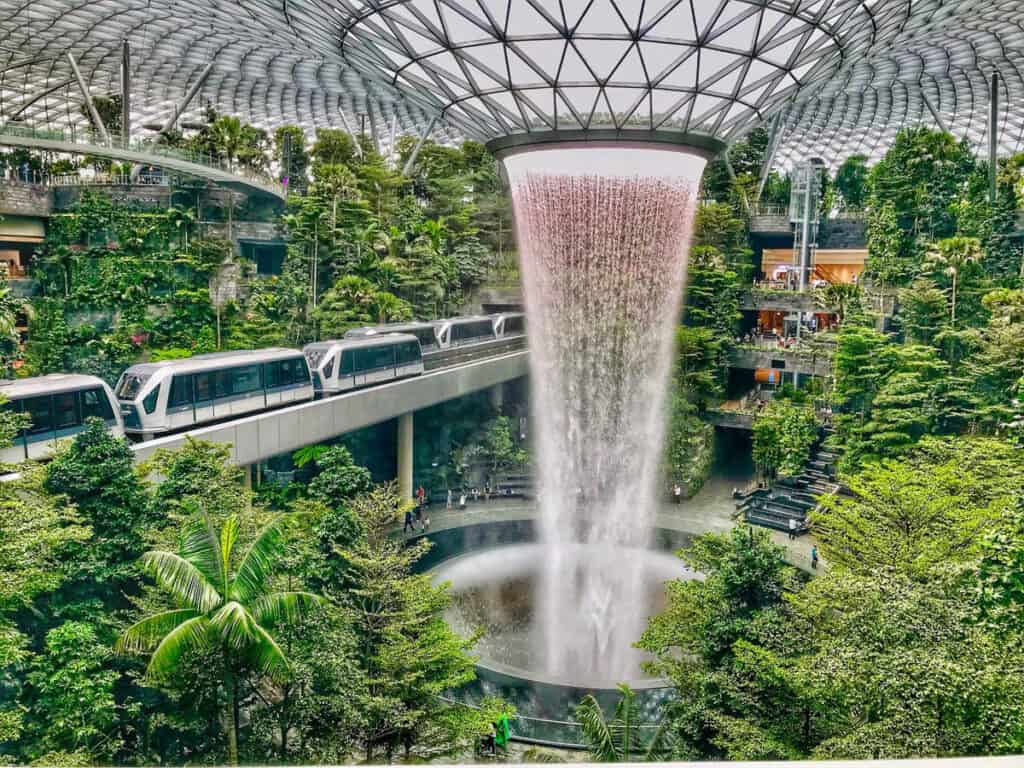 The Jewel has become insta-famous thanks to its iconic indoor waterfall, formally known as the HSBC Rain Vortex. This impressive 40-metre-high indoor waterfall is the world's tallest and creates a mesmerising sight as the water cascades down from the roof.
You'll also find Canopy Park located within Jewel Changi, on level 5. The park features a stunning indoor garden, walking trails, plus mazes and bouncing nets for some pre-flight fun.
Jewel Changi Airport also offers a plethora of dining and shopping options, from international brands to local favourites and a whole host of food outlets and restaurants.
FAQs
Is 5 days enough for Singapore?
5 days is a good amount of time to spend in Singapore if you want to explore the different neighbourhoods and fit in a few main attractions. You will get a good feel for the city in this time but will still have plenty left to do on your next visit.
How much does it cost to go to Singapore for 5 days?
How much a 5-day trip to Singapore costs really depends on your travel style. Yes Singapore is an expensive city, but it is easy to cut costs by staying in budget accommodation and eating out at hawker centres and food courts. Read our article How much does a Singapore trip cost?